-A-
Absolute Elsewhere - "In Search of Ancient Gods" (Warner Bros. 1976)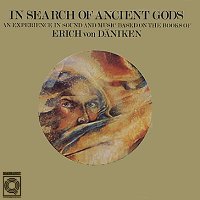 This one-time project is best known for featuring Bill Bruford on drums. But the main man behind Absolute Elsewhere was keyboardist and flutist Paul Fishman, who wanted to make a concept-album inspired by the books and theories of Eric von Däniken about aliens visiting earth in ancient times. The record is wrapped up in a lavish die-cut cover featuring a glossy booklet with lots of comments from von Däniken himself, and also a separate sheet with many photos from the places that he think "proves" his theories. No matter what you think about von Däniken and his writings, they sure do make a good basis for a sci-fi concept. The music on "In Search of Ancient Gods" varies from symphonic and spacey multi-part suites to short electronic exercises. The opener "Earthbound" is quite representative. Not overtly complicated or demanding, but very atmospheric and pleasant to just drift along to. It's based in a melodic theme played on synths, while a slightly more upbeat mid-passage also allow guitarist Philip Saatchi to deliver some solos. "Moon City" is the first and best of three short and pure electronic pieces on the album. The mood is, as you naturally could expect, dreamy and spacey, fitting the concept quite well. The two remaining of these pieces are "The Gold of the Gods" that sounds like Tomita in one of his more cheesy moments, while "Toktela" display a slight classical reference. But the best thing the record has to offer is undoubtedly "Miracles of the Gods" where many passages sounds like a spacey version of the early King Crimson sound. Even Bruford's drumming reminds a lot of what Mike Giles did on "In the Wake of Poseidon". It also features quieter parts where Fishman plays some classical-influenced piano and also adds a few drops of Mellotron-flute. "Chariots of the Gods" (which also was the name of von Däniken's first and still most famous book) has a funky mid-tempo rhythm underneath Fishman's cosmic flow of keyboards. The closer "Return to the Stars" is ten minutes of pure electronic and experimental spacey sounds that could have been taken from an early Tangerine Dream or Klaus Schulze album. And rarely has the 4-channel quadrophonic sound suited an album better than here, giving you a feeling of being engulfed and surrounded by deep space. "In Search of Ancient Gods" is a minor classic of spacey instrumental symphonic progressive rock that will take you on a cosmic journey beyond your physical senses.
Label
Ache - "De Homine Urbano" (Philips 1970)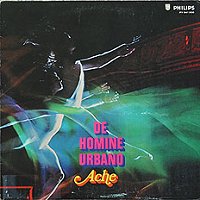 Ache was one of the first progressive rock bands to come from Denmark. "De Homine Urbano" was their debut, and probably their best release. The album consisted of just two side-long suites. The title-track was, according to the band themselves, the world's first "rock ballet". The swirling organ of Peter Mellin and the smooth, melodic tone of guitarist Finn Olafsson dominated the sound. The track itself featured many fine melodies, and the suite was well constructed, with no unnecessary or redundant parts. The instrumental "Little Things" took up the second side of the album. This was an intense and impressive jam with lots of good themes and tight solo passages. Funnily enough, it goes into the riff of Led Zeppelin's "How Many More Times" for a few seconds at the end! This is not an album overflowing with originality, and the band's overall sound was similar to very many other bands of the same time, but the overall good songwriting makes "De Homine Urbano" a worthwhile album from the early 70's scene of Scandinavian progressive rock.
Ache - "Green Man" (Philips 1971)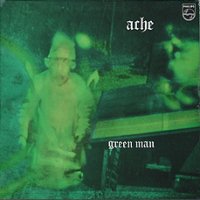 The second album consisted of shorter tracks that didn't quite reach the same standard as the material on "De Homine Urbano". There's nothing bad here, but nothing really outstanding either, just an average slice of your typical organ/guitar-based early 70's prog. Among the better tracks we find the spacey "Equatorial Rain", the four-part "The Invasion" and the mellow ballad "Shadow of a Gipsy". The title-track is a kind of a 60's influenced pop song that must have sounded dated already in 1971. "Sweet Jolly Joyce" is bluesy, psychedelic progressive rock of the generic kind. "Acheron" is on the other hand a nice, jazzy instrumental number with some vibraphone, and the progressive version of The Beatles' "We Can Work it Out" is also interesting. But the band's overall lack of an original sound becomes a bit more problematic when their own material on the album isn't stronger than this. Personally I think "De Homine Urbano" is a much stronger album, and I would recommend that one over "Green Man".
Acqua Fragile - "Acqua Fragile" (Numero Uno 1973)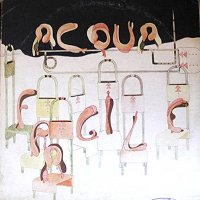 Well, here's another excellent Italian progressive rock album. Acqua Fragile lasted for only two albums, and this was as you may guess their first one. The music is typical 70's prog with some folk-tendencies in a couple of tracks. The opening track called "Morning Comes" (their lyrics was all in English) is probably the best on the album. Complex, energetic, strong melodies and an obvious influence from Genesis here. Bernardo Lanzetti could easily be one of the best singers from the Italian progressive rock scene, sounding like Peter Gabriel with a Roger Chapman-like vibrato. And his accent is fortunately more charming than annoying. "Comic Strips" is a cool and rocking progressive track and tends to remind me of Gentle Giant. "Science Fiction Suite" and "Song from a Picture" are two pleasant, folky tracks and the first of them has some really enjoyable and impressive vocal-harmonies. "Education Story" is almost heavy-progressive, while "Three Hand Man" is the best track on the album, next to "Morning Comes and "Comic Strips". Again we hear the band's really excellent vocal-harmonies in a catchy and energetic progressive rocker with lots of cool melodies and time-changes. Great stuff.
Affinity - "Affinity" (Vertigo 1970)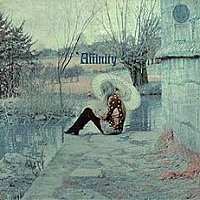 Well known Vertigo release (at least in progressive circles) of early 70's Hammond-dominated progressive with some jazz-influences. The band had an excellent female singer in Linda Hoyle. The material on the album is quite strong all the way through. "I Am and So Are You" and "Three Sister" do both use horns to good effect. "Mr. Joy" is a relaxed and excellent jazzy track, while "Night Flight" is a more typical early 70's progressive rock track. There are two excellent cover versions here too. You would may not expect much from a cover of The Everly Brother's "I Wonder If I Care As Much", but its sounds awesome with a incredible symphonic and great arrangement. And their 11-minute version of "All Along the Watchtower" is a irresistible Hammond-orgy you must hear to believe. Definitively one of the classic Vertigo releases.

Very obscure Norwegian band. They played a kind of very spacey and symphonic progressive with lot of mellotrons and spacey electronic effects. I really like their style, but the production of this record sounds unfortunately very home-made and amateurish. But the songs and their sound is quite interesting. "Isle of Kwai" is a mighty piece of spacey symphonic, and mellotron simply can't sound bad! "Bondage" has some excellent moog and loads of spacey effects, and is quite fun. "Death Hymn" is very powerful, but the vocalist's accent is unfortunately quite clear. And "The Trip" is simply just a good melody. The album is worth owning if you collect 70's progressive, but if you're looking for pure perfection I don't think you will find this album very satisfying.
Akritas - "Akritas" (Polydor 1973)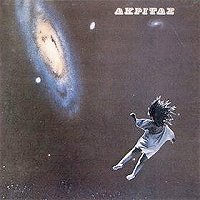 Next to Aphrodite's Child, this is the only 70's progressive rock band from Greek that I'm aware of. Musically it seems that the band took influences from a lot of different bands. Some parts sounds a little like ELP, while other seems to be influenced by such different artists as Amon Düül II, Rick Wakeman and maybe some Osanna. The tracks varies from quite improvisated to more structured and theme-based. Lots of keyboards in here. A very varied album with several good parts, but personally I don't think it's good enough to be called a classic. But its sure a interesting album anyway.
Alphataurus - "Alphataurus" (Magma 1973)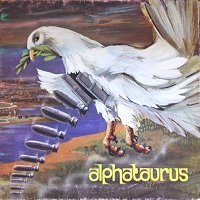 Good Italian progressive. The album consists of lengthy tracks with lots of breaks and time-changes. Tracks like "Peccato D'Orgoglio" and "Ombra Muta" are both quite complex pieces with atmospheric vocal-parts and energetic instrumental parts. There's a lot of excellent organ and tasteful synths here. "La Menta Vola" and the instrumental "Croma" are more symphonic sounding with great atmosphere. "Dopo L'Uragano" is on the other hand more heavy-progressive, and probably the least interesting track on the album. But the band has a nice sound, and most of the stuff on the album is good. You'll surely like it if you like Italian progressive.
Alquin - "Marks" (Polydor 1972)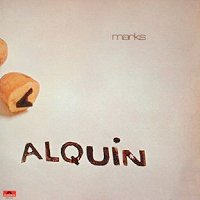 The Dutch band Alquin took influences from a wide range of various progressive rock bands. This can be heard on their debut "Marks" that reveals a technically competent and tight bunch of musicians. The opening instrumental "Oriental Journey" starts with some Camel-like flute, but transforms quickly into a jazzy piece with catchy melodies played on various horns. The opening part of "Soft Royce" has saxophone and el-piano reminiscent of their countrymen Supersister, but changes to a Latin part in the middle before the vocal part and an organ solo. The track then stabilizes itself with a laidback, jazzy beat with wah-wah guitar and a very cool telephone effect at the end. "Mr. Barnum Jr.'s Magnificent and Fabulous City" is a lengthy jam recorded live where the band lets loose. "I Wish I would" opens with some very spacey organ and guitar and also includes a slightly Pink Floyd sounding vocal part. Then they turn to another band from their own country in "You Can Always Change" that sounds like pop-oriented Kayak (even the title is very Kayak!). The best of the shorter tracks on the album is the instrumental "Marc's Occasional Showers" that starts very energetic and catchy before the soprano saxophone plays a beautiful theme over a chorale. The album then closes with another instrumental in form of the cheerful "Catherine's Wig" that is mostly dominated by violin. With all these different influences, you could perhaps say that and that Alquin lacked some focus on this album, but most of the songwriting is good and the musicianship is very solid.
Alquin - "The Mountain Queen" (Polydor 1973)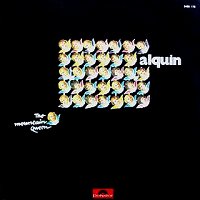 Alquin's second album is often considered to be their finest hour, and it pretty much brings together all the elements of the debut into a more unified sound. The 13-minute opener "The Dance" starts with a juicy and very typical progressive organ-riff that gets joined by a driving beat and horns. Some melodic flute and acoustic guitar builds up to the first vocal-part, before it returns to the opening section again that gets followed by some very catchy horn-riffs. The last vocal-part is pretty much in the vein of the debut. The relaxed and atmospheric instrumental "Soft Eyed Woman" reminds of Focus, but the flute is more in the vein of Camel. The short song "Convicts of the Air" features a catchy chorus in a slight Canterbury style. The complex and nearly 15-minute title-track opens with some fresh horns and a cheerful vocal-part before it turns into a quite traditional and melodic progressive tune, before turning into a jam where some distorted violin, saxophone and the el-piano duels a lot. It then slows down, before it yet again turns into a jam at the very end. A quite impressive and complicated tune this one. The album ends with a short cover of It's A Beautiful Day's "Don and Dewey" that is followed by a studio recording of "Mr. Barnum Jr.'s Magnificent and Fabulous City" from the debut. It's naturally a bit more polished here than in the live version, but benefits quite a lot from it. Especially the flute sounds great here.
Alusa Fallax - "Intorno Alla Mia Cattiva Educazione" (Fonit Cetra 1974)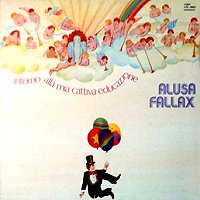 One of the many obscure treasures of the Italian 70's progressive rock scene. This group played symphonic progressive with a baroque edge, and their album shows that they were a group of high quality. The sound is dominated by flute, keyboards (piano, organ, harpsichord and synth) and some saxophone. The songwriting is incredible and varies from very beautiful ("Non Fatemi Caso" and "Per Iniziare Una Vita") to very energetic ("È Oggi") and to almost classical influenced and baroque (the title-track). The balance between vocal parts and instrumental parts is almost perfect through the whole album. And don't get scared when you see that there are 13 tracks in here. All of them floats together and makes a incredible continuos piece of symphonic progressive rock. Definitively worth having!
Amon Düül II - "Phallus Dei" (Liberty 1969)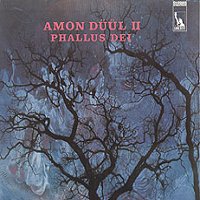 Amon Düül II evolved logically enough from Amon Düül, an experimental German 60's jam-oriented band with political lyrics. Several members decided to drop the political side of the group in favour of more focus on the music, so they broke out of the band and formed Amon Düül II that quickly would become one of the leading and most important kraut rock bands. Their debut "Phallus Dei" is very representative for the earliest phase of their career, with the exception for the German lyrics that would be dropped after this album. They played a very psychedelic kind of progressive rock that varied between long improvisations and jams and then to more structured and song-oriented tracks. The violin of Chris Karrer was an important trademark in the band's sound, and his vocals sound often like a crazy and more energetic Frank Bornemann. Renate Knaup contributed with some weird female vocals that often came to the fore on the most experimental parts. The opener "Kanaan" reveals some of their occasionally eastern influences, but "Den Güten, Schönen, Wahren" is more representative for their overall sound. "Luzifers Ghilom" is an overlooked goodie that demonstrates their talent for combining complex and sophisticated musical structures with a rough and unpolished attitude. The short "Henriette Krotenschwanz" features some operatic vocals from Knaup, but it's of course the 20-minute title-track that stands as the classic from the album. It starts as an intense and energetic jam session, but evolves gradually into more structured riffs and themes before finally climaxing with a very powerful violin riff and vocals from Karrer.
Amon Düül II - "Yeti" (Liberty 1970)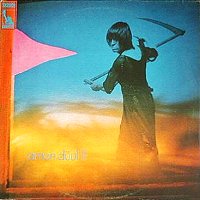 The second album was a double one, and in my opinion the best place to start for anyone unfamiliar with Amon Düül II. The first LP is made up of fairly structured stuff and features some of their best known material, such as "Archangel Thunderbird", "Eye - Shaking King" and the 14-minute "Soap Shop Rock". This is raw, energetic, psychedelic and spacy progressive at it's best. Lots of excellent guitar work here, and Karrer's violin often gives the music an eastern touch to it. The rest of the first LP is instrumental and all of the tracks are good. "Cerberus" builds up from an acoustic and hippie-ish track to a spacey and electric ending. The improvised "Pale Gallery" gives a clue about what goes on on the second LP: long and inspired free-form space-trips. The 18-minute title-track and "Yeti Talks to Yogi" are both excellent examples of this, stuffed with guitar-duels over evolving bass-riffs and a spacey organ always present somewhere in the background. Some people say this is music to get stoned to, but I disagree. The music itself should get you stoned enough! The album ends with "Sandoz in the Rain". This acoustic and flute-driven track is a kind of a nice and pleasant "wake-up" and change after 70 monumental minutes of intense and energetic space-progressive-psychedelic attack. Classic and essential stuff from the krautrock scene.
Amon Düül II - "Tanz der Lemminge" (Liberty 1971)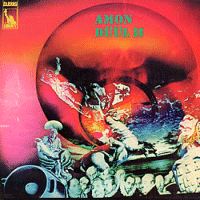 Their third album was another double one, and also one of their best. "Tanz der Lemminge" fused the sound of "Yeti" with a more traditional progressive rock style, and the album sounds overall a little bit more controlled and structured than its predecessors. The first three sides containes one side-long suite each, while the last side featured three riff-and jam based instrumentals with a quite heavy sound. The first suite, the lovely entitled "Syntelman's March of the Roaring Seventies" is more laidback and melodic than most of their other material. Most of the track is in an acoustic vein, but there's also room for some electric explorations on organ, electric guitar and even some Mellotron. "Restless Skylight-Transistor-Child" is possibly one of the most diverse and varied tracks ever recorded by a progressive rock band. Here you'll find spacey, distorted passages, heavy-prog and atmospheric and mystical psychedelic parts. Rock can't get more progressive than this. The third side is taken up by "Chamsin Soundtrack", and here the band returns to their improvisational free-form space style and creates some really dreamy and mystical atmosphere. Probably their best improvisation. For me it's almost impossible to have a favourite of "Yeti" and "Tanz der Lemminge". Both these albums will give you a solid dose of original and unusual progressive rock.
Label
Analogy - "Analogy" (Ventotto 1972)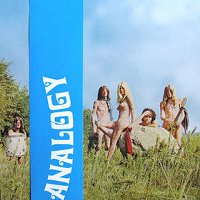 Posing nude on the cover is not very usual for a progressive rock band (not any other band either for that matter!) but this German group made an exception with their first and unfortunately only album. Musically they remind me of a rougher and more Hammond-drenched version of bands like Earth and Fire and Sandrose. A female singer with a very varied and enjoyable voice fronted them. She could take her voice up in a high soprano on the beautiful "Weeping My Endure" and then in a "lower" tone in the rocking "The Years at the Spring". The other most dominating part in their sound is a really delightful and thick Hammond organ-sound the way we like it. All the songs here are good. The title-track is with its nine minutes the longest and most complex one, going from energetic riffs to quiet parts where the organ and guitar creates some really mystical and haunting atmospheres. The opening track "Dark Reflections" is with its dramatic vocals, excellent melodic chorus and swirling organ-passages one of the very best tracks on the album. "Indian Meditation" features wordless vocals and some flute that fits well to the title of the track. "Analogy" is yet another lost classic of 70's progressive rock.
Jon Anderson - "Olias of Sunhillow" (Atlantic 1976)
Jon Anderson's solo-debut is an impressive and unique concept-album with a very mystical and otherworldly atmosphere. All the tracks float into each other and make a continuous and very pleasant flow. The music often borders on New Age, but without becoming boring and too sweet. The arrangements consist of lots of overdubbed vocal-harmonies by Anderson (who also plays some harp here), percussion, acoustic guitar and loads of very Vangelis-inspired synth-work from Brian Gaylor. The compositions vary between acoustic and structured songs, more free-floating and almost spacey passages and then to parts with atmospheric themes that build up and are repeated for several minutes to create a very hypnotic effect. Personally I think the sound of the album is so unique that it's hard to compare it with anything. The acoustic passages can of course remind of Yes-songs like the first part of "I've Seen All Good People" and "Wonderous Stories" but the sound as a whole is very original. Some slight eastern-influences can also be heard on some parts. "Olias of Sunhillow" remains Anderson's only really worthwhile solo-album, but it's a little masterpiece in itself and should appeal to everyone who wants a unique piece of atmospheric and beautiful music to drift along to.
Ange - "Le Cimetière des Arlequins" (Philips 1973)
Ange was the leading French symphonic progressive rock band during the 70's. They played a powerful and very theatrical kind of music that was characterized by the dramatic and often narrative French vocals of Christian DeCamps that probably will make the band an acquired taste for many of you. Another trademark of the band was a very unique and symphonic keyboard-sound that sounded like an organ trying to be a mellotron! Anyway, "Le Cimetière des Arlequins" was their second album and the one where they had found their signature sound. It opens with a version of Jaques Brel's "Ces-Gens Là" that pretty much sums up the earlier mentioned trademarks of the band: dark, heavy and dramatic progressive rock with a strong theatrical feel. "Aujourd 'hui c'est la Fête chez I'Apprenti-Sorcier" is despite its three short minutes my personal favourite on the album, and would probably be the first track that I would play for a person unfamiliar with Ange. It's basically a very simplistic, two-chord keyboard theme placed over a powerful guitar-riff with Decamps singing dramatically on top of it all before it turns into a quiet and atmospheric part, just to return to the energy from the beginning of the track again. "De Temps en Temps" is very symphonic ballad. "Bivouac" starts cheerful and almost folky, but it soon turns into a dark and sinister part with lots of keyboard soloing. Their strong theatrical leaning comes to the fore on the title-track. There are also two acoustic tracks here that are quite different from each other. The first one, "L'Espionne Lesbienne" sounds like a typical dramatic Ange song, but is stripped down to an acoustic piece with some nice flute. The other one, "La Route aux Cyprès", is less dramatic, more relaxed and pleasant. Overall, a decent album that cleared the way for their best releases.
Ange - "Au-Delà du Dèlire" (Philips 1974)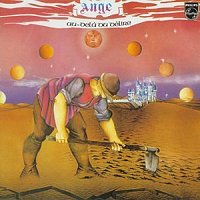 Ange's fourth release was a concept-album based on French folklore and fairy-tales and remains their masterpiece. It featured some of their best material, and the melodies had become better and more memorable than on the previous album. "Godevin le Vilain" and "Excode" are good examples of Ange at their best and most melodic. Their earlier mentioned unique organ-sound can especially be heard in at the end of "Fils de Lumière". This track floated into the 9-minute title-track and this part of the album is probably the highlight of the record. "Ballade Pour Une Orgie" was one of their best acoustic ballads. "Les Lonuges Nuits d'Isaac" has the same structure as "Aujourd 'hui c'est la Fête chez I'Apprenti-Sorcier" from the previous album, but the melody and riff is a bit more sophisticated. "Au-Delà du Dèlire" is the first album you should get if you want to check out some French 70's symphonic progressive rock at its very best.
Label
Ange - "Emile Jacotey" (Philips 1975)

This was yet another concept-album, this time based on the stories told by the French shoemaker and storyteller Emile Jacotey. Especially side 1 on the album featured some strong material. The energetic opener "Bêle, Bêle Petite Chèvre" has an interesting and unusual structure to it with a start/stop theme. The ballads "Sur la Trace des Fèes" and "Jour Après Jour" are easily among Ange's finest songs. "Le Nain de Stanislas" is the group from its most theatrical side, and Decamps demonstrates all the stuff he can do with his voice, while the more folky "Ode à Emile" became the band's signature tune. The second side is considerably weaker, and the energetic "Ego et Deus" and the beautiful "Aurelia" are the only really worthwhile tracks. The rest varies from mediocre to straightforward boring stuff. And the next album would show that "Emile Jacotey" was mainly a transitional release.
Ange - "Par les Fils de Mandrin" (Philips 1976)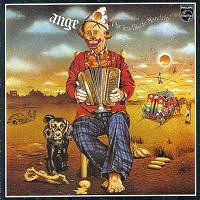 "Par les Fils de Mandrin" is next to "Au-Delà du Dèlire" regarded as Ange's finest moment. The concept of the album told about a bunch of travelling circus performers, and the lyrics are supposedly very well written. However, I can't really confirm it as I'm not into the French language at all. The Ange-sound had been a bit more polished, lighter and more folk-influenced on this album. With the exception of the hard rocking title-track, most of the songs are of a softer and more melodic kind. The album featured one of Ange's very best songs in the three-part "Hymne à la Vie". Next to "Saltimbanques" it demonstrated how the Ange-sound had evolved into a more folk-oriented direction. "Des Yeux Couleur d'Enfants" is another highlight of the album and probably the most typical symphonic song here. The cheerful "Au Cafè du Colibri" makes quite a contrast to "Atlantis" that had a very mystic and dreamy atmosphere to it. This was one of Ange's best and most accomplished albums, but it's also rated as their last good one.
Anyone's Daughter - "Adonis" (Brain 1979)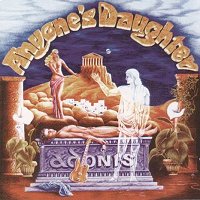 This album is regarded as a classic by some people, but sorry, I'm not one of them. This is German symphonic progressive of the kind I don't like. The sound is cold, the compositions doesn't engage me and the singer has the typical ridiculous German accent that I just can't stand. The 24-minute title-track has absolutely ALL of the things I mentioned. So I guess it's not much point in saying more about that track. The only track I really like here, is "Anyone's Daughter". It has symphonic and majestic instrumental parts, and a very good vocal theme. This track reminds me a little bit of Camel. But the rest of the album? Boring!
Aphrodite's Child - "666" (Vertigo 1971)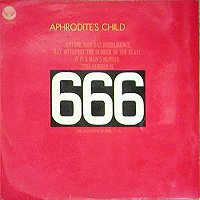 Legendary double-album based on the drug-related hallucinations in the Revelation of John (the last book in the Bible, if you didn't know). Both Vangelis and Demis Roussos were amongst the members in this Greek band. The material on the album is very varied in style, but most of it could be described as a kind of a psychedelic progressive rock. Vangelis wrote all the material, and it's not hard to hear. Here are lots of great themes and melodies. The highlight for me is the incredible beautiful and atmospheric "Aegian Sea". Beautiful keyboards, a heavenly choir and a great guitar-theme make an awesome track. Rousso's voice comes to the fore on "The Four Horsemen", a very catchy track. "The Battle of the Locusts" and "Do It" are energetic jams. There's also some orchestration to good effect on "Altamont". There's also a VERY weird track here "sung" by Irene Papas. The track is just a lot of screaming and moaning, sounding like she's having an orgasm! I must admit that I have absolutely no idea what the meaning of this track is. In addition to this, there are also a lot of short, experimental pieces and interludes on the album, adding a mystical and weird touch to the whole album. There's also some less interesting pop-tunes in between all this, but don't care about them. Most of the album is very interesting and entertaining. This was also the album that made Jon Anderson ask Vangelis if he wanted to join Yes.
Apoteosi - "Apoteosi" (Said 1975)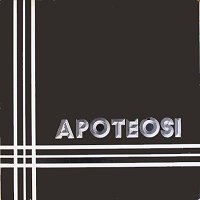 Another Italian goodie. Apoteosi played very typical 70's progressive of a kind that most of you should like. Long and complex tracks of a high quality with lots of organ, moog and beautiful flute. A lot of people claims that there's mellotron on this album too, but I can't hear it. But don't care about that, because the album is good anyway. Most of the tracks are quite structured and based in strong themes and melodies. The highlight is the 15-minute "Prima Realta / Il Grande Disumano", which in fact is two tracks floating into each other. The title-track seems to be more jam-based, and is different from the rest of the album. And by the way, the band had a female vocalist. The moog sound is also very tasty and beautiful. My only complaint is that the production is a little bit thin and has too much treble. But the music itself is very good, so you should check out the album anyway.
Ardo Dombec - "Ardo Dombec" (Pilz 1971)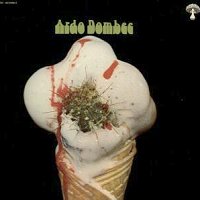 Ardo Dombec were in the category of early 70's German underground bands. Their album consisted of sax/flute-driven progressive rock. As a whole it's a bit uneven, but the good moments makes it worth a listen for fans of the genre. The undoubtedly best track is "Clean-Up Sunday". It features lots of Tull-ish flute, complete with chord-changes and several good riffs and melodies. The opener "Spectaculum" and the closer "Unchangeable Things?!" are both full of energy and quirky sax-riffs. And "108" is a very nice and atmospheric instrumental, consisting of flute and acoustic guitar only. But there are lesser good things to be found here too. The repetitive "Supper Time" and "A Bit Near the Knuckle" are both mediocre compositions, although the worst song is the bluesy "Downtown Paradise Lost". But the band should be credited for their great sense of humour, and then I'm not just talking about the creatively nasty cover. There are 6 seconds called "Oh, Sorry" on the second side that sounded like the LP was being ripped and scratched completely by the pick up of your record player! There were probably a lot of listeners who got a little shock and feared the worst the first time they heard it.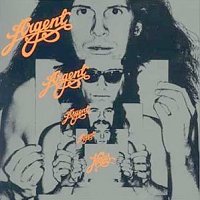 "Nexus" is easily Argent's most progressive album. The three first tracks on the album are instrumental, keyboard-dominated progressive rock of a kind all of you will enjoy. Tons of Hammond, mellotron and moogs plays mighty and inspired themes. Very good. "Love" is a ballad that gets saved by a very pleasant mellotron arrangement. "Keeper of the Flame" is a nice symphonic track that for some unknown reason reminds me a little bit of Greenslade. "Thunder and Lightning" and "Gonna Meet My Maker" are more straightforward rock tracks. The El-piano dominated "Music from the Spheres" and "Man for All Reasons" is a little bit slick, but they're definitively not bad. The latter is kind of a progressive pop-track in the vein of Kayak. Argent's problem was that the two main songwriters in the band, Rod Argent and Russ Ballard, obviously had very different musical interests. Argent was the one who wrote the most progressive tunes while Ballard was much more hit-song oriented, resulting in a lack of musical profile. Anyway, most of their material is good and so is the performance too.
Next Page