Previous Page
Artcane - "Odyssee" (Philips 1977)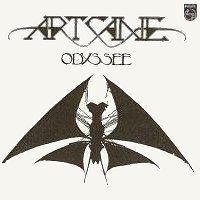 There were obviously a few sensible people left in the mainstream music industry in 1977, proven by the fact that a major label like Philips signed and released the mainly instrumental French progressive rock band Artcane that year. The music on their debut "Odyssee" was so unfashionable as it probably could be for its time, but the band and even the label rightfully didn't seem to give a damn. The opening title-track is a short but excellent piece that shows guitarist Jack Mlynski and keyboardist Alain Coupel as the most defining elements of Artcane's sound. They complement each other very well, and this track is one of the best examples of that. The next track "Le Chant D'Orphee" is one of their few with vocals. The vocal-style is quite typical for a French progressive rock band, going from narrative quiet parts to more dramatic and powerful singing. This track also goes mostly instrumental after a few minutes, entering an effective passage with lots of spiralling, looping synths blended with wordless vocal-harmonies and a few atmospheric sounds from Mlynski before climaxing into a heavy finale reminiscent of King Crimson in their era from "Lark's Tongues in Aspic" to "Red". And the King Crimson influences definitively continue when the album returns to completely instrumental ground again in the 9-minute "Novembre". Not only is Mlynski's sound and style very similar to Robert Fripp, but also the rhythmic chords sound often as if they're partly borrowed from Fripp. These are overlaid by melodic themes played on Coupel's tasty synths, and this is what prevents the band from becoming a pure King Crimson clone on these passages. But the only place where Mlynski's obsession with Fripp goes a bit TOO far is on "25th Anniversaire" that for a short time features a riff more or less identical to one from part two of "Lark's Tongues in Aspic". The most obvious King Crimson influences are more muted on the second side, dominated by the 16-minute "Artcane I". The first minutes of it wanders around in a dreamy electronic progressive realm that slowly builds up to the main theme that is cleverly repeated in several different forms through the entire piece, occasionally relieved by some energetic jams with lots of good and inspired playing. The vocals make a brief return in the acoustic closing track "Nostalgie" that is quite untypical for the album, sounding more like Harmonium in one of their lighter moments. If you can forgive a few cases of theft from King Crimson on side one, then "Odyssee" will be well worth the effort.
Ash Ra Tempel - "Ashra Tempel" (Ohr 1971)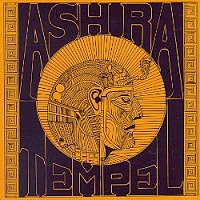 Formed by ex-Tangerine Dream member Klaus Schulze, Manuel Göttsching and Hartmut Enke, Ash Ra Tempel was one of the pioneers of the progressive space-rock genre. Their debut-album seems to bee many people's favourite by the band, and I don`t blame them, as you won't get a more perfect space-atmosphere than the one you'll find here. The two tracks on the album is both VERY spacey pieces, but still very different from each other. "Amboss" opens quiet and relaxed, but soon bursts into a frenetic jam, highlighted with Göttsching`s excellent spacy guitar playing and Schulze's energetic drumming. It`s quite facinating how such an energetic and noisy piece still can be so atmospheric and relaxing. "Traummaschine" lives up to its title, and gives a clue about what Schulze later would do on his own albums. A very quiet and mysterious piece, with floating electronics and shimmering guitar. The whole album gives you a feeling of flying through space in a pyramid and visiting planets with ancient temples. Yes, this really is SPACE music. However, if you're looking for something more controlled and electronic kind of spacey atmospheres, start with one of the first Ashra albums from the late 70's instead.
Ash Ra Tempel - "Join Inn" (Ohr 1973)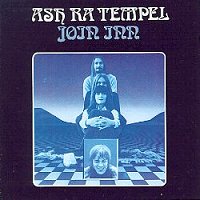 The original line- up of the band were re- united for the recording of the 4th Ash Ra Tempel album. And believe me, it's not hard to hear that this is the same line- up as on the debut- album. Just as the debut- album, this album consists of two tracks where the first is a energetic jam while the last is a atmospheric and floating track dominated by keyboards and electronics. As the title may suggests, "Freak'n'Roll" is the rocking track. As always, Göttsching contributes with great and spacey guitar playing, and the whole track is a quite inspired improvisation. But personally I like the electronic side of the band best, and "Jenseits" is no exception. Wonderful, dreamy, spacey, mystic and VERY atmospheric track that takes you to a far away and dreamy place. The track also featured some lyrics which was spoken by Göttsching's girlfriend Rosi Müller. The track would have fit onto any of Klaus Schulze's 70's albums. I just can't get enough of stuff like this! Wonderful! This, and the first album are probably Ashra Tempel's best albums.
Ash Ra Tempel - "Starring Rosi" (Ohr 1973)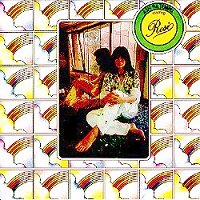 At this moment the band just consisted of Göttsching and his girlfriend Rosi. The tracks on the album were much shorter than on the previous albums, and this is with no doubt the weakest AT album I`ve heard. The best tracks here is "Schizo" and "The Fairy Dance". This is AT as we like it, spacy and atmospheric, but the tracks are just too short! "Day Dream" is a nice and acoustic track with the voice of both Göttsching and Rosi. "Interplay of Forces" is also a listenable track, while "Bring Me Up" and the extremly cheesy "Cosmic Tango" is pure crap. Not a fantastic album, and if you don`t want absolutely everything Göttsching have done, you better stay well away from it.
Ash Ra Tempel (Manuel Göttsching) - "Inventions for Electric Guitar" (Ohr 1974)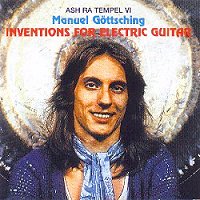 Ash Ra Tempel had never a very stable line-up and it had gradually decreased until the "band" consisted of no one else than Göttsching himself. He was obviously not sure if he should keep the name or release the new albums under his own name, as they were actually pure solo-works, so he ended up with having both the band-name and his own name on the covers! "Inventions..." turned out to be a gigantic relief after the partly embarrassing "Starring Rosi". Basically the album sounds like your typical German, mid-70's space-electronic progressive album, but it featured no electronics at all. Every sound you hear on the album is created by Göttsching's electric guitars, and you probably won't believe it when you listen to the album. The 17-minute opener "Echo Waves" sets the tone for the album. Tons and tons of overdubbed spacey electric guitars that plays several different rhythmic chords over each others, creating a hypnotic and atmospheric space-progressive music in the vein of Schulze and Tangerine Dream, but the fact that it includes no electronics and synths makes it very unique. "Quasarsphere" is the shortest track on the album and the only one to feature no rhythmic patterns. A very pleasant and floating track that brings up images of a dark and lonely planet in outer space. The second side is taken up by the 21-minute "Pluralis" (I guess just the titles of the tracks are enough to make any space-fanatic drool!). This track is based in a repetitive theme with lots of spacey improvisations on top of it. It reminds me a lot of "Cyborg"-era Schulze. "Inventions..." is a unique piece of work that will satisfy most fans of German space-progressive music.
Ashra - "New Age of Earth" (Virgin 1977)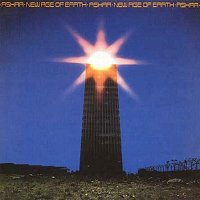 Göttsching signed a deal with Virgin in 1977, and shortened the name of his project to just Ashra. The first record for Virgin was a pure electronic album, and this time actually WITH electronics! "New Age of Earth" is easily one of the classics of 70's German electronic progressive music. Göttsching used all the synths and electronics in the typical German 70's way. His guitar-playing was now limited to just a few chords on some very brief passages. "Sunrain" opens the album with its pulsating electronic rhythmic theme with some light and pleasant synths on top of it. You can almost see the sunlight filtered through the raindrops when you listen to this track. Wonderful and very hypnotic music. The same goes for the slower and more spacey "Ocean of Tenderness". This track has the ability to set you in a very pleasant, relaxing and dreamy state. And "Deep Distance" can very well be the sweetest and most beautiful 5 minutes of electronic music ever recorded. All of the second side consists of the strongly Klaus Schulze influenced "Nightdust". Both the atmosphere, sound and build-up of this track reminds a lot of Schulze's classic "Moondawn" album, and just as good. Göttsching had a true talent for making hypnotic music to dream along to, and "New Age of Earth" is on of his/Ashra's best works.
Ashra - "Blackouts" (Virgin 1978)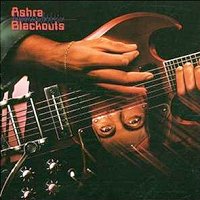 On "Blackouts", Göttsching fully integrated his distinctive electric guitar playing into the electronic soundscapes that he had started to explore on the previous album. As a result, the album feels sometimes like a combination of "Inventions for Electric Guitar" and "New Age of Earth". This also makes it maybe the definitive Göttsching/Ashra album, as it remains the best and most complete amalgamation of the two sides of his musical personality. The opener "77 Slightly Delayed" is an excellent example of how good this works, as his guitar and electronics glides into a seamless, dreamy and hypnotizing sound. "Midnight on Mars" is much in the same vein, and was undoubtedly inspired by the fantastic photographs from Mars that Viking 1 had brought back to earth two years earlier. "Don't Trust the Kids" had a quite unusual, almost dance-like rhythm that somewhat pointed forward to the next album. This track evolves and glides straight into the faster and intense title-track. "Shuttle Cock" is based around a steady and upbeat rhythm, while the nearly 17-minute "Lotus" is Göttsching at his most magic, creating a carpet of pleasant and dreamy sound. "Blackouts" will be a good place to start to explore Göttsching's literally musical universe.
Ashra - "Correlations" (Virgin 1979)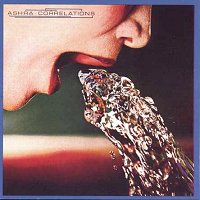 For Ashra's last 70's album, Göttsching was joined by guitarist Lutz Ulbrich and the well known Harald Grosskopf on drums. As a result, "Correlations" became the perhaps most rocking and upbeat Ashra album of the 70's. The album works very well as electronic instrumental progressive rock, and I'll admit that I even like it when dance rhythms swirls around the Mellotron in "Club Cannibal". Very refreshing and unusual combination indeed! The opening track "Ice Train" is an intense and pulsating composition that shows the new line-up in full bloom. The atmospheric "Oasis" is the only track that somewhat looks back to "Blackouts", while "Morgana da Capo" shows a mighty and symphonic new sound to Ashra where the Mellotron again is dominant, underlined by caressing electronic rhythms. The cheerful "Bamboo Sands" is a bit more pop-oriented, but still with a fairly complex structure and good melodies. The only weak spot on the album for me is probably "Pas de Trois" that becomes a bit too monotonous and underdeveloped over its nearly nine minutes. The rhythm guitar on "Phantasus" tends to remind me a bit of Pink Floyd. "Correlations" felt like a very natural development from the two previous albums, and personally I think Ashra's three first albums for Virgin very well could be the artistic peaks in Göttsching's career.
Atila - "Intención" (Basf 1976)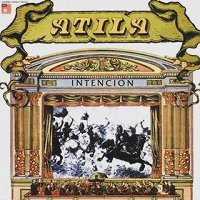 Spanish symphonic progressive rock with a quite raw and powerful attitude. There's some vocals on the title-track, but all the other tracks are instrumental. There's lot of excellent keyboard work here, mostly Hammond and moog. The band also used a female choir to good effect, and the drummer has a very powerful and aggressive style. My favourite track on the album is "Dia Perfecto". It starts with some quiet sounds that turns into a classical influenced keyboard theme. And when the track really kicks away with it's incredible moog-theme, thundering drums and guitar, then you'll understand what I mean with POWER. The 16-minute "El Principio Del Fin" starts with some church organ. After that, an almost Hendrix-like guitar riff appears, before the whole track slows down to something that reminds me a little bit of none other than Bo Hansson. A strong album, although a few passages of it may seem to wander a bit.
Atlantide - "Atlantide" (Crypto 1976)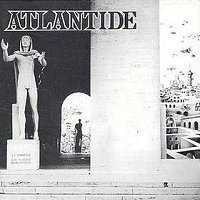 The French band Atlantide released to my knowledge only this self-titled album in 1976. The major problem with this band was in my opinion their very shameless and unveiled stealing of riffs and themes from Yes. Every song on the album features parts and themes that are more or less lifted directly from various Yes-classics. The opening title-track has in the beginning and the end the same riff as "Heart of the Sunrise" and the short, acoustic "Le Regard Des Dieux" that sounds just like "Your Move" from "I've Seen All Good People" follows this track. "Images" is an acoustic instrumental where some chords sounds VERY similar to "Mood for a Day". The 12-minute "Soleil Moir" opens with the theme from the mid-part of "South Side of the Sky" but played on acoustic guitar instead of piano. And as if this isn't enough, a riff from "Sound Chaser" appears right after that part! Despite some good things, like the pleasant and melodic vocals (not too common in French progressive rock), I have problems with taking this album seriously. Cloning a band's sound is one thing, but to steal all their riffs and claim them to be your own is way too pathetic.
Atlantis Philharmonic - "Atlantis Philharmonic" (Dharma 1974)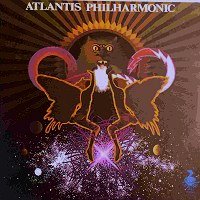 The unique thing about this American outfit was that they were a duo sounding at least like a four-piece symphonic progressive rock band. Joe DiFazio were something of a multi-instrumentalist, playing Mellotron, organ, harpsichord, Moog, piano, guitar and bass as well as contributing with the lead vocals. Royce Gibson played all the drums and percussive stuff, and had a quite clever way of incorporating the timpani more into the music than what is usual. Their album sounded slightly dated for 1974, reminding more of something from '70-'71, but that's not necessarily a bad thing. Their sound is juicy and powerful, almost heavy at occasions, but always kept symphonic and grandiose by DiFazio's various keyboards. The heavier tracks on the album, like "Atlantis" and "Atlas" also tend to the more complex ones, although you shouldn't expect Gentle Giant either. The more quiet ones benefit from strong melodies, just check out the slightly psychedelic "My Friend" and the beautiful "The Woodsman". The latter one is the highlight for me, featuring one of THOSE Mellotron-finales. The duo also displayed a talent for strong vocal-harmonies, and this is best heard on the very striking and powerful ending of "Atlas". Atlantis Philharmonic were a highly talented duo that never were heard from again, but their album remains a gem among the early American attempts at creating symphonic progressive rock influenced by British/European sources.
Label
Atlas - "Blĺ Vardag" (Bellatrix 1979)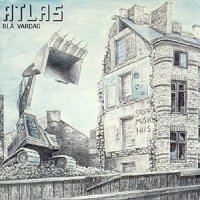 Keyboard-based symphonic progressive rock from Sweden. Here you'll get lots of hammond and tasteful moog-sounds. The songwriting are overall good and quite complex. The highlight of the album is the 14-minute "Pĺ Gata". This track will satisfy any lover of 70's progressive. "Elisabiten" is another excellent track. The second side of the album sounds slightly more jazz-influenced and a little bit weaker than the first side, but still good. If you like Genesis, Yes and Emerson, Lake & Palmer then you'll surely enjoy this album.
Aunt Mary - "Janus" (Vertigo 1973)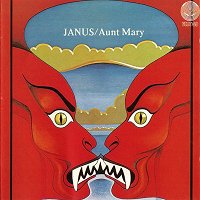 Believe it or not, but there has in fact been some good progressive rock bands here in Norway too! Aunt Mary was most of their time a hard rock band in the Deep Purple vein. But on their third album, "Janus", the music took a much more progressive direction. The album is clearly inspired by Yes, Pink Floyd and Emerson Lake & Palmer. Keyboardist Bengt Jenssen had also bought a minimoog which he used in the most tasteful way. The album starts with "Path of Your Dream". The opening riff soon gets into a acuostic vocal part, and the track ends in a disharmonic riff with the moog monotonius just going on and on in the background, and it sounds great! "For All Eternity" is a quite Yes influenced track and also very good. On "Stumbling Stone" you can still hear some of the group`s hard rock roots, but in a much more experimental way than before. "All We got to do is Dream" is a nice acoustic track, and "Candles of Heaven" got some Emerson influenced hammond-work and high vocal harmonies. A great album which gets my vote as the best norwegian progressive rock album ever.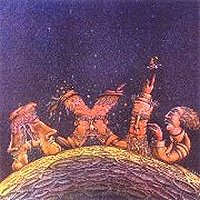 The second album by this Greek band who lived in France. I've been told that their two other albums are both non-progressive, but this one is a REALLY progressive album! It's incredible diverse and features almost everything: heavy progressive, trad/free-form jazz, Crimson-like passages, experimental and atmospheric Tangerine Dream-like Mellotron-parts, Canterbury-like jazzy progressive and grandiose, symphonic parts with church-organ and choir. The only thing that doesn't do much for me is the most far out free jazz on "Asymphonia". But the rest is GREAT! The opening track "Waiting a Long Time" is a great heavy-progressive track, and at the end the track suddenly turns into a part where it's played by a trad-jazz arrangement. And the album just continues to surprise the listener with unexcepted turns. "Sewers Down Inside" features Tangerine Dream-like flute-Mellotron and creates some great atmosphere. "Materializing the Unlimited" sounds like a good Crimson-instrumental with great Mellotron. "Suspended Recipe", "Roads" and "The Planet Vavoura" are all more in a Canterbury progressive vein. Jazzy, but the band managed to give it a sound of their own by using the Mellotron on these passages (not very common in jazz-influenced progressive). A great and VERY progressive album, but be aware that I've also seen this album listed as "Sewers Down Inside" and that their third (and non-progressive) album also was called "Axis". And thanks to my good friend Bill for making me aware of this band!