Uriah Heep - "Very 'eavy...Very 'umble" (Vertigo 1970)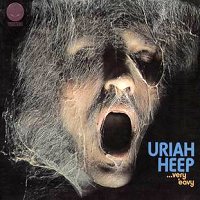 Few bands captured the sound of classic '70s rock better than Uriah Heep did with their grandiose, melodic and progressive heavy rock. Even if their debut-album was pretty much your typical early '70s organ-drenched heavy rock, several of the most distinctive Heep-trademaks could already be heard here, like the operatic vocal-harmonies and the wha-wha dominated playing style of guitarist Mick Box. And not at least, the very powerful B3-Hammond of Ken Hensley, who also contributed with some guitar on the non-organ songs. The album opened with one of their best and most legendary hard rockers: "Gypsy". The track is based in a simple but genius riff that gets relieved by powerful vocal-parts with David Byron at his absolutely best (along with Ian Gillan, Byron was one of the very first typical heavy metal singers) and a long and absolutely outstanding organ-solo from Hensley. This is '70s heavy rock as good as it can get. Both the non-organ songs ("Walking in Your Shadow" and "Real Turned On") are also excellent tracks based in great riffs. The only track that I don't care for here is the limp blues of "Lucy Blues". The album also features a Mellotron-dominated cover of "Come Away Melinda" and this is for my money the best version ever recorded of this track. The two closing numbers showed Heep from their most progressive side. First you had the complex "I'll Keep on Trying" that probably had their heaviest riff ever. The lighter, more melodic "Wake Up (Set your Sights)" is a kind of a two-part track where the first part have a slight jazz-influence. The second part is basically the same melody as the first, but with a much calmer and laidback arrangement, including Mellotron. WHAT an atmosphere and sound! And now I almost forgot to mention "Dreamare" with it's idiotic but irresistable catchy "la la la la" chorus. The album contained one flaw with "Lucy Blues" but the rest is great.
Uriah Heep - "Salisbury" (Vertigo 1971)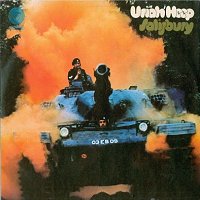 All of Heep's true ambitions (and they were not few) came to the surface when Ken Hensley took over most of the songwriting in the band. "Salisbury" remains probably their most progressive album, most because of the 16-minute title-track. This was a very impressive and complex composition where the band's hard rock and choir-like vocal-harmonies melts together with brass and woodwinds, creating a very unique symphonic heavy-progressive piece. Influences from both jazz and classical music can be heard here. The atmospheric "The Park" is another progressive song. It starts as a ballad sung in a high falsetto and the arrangement includes organ and vibes that makes an incredible atmosphere. At the end it turns into a jazzy start/stop-instrumental part with the sound of birds making the park-atmosphere complete. Even the album's heaviest number, the opener "Bird of Prey", has got a slight progressive edge thanks to the Mellotron, organ and the operatic vocals that never were more over-the-top than on this track. But the best-known song here is actually the acoustic ballad "Lady in Black" that was performed on no less then four acoustic guitars and a wordless-chorus that sticks to your brain. A classic! The rest of the album was made up of the two decent rockers: the slow "Time to Live" and the faster and lighter "High Priestess". A very strong album even if they still struggled a bit to find a perfect amalgamation between the heavy and the progressive side of their music, but that would come very soon...
Label
Uriah Heep - "Look at Yourself" (Bronze 1971)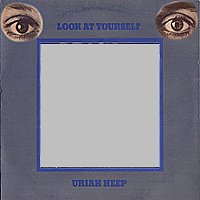 All the pieces came together on the third album that also was Heep's breakthrough. It features what many people consider to be their best song ever: the eleven-minute "July Morning". Right from the start with Hensley's heavenly organ-theme, to the soft and atmospheric vocal-parts and then to the fading riff at the end with excellent moog-playing by Manfred Mann, this track is simply one of the best songs ever recorded during the '70s. It perfectly captures the mood and sound of the decade. But the rest of the album is absolutely awesome too. The title-track and "Love Machine" are driving heavy rock at its very best. "Shadows of Grief" is a powerful and muscular heavy-progressive track with complex instrumental-parts. One of the vocal-sections even does a kind of a "Child in Time" trick! "Tears in My Eyes" is basically a quite simple rocker with lots of slide-guitar, but it features a beautiful mid-part with word-less vocals and acoustic guitar. This was their first attempt at fusing heavy riffs with acoustic parts, and this was to be perfected on the next album. "I Wanna Be Free" is a very typical melodic Heep-stomper, while "What Should Be Done" is a soulful ballad. NO one can call himself a '70s-freak without having this album in his collection.
Uriah Heep - "Demons and Wizards" (Bronze 1972)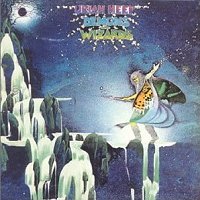 Heep finally found a stable rhythm section when bassist Gary Thain and drummer Lee Kerslake joined the band, and this proved to be the ultimate Heep line-up. The first album by this line-up is probably also Heep's most perfect moment ever. The band had developed a unique style of heavy rock on "Demons and Wizards" that combined acoustic melodies with heavy riffs, the most powerful B3-organ sound around, the usual Heep-vocal-harmonies and fantasy lyrics. "Circle of Hands" is easily one of their best songs ever, with a great melody and the earlier mentioned organ-sound in front of the sound. The merciless drive and energy of "Easy Livin'" became the best-known moment of the album, followed by the melodic "The Wizard". "Poet's Justice" is another great example for the band's newfound style of mixing strong melodies with heaviness. It also features a dramatic break in the middle with awesome playing by all members in the band. The sinister "Rainbow Demon" is probably the heaviest track here, and features one of Hensley's coolest lyrics ever. "Traveller in Time" is next to "The Wizard" probably the best example they ever recorded of their combination of acoustic, melodic softness and heavy riffs. The two last tracks floats into each other and creates the most progressive part of the album. "Paradise" is an acoustic, atmospheric and mystical track that glides into the complex "The Spell" that features awesome atmospheres and melodies. There's not a dead spot here at all, and overall this was Heep's strongest album. It's a classic that should be in any '70s fans collection.
Label
Uriah Heep - "The Magician's Birthday" (Bronze 1972)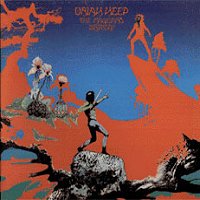 It was no doubt that Heep now was in the best, most creative and successful part of their career as the classic "Demons and Wizards" was followed up already later the same year by another strong work of fantasy-styled progressive heavy rock . When it comes to atmosphere, no other Heep album beats "The Magician's Birthday". Just listen to superb tracks like "Tales" and "Echoes in the Dark" and you'll hear. Hensley had now introduced moog to the sound, creating some awesome and delightful atmosphere. The opener "Sunrise" ranks high up there with "July Morning" and "Circle of Hands" as one of Heep's strongest songs ever. "Spider Woman" was the first number in a light and catchy boogie-style that the group would explore more on later albums, and this was one of the best and catchiest songs they ever did in that style. "Rain" is a wonderful ballad consisting of nothing else than piano, vibes and Byron's great voice. "Sweet Lorraine" was the hit-single from the album and features a catchy chorus and a simple but beautiful synth-theme. "Blind Eye" is another great showcase for the acoustic part of their sound, with a wonderful fairy-tale mood. The 10-minute title-track is Heep from their most progressive and amusing side, and tells the story of a magician's birthday-party that suddenly becomes the scene of a fight between good and evil. Each part of the song is a perfect musical description of the story as it evolves. From the cheerful opening part (it even features a brief version of "Happy Birthday to You"!) that describes the party and then to the sinister part that builds up to the fight. A long and raw solo from Mick Box that is driven forward by some furious drumming gives the impression of a hell of a battle! Things calm down a bit to the end where the victorious magician sings scornful to his enemies. This is great entertainment and another classic album from Heep.
Uriah Heep - "Live" (Bronze 1973)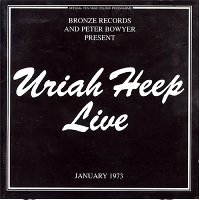 Just as many other bands during the '70s, Heep were wise enough to put out a live-album while they were on the top of their career. "Live" is a double-album that remains one of the classics when it comes to live-albums. It perfectly captures Heep in concert at their best and features strong versions of such classic Heep tracks as "Circle of Hands", "Sunrise", "July Morning" and "Traveller in Time". They even manage to re-create their awesome vocal-harmonies very well (just check out "Easy Livin'"). The 14-minute version of "Gypsy" features some of the coolest and most vibrating organ-sound ever recorded, and it also includes a long moog-solo. The only "weak" thing is that Heep already at this moment had too many classic songs to get them included on a double live-album. It's hard to not miss such gems as "Bird of Prey", "Lady in Black" and "The Wizard" from the play-list. It should may have been a triple-album instead as Heep had enough classic material to justify a release like that. And the 8-minute rock'n'roll medley at the end of the album is fun for 1 or 2 listens, but I've skipped it after that. But apart from that, this is a very enjoyable listen if you like live-albums. It's also Hensley's personal fave album by Heep, next to "Demons and Wizards".
Uriah Heep - "Sweet Freedom" (Bronze 1973)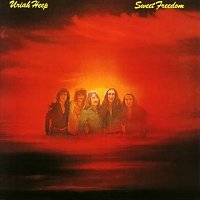 The last classic album by the best Heep line-up, but as I said, it's a classic and in my opinion just as strong as the two '72 albums. However, the epic masterpiece "Pilgrim" was the only track where the band still dealt with fantasy-themes. "If I Had the Time" has the most incredible atmosphere Hensley ever created with his keyboards. The main-theme of this track is just so great and fantasy-like, even if the lyrics not were in the fantasy-territory at all. "One Day" features almost everything that made classic Heep so great. Fantastic harmonies, a great melody and Mick Box' wha-wha playing. The title-track is another strongly melodic tune, but now with Hensley's delightful organ more in front. "Circus" is one of their best acoustic tracks ever, and has a great '70s mood. The album also features a couple of straightforward hard rockers where "Stealin'" is the best known. However, the two others ("Dreamer" and "Seven Stars") are both just as good. Overall, another essential Heep-album. But any band would have been pretty much dried up after releasing 7 strong albums (including several classics) in only 3 years, and the following albums would prove that Heep of course was no exception...
Uriah Heep - "Wonderworld" (Bronze 1974)
The first disappointing Heep-album. While all the previous albums had been solid and even works, "Wonderworld" was filled with several weak tracks and an overall thin production. But it opens actually quite promising with the title-track. This is gentle, melodic and classic Heep with a great arrangement and melody. But after that? Well, "Suicidal Man" is a very limp and lame attempt at making an aggressive hard rocker. It has actually one decent riff, but it's only played twice. The rest of the track sucks. "The Shadows and the Wind" is on the other hand one of the better tracks on the album, and features their distinctive vocal-harmonies at their best. "So Tired" is a decent rocker, but nothing fantastic. But "The Easy Road" is a very tasty and orchestrated piano-piece that easily ranks up with their best ballads. Side 2 opens with "Something or Nothing" and this is a catchy and energetic number in the vein of "Spider Woman". But that's the only noteworthy track on the second side. "I Won't Mind" features long guitar-solos from both Box and Hensley to cover over how weak the track is. "We Got We" is plain awful and one of the worst Heep-songs from the '70s. And "Dreams" is a cheesy and half-assed attempt at making another epic in the vein of "Pilgrim" but fails completely. "Wonderworld" is generally for die-hard fans only.
Uriah Heep - "Return to Fantasy" (Bronze 1975)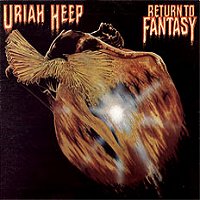 Gary Thain had been badly electrocuted on stage during the "Wonderworld" tour. He was actually injured so much that he couldn't play the bass properly anymore and his drug-abuse wasn't making things better. So the band was unfortunately forced to tell him to leave. Sadly he was found dead of an overdose just a few months after he left. But Heep carried on, and it was quite a surprise that Thain's replacement was none other than ex-King Crimson bassist John Wetton. But not even Wetton and the fact that the album was Heep's best selling ever could prevent the album from being another disappointment. Just as "Wonderworld" it started very promising with a great title-track in the classic Heep-tradition. But the album got very uneven after that. I think "Beautiful Dream", "A Year or a Day" and "Devil's Daughter" are the only other noteworthy tracks here. The rest of the album sounded like a strange attempt at reducing the band to a straightforward blues/boogie-rock band. The songs themselves are not directly bad, but I would expect something more than this from such a sophisticated band as Heep actually were in the '70s. Maybe it was their intention to make "Return to Fantasy" a kind of a party-album, but it doesn't become more interesting for that reason.
Uriah Heep - "High and Mighty" (Bronze 1976)
The last Heep-album to feature David Byron on vocals is their most underrated ever, and in my opinion a much better and more interesting album than "Return to Fantasy". Instead of traditional and tired boogie-riffs that you've heard a thousand times before, they now focused on strongly melodic tracks. But there was of course still a fair amount of hard rockers here. The opening track "One Way or Another" is a great and energetic track sung by John Wetton. I think the way he starts each verse in a high falsetto is very cool. "Can't Keep a Good Band Down" was a kick in the balls to all the braindead critics who had panned Heep from day one, and is one of their catchiest tracks ever. The album features some very strong melodies in "Weep in Silence", "Confession" and the great, progressive ballad "Midnight". The latter also featured some Mellotron from Wetton. "Misty Eyes" is another winner, with an airy and very progressive-sounding organ and some incredible catchy melodies. And "Footprints in the Snow" is a Heep-classic as good and typical Heep as it can get. The album also featured some tracks that were rather untypical for the band. "Woman of the World" experimented with Beatles-like harmonies and "I Can't Stop Singing" was a very campy pop-tune. But personally I enjoy both these tracks. This was a much more graceful way for David Byron to end his career with Uriah Heep than what many people wants it to be.