Lighthouse - "One Fine Morning" (Vertigo 1971)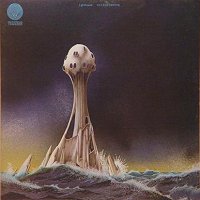 This Canadian band featured no less than 13 members, including future soundtrack-composer Howard Shore on saxophone. "One Fine Morning" stands as their best and most interesting album. Musically they were in the vein of American bands like The Flock and early Chicago. In other words, an energetic mix of jazz, blues, hard rock and some soul, drenched in complex and colourful arrangements with lots of horns and strings. The opener "Love of a Woman" is very representative for their sound, including powerful horn-riffs and jazzy instrumental-passages. "Little Kind Words" has a lovely arrangement where a harpsichord melts in with the flute and horns. "Old Man" is undoubtedly the most complex track on the album, and also one of the very best. "Sing, Sing, Sing" is on the other hand a catchy and simple tune. The beautiful "1849" is one of the best examples of how the band blend horns, strings and vocal-harmonies to create a rich and powerful sound. The second side featured the classic title-track, and this fresh and energetic song would become Lighthouse' signature tune. "Hats Off (to the Stranger" and "Show Me the Way" are both more basic songs of soul and blues, but pretty good ones. "Sweet Lullabye" showed the band's ability to make a light and straightforward tune sound progressive by giving it a complex and exiting arrangement. "One Fine Morning" will be a sure winner if you enjoy horn-driven '70s rock with minor progressive elements.
Lighthouse - "Thoughts of Movin' on" (Vertigo 1972)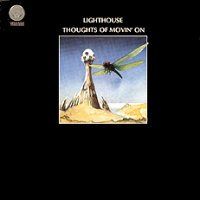 "Thoughts of Movin' on" was a disappointment after such an excellent album as "One Fine Morning". The elements that made the previous album an exciting and colourful record seemed to be missing here, and most of the songwriting never reaches the level of the previous album. But Shore wrote two of the better tracks on the album in form of the catchy "What Gives You the Right" and the atmospheric ballad "You and Me" that featured some Tull-ish flute. The rest varies from decent to mediocre and then finally to downright crappy. "Take It Slow (Out in the Country)", "I Just Wanna Be Your Friend", "Rockin' Chair" and "Insane" are all listenable rockers, but there is nothing particularly memorable or outstanding about them. "I'm Gonna Try to Make It" and the gospel-influenced "Walk Me Down" are better and more interesting, but only slightly. "I'd Be So Happy" tries to recreate the grand sound of some of the most grandiose moments of "One Fine Morning" but partly fails, as the melodies simply aren't strong enough compared to the standard of that album. The bottom is reached with "Fly My Airplane". If you ever wondered how half-assed, cheesy and repetitive a tune could be, this one gives you the answer. The album could still have been worse, but as "One Fine Morning" demonstrates, also better.
Lighthouse - "Sunny Days" (Mooncrest 1972)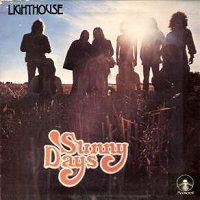 "Sunny Days" was maybe not much more adventourus than what "Thoughts of Movin' on" had been, but it was a fresher and more inspired album. The two only slightly progressive songs on the record, the fairytale fantasy of "Merlin" and the intense "You Give to Me" ranks both amongst the group's best tracks. The more pop-oriented side of the band was represented with "You Girl" and the title-track that gave them one of their biggest hit songs. "Broken Guitar Blues" stands as one of Lighthouse' most catchy tracks, and was next to the opener "Silver Bird" and the closer "Lonely Places" the most rocking track on the album. The slow and soulful "Beneath My Woman" has got some tasteful strings that add lots of atmosphere to the song, while "Letter Home" is a simple but pleasant folksy ballad. The earlier mentioned "You Give to Me" had undoubtedly the best instrumental passage on the album, featuring intense soloing where not a single chord is redundant or drags. "Sunny Days" is a good album if you enjoy this kind of horn-drenched '70s rock, although I would still recommend "One Fine Morning" as the first album you should check out with Lighthouse.
Label