Magnum - "Kingdom of Madness" (Jet 1978)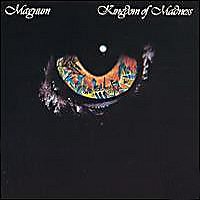 Magnum started their career as the British answer to Styx, and did that very well before deciding to decline into a deadly dull and overtly slick AOR-band. Their debut "Kingdom of Madness" is in my opinion clearly their best album. Most of the songs here are good and the arrangements includes flute, moog and Mellotron, giving the music the sound that we like. The best and most progressive tracks includes "In the Beginning", "The Bringer", "All That is Real", "All Come Together" and the title-track. All of them are pretty good melodic hard-rock tracks with progressive tendencies and tasty, complex arrangements. "Invasion" is in a more straight-forward hardrock vein, but still good. "Universe" is a nice and melodic symphonic song, but "Baby Rock Me" is rather cheesy. "Lords of Chaos" is another good melodic track. A very strong and good debut that should be checked out by all classic '70s rock fans as it won't disappoint.
Magnum - "Magnum II" (Jet 1979)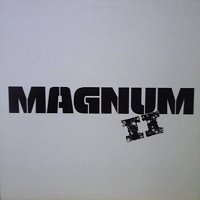 The second album was not so good as the first, simply because the material was less impressive and some of it also gave a clue about what the band would do later in their career when they sold completely out in the mid 80's. "Changes", "Foolish Heart" and the crappy ballad "Staying Alive" sounded all like cheap attempts at making hit-singles. The Mellotron was also used less in favour of more 80's sounding synths (not exactly the way to make me happy). But there was fortunately some quite good, melodic progressive hard rock here too. "Reborn" is probably their most complex track ever, featuring good melodies and atmospheric parts with flute that gets relieved by more energetic, synth-drenched instrumental parts driven forward by Clarkin's gutsy guitar-work. "Great Adventure" is not bad either, but gets partly ruined by the crappy synths. The same goes for "So Cold the Night". "Firebird" features the Mellotron and a very brief part with flute and harpsichord and is one of the best tracks here. "If I Could Live Forever" is a tasty, symphonic hard rock track, while "All of My Life" is more laid-back in its own kind of way with some Queen-like harmonies in the middle. "Magnum II" is a bit uneven, but it should be a decent album if you enjoy Styx.