Queen - "Queen" (EMI 1973)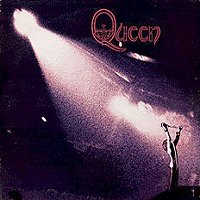 Queen shouldn't need any further introduction. In the '70s they were undoubtedly the leading exponents of pomp rock, a term loosely used to describe a combination of campy pop and grandiose heavy rock with a few progressive tendencies. Their self-titled debut was a rather cheap production (in sharp contrast to the albums that followed), but that didn't prevent the album from showing a lot of the band's musical potential. Here you'll find two of Freddie Mercury's most overlooked gems. "Great King Rat" with its excellent melody, galloping rhythm and aggressive wah-wah solos remains one of my personal Queen favourites, while "Liar" encapsulates almost everything that was good about '70s hard rock of the more ambitious kind. "My Fairy King" is a fine example of the complexity of Mercury's early songwriting, and features a finale that could have been taken straight from Genesis' "Trespass". Guitarist Brian May usually delivered the band's heaviest songs, as clearly shown in the Black Sabbath-influenced "Son and Daughter", but "The Night Comes Down" demonstrates the acoustic side of his musical personality. Drummer Roger Taylor always wrote a gritty and straightforward hard rocker sung by himself for the early Queen albums, and "Modern Times Rock'n'Roll" is no exception to that rule. The dynamic "Doing Alright" was a song from May and Taylor's previous band Smile. The instrumental version of "Seven Seas of Rhye" that closes the album can't be counted as anything else than an unfinished sketch for what the year after would become Queen's first hit-song. But the opener "Keep Yourself Alive" is a classic with some great, pulsating riffs from May. You could possibly say that Queen's sound still was under construction on this debut. The band's trademark operatic harmonies hadn't been developed yet, the same goes for May's characteristic orchestral guitar sound. But the solid material and sheer musical quality of the album makes it a very strong debut, and personally I rate it far above anything the band did after 1976.
Label
Queen - "Queen II" (EMI 1974)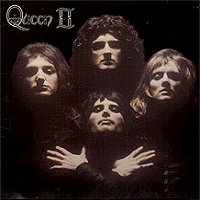 Queen's second album was their first with a proper budget, and it really shows. "Queen II" is as over the top as the band ever got. The material is really grandiose and ambitious, and the complexity of several songs will stun even progressive rock fans. The high-pitched vocal harmonies (which undoubtedly were inspired by Uriah Heep) are all over the place, especially on "Side Black". Anyway, "Side White" is the first side and was mainly written by May, with the inclusion of Taylor's "The Loser in the End" at the end. "Father to Son" is easily one of the best songs May ever wrote in the band and remains shamefully overlooked among many fans of the band, who seems to prefer later crap like "We are the Champions" instead. "Father to Son" starts as a melodic and grandiose song stuffed with harmonies before it builds up into an ultra-heavy solo-part in the middle that gently slows down and returns to the main melody, before the whole track fades out with some great harmonies. This was Queen at their ultimately best. The literally haunting "White Queen (As it Began)" is another underrated gem, while "Someday One Day" shows May from his most tasteful and melodic side, and here he takes the vocals himself for the first time. "Side Black" opens with "Ogre Battle" that probably was the heaviest and most aggressive song Mercury ever wrote. This one glides straight over into "Fairy Feller's Master-Stroke", a song full of harpsichord and catchy hooks. If pop music had existed back in Victorian Britain, then this is probably how it would have sounded. The short and beautiful ballad "Nevermore" is followed by "The March of the Black Queen", a tour-de-force from Mercury that stands as Queen's most complex composition. It changes and shifts focus through all of its six minutes, never remaining the same for very long. "Funny How Love Is" is quirky and catchy pop, but it was the closer "Seven Seas of Rhye" that became Queen's first hit. The piano-riff had been considerably sped up and was now joined by a catchy vocal melody. The album itself was (and still is) obviously a bit too much for mainstream listeners, but I guess that should just be taken as a good sign.
Queen - "Sheer Heart Attack" (EMI 1974)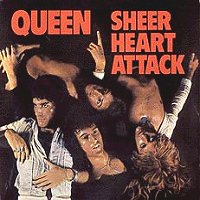 This one is usually regarded as Queen's first classic album, and no matter how much I like their two first ones, I've no problem admitting that "Sheer Heart Attack" was where Queen found their classic and definitive style. And that means actually a wide array of different styles, but all of them stamped by Queen's recognisable and grandiose sound. The two hits from the album, "Killer Queen" (one of their finest singles in my opinion) and the far heavier "Now I'm Here" are both wildly different songs, but both sound unmistakeable like classic Queen. The spirit of "Queen II" can still be found in "Flick of the Wrist" and "In the Lap of the Gods", while other songs on the album pointed forward. Bassist John Deacon delivered his first song to the group in form of "Misfire", a bright and upbeat little tune that would prove to be very representative for his songwriting. Taylor showed that he had matured and became a bit more sophisticated as a songwriter with his "Tenement Funster", while May on the other hand seemed to experiment with simplicity in "She Makes Me (Stormtroopers in Stilettoes)". The song is based in an acoustic, repetitive two-chord riff above a soft and haunting melody. The guitar-orgy "Brighton Rock" that opens the album would naturally become one of May's favourite numbers on stage, and the whole band wrote the frenetic "Stone Cold Crazy" that would remain the fastest and hardest rocking song they recorded. The ragtime-sounds of "Bring Back That Leroy Brown" is not exactly classic Queen, but still shows a sense of humour that other bands of this kind usually lacked completely. The anthemic ballad "In the Lap of the Gods...Revisited" closed the album in a grandiose way. Queen were now well on their way to become superstars.
Queen - "A Night at the Opera" (EMI 1975)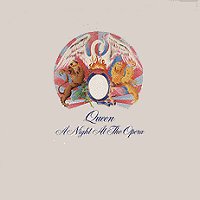 Everyone's Queen-favourite and widely considered to be the band's artistic peak. "A Night at the Opera" featured the probably most unlikely hit-song of all time in form of "Bohemian Rhapsody". This epic and complex song managed to include more or less every side of Queen's music, and those are not few. It opens like a melodic piano-ballad before going into an over the top operatic passage that builds up to a loud heavy rocker and finally it all slows down and goes back to the beginning again. This was indeed not your average verse/chorus/verse/chorus hit-song. It would ever since remain one of Queen's most beloved pieces and their signature tune. And there is yet another quite progressive song on the album with May's dramatic "The Prophet's Song", and this one also featured an impressive part in the middle where the band toyed and experimented with their vocal-harmonies. The transition from this one and into the baroque piano that starts "Love of My Life" is very smooth and seamless, and this song would become one of Mercury's classic ballads. The opener "Death on Two Legs" was dedicated to the band's former manager Norman Sheffield. The lyrics were so insulting and defamatory that they didn't dare to write his full name on the cover, but made sure that everyone understood whom the lyrics were about. The gentle and almost folky "'39" and the hard rocking "Sweet Lady" showed May's two musical personalities very well, and Deacon wrote one of his most successful songs with "You're My Best Friend". Also Taylor delivered one of his very best ones with "I'm In Love With My Car". Just as his earlier songs this was also a quite straightforward rocker, but now sounding much grander and bigger than before. The less serious side of Queen's music came to the surface on the two Music-Hall ditties "Lazing on a Sunday Afternoon" and "Seaside Rendezvous" that both create a kind of a 30's atmosphere. By the way, Queen's sense of humour and their ability to not take themselves all that serious was always very overlooked by the press and other people who didn't like the band. The album closed with a short instrumental version of the British national anthem, and this would ever since be used as the closer in Queen's concerts too.
Queen - "A Day at the Races" (EMI 1976)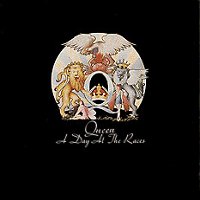 It's never easy for a band to follow up an album that made them into superstars, but Queen succeeded as good as they ever could with "A Day at the Races". You can probably sense a small turn toward simpler and more conventional song structures, as "The Millionaire Waltz" was the only song that could qualify as an epic on the record. But the sophistication and grandeur of the music was still just as strong as before. This was especially apparent in the hit "Somebody to Love" that sounded like a gospel-version of Queen's classic sound. "Good Old Fashioned Love-Boy" is campy and sophisticated pop at its finest, and the opener "Tie Your Mother Down" is one of Queen's classic rockers that would become among the favourite in concerts. "Teo Torriate (Let Us Cling Together)" was a surprisingly tender ballad for being written by May, and even Taylor seemed to be in a more laid-back mood in the atmospheric "Drowse". May shows himself from his most melodic side in "Long Away", a song in the same style as "Someday One Day" from the second album. The powerful hard rock of "White Man" was the heaviest moment on the album, and Deacon delivered yet another one of his uplifting and catchy tunes in "You and I". The stripped down "You Take My Breath Away" is unfairly overlooked compared to "Love of My Life", but it remains one of Mercury's best ballads anyway. Queen consolidated and strengthened their position further as a million-selling mega-band with "A Day at the Races", but personally I also think it was their last good album. Later records dwelled too much into cheesy anthems ("We Will Rock You" - just the kind of mindless crap your musically braindead neighbour will crank up whenever he wants to show everyone what a real badass he too can be) and the band's growing obsession with general arena rock and even disco.