Ritchie Blackmore's Rainbow - "Ritchie Blackmore's Rainbow" (Oyster 1975)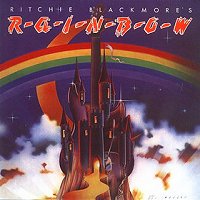 Immediately after he left Deep Purple, Ritchie Blackmore teamed up with the band Elf (who already had released an album on Deep Purple's own Purple label), kicked out their guitarist and renamed the group Ritchie Blackmore's Rainbow. The band's self-titled debut couldn't have given Blackmore a much better start to his new career, as there was not a weak track in sight on the record (with the possible exception of the generic "If You Don't Like Rock'n'Roll"). Blackmore's superb guitar-work was of course still easily recognizable for any fan of Deep Purple, but his new band still had a slightly different approach. The mystical fantasy-lyrics of singer Ronnie James Dio was something that Blackmore earlier only had flirted with in the title-track of Deep Purple's "Stormbringer". The keyboards would never get as important and dominant as Jon Lord's organ had been in Deep Purple, and Micky Lee Soule preferred instead to use the clavinet most of the time. With its killer riff, great melody and outstanding solo from Blackmore, "Man on the Silver Mountain" opened the record and would forever remain one of the band's main anthems. "Self Portrait" is a song that slightly reminds of Coverdale-era Deep Purple in one of their better moments. The funky "Snake Charmer" is something of a surprise, considering the fact that Deep Purple's increasing funky tendencies was the main reason why Blackmore had left the band! It's a very good song anyway, where the melodic bridge between the verse and chorus is the main hook of the track. The epic ballad "Catch the Rainbow" features Mellotron and an absolutely gorgeous fading end. The Mellotron can also be heard in "The Temple of the King", and this was to my knowledge also the very first time on record where you could hear Blackmore on acoustic guitar. "Sixteenth Century Greensleeves" shows the goriest side of Dio's medieval fantasies. The album also featured two cover versions. First we got a take on Quatermass' "Black Sheep of the Family" that in my opinion flows far better here than in its original version, and finally an instrumental version of The Yardbird's "Still I'm Sad" with the same rhythm as Deep Purple's "You Fool No One"! This was without a doubt the best and most important hard rock debut of 1975.
Label
Rainbow - "Rising" (Oyster 1976)
In order to maintain his notorious reputation of being a very difficult person to work with, Blackmore fired the whole band with the exception of Dio right after the debut. The name was shortened to just Rainbow, and among the new members were the legendary Cozy Powell on drums. But the first new member you'll hear on "Rising" is keyboardist Tony Carey who delivers a nice synth-intro on the opener "Tarot Woman". You'll also quickly notice a far heavier, tighter and more powerful production than what the debut offered. The irresistible groove of "Run With the Wolf" leaves no doubt about Blackmore's impact and importance to Deep Purple's signature sound, but still somewhat avoids to sound like Deep Purple at all. "Starstruck", "Do You Close Your Eyes" and the earlier mentioned "Tarot Woman" are all rock solid, heavy but melodic tunes impossible to dislike if you're into high-quality heavy rock. However, the second side of the record has a far more epic feel, featuring only two lengthy tracks. "Stargazer" is a grandiose monster of a song with some eastern-influences and one of the very best and most powerful drum-intros you'll ever hear on a song. The song ends in an overwhelming orchestral finale that slowly fades out. You'll won't get much of a rest though, as the record then explodes into "A Light in the Black". The instrumental passages show Blackmore at his most breathtaking, alternating between classical-influenced themes and solos from another world, laid above the most aggressive, heaviest and most intense beat the band ever delivered. But circumstances surrounding "Rising" are somewhat strange. While most fans regards the album as Rainbow's definitive masterpiece and peak, the band themselves hate it strongly for reasons they've never properly explained. You shouldn't care much about that nonsense anyway, but instead enjoy "Rising" for what it really is: one of the absolutely best hard rock albums of the '70s and Blackmore's entire career.
Rainbow - "On Stage" (Oyster 1977)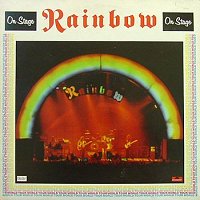 At a time when Deep Purple finally were in complete ruins (and they should definitively remained that way instead of reforming in the 80's), Blackmore toured the world with Rainbow to great success. And as the double album "On Stage" proves, they were a hell of a good live band too. Blackmore took his skill of masterfully extending songs live with him from Deep Purple, resulting in some truly exciting and adventurous versions of some of Rainbow's best tunes. The album opens however with a completely new song, the furious and fast rocker "Kill the King" that would become one of the highlights of their next studio album. The raw and energetic version of "Man on the Silver Mountain" is extended with a bluesy jam and a short excerpt from "Starstruck". The fact that the latter one was the only thing included from "Rising" had probably something to do with the band's earlier mentioned contempt for that album. The highlight of the record is probably the fantastic 16-minute version of "Catch the Rainbow". It's hard to not miss the Mellotron of the studio-version, but the intense and very emotional jam at the end more than makes up for that. "Mistreated" is here in a 13-minute version. Personally I associate the song a bit too much with David Coverdale to fully accept hearing Dio singing it, but it's a respectable and good performance of the tune anyway. "Sixteenth Century Greensleeves" is faster and rougher here than in its original studio-version. "Still I'm Sad" now features the lyrics and also a very progressive organ solo from Carey. Cool! "On Stage" has pretty much everything you'll want from a classic live-album, and it even avoids the obligatory drum-solo. I guess that's a bonus for most of you.
Rainbow - "Long Live Rock'n'Roll" (Polydor 1978)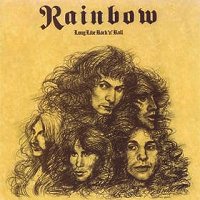 Although "Long Live Rock'n'Roll" probably is the least good of the Dio-era Rainbow albums, it still crapped most other hard rock bands that were around in 1978. The record gave the band their biggest hit until then with the anthemic title-track. "Lady of the Lake" combines a riff-based, stomping verse with a melodic chorus wrapped up in Mellotron. A very good and efficient combination indeed. "L.A. Connection" is a stab at roots-metal that fits Rainbow better than what you perhaps could expect. Many fans regard "The Gates of Babylon" as the highlight of the album, although I personally disagree. It's definitively a good, epic tune with grandiose eastern-influences, but it's also a slightly too obvious attempt at making a new "Stargazer". The studio-version of "Kill the King" is clearly better than the live-version on "On Stage", actually sounding harder and more aggressive here with Powell at his absolutely best. The two weakest tunes on the album comes with "The Shed (Subtle)" and "Sensitive to Light". There's nothing seriously wrong with either of them, but they're maybe both a bit too basic and unimaginative considering the overwhelming degree of talent involved here. The verse on the latter one is also more or less identical to Deep Purple's "Highball Shooter". The record closes on a very peaceful note with the ballad "Rainbow Eyes". It's based in a gentle and pleasant melody, and the arrangements features only flute, strings and guitar, giving the song a slight medieval-feel. "Long Live Rock'n'Roll" proved to be Dio's last album with the band, and therefore also the last real Rainbow album in my opinion. In addition to being a great singer, Dio was also very important to the band's image and lyrical content. After Dio left, Blackmore surprisingly and disappointingly chose to sell out, turning Rainbow into some sort of slick, commercial and AOR-oriented hard rock band. Those of you familiar with such crappy hits like "Since You've Been Gone" and the horrendous "I Surrender" will surely understand what I'm talking about. But from 1975 to 1978, Rainbow were one of the very best hard rock bands in existence.