Black Sabbath - "Black Sabbath" (Vertigo 1970)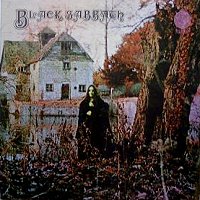 With their dark, occult, doomy and riff-based heavy rock, Black Sabbath became enormous influential for heavy metal in general. Toni Iommi had probably the heaviest guitar-sound in the universe during the '70s. This, together with the sneering and nasal vocals of John Osbourne was the most distinctive trademark of the classic Sabbath-sound. And of course, let's not forget about the lyrics of bassist Geezer Butler that usually dealt with Satan and evil but actually NEVER glorified it at all. Their debut-album is one of the most important debuts in heavy metal history. It opened with the in my opinion most sinister and spooky song ever recorded by anyone, simply just called "Black Sabbath". It's based in a very simple, three-chord riff that varies between laid-back and louder parts. This, together with the sound of church bells, rain and the nightmare-ish lyrics creates an atmosphere so evil and sinister as it can get. Listening to this track while looking at the cover gives me chills! Then we're taken over to another metal-classic in "The Wizard". The harmonica gives this one a bluesier feel, but this is miles beyond your average, tired blues-based '70s "hard" rock. This one really smokes! While being another fine and driving riff-based tune, "Behind the Walls of Sleep" is not quite up there with the two first tracks. The riff of "N.I.B" is partly stolen from Cream's "Sunshine of Your Love" but Sabbath manages to make their own tune out of it, and remains one of the most popular songs from the album. Most of side 2 is taken up by cover-material. The only self-penned track here is the short and atmospheric "Sleeping Village", which is quickly cut short by an intense and heavy jam that had the fastest tempo on the record. The rest consists of excellent versions of Crow's "Evil Woman" (also Sabbath's first single) and Aynsley Dunbar Retaliation's "Warning". The latter one was probably the most blues-based number that Sabbath ever recorded. By the way, Osbourne sings in a much lower tone on this album than on the others. Historically speaking, this was the most important album Black Sabbath ever made.
Label
Black Sabbath - "Paranoid" (Vertigo 1970)
Sabbath got their definitive breakthrough already by the second album, much thanks to the classic title-track that is an instant metal-classic and became a big hit and the band's signature tune. But the album had much more to offer than just that song. Here you get a bunch of Sabbath's best-known riffs: "War Pigs", "Iron Man", the title-track and the partly overlooked "Fairies Wear Boots". The doom-atmosphere comes best to the fore on "Electric Funeral" and the earlier mentioned "War Pigs". Both tracks dealt with war in all its horror and sheer terror, while the title-track was all about insanity. Black Sabbath never wanted evil to look good, they instead made it look...EVIL! "Iron Man" is probably next to "Paranoid" Sabbath's most loved and legendary riff. "Hand of Doom" and "War Pigs" was also the first examples of Sabbath's ability to write long songs that were not just straightforward, even if the riffs themselves were rather simple. "Planet Caravan" was Sabbath's first "ballad". It's a very atmospheric, spacey and almost psychedelic song and I love it. It makes a perfect contrast to the rest of the album. The instrumental "Rat Salad" is an obvious attempt at making their own "Moby Dick" but Bill Ward is of course no match for John Bonham. But at least, he didn't bash his drums as long as him (barely a minute or so) and I guess that's a good thing for most of you. "Paranoid" is classic hard rock and completely essential.
Black Sabbath - "Master of Reality" (Vertigo 1971)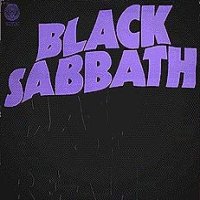 The third Sabbath album is by pure metal-heads usually regarded as Sabbath's ultimate masterpiece. It's with no doubt their heaviest album and has the most accomplished classic Sabbath-sound. The best-known song here is the phenomenal "Children of the Grave". Their doom-atmosphere never sounded better than on this track. The maybe weirdest thing on this album was the apparently Christian lyrics of "After Forever" and "Lord of this World"! Anyone who accuses Sabbath of Satanism should take a listen to these tracks. I guess they would be rather surprised. But I think the explanation probably (and hopefully) was that Butler was drugged out of his mind like most other rock-musicians at that time. "Into the Void" was with no doubt one of the heaviest, most doomy and ugly tracks recorded during the whole '70s and I love it! Iommi's guitar-sound never sounded heavier and more demonic than this. In between all this heaviness you also get some short interludes like "Orchid" and "Embryo". And not at least, Sabbath's in my opinion best ballad ever: "Solitude". This is an incredible beautiful and sad song, and the flute creates some awesome atmosphere. One of the most essential metal-albums of all time.
Label
Black Sabbath - "Vol. 4" (Vertigo 1972)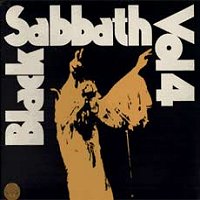 The songwriting started to become a bit more sophisticated on the 4th album. While Osbourne usually just sang along to the riffs on the earlier albums, he now sang melodies that were independent of the riffs instead. The album's best known track "Snowblind", "Under the Sun" and the shamefully overlooked opener "Wheels of Confusion" are all great examples of this. The single "Tomorrow's Dream" showed the classic Sabbath-sound from a more catchy side. The same goes for "St.Vitus Dance" and partly "Cornucopia". The piano/Mellotron drenched ballad "Changes" was moving into new territory for Sabbath, and became a hit and the album's best-known song next to "Snowblind". "Laguna Sunrise" is a nice instrumental with lots of strings and Iommi's acoustic guitar, while "Fx" was a pure experimental number. "Supernaut" was on the other hand just simple and driving hard rocking energy at its very best. This album deserves the same classic-status as the three first ones, and it had the very first glimpses of things to come.
Black Sabbath - "Sabbath Bloody Sabbath" (WWA 1973)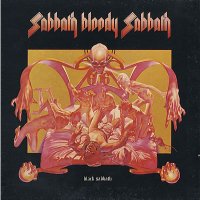 Sabbath raised their ambitions quite a bit on this album that turned out to be the band's absolute masterpiece. And that's not just because Rick Wakeman appeared as a guest musician here. The songs and arrangements had become more complex and sophisticated than on any of their earlier albums. The album kicked off with the absolutely superb title-track. This track continued the songwriting style of "Vol. 4" by combining vocal melodies and riffs that were independent of each other. It also very successfully went from heavy riffs to softer and acoustic parts. "A National Acrobat" maintains the band distinctive doomy atmosphere with all its excellent riffs, but also this track featured more twists and turns than Sabbath had done before. "Fluff" is an atmospheric and tasty instrumental with lots of acoustic guitar and harpsichord. "Sabbra Cadabra" is in my opinion the best boogie-rocker ever recorded! It has an incredible drive and energy, even when it slows down to a mid-tempo track in the middle. Here you can also hear Wakeman's moog fitting perfectly and surprisingly good into the Sabbath-sound. It sounded even better on the incredible "Killing Yourself to Live". "Who Are You?" is a quite typical Sabbath-riff, but the song is stripped down to a pure moog-based piece. "Looking for Today" is a catchy rocker, but much lighter than what we usually get from Sabbath. Just like the title-track, this song shifts from the riff and to gentle acoustic parts with ease. The closing number "Spiral Architect" is an excellent '70s pop/rock song with a tasty string arrangement that gives the whole thing a symphonic touch. "Sabbath Bloody Sabbath" is heavy metal as art rock and maybe the best place to start for progressive rock fans who want to check out some classic Sabbath. Personally I would rate "Sabbath Bloody Sabbath" as one of the five best heavy rock albums of all time.
Label
Black Sabbath - "Sabotage" (Nems 1975)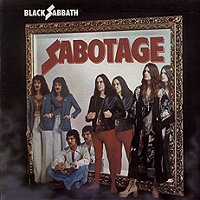 Sabbath's 6th album continued in the experimental vein of "Sabbath Bloody Sabbath" even if the opening song "Hole in the Sky" was a very basic hard rocker. But after that one, we're in for more adventurous heavy metal. A very short and acoustic instrumental ("Don't Start (Too Late") leads into the thundering "Symptom of the Universe". This is one of the fastest and most aggressive tracks Sabbath ever recorded, but even this one turns into a relaxed and acoustic part at the end. The 9-minute, monumental "Megalomania" starts with a very atmospheric part with some cool echo-effects on Osbournes's vocals. The track then goes into the main-part that has a really driving and cool riff that carries most of the track. Even the Mellotron joins in at the powerful ending. "Thrill of it All" starts with another riff but turns in the middle into a catchy song with intelligent use of synths. "Supertzar" is genius instrumental where a whole choir joins in with Iommi's guitar-riff. VERY grandiose and ambitious and it works very well. The only track that I don't care for here is the synth-drenched "Am I Going Insane". A rather cheesy attempt at a pop-tune, and it also failed to make a big impression when it was released on single. The epic closing-number "The Writ" is a completely different story. This is one of Sabbath's most complex tracks ever, and shifts from heavy riffs to acoustic parts drenched with harpsichord. Many people regard this album as the last Sabbath-classic, and I'll probably have to agree with them.
Black Sabbath - "Technical Ecstasy" (Vertigo 1976)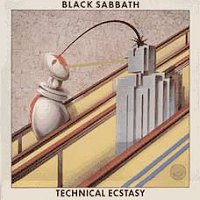 This was the first non-essential Sabbath-album, even if it starts not all that bad. "Back Street Kid" is a decent rocker, and "You Won't Change Me" is a good progressive song. However, the bottom is reached already by the third track, the horrible pop-song "It's Alright" sung by Bill Ward. Yuck! "Gypsy" is a very uneven track. It starts as a light, catchy rocker but turns soon into a rather slick pop/rock song where the irresistible "so you wanna be a gypsy" chorus is the only memorable thing. "All Moving Parts (Stand Still)" is mediocre Sabbath. Not bad, but they can write SO much better riffs and melodies than this. "Rock'n'Roll Doctor" is AWFUL and partly plain embarrassing. This idiotic wannabe-rock'n'roll doesn't fit Black Sabbath at all. "She's Gone" is a wimpy and average ballad that lacks absolutely all the qualities of their earlier ballads. "Dirty Women" are usually regarded as one of the few highlights of the album, but I have to admit that I don't even like this one. Why couldn't they have focused more on the excellent riff in the mid-section instead of the boring nonsense that makes up most of the song? Despite a few listenable moments, this is a boring and forgettable album.
Black Sabbath - "Never Say Die!" (Vertigo 1978)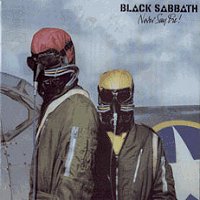 The last album with the classic line-up consisting of Osbourne, Iommi, Ward and Butler. But the album itself is unfortunately not much of a classic. While it's a tad better (or should I say less weaker) than "Technical Ecstasy" it's still a loooong way from this and to the distinctive, occult and doomy heavy metal of their earlier releases. Compared to his best riffs, Iommi's riff on the title-track can't even be called a riff. It's just some random chords played around Bill Ward's furious drumming. The chorus got a decent melody, but that's all. "Johnny Blade" is a decent hard rocker with some of the same "two tracks into one" structure of earlier Sabbath-songs, but the riffs are again too weak when you compare them with classic Sabbath. "Junior's Eyes" is a catchy and almost funky track, and quite enjoyable even if it is rather lightweight for being Sabbath. "Hard Road" is a complete bore from star to finish. And the same goes for "Shock Wave". The latter has just like "Dirty Women" actually one or two decent riffs buried in all the uninspired main-riffs of the song, but it doesn't help much when they're not used like they should have been used. "Air Dance" is a surprisingly good ballad where the arrangement would have fitted well into "Sabbath Bloody Sabbath" and "Sabotage". "Over to You" is a grandiose and melodic mid-tempo song, but not much to write home about. "Breakout" is a pointless instrumental consisting of a very simple riff where Iommi's guitar is joined by some horns. The closing number "Swinging the Chain" is a completely uninspired hard rocker sung by Bill Ward. Yawn! Both this and "Technical Ecstasy" are for die-hard fans only.
Black Sabbath - "Live at Last" (Nems 1980)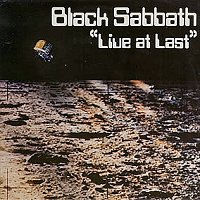 This album remains the only live-album from the Osbourne-era of Black Sabbath. It was released without the band's consent, so they were of course quick to label it as "crap". But this is still a decent document of the classic line-up on stage, even if the sound quality could have been better. Another bad thing is that it ignores the historic debut completely. The album was obviously recorded sometime in 72/73 as it features three songs from the "Vol. 4" album and what seems to be an early version of "Killing Yourself to Live". The lyrics are completely different, and I doubt if the song even had its name at this moment. The performance is quite good, although Osbourne sounds a little flat on "War Pigs". An 18-minute version of the rare track "Wicked World" features a medley that includes "Supernaut" and the opening riff of "Into the Void". The playing is great and Osbourne never sneered more than this! And the album closes very energetic with a powerful version of "Paranoid". Worth having if you enjoys classic Black Sabbath, despite some shortcomings.