Traffic - "Traffic" (Island 1968)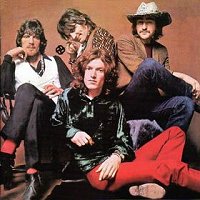 Traffic played their brand of jazz, blues, folk, soul and rock in two very different ways: as psychedelic pop in the late 60's and as typical '70s rock in the early '70s. Their self-titled second album belongs, as you may guess, to their pop-orientated phase, but its status as one of Traffic's finest releases is still well deserved. The album showed an impressive range of variation and mood, and all the ten songs have melodies and hooks of the kind you want to hear again and again. The most important elements in Traffic's sound were the voice and organ of Steve Winwood and the sax and flute of Chris Wood. Their earliest albums were also distinguished by the guitar, vocals and songwriting of Dave Mason. Drummer Jim Capaldi was also strongly involved in the songwriting-process in the band. Mason's songs on the album were the most immediate ones, including the cheerful folk rock of the hit "You Can All Join In", the soulful "Feelin' Alright", the psychedelic, harpsichord-drenched rock of "Cryin' to Be Heard" and the tasteful pop of "Don't Be Sad". Capaldi and Winwood's contributions were a bit more whimsical, like the vocally acrobatic "Who Knows What Tomorrow May Brings" and the psychedelic blues of "Pearly Queen". But they also wrote darker and more serious songs like the beautiful and mellow ballad "No Time to Live" and the mystical, dramatic "Forty Thousand Headmen". And let's not forget Mason/Wood's excellent "Vagabond Virgin" that was the most rural track on the album. The songs are too short and simple to fully fit into the progressive rock category, but this is still classic stuff that should appeal to most listeners with good taste.
Traffic - "John Barleycorn Must Die" (Island 1970)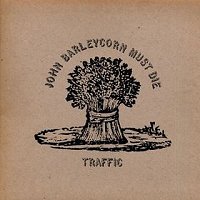 Traffic broke up for the first time in early '69, due to personal conflicts and the fact that Winwood was about to join the short-lived supergroup Blind Faith. When that band disbanded after a tour later the same year, Winwood went back to the studio with a solo-album in mind. He got both Capaldi and Wood with him as backing-musicians, but the trio soon realised that they rather should reform as Traffic again, although without Mason. They ditched the pop and psych of their previous records, and went instead for a far meatier and more progressive style, even if their basic influences still were the same. This resulted in the highly successful album "John Barleycorn Must Die" that featured much of their best material. It opens with the energetic and complex instrumental "Glad". It's based in an irresistible swingin' piano-riff over a powerful beat and some great sax-work from Wood. This one smokes, and it glides gently into another classic tune in form of "Freedom Rider". This is sax/flute/organ-driven early '70s rock at its best. "Empty Pages" shows Winwood in his most soul-orientated and optimistic mood, and this is perfectly reflected by the music. "Stranger to Himself" opens the second side, and this folk/blues-inflected song is a rather basic but still enjoyable tune that originally was intended for Winwood's solo-album. The title-track is an old British folk song from the 14th century, and is for me the prettiest and best song Traffic ever recorded. The melody is simple, but just so incredibly beautiful. The same goes for the lyrics. Pure magic. "Every Mother's Son" marks a worthy ending to a classic album, and featured some really juicy organ-work from Winwood. "John Barleycorn Must Die" is in my opinion undoubtedly the place to start if you're not familiar with Traffic.
Traffic - "The Low Spark of High Heeled Boys" (Island 1971)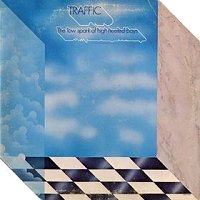 Traffic expanded to a six-piece as the trio of Winwood, Capaldi and Wood was joined by Rik Grech on bass, Jim Gordon on drums and Reebop Kwaku Baah on various percussions. This gave the band an exciting and solid rhythm-section that made their mark in the sound. "The Low Spark of High Heeled Boys" showed next to "John Barleycorn Must Die" Traffic at their artistic peak. It featured one of their hardest rocking tracks in form of "Rock & Roll Stew", but most of the album was of a more slow-paced and laidback kind. The 12-minute title-track had a slow and jazzy pace with some long and distorted excursions on the organ and became one of Traffic's best known songs from their '70s period. The ballad "Many a Mile to Freedom" and the folky opener "Hidden Treasure" was Traffic at their most pleasant and with Wood's flute as the dominant instrument. The closing-number "Rainmaker" is a superb and complex folk/jazz-combination with ethnic overtones. Capaldi's "Light Up or Leave Me Alone" is a rather straightforward and funky pop-song that lightens things up a bit. "The Low Spark of High Heeled Boys" belongs in the category of classic '70s rock albums, but it was also Traffic's last essential album. Later releases by the band became less interesting and inspired.
Traffic - "Shoot Out at the Fantasy Factory" (Island 1973)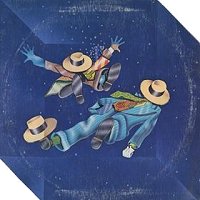 It's not easy to understand why Traffic followed up two brilliant albums with such a mediocre and half-hearted product as "Shoot Out at the Fantasy Factory". None of the five tracks on the album are even close to being classic Traffic, and they all displayed a lack of fresh ideas and memorable melodies. The attempt at playing hard rock in the title-track becomes really pathetic, as the riff is partly stolen from Deep Purple's "Smoke on the Water". You got to be really out of your own ideas or just plain stupid to rip off one of rock's best known and most legendary riffs. The 11-minute "Roll Right Stones" is a boring and repetitive tune, based in some generic and not very creative melodies. The ballad "Evening Blue" is partly pretty and atmospheric, but also partly dull and boring. Wood wrote the instrumental "Tragic Magic" but none of the riffs and melodies he plays on his flute and sax was very engaging or interesting here. The closing-number "(Sometimes I Feel So) "Uninspired"" is yet another dull ballad, and the title is ironically really fitting. Only the crappy cash-in mess of "Last Exit" and the awful reunion-album from 1994 are over "Shoot Out at the Fantasy Factory" as Traffic's weakest releases.
Traffic - "On the Road" (Island 1973)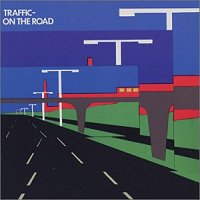 This double live-album was recorded in Germany, during the tour for "Shoot Out at the Fantasy Factory". If you want to hear some of Traffic's finest tracks being reduced to vehicles for the most boring, tiresome and noodling jams you can imagine, then this record will fulfill your needs. Don't get me wrong, I can actually enjoy a good live-jam, but there are none of them here. "Glad" and "Low Spark of High-Heeled Boys" goes on for what feels like an eternity without ever evolving into some interesting and engaging playing. "Freedom Rider" sounds sloppy and uninspired compared to the studio-version, and "Light Up Or Leave Me Alone" is pointlessly dragged out by a never-ending introduction of the whole band. Ironically, the much weaker material from "Shoot Out at the Fantasy Factory" is performed a lot better, and even "(Sometimes I Feel So) "Uninspired"" somewhat manages to grab and move me here. But it's too little to save this album from being a bore. Get the studio-versions, and forget "On the Road".
Traffic - "When the Eagle Flies" (Island 1974)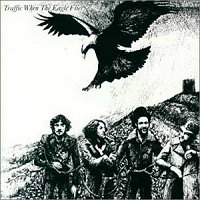 There seems to be mixed opinions about Traffic's last album of the '70s, but personally I find "When the Eagle Flies" to be surprisingly good, and a major improvement over the lacklustre "Shoot Out at the Fantasy Factory". Musically the band had moved into even jazzier and funkier territory here, and the addition of mellotron and synths strengthened the progressive edge of their music. The highlights of the record are undoubtedly the 11-minute "Dream Gerrard" and the mellow, atmospheric "Graveyard People". Both tracks benefits a lot from the extended instrumentation of the group. The rest of the album is not quite on par with these two tracks, but the melodies and songwriting is still far better than anything on "Shoot Out at the Fantasy Factory". The title-track, "Love" and "Memories of a Rocka Rolla" are all pretty and tasty songs with nice melodies. "Something New" is what you could call jazz-pop, while "Walking in the Wind" becomes a little bit tedious after a while. "When the Eagle Flies" is not in the same class as "John Barleycorn Must Die" or "The Low Spark of High Heeled Boys" but still far better than its reputation, and a worthy farewell with a good band.