Led Zeppelin - "Led Zeppelin" (Atlantic 1969)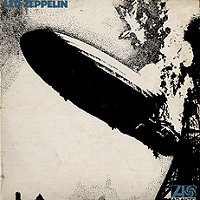 There's absolutely no contest for me! Not even King Crimson's "In the Court of the Crimson King" can rival Zep's debut as THE debut-album of all time. It was also the very first Zeppelin-album I ever heard (back in '88) and their music has since then been a part of my life and it already bring back good memories to me. Zeppelin's signature-sound was already well developed on the debut, although maybe a little bit bluesier than on later albums. Robert Plant's wonderful voice, Jimmy Page's creative guitar-playing, John Bonham's furious bashing of his drum-kit and John Paul Jones who contributed with bass and always also some keyboards on a track or two on each album. Of the three most successful British heavy metal bands of the '70s (Deep Purple, Black Sabbath and Led Zeppelin), Zeppelin has for me stood the test of time best. Their music was so much more than just simple, basic metal-riffs. They experienced with several different styles, but managed to always give the music their own distinctive stamp and swept it in a mystical atmosphere. Anyway, "Led Zeppelin" opens with the irresistible catchy hard rocker "Good Times, Bad Times". The beauty of "Babe I'm Going to Leave You" follows this song. This masterpiece was the first of many Zep-songs to combine the acoustic and hard-rocking part of their sound, and it includes in my opinion Robert Plant's best vocal-performance ever. No one have before or after delivered such emotion and feeling on record. "You Shook Me" is a cover of the Willie Dixon-tune, and showcases the band's blues-roots, although they played it a lot heavier then anybody else had done before. "Dazed and Confused" is the centrepiece of the album and would become an obligatory part of their live-set (where it often lasted for over 30-minutes!). This track has lots of dynamics and sinister atmosphere's created by Page's distinctive "bow-solo". "Your Time is Gonna Come" opens side two, and this pop-orientated track featured some nice organ from Jones. It floats directly over in the acoustic, eastern-influenced instrumental "Black Mountain Side" where Page shows his acoustic skills. But they returned to furious hard rock again on "Communication Breakdown" and this became the best-known track from the album, next to "Dazed and Confused". "I Can't Quit You" is another Dixon-cover, but not as noteworthy as "You Shook Me". The album closed with the complex and lengthy heavy-stomper "How Many More Times?". This song features one of Zep's best and most overlooked riffs and included also a medley of old blues-tunes spiced up in the typical Zep-way with lots of mysticism and an incredible performance from the band. "Led Zeppelin" is the best and most rock-solid debut I've ever heard.
Led Zeppelin - "Led Zeppelin II" (Atlantic 1969)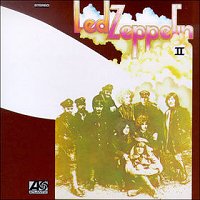 The first album had made a big impression, so Zep wasted no time and recorded and released their second album later the same year. And they couldn't have followed up their classic debut in a greater way than with "Led Zeppelin II". From start to finish, the album was a collection of classic heavy metal riffs that sounds just as fresh and lively as they must have sounded back then. The opening track "Whole Lotta Love" is probably Zep's best-known heavy rocker ever. It became an instant metal-classic with its irresistible riff and sexual lyrics. However, it was also the first example of Zep's bad habit with stealing parts from old blues-tunes and gives no credit to the original author. And the album featured two other cases of this: "The Lemon Song" (that actually is "Killing Floor") and "Bring it on Home". But it should be said in Zep's defence that these version were so far from the originals as they could get and were partly re-written and transformed into crunching heavy rockers. The atmospheric and beautiful "Thank You" is the only ballad on the album. "Heartbreaker" and "Living, Loving Maid" are more riff-based heavy rock while "Ramble On" is slightly more folk-influenced with lyrics inspired by Tolkien. The rest is made up of the hard rock/ballad combination "What is and What Should Never Be" and Bonham's drum-solo "Moby Dick". You shouldn't get scared by the latter, as the album is essential in any hard rock collection and one of the great early metal-classics.
Led Zeppelin - "Led Zeppelin III" (Atlantic 1970)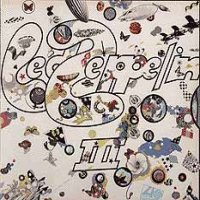 Zeppelin had now built a big, steady and still growing fan-base with the two first albums, and the band were well on their way to superstardom. The fans expected "Led Zeppelin III" to be another album packed with heavy rock. And they were right about that on the first side of the album. Here they got several new, riff-based Zep-classics like "Immigrant Song" and the overlooked "Out on the Tiles". But the true highlight was probably "Since I've Been Loving You" that is often regarded as the finest blues tune Zeppelin ever recorded, and includes relaxed organ from Jones and an excellent, emotional performance from Plant. "Friends" was a dramatic and acoustic track, but the fans was used to a ballad or two from the previous albums. However, they got a real surprise when they listened through the second side of the album. No heavy rocker in sight, but instead a bunch of soft, acoustic and folky songs. My faves are probably "Tangerine" and "That's the Way". Both are beautiful and atmospheric songs with a wonderful countryside feel. "Gallows Pole" are however the best known of the bunch, and is a cover of an old Leadbeally-tune. The album closes with the whimsical "Bron-Y-Aur Stomp" and a weird tribute to Roy Harper in "Hats off to (Roy) Harper". Overall, this is a strong album that revealed a band who were not afraid to take chances, but is as a whole not quite up there with the two first albums.
Led Zeppelin - "Led Zeppelin IV" (Atlantic 1971)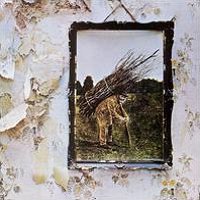 Zeppelin's fourth and best album had actually no title, but is most commonly known as "Led Zeppelin IV" or "Four Symbols" as there were four symbols representing each member of the band on the label. As I said, this is Zep's best album and that's not just because it includes the legendary masterpiece and beauty "Stairway to Heaven". The whole album is a perfect amalgation of the heavy rock of the two first albums and the softer, acoustic style of the third album. And the earlier mentioned "Stairway to Heaven" was of course the track that best demonstrated this. It builds up from a beautiful acoustic tune to a long and emotional hard rock-end. The mystical lyrics and atmosphere is quite representative for the rest of the album too. "The Battle of Evermore" is a duet with Sandy Denny and is in my opinion the best folk-song Zeppelin ever did. And the Tolkien-influenced lyrics perfectly fit the atmosphere of the track. "When the Levee Breaks" was another stolen blues-tune, but Zeppelin transformed it into a slow, lengthy and progressive tour-de-force of a sinister heavy rocker. However, "Black Dog" is probably THE Zep-riff next to "Whole Lotta Love". The energetic, driving "Rock and Roll" lives up to its title and Bonham demonstrated his skills in the percussive "Four Sticks". Jones' keyboards melt great into "Misty Mountain Hop" that is another excellent heavy rocker. This is not only one of the best rock-albums of the '70s but one of the best EVER and the recommended starting place for anyone who is unfortunate enough to not be familiar with Zeppelin yet.
Label
Led Zeppelin - "Houses of the Holy" (Atlantic 1973)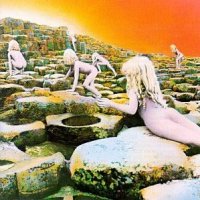 The 5th Zep-album was the first with a real title. "Houses of the Holy" ditched much of the hard rock of the previous albums and experimented instead with several different styles. The most surprising track here was probably the pure reggae of "D'Yer Mak'er" but the funky "The Crunge" was not exactly typical Zeppelin either. They even explored progressive rock in the symphonic, laidback and Mellotron-drenched "The Rain Song" and the mystical, atmospheric "No Quarter". These two tracks and the folk/hard rock combination of "Over the Hills and Far Away" were probably the best tracks on the album. "The Song Remains the Same" had a quite interesting and unusual structure, as it featured no verse and chorus. "Dancing Days" and "The Ocean" are both decent rockers, but NOT on par with "Black Dog" or "Whole Lotta Love". By the way, this was also the most keyboard-dominated Zeppelin-album so far. Not everything here is successful (I don't like "D'Yer Mak'er" as I simply just don't care for reggae!) but just like on "Led Zeppelin III" the band again proved that they were willing to try new and unexpected things with each album.
Led Zeppelin - "Physical Graffiti" (Swan Song 1975)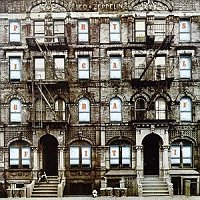 Zeppelin's first album on their own label "Swan Song" proved to be their last really good one, but it's a true masterpiece and classic. "Physical Graffiti" was a double-album that came wrapped up in a very cool die-cut cover that formed a big grey building where you could look through the windows. The album itself was a mixture of new songs and songs that originally were meant to be on earlier albums. To many fans delight, there were more heavy rocker's here than in a long time. "Custard Pie", "The Wanton Song", "Sick Again" and the monumental, 11-minute blues-metal stomper "In My Time of Dying" kept all the hard rock fans happy. However, my fave on the whole album is "The Rover" and this track proved that few other bands could make such mystical and atmospheric hard rock as Zep could at their best. But the band of course also proved that they were so much more than just heavy riffs. "Kashmir" remains the best-known track here, and is a delightful, symphonic and grandiose eastern-influenced epic that featured lots of real strings and (I believe) some Mellotron. And in between all this you got the usual, cosy acoustic stuff in "Black Country Woman" and the instrumental "Bron-Y-Aur". "Ten Years Gone" is an electric but yet relaxed and pleasant song and among many people's faves from the album. There's also some John Paul Jones-dominated stuff here (and that means keyboards) like the slightly progressive "In the Light" and "Trampled Underfoot". And you got some completely untypical tracks like the 50's sound of "Boogie With Stu" and the country-influenced "Down by the Seaside". "Physical Graffiti" is an incredible rich and varied album and one of the very few really consistent double-albums. Zep's last classic release.
Led Zeppelin - "Presence" (Swan Song 1976)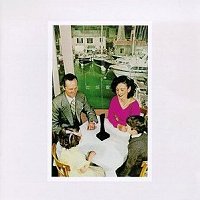 Zeppelin released a very basic hard rock album as the follow-up to "Physical Graffiti". No experimentation here, just raw heavy rock and this was actually the only Zep-album to not feature any keyboard-work from Jones. The album opens with one of Zeppelin's best tracks ever in the intense, 10-minute "Achilles Last Stand". A masterpiece of epic hard rock and it's also Page's ultimate fave-track by Zeppelin. The other good track on the album is "Nobody's Fault but Mine". This was another stolen-blues tune, but of course spirited up in the usual Zep-way and featuring a furious harmonica-solo from Plant. But the rest of the album was surprisingly weak for being Led Zeppelin. "Candy Store Rock" is idiotic and repetitive and one of their most annoying tracks ever, while "Hots on for Nowhere" gets my vote as the weakest track Zeppelin ever recorded. I still don't understand what made them write and record such crap. "For Your Life" and "Royal Orleans" are both stuffed with mediocre and uninspired riffs. The lengthy closer "Tea for One" is not much more than a poor re-write of "Since I've Been Loving You". "Presence" featured just two brilliant tracks, while the rest was unfortunately rather forgettable, making the album mostly for completists only. That's a shame as "Achilles Last Stand" is one of their most glorious moments EVER!
Led Zeppelin - "The Song Remains the Same" (Swan Song 1976)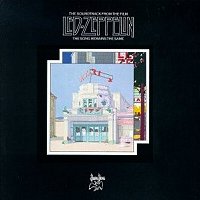 The cinematic release of Zeppelin's epic concert-movie "The Song Remains the Same" in 1976 also finally gave the audience a long awaited live album from the band, as most of the music from the movie was released on a double album. "The Song Remains the Same" fits nicely into the string of other classic double live albums from the '70s, such as Hawkwind's "Space Ritual", Deep Purple's "Made in Japan" and Blue Öyster Cult's "On Your Feet or on Your Knees" (to name a few ones), but Zeppelin did not surprisingly make it grander and more ambitious than most other bands. It opens rather basic and very powerful with some serious kick-ass versions of "Rock and Roll" and "Celebration Day" (the latter didn't appear in the movie at all). But after a frenetic rendition of the title-track, we're in for the calmer and more sophisticated side of the band with a version of "The Rain Song" that buries the studio-original, as well as featuring Jones' finest performance on Mellotron. And any shallow and superficial party-wanker who made it through that track would definitively be scared away for good with the 27-minute monster-version of "Dazed and Confused", transforming bluesy heavy rock into a grander form of musical art. Page's bow-solo is particularly creepy and spooky here. "No Quarter" is here in its definitive version, and the recorder on "Stairway to Heaven" has been replaced by Jones' Mellotron-flute. And Page's extended rendition of the classic solo at the end is pure magic. Bonham demonstrates his superiority as THE heavy rock drummer through twelve ear-shattering minutes of "Moby Dick", before "Whole Lotta Love" takes us to the encore of this concert from Madison Square Garden in 1973. The orgasm-part has interestingly been spiced up and driven forward by Jones' and Bonham's steady rhythmic groove. Another good thing about the album and movie is that both avoided the in my opinion tedious acoustic set that the band always included on stage. And the even more tiresome and completely unnecessary rock'n'roll medley on "Whole Lotta Love" is fortunately kept a lot shorter and less annoying here than usual.
Label
Read my review of the movie here.
Led Zeppelin - "In Through the Out Door" (Swan Song 1979)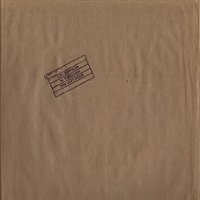 I don't think anyone should be sorry for the break-up after Bonham's tragic death in 1980 if "In Through the Out Door" was representative for the direction they would have gone into. My main problem with this album is that there's almost nothing here that sounds remotely like Led Zeppelin. Most of the album could pass as uninteresting, keyboard-based (mostly synths and piano) pop/rock. The only track that came close to being a Zep-classic is the atmospheric opener "In the Evening" even if it sounded more 80's than '70s. "Carouselambra" is a 10-minute epic made up of three different songs that really hasn't much to do with each other. And the production on the whole album sucks! Even if this was the last Zep-album, it has actually the most muddled and poor sound quality of them all. The first part of "Carouselambra" sounds as if it comes through a bucket and it's impossible to hear what Plant is singing. And the rest of the album does nothing for me. "South Bound Saurez", "Hot Dog" and the samba-flavoured "Fool in the Rain" are all bland and tedious tracks with NOTHING of the power and mysticism of classic Zeppelin. "All My Love" is a very 80's sounding synthpop-ballad while the closer "I'm Gonna Crawl" is a slow blues-number but a rather forgettable one. Sadly, not a very cool way to end their career, and you should rather get the 6 first albums, and then "Presence" for its inclusion of "Achilles Last Stand".