-E-
Earth and Fire - "Earth and Fire" (Polydor 1970)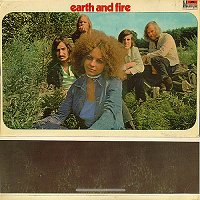 Earth and Fire were one of the leading Dutch progressive rock groups and my personal fave among progressive rock bands with female singers. They had a powerful sound and their strong compositions were always based in inspired and highly memorable melodies. Their debut-album is progressive rock in a less symphonic and slightly rougher vein than later albums. Some of the tracks ("Wild and Exciting" and "Love Quiver") even borders on heavy progressive. There was no Mellotron in their sound yet, but Gerard Koerts' (brother of guitarist Chris Koerts) excellent use of flute, organ and vibes took well care of the band's progressive sound already in this state of their career. "Earth and Fire" is a good debut with no bad tracks. "Vivid Shady Land" and "21st Century Land" are both catchy and energetic tracks with great harmonies and progressive breaks in the middle with beautifully atmospheric flute and organ. Their harmonies also come to the fore on the ballad "You Know the Way". But the possibly most beautiful and most atmospheric moment on the whole album is the acoustic and flute-dominated "What's Your Name". "Ruby is the One" is on the other hand more of a kick-ass pop song and was not very surprisingly released as one of the singles from the album. Most of the signature sound of Earth and Fire is clear already here, even if their sound would become much more symphonic with the next releases.
Earth and Fire - "Song of the Marching Children" (Polydor 1972)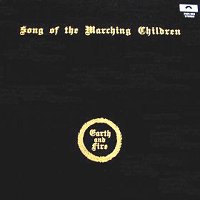 Their second album was probably their definitive masterpiece in my opinion. The sound from the debut-album had became softer, more polished and much more symphonic as the band now had introduced Mellotron to their sound. And they used it VERY well, especially on the 20-minute title-track on side 2. This was their first attempt at long-scale compositions and remains a classic among 20-minute progressive rock songs. The melodies and themes are extremely strong and the very mighty and powerful Mellotron-arrangement along with the organ, tasty synths and their vocal-harmonies with the distinctive female-voice of Jerney Kaagman in front makes this a truly delightful listen. Side 1 consists of 4 shorter tracks, but of the same high quality. "Ebbtide" sounds like one of the softer and atmospheric tracks from the debut, while the instrumental "In the Mountain" may revealed that they had been listening a bit to their countrymen in Focus. "Carnaval of the Animals" and "Storm and Thunder" were on the other hand more in their new symphonic style. The latter starts with some powerful organ before the Mellotron joins in and Kaagman starts to sing the atmospheric lyrics and then the harpsichord also starts. The track gets gradually more dramatic as the lyrics do the same. Try to get the German pressing from 1975 if you can find it, as it also includes their hit song "Memories" that previously only had been available on single. Highly recommended.
Earth and Fire - "Atlantis" (Polydor 1973)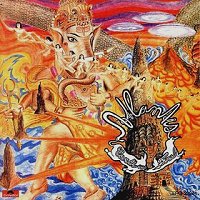 The third Earth and Fire album "Atlantis" continued the symphonic progressive rock style of the previous album. The title-track was another side-long suite, but obviously pieced together from far more bits, parts and different ideas than "Song of the Marching Children". But it still hangs very well together, and the songwriting is just as strong as we now could expect from the band. The Mellotron is always present the whole way through, but a little bit more toned down and better integrated along with the other instruments than on "Song of the Marching Children". Side 2 is what makes the album in my opinion a tad weaker than the previous one. Most because of the poppy "Maybe Tomorrow, Maybe Tonight" (that was also the title of a German pressing of the album that had side 1 and 2 exchanged) and the ballad "Love, Please Close the Door". Both these tracks are good, but compared to their best stuff they just don't quite hold up. But most of the rest of side 2 is taken up by the excellent "Fanfare". This is a melodic symphonic track in the vein of "Storm and Thunder". One of the themes from the title-track is also repeated, giving the album a kind of a concept-album feel. I think this is the Earth and Fire album to get after you've got "Song of the Marching Children".
Earth and Fire - "To the World of the Future" (Polydor 1975)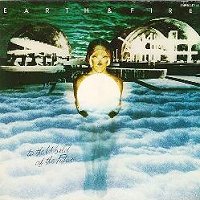 Earth and Fire presented a refreshingly unique and different sounding kind of symphonic progressive rock on their fourth album "To the World of the Future". The symphonic and progressive structures from the two previous albums were still there, but in a different form. Koerts used synths on a much wider scale than earlier, and he had also added el-piano and clavinet to the sound. This, and the slightly funkier rhythms on the album helped the band to create a sound that reminded of no other symphonic progressive rock group around. The songwriting was still on the same high level as before. The 11-minute title-track was a good example of their new sound, with lots of great vocal harmonies and funky rhythmic patterns that got relieved by majestic and symphonic instrumental passages with lots of spacey synths, swirling organ, Mellotron and some emotional guitar work from Chris Koerts. "How Time Flies" and "Only Time Will tell" are both simply beautiful and melodic symphonic songs. Koerts' synths imitate horns to quite good effect on "Voice from yonder" and the instrumental "The Last Seagull". "Love of Life" is symphonic pop at its best, while the closing number "Circus" is a full-blown symphonic progressive rock goodie with a majestic and irresistible melody.
East of Eden - "Mercator Projected" (Deram 1969)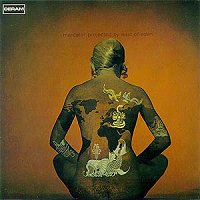 The first and supposedly best album by this Early-British progressive rock band. They had quite a style of their own, and they mixed both eastern and jazz- influences in their what otherwise would have been quite normal sounding Early British progressive rock. Mostly electric violin, flute and sax dominate the arrangements. The album is actually very varied. From the mystic beauty of "Waterways" and "Bathers" to the raw energy of "Centaur Woman" and then to the more jazzy instrumental "In the Stable of the Spinx". There are also a lot of sound effects on the album, which makes it quite amusing. Judging from the photos of the band, they took their eastern image a little bit too far. But their music was both original and interesting, so this album should be a good purchase for anyone into early progressive rock.
Edgar Allan Poe - "Generazioni - Storia Di Sempre" (Kansas 1974)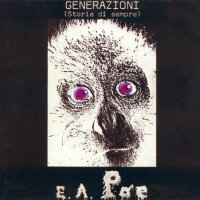 Another obscure Italian classic. This album is very typical Italian progressive. Tasteful arrangements and songwriting of a high quality. The album opens with a sinister voice, before a jazzy instrumental. "Considerazioni" is the most rocking track of the album, and both this and the opening track have a very marked bass theme. "Alla Ricera Di Una Dimensione", "Ad Un Vecchio" and the title-track are typical Italian progressive, melodic and with all the right moves in the arrangements. Stuffed with organ, piano, moog and guitar. "Per Un'Anima" and "La Ballata Del Cane Infelice" are both very mellow and wonderful acoustic tracks. A solid album that should satisfy any fan of Italian progressive.
Eela Craig - "Eela Craig" (Pro Disc 1971)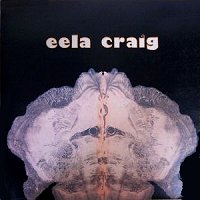 The recording career of Austria's best progressive rock band started already several years before they had anything really significant to offer. The music on their self-titled debut had more in common with the German bluesy and jazzy underground psych/prog from the same time, and was far away from the symphonic progressive rock classics they would make later in their career. This makes of course the record an anomaly in their catalogue, although it's a decent enough listen on its own terms. The band would later become known for their very rich and varied keyboard-sound, but here it was still limited to only the el-piano of Hubert Bognermayr (one of the main men in the band) and organ. The opener "New Born Child" starts with a spacey, German-sounding organ part and some terrifying screams (this child must sure have scared the hell out of his mother). The track then slows down, and the flute of multi-instrumentalist Harald Zuschrader appears. His flute was one of the most prominent instruments on this debut, and is thoroughly featured during the entire album. After a brief vocal part, the track then kicks into an energetic saxophone riff that lasts for the rest of the track. Bognermayr's other composition on the album, "Indra Elegy", is more of the same but without the saxophone. The two other tracks on the album were written by Zuschrader and have some slight jazz/blues tendencies with more long solos on flute and the fuzzed, bluesy guitars. I really don't find so much more to say about this one. Fans of the German underground scene will surely enjoy it, but others are better advised to look forward to Eela Craig's classic phase that would come some years later.
Eela Craig - "One Niter" (Vertigo 1976)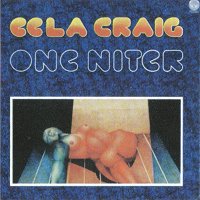 It would take no less than five years before Eela Craig released their second album. In the meantime they had released a 7" called "Stories". This heavily Mellotron-drenched single was the first sign of the band moving away from the underground influences of the debut-album and over to a pure symphonic progressive rock sound. The line-up had also changed, as Waber, Gerstmair and Orthofer all were gone and replaced by Frank Hueber on drums, Hubert Schnauer on keyboards and flute and finally Fritz Riedelberger on guitar, piano and vocals. "One Niter" was Eela Craig's first masterpiece, and probably the best Austrian symphonic progressive rock album. The band had found a style and sound that were highly unique and reminiscent of no other band. The opening 14-minute suite "Circles" encapsulated every side of the band very well, starting with a very grandiose and powerful fanfare of Mellotron-brass, choir and harpsichord. This moves into a far more subdued part with some ethereal flute and atmospheric synths before it returns to the beginning again, but now with drums that adds even more power to it. The next part is an upbeat and very funky interlude that leads into the beautiful vocal part of the piece. "Loner's Rhyme" starts quite soft and gentle with laidback keyboard chords surrounded by more of that very moody and beautiful flute. The vocal part of the track is carried graciously by more of the Mellotron-brass, that together with the band's thing for funky instrumental sections were one of their main trademarks. And that's just what the instrumental mid-part of "Loner's Rhyme" is too, loaded with energetic organ soloing over lots of funky keyboards. The title-track is an instrumental suite with influences that ranges from baroque classical music to typical 70's symphonic progressive rock complete with soaring guitar melodies and gentle flute-themes and then to the more funky stuff of the band's most upbeat instrumental parts again. It also repeats a theme from "Loner's Rhyme". "Venezuela" is the shortest song on the album, being a nice little song based around acoustic guitar, flute and Riedelberger's emotional vocals. The instrumental opening part of "Way Down" is yet another showcase for the band's funky side but slows down in the end for a more typical progressive laidback vocal song. Besides being their musically best one, "One Niter" was also the best produced of Eela Craig's albums. A true classic that any self-respecting 70's progressive rock fan should own.
Label
Eela Craig - "Hats of Glass" (Vertigo 1978)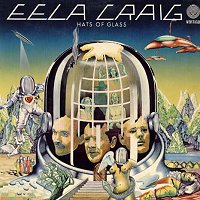 One mistake many bands commit after releasing an artistically very successful and acclaimed album is to play it safe and make the important follow-up as similar to that album as possible. Eela Craig on the other hand avoided this problem cleverly on "Hats of Glass", but still made sure to maintain the distinctive stamp they had developed on "One Niter". The Mellotron-brass was still widely in use here, but the funkiness of the previous album was now mainly limited to some slight tendencies in "(Remove Another Hat of Glass and You Could Easily Find Assorted Kinds of) Cheese". This track was a reworking of the b-side of the "Stories" single, and appeared now as a pure instrumental number with a mid-part reminiscent of Happy the Man. "Stories" itself had also been re-recorded with new lyrics for use in the superb 10-minute title-track, which also featured long explorations on guitar above a very powerful foundation of keyboards. The second lengthiest track on the album was "Holstenwall Fair" that had one of the best and most complex instrumental passages the band ever composed. The album also differed from "One Niter" by the fact that the band also started to flirt with some more pop-oriented kinds of progressive rock, but still without becoming anywhere near of selling out. "Chances Are" is a fine example of how a progressive band successfully can turn their classic and very progressive sound into a lighter and more accessible tune without losing any of their credibility or personality. This one also makes good use of the band's trademark Mellotron-brass. "Caught on the Air" is a lush and very pleasant song with a dreamy feel. "Heaven Sales" takes a rougher approach with a very juicy, quirky and powerful opening and ending theme, but still toying within a pop-progressive realm. The band even chose to do a cover of Chris De Burgh's "A Spaceman Came Travelling" and turned the song into something that sounds like a spacey version of The Moody Blues or Barclay James Harvest. "One Niter" and "Hats of Glass" are the albums where most of Eela Craig's heritage and reputation rests on. Get both.
Eela Craig - "Missa Universalis" (Philips 1978)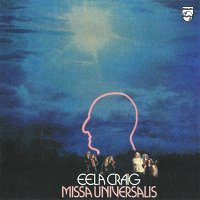 With only three albums released over a course of seven years, Eela Craig could not be accused of being the most productive progressive band around, a fact that probably had more to do with perfectionism than laziness. It was then a bit of a surprise that the most ambitious project of their career was rushed out later the same year as "Hats of Glass". And to call "Missa Universalis" ambitious is really an understatement, but sadly also one of the reasons why the project partly failed. The album was conceived as nothing less than a catholic "rock mass" sung in four different languages. Now, there's little in life I despise more than religion in general, so my opinion about the album is not exactly strengthened from the fact that "Missa Universalis" probably remains the most overtly religious and Christian symphonic progressive rock album ever made. Sure, this also makes it the most original and unusual album put out by the group, but so what? Making an album based entirely around farting noises would be pretty original too. However, the real problem lies probably in the material itself. Some of the songs, especially "Credo", are among the most complex the band delivered, but the many themes and melodies that they are made up of pretty much only float by without leaving much of an impression. It's a real pity actually, as the arrangements show the band from their best and most typical side, including the Mellotron-brass in "Gloria" and even returning to the funkiness of "One Niter" in the second part of "Credo" and the instrumental section of "Sanctus". These are definitively some of the better parts of the album, together with the 12-minute opener "Kyrie" that is based around some floating and spacey synths that climaxes in a powerful finale. But as a whole, I personally found the material to be a bit too unconvincing, especially when coming right after two classic records.
Eela Craig - "Virgin Oiland" (Ariola 1980)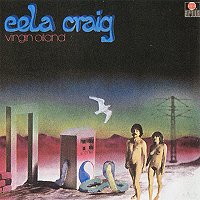 Hubert Bognermayr decided to leave Eela Craig after "Missa Universalis" as he wanted to work with a studio on his own that turned out to be Erdenklang Studio. Bognermayr had been one of the founding members, and many fans of the band undoubtedly also viewed him as one of the main men in the band. But the rest of Eela Craig decided to continue without him, and nose-dived right into the dreaded 80's with "Virgin Oiland". The record seemed to have an extremely vague and half-written concept about man's loss of Eden and his attempt to create a new paradise, but it's really not easy to tell from the patchy lyrics. The album opens actually surprisingly well with "Beecher's Brook" after the short intro "The First Minute". This is a good track where many of the band's most important trademarks still were intact, including a lengthy and funky instrumental passage with several interesting rhythmical ideas. But as you move on further into the album, you quickly understand that this is also the only progressive song it has to offer. "How It Started" follows, and is a very straightforward song, but at least acceptable compared with what comes after it. The album never recovers after the unbearably sugary and boring ballad "Carry On". Other extreme mistakes include the disco of "Love to Hate You Baby" (complete with cheesy electronic vocals) and the techno-pop of "Birds of a Feather" where the organ at the beginning and end desperately tries to still keep the band in a fairly progressive realm. But they really can't fool the listener, and continues with forgettable pop in "Pig City" and even tries to recreate the spirit of the quieter passages from "One Niter" in "Lions Covering the Beaches" but without any success at all. The acoustic ballad "The Seven Minutes" that closes the album is decent enough, but still absolutely no match for their best 70's material. Wisely, the band understood that their time was over after the release of the record, and broke up shortly after.
A Canterbury-trio lead by the excellent organ-work of Dave Stewart. Personally I've always viewed them as the Canterbury-version of Emerson, Lake and Palmer. Less grandiose, more down to earth and more jazz-influenced (NOT fusion) than their more famous counterparts. But their debut-album also features some obvious 60's influences, especially on the raw and energetic "The Song of McGillicudie the Pusillanimous" (reminding me somewhat of The Crazy World of Arthur Brown) and the adaptation of Bach's "Fugue in D Minor" sounds VERY proto-prog. "I Will Be Absorbed" is my personal fave here. It's a kind of relaxed and laid-back track the demonstrates Stewart's distinctive and atmospheric organ-sound very well. The 20-minute "Symphony no.2" includes several good themes and even incorporates some classical themes. Some of the most experimental parts may seem to drag a bit, but overall this is a good track. A fine album that will appeal to all fans of early 70's organ-driven progressive rock.
Egg - "The Polite Force" (Deram 1971)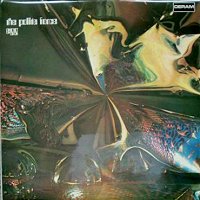 Egg perfected their distinctive, organ-driven prog with their second and best album. Stewart's excellent playing varied between his light organ-tone and to the more typical, heavy distorted Canterbury sound. The opening track "A Visit to Newport Hospital" demonstrates this perfect. Light and jazzier playing in some wonderful atmospheric themes relieve VERY heavy organ in other parts. "Contrasong" is a track that features some horns and is complex in a kind of Gentle Giant way. Then comes the really tragic thing about this otherwise superb album: 9 minutes of completely pointless noise and sound effects in "Boilk". If these 9 minutes instead had been filled up with a track of the same quality as the rest of the album, then "The Polite Force" would have been one of the true keyboard-progressive rock classics of the 70's, in league with "Brain Salad Surgery" and "Spartacus". Fortunately, the second side of the album consists of the great, 20-minute suite "Long Piece No.3" and was probably the best thing Egg ever recorded. Incredibly complex and one of the best pieces of music ever performed on just organ, drums and bass! If you forget about the idiotic "Boilk" then this IS still a great album and worth whatever you have to pay for it. Fans of organ-driven progressive rock with a perfect 70's atmosphere will eat it up.
Egg - "The Civil Surface" (Virgin 1974)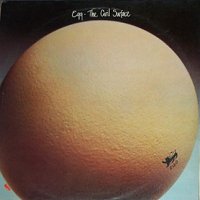 Egg performed some new material during their last concerts before they broke up. This material was very well received by the audience, so the trio decided to re-unite in 1974 just to record the material and it resulted in this album. In many ways, this was their least accessible and most avant-garde album. It featured several guest-musicians on wind instruments who performed two atmospheric instrumentals. They also performed on the very weird and avant-garde "Nearch". However, the band was a lot more recognisable on "Enneagram" and "Wring Out the Ground (Loosely Now)". Both are excellent tracks in the classic Egg-style and just as good as anything on their masterpiece "The Polite Force". The opening piece "Germ Patrol" sounds like a mix of Egg and Stewart's new band at that time, Hatfield and the North. This is an instrumental-track that is somewhat hard to grasp. "Prelude" is the least interesting moment on the album, and it sounds like a typical unfinished takeout (that's probably just what it is too). Although "The Civil Surface" is not as good as the two first album and has a stronger Canterbury-feel (in a rather negative sense of the word for me) but it's still a worthy farewell with an often underrated progressive rock trio.
Eik - "Hrislan og straumurinn" (Spor 1977)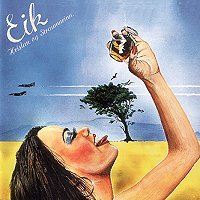 Eik were obviously one of the most accomplished symphonic progressive rock bands from Iceland, as clearly showed on their album "Hrislan og straumurinn" from 1977. The opening 14-minute title-track is the strongest track, and features influences mainly from Camel and Yes. Some of the Moogs reminds me of Kansas in the "Song for America" period. Here are many fine melodies and themes. The performance of it is also convincing. "Fjöll" is another good song, and all the lyrics are sung in the band's native language, adding a certain degree of originality to their otherwise quite typical, late 70's symphonic progressive rock. The rest of the album tends to be more instrumental and has overall a funkier edge, with the instrumentals "Eitthvad allmennligt" and "Fúnk" as the highlights. Some of the remaining tracks sound a bit like unfinished bits and pieces, although the good ones weights up for these. So, if you're going to buy a progressive rock album from the legendary island, then "Hrislan og straumurinn" would probably be one of the most obvious choices.
Alf Emil Eik - "Joy & Breath of Eternity" (Harvest 1979)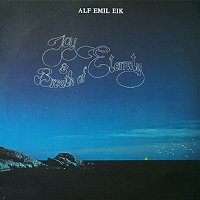 The Norwegian multi-instrumentalist Alf Emil Eik recorded and released this album on the Harvest-label in 1979. Eik produced the album himself and played all the instruments, including bass, drums, guitar, bells, moog, Mellotron and string-synths. He also sings on a few tracks (unfortunately about some Christian crap). Musically this is symphonic progressive rock with a jazzy edge. The songs vary from lush, beautiful and Mellotron-drenched tracks like "Crying" (great use and combination of the string and choir-sounds of the Mellotron) and "Heart" to energetic, jazzy instrumental journeys like "Joy" and "The Present Age". Both these tracks are some of the better fusion-influenced progressive rock I've heard, and Eik's bass playing is very impressive and reminds me in a way of Chris Squire. "Breath of Eternity" is also quite jazzy, but in a much more laid-back style and creates some pleasant and dreamy atmospheres. "To You" and "Care" are nice vocal-tracks with obvious Yes-influences in the arrangements, and there are also some nice interludes like "Morning Glory" and the majestic "March of Earth" here. "After All" is actually "To You" played backwards! This is a good album with a very nice atmosphere and was one of the few symphonic progressive rock albums released in 1979.
Next Page