Previous Page
Ekseption - "Ekseption" (Philips 1969)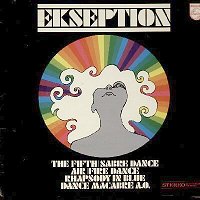 Ekseption was one of the very first Dutch progressive rock bands, and with no doubt the most successful in terms of hits and commercial success. They were originally a pure jazz-band, but their keyboardist Rick van der Linden had far higher ambitions and his interest for classical music and rock would transform Ekseption into probably the most classical-influenced progressive rock group ever. The most dominant elements in the very distinctive Ekseption-sound were van der Linden's keyboards, including organ, piano, Mellotron and harpsichord. He used the latter instrument more than any other progressive rock keyboardist, and that gave the music often a very baroque feel and sound. But what really made them more than just another keyboard-driven classical-progressive band was the wind instruments of Rein van den Broek that included trumpet, saxophone and flugelhorn. Guitarist Rob Kruisman also contributed with some very Ian Anderson-sounding flute on their debut-album "Ekseption". The album was almost completely made up of cover-material. The only exception was "Little X Plus", a quite jazzy piece dominated by a nice theme played on flute and vibraphone. The album also included some of the band's best-known tracks. "The 5th" became a big hit and their signature tune, and it was a complex track based on Beethoven's 5th symphony. It demonstrates quite well how van der Linden's various keyboards melts in with the horns and creates the unique Ekseption-sound. Saint Saens' dramatic "Dance Macabre", Bach's beautiful "Air" and Khachaturian's "Sabre Dance" are other highlights and showing the band's talent for arranging classical pieces into a progressive rock format with their own signature sound. We also get an energetic version of Gershwin's "Rhapsody in Blue" and some very Jethro Tull-ish early progressive rock in "Canvas" and not at least in Tull's own "Dharma for One". Cannonball Adderley's "This Here" shows the band at their most jazzy. This was a classic debut in more than one sense of the word!
Ekseption - "Beggar Julia's Time Trip" (Philips 1970)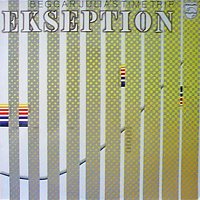 Ekseption's successful debut-album had made them a big name even outside of Holland but Kruisman, Kampen and Leeuwe decided to leave the band in 1970. Dick Remelinck and Dennis Whitebread soon replaced them. The band also included singer Michael van Djik in the new line-up, introducing vocals to their sound. Their second album "Beggar Julia's Time Trip" was an ambitious and continuous concept-album that stands as one of the band's finest moments. The concept told the story of a female beggar who lived in year 900. One day she encounters some kind of a time-machine/space-ship that takes her on a journey through the centuries and up to our time. Musically, the album mixes classical themes with original material written by van der Linden. This includes a very beautiful, medieval-influenced overture, the rocking/jazzy "Pop Giant", the baroque "Feelings" and the vocal-number "Julia". The classical adaptations included Albinoni's "Adagio", Bach's "Italian Concerto" and Tchaikovsky's "Concerto". The latter also includes an uncredited theme from Beethoven's "Patetique". All these pieces are tasty and beautifully arranged in the typical Ekseption-way, dominated by van der Linden's organ, piano, harpsichord, mellotron and the various horns and wind-instruments of Broek and Remelinck. Overall I think that this was maybe Ekseption's most typical progressive album, and that would probably also make it the best starting point for many of you.
Ekseption - "Ekseption 3" (Philips 1970)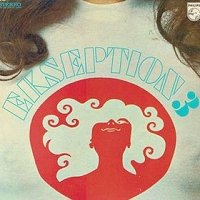 The 3rd album was another concept-work, this time based on Saint Exupèry's book "Le Petit Prince". It was also Ekseption's most vocal-oriented album as 4 of the 9 tracks included vocals. The band had got a new singer in Steve Allet and his deep and low voice sounded quite different from Michel van Dijk. All of the vocal tracks are good songs, especially "Morning Rose" and "B 612". The latter includes a complex and jazzy instrumental-part in the middle and is in my opinion one of the most beautiful horn-passages they ever recorded. The dramatic "On Sunday They Will Kill the World" is maybe a bit repetitive, but still quite powerful and enjoyable. "Another History" starts very jazzy, but turns into a pleasant and atmospheric progressive ballad when the harpsichord and shimmering organ starts. The instrumental-part of the album includes the well-known opening theme "Peace Planet" and this Bach-adaptation became another hit for the group. "Bottle Mind" is a cool and catchy track where the theme is clearly inspired by Grieg's "I Dovregubbens Hall". The loud and heavy break in the middle only makes it more entertaining. The version of Beethoven's "Rondo" demonstrates van der Linden's skills on the organ and also lets Broek stretch out in the jazzy mid-part. But the highlight of the instrumental-numbers is van der Linden's own two-part suite "Piece for Symphonic and Rock Group in A Minor". The first part is a beautifully dark and atmospheric passage played by strings and wind instruments that slowly build up to the energetic and rocking last part that includes many cool riffs with more excellent organ and harpsichord from van der Linden. "Ekseption 3" will be another winner if you like old-fashioned, early 70's classical influenced progressive rock. But Steve Allet left the band after this album, and Ekseption would from then remain a pure instrumental group.
Ekseption - "00.04" (Philips 1971)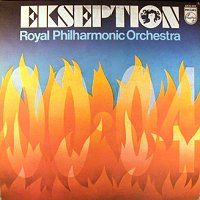 Due to their style and nature, it was only a matter of time before Ekseption would attempt to do something with an orchestra and they finally did it on their 4th album. The record went straight to the top of the charts, and cemented Ekseption's position as the most successful Dutch progressive rock band in the earliest 70's. The 14-minute "Piccadilly Sweet" was written by van der Linden, and was the track where the orchestra came best to the fore. The composition features many fine themes, and the orchestral arrangements are very powerful and melt very well together with the band. If Maurice Ravel had played in a progressive rock band, then this is maybe what it would have sounded like. The rest of the album is a typical Ekseption-mix of covers and original material. The old jazz-tune "Monlope" has been turned into an organ-driven progressive piece in three parts where part 2 is a symphonic baroque passage written by Van Der Linden. It stands in my opinion as one of Ekseption's very best recordings. The version of Bach's "Partita No. 2 in C Minor" introduced synths to the band's sound, while "Ave Maria" opens the album in a promising and beautiful way. Van Der Linden had penned the rest of the material. "Body Party" and "Monkey Dance" are both two rocking and catchy tracks while "Choral" is a very beautiful piece that builds up to a great finale with choir and church-organ. "00.04" was one of Ekseption's most successful albums.
Ekseption - "Ekseption 5" (Philips 1972)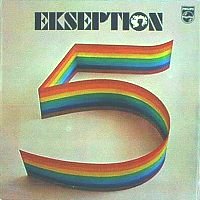 It's no big mystery why this became Ekseption's best-selling album as it was the only one to be released outside of Europe too. But it was still well deserved as it's their best album. There's not a bad or mediocre moment here at all, and van der Linden delivered some of his best material ever together with more strong adaptations of classical themes. There's also a version of The Nice' "For Example" and it works a lot better than the original as it's turned into a pure instrumental-number that focus on the strong riffs and themes of the track, instead of the poor vocals on the original. Van der Linden had also integrated a self-written part, called "For Sure". Next to "Dharma for One" on the debut, this was the only track from another progressive band that Ekseption would cover. "My Son" was a musical tribute to van der Linden's young son, and remains one of their most rural and cosy tracks. It varies between a pleasant flute-melody to more aggressive passages dominated by the organ. The 10-minute "Midbar Session" is truly impressive and features a string of majestic themes and different moods where the organ, harpsichord, synth and horns melts together and really demonstrates the classic Ekseption-sound at its best. "Virginal" is another winner, based in a really beautiful melody. The combination of van der Linden's swirling organ, harpsichord and piano with Broek's trumpet gives me goosebumps every time I hear it. It's just so majestic and atmospheric, creating a perfect barouqe-prog sound. The rest of the album was made up of classical themes, including Bach's "Siciliano" and "Vivace" and Mozart's "A La Turka". The Bach-pieces are mostly dominated by the wind-instruments with the organ working more as a back-drop, while the Mozart-adaptation goes the other way round with the organ in front and playing the main-theme. Highly recommended.
Ekseption - "Trinity" (Philips 1973)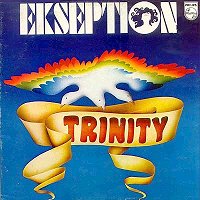 Ekseption's 7th album included some personnel-changes as both Dick Remelinck and Peter de Leeuwe were kicked out of the band and replaced by Jan Vennik and Pieter Voogd. This line-up recorded Ekseption's last masterpiece in form of "Trinity". The album opens with an adaptation of Bach's "Toccata" that reminded a bit of "Vivace" from the previous album. "The Peruvian Flute" is based in a traditional Peruvian theme that has been transformed into a 9-minute piece of progressive rock, ranging from jazzy, horn-driven passages to mighty symphonic parts and then to the cheerful main-theme played on flute by Vennik. You will notice that Vennik's style of playing sounds very much like Ian Anderson, something that hadn't been heard on an Ekseption-record since the debut. "Dreams" is a short piece where more of Vennik's flute can be heard, but this time in a more quiet and (surprise) dreamy way. "Smile" is a nice little tune written by van der Linden. "Lonely Chase" is a structured organ-solo based in a theme that sounds somewhat familiar to me, but the track is credited to van der Linden. The version of Beethoven's "Romance" is just as sweet as you could expect, but it's very unexpectedly ripped up in the middle by an energetic organ-solo. The 9-minute "Improvisation" gives room for some jamming from all the members of the band, built around another Tull-ish flute-theme from Vennik. "Meddle" is a beautiful little tune that featured the best medieval-atmosphere the band had created since "Beggar Julia's Time Trip". The version of "Flight of the Bumble Bee" has lots of energy and joy and some impressive playing from van der Linden. The album closes with a grandiose finale that includes a guest appearance by the Dutch chamber-choir. But "Trinity" sold poorly compared to the previous albums, and this signalled that Ekseption's status as one of Holland's most successful bands was starting to slip.
Ekseption - "Bingo" (Philips 1974)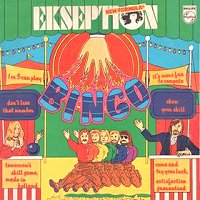 The personal tensions inside Ekseption seemed to never fully disappear, and this finally led to Rick van der Linden's departure in late '73. Hans Jansen replaced him, and the group also decided to include guitarist Hans Hollestelle in the band. This new version of Ekseption headed for a far more conventional jazz-rock style where most of the classical influences were wiped out. Actually, the beautiful and atmospheric "Nightwalk" was the only track on "Bingo" that really sounded like classic Ekseption. The rest of the album consisted of competent, but faceless jazz-rock of the kind that you'll often hear in TV-series from the 70's. Jansen was a rather anonymous keyboardist compared to van der Linden, and lacked the classical references. No matter how solid tracks like the complex "From Ekseption", the catchy single "De Fietser" or the energetic title-track actually are, they all lack Ekseption's unique sound and style. The album also featured a new and slower version of "Sabre Dance" that didn't do much else than strengthening the impression of a band that tried to remove every sign of the distinctive and personal sound they had created together with van der Linden. "Bingo" was a disappointment, although not an unexpected one, as Ekseption without Rick van der Linden could never fully be Ekseption.
Ekseption - "Mindmirror" (Philips 1975)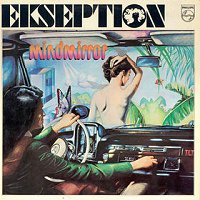 "Mindmirror" was Ekseption's second album without Rick van der Linden. Just like "Bingo" it was a competent piece of work from a pure technical point of view, but also yet another nail in the coffin for Ekseption's personality. Never before had a guitarist been more involved in the sound of the group than what Hollestelle was here. As a result, "Mindmirror" sounded often like several other Dutch groups, especially Focus and Finch. Even the version of Bach's "Bourree" had more in common with those two bands than classic Ekseption. The version of The Average White Band's "Pick Up the Pieces" took the band further into funky fusion-territory than even anything on "Bingo". It's fun to hear Jansen finally let loose on the organ in "Tramontane" but he still lacked van der Linden's classical style and personality. Ok, I'll admit that the 17-minute title-track IS a solid and worthwhile piece of jazzy and complex progressive rock. It includes many strong riffs and melodies and a beautiful flute-solo from Vennik. But no matter how good it is, it still missed Ekseption's distinctive sound that made them so unique. And the main reason for this was of course the absence of Rick van der Linden.
Ekseption - "Back to the Classics" (Philips 1976)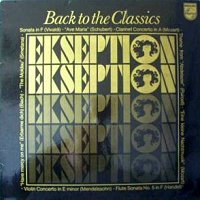 Several members left Ekseption after "Mindmirror" had flopped, and the band were probably very close to a full break up at this point. But letters from fans who wanted a return to the old style with classical themes encouraged the band to continue. Vennik, Janssen and van der Broek hired several sessison-musicians to complete the band on "Back to the Classics". The album seemed pretty much to be Vennik's baby, as he had arranged most of the music. Some of the adaptations on the album were actually a bit more adventurous than earlier. Vivaldi's "Sonata in F" is being played on recorder, giving it a slightly medieval mood. Mozart's "Eine Kleine Nacthmusik" is almost completely unrecognisable, and has the same cheerful feel as "Sonata in F". The light and laidback arrangement on Schubert's "Ave Maria" is also representative for the versions of Mozart's "Clarinet Concerto in A, K. 622" and "Erbarme Dich" from Bach's massive "Mättheus Passion". Händel's "Flue Sonata in no. 5 in F" and the theme from Purcell's "Abdelazer" are the versions with most in common with old Ekseption. The end of Mendelssohn's "Violin Concerto in E minor, op. 64" sounds like something from a 70's detective series in Ekseption's version. The album closes with a beautiful version of Smetana's "Moldau" that stands as one of the best moments on the album. The slick production and the overall laidback feel of the album makes "Back to the Classics" a less dynamic and powerful record than the earlier ones, but it was still easily Ekseption's best since "Trinity".
Ekseption - "With Love From" (Philips 1977)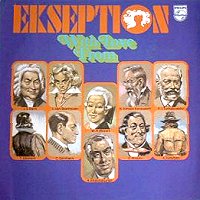 There is an extreme amount of different compilations from Ekseption. The double-album "With Love From" is the only one you need. Not does it just give you a very comprehensive overview of their best known adaptations of classical themes, but also features two tracks that are nowhere else to be found. Ketelbey's "In a Persian Market" was a non-album single from 1974. The version of Rossini's "El Barbero" was also recorded the same year, but to my knowledge didn't appear anywhere before it surfaced on this album. The rest of the album features all of Ekseption's best known versions of various classical themes, including "The 5th", "Air", "Sabre Dance", Rhapsody in Blue", "Adagio", "Italian Concerto", "Concerto", "Peace Planet", "Rondo", "Ave Maria", "A La Turka", "Flight of the Bumblebee" and "Toccata". Of the lesser known but equally good stuff we're getting the beautiful and atmospheric "Siciliano in G" and the jazzy take on another Bach-theme, "Vivace". "Partita No. 2 in C minor" is an example of Van der Linden's earliest experiments with synths. "With Love From" really proves that Ekseption had one of the most defined and easily recognizable sounds of any progressive rock bands, no matter if you like them or not.
Ekseption - "Ekseption '78" (CNR 1978)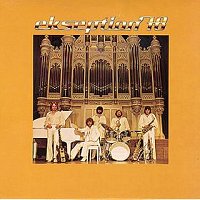 Although "Back to the Classics" may have pleased the few Ekseption-fans that were left in 1976, it was yet another commercial failure that finally made Philips drop the band. But things looked brighter when Rick van der Linden returned to the band in 1978. They signed a new deal with the Dutch label CNR, and released "Ekseption '78". The album was the typical Ekseption-mix of classical themes, some self-written tracks and re-recorded version of "Jesus Joy" (originally a single B-side from 1973) and "Doubts" (from van der Linden's "White Ladies" album and re-titled as "Faith" here). To be even more out of touch with the trends of the time, they had now also adapted a very decadent, and to be honest, completely awful image that included white suits and a limousine. Among the best tracks on the album we find van der Linden's "Your Home", a fresh version of Gershwin's "Summertime" and Rein van der Broek's atmospheric "Thoughts". The rest is pretty much hit or miss. "Signals" and "Wild Flower" are pure filler, but the version of the opening segment of Bach's "Matthäus Passion" complete with Mellotron choir and synths is really beautiful and majestic. The rest of the album won't give you anything that the band already had done better before, but they should at least be credited for sticking to their formula, and not selling out like most other progressive rock bands had done in 1978.
Electrophon - "In a Covent Garden" (Polydor 1973)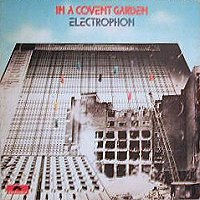 The British duo Electrophon were one of the very few electronic progressive acts of the 70's to not come from Germany. Their debut "In a Covent Garden" consisted of lots of electronic covers of various classical themes. Tomita would then be a natural comparison, although Electrophon had a lighter and more simplistic approach to the material, and had probably more in common with the pioneering works of Walter Carlos in the 60's. The duo also used an orchestra to back them up, but personally I think the numbers where just the keyboards dominate are the best ones. This included Händel's "The Arrival of the Queen of Sheba", Debussy's "The Girl With the Flaxen Hair" (actually very similar to Tomita's version a year later), Mozart's "Allegro" and the sinister version of "Greensleeves". On numbers like Rimsky-Korsakoff's "Flight of the Bumblebee", Katschaturian's "Sabre Dance" and Grieg's "Hall of the Mountain King" the duo played the main melodies on their synths while the orchestra backed them up. Waldteufel's unbelievable awful "The Skater's Waltz" is undoubtedly the most dreadful moment on the whole album, and represents classical music at its cheesiest. "In a Covent Garden" arrived at least five years too late to be of any interest or importance.
Electrophon - "Zygoat" (Polydor 1974)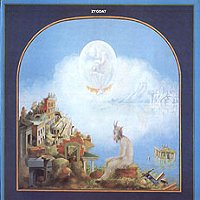 As I expected, "Zygoat" is a much better and more interesting piece of work than "In a Covent Garden". There were no cheesy interpretations of classical music around this time (although some passages undoubtedly are inspired by classical music), and the record consisted instead of entirely original material composed by Burt Alcantara. His compositional style is dynamic, energetic and downright weird on some passages, but fresh and interesting through the whole album. All the music was played on RSE and ARP synthesizers, and the virtuosity of the playing is quite impressive. "Leaves of Sand" opens the record with a theme that surely must have inspired Tangerine Dream a bit when they wrote the introduction theme to "Tangram" six years later. The track quickly evolves into one of the main themes of the album, which obviously is a conceptual work about the goat creature on the cover. The title-track is something as unlikely as electronic progressive rock'n'roll, and this unusual approach is repeated in the even more energetic and faster "Zy-Clone" that has to be one of the wildest electronic progressive pieces of music recorded. This and the far more classical-influenced "Pillar of Salt" features some of most insanely fast playing I've heard on an ARP. The weirdest tracks are "Ybur Knom" and "Ybur Doon" which both are based around the same theme and reminding a bit of Vangelis' most experimental works from the 70's. "Movement to the Earth" is based in a slowly gliding pace with lots of quirky synth solos that are anything else than slow. This track transcends smoothly into "Seeds Cast to the Wind" that is one of the highlights of the album together with the mighty "The Ladder of Zeugma". "Zygomania" is a pure cacophony of tortured synth solos. "Preserverance Furthers" closes the album by going through several of the main themes. "Zygoat" is a quite unique and unusual listening experience, but you'll have to be into old analogue synths to fully get it.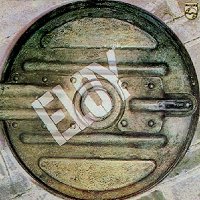 Eloy was one of the most successful and best-known progressive rock bands to ever come from Germany. Their dreamy and atmospheric symphonic progressive rock brought them many fans far outside the borders of their own country, and their popularity would last for long into the 80's. Their first release is however one of the least representative debut-albums in progressive rock history. No symphonic prog here but instead average and raw early 70's heavy rock. You can maybe hear some VERY slight progressive tendencies in the piano/organ-dominated ballad "Isle of Sun" and in the structure of "Something Yellow" but most of the album sounds more like Black Sabbath than what you usually would expect from Eloy. The two earlier mentioned songs are along with the title-track and the opener "Today" decent hard rock tracks, but they completely lacks the sophistication and atmosphere of the later albums, making the record of interest to Eloy-completists and collectors of early 70's hard rock only. But the gimmick-cover was interesting as you could open the lid of the dustbin and take a look inside of it.
Eloy - "Inside" (Harvest 1973)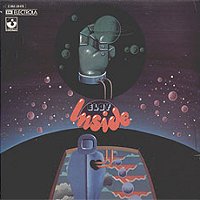 Guitarist Frank Bornemann became the leader and singer of Eloy when Erich Schriever left after the debut. Eloy took a turn for a much more progressive direction under Bornemann's leadership, and would establish them as one of the leading German progressive rock bands. Drummer Helmuth Draht was replaced by Fritz Randow, and this line-up made Eloy's first truly progressive album with "Inside". The album was made up of quite rough and spacey progressive rock, similar to many of the underground krautrock bands of that time. The first side of the album was taken up by "Land of Nobody" and should satisfy anyone out for energetic jams with lots of spacey organ, heavy guitar and good riffs. This was also the first track by Eloy where Bornemann's notoriously accented vocals could be heard. He had also a slight similarity to Ian Anderson in his voice here, but not as much as many people claim. The title-track is a gloomy song with a simple but good organ-theme. The two last songs on the album, the mostly acoustic "Future City" and the complex "Up and Down" are both of a more psychedelic kind. Personally I think that "Inside" is the best of Eloy's earliest albums, and well worth having.
Eloy - "Floating" (Harvest 1974)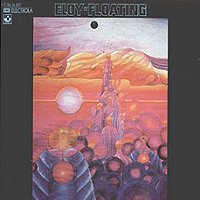 More personnel changes took place on the third album, as Luijten Janssen replaced bassist Wolfgang Stocker. "Floating" isn't bad, but it still felt like a weaker blueprint of "Inside" and revealed a slight degree of stagnation in the band. Here you get more of the spacey, energetic and psychedelic progressive rock that made up "Inside" but with weaker and less distinctive songs. The 14-minute "The Light from Deep Darkness" features good instrumental passages with lots of the obligatory spacey organ and guitar, but the vocal parts are based in riffs that sound somewhat tired and uninspired. The rest of the album is fairly good, but it won't offer you anything that you already could hear in stronger form on "Inside". "Castle in the Air" is a nice, psychedelic progressive rock song with a lengthy mid-part where Bornemann's wordless vocals and guitar melts together in a way that actually reminds me of Andy Latimer. "Plastic Girl" was yet another attempt to re-create what they had done on "Inside" and sounds decent enough. The title-track is a short instrumental, while "Madhouse" is a straightforward hard rocker that could have been taken from the first album. I wouldn't regard "Floating" as essential Eloy, and you should better pick up "Inside" first.
Eloy - "Power and the Passion" (Harvest 1975)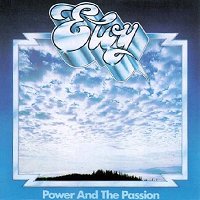 Eloy got an additional guitarist when Detlef Schwaar joined them in 1975. "Power and the Passion" was their first concept-album, and it showed that the band went in a more polished and symphonic direction. This change felt necessary after "Floating", but it also made "Power and the Passion" mainly a transitional record. The lyrics told about the son (Jamie) of a scientist who had been experimenting with "time-eroding drugs". One day Jamie took some of these drugs and suddenly found himself in Paris back in 1358 where he met Jeanne, daughter of a mighty landlord who wants to marry Jeanne to the neighbouring landlord's son. Jamie and Jeanne became very close friends before they meet a magician who takes Jamie back to his own time again. The music was more symphonic than earlier, and the keyboard-arsenal had been broadened considerably, and featured now Mellotron, piano, organ and various synths. The material on the album is varied, going from mighty and complex symphonic progressive rock in "Mutiny" to rough heavy-prog in "The Zany Magician" and then to atmospheric, spacey and laid-back beauty in "The Bells of Notre Dame". The lengthy "Love Over Six Centuries" includes lots of spoken dialogues between Jamie and Jeanne that becomes a bit tiresome after a while. And "Daylight" is just a cheap re-use of the riff from "Land of Nobody". "Power and the Passion" was important to Eloy's musical evolution, but it's still the weakest of the four concept-albums that they made in the 70's.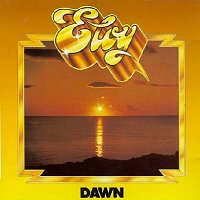 Eloy broke up after "Power and the Passion" but Frank Bornemann quickly gathered together a completely new line-up that would become the most successful Eloy ever had. The outstanding Jürgen Rosenthal became the new drummer; Detlev Schmidtchhen was the new man on keyboards, while Klaus-Peter Matziol got the job of delivering the bass to Eloy's new sound. "Dawn" was another concept-album, and left no doubt that the new line-up was perfect for the symphonic kind of spacey progressive rock that Bornemann now favoured. The lyrics had become more or less impossible to understand, and reminded a lot of Jon Anderson's lyrics. They even sing "Nous Somme du Soleil" in "Gliding into Light and Knowledge" and the title-track! The music sounded now even spaceier with tons of floating and pleasant keyboards that make a very big and impressive sound. The highlights include "Between the Times", "Return of the Voice" and the energetic "The Midnight Flight". Some parts and passages sound maybe a bit too much like each other, and the album as a whole is a little bit messy. But the beautiful arrangements and atmosphere more than makes up for it. "Dawn" is actually one of the most spacey symphonic progressive rock albums I've heard, and worth having for just that.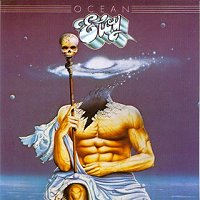 This classic concept-album about the rise and fall of Atlantis is for many people (including me) Eloy's best work. The album consisted of four lengthy tracks where the band better than before had managed to combine their atmospheric sound with really strong themes and melodies. The opener "Poseidon's Creation" is one of Eloy's best tracks ever, stuffed with a heavy organ-riff, atmospheric moog themes, a melodic vocal-part and a very majestic end with a choir. "Incarnation of the Logos" has the usual sci-fi atmosphere of Eloy, with a beautiful instrumental theme in the middle. "Decay of the Logos" is a very dynamic track with lots of typical 70's German-sounding keyboards. The first part of the 16-minute "Atlantis Agony at June 5th - 8498, 13 p.m. Gregorian Earthtime"(!!!) sounds almost like Klaus Schulze with narration. The track builds up in the middle to yet another very powerful and majestic progressive tune. "Ocean" remains Eloy's finest moment, simply because it features some of their best material and atmosphere and they had managed to make something completely of their own that reminded of no other progressive rock band. Along with Novalis' "Sommerabend" and Gröbschnitt's "Rockpommel's Land" this is one of the essential symphonic progressive rock albums from Germany.
Eloy - "Silent Cries and Mighty Echoes" (Harvest 1979)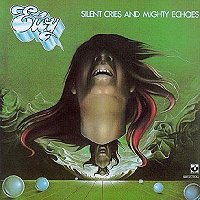 This album proved to be Eloy's best-selling record ever, but there seems to be rather mixed opinions about it. Some people think it's one of Eloy's very best albums ever, while other says it's nothing more than a complete Pink Floyd rip-off. Personally I belong to the first group of people, as I think only "Ocean" can rival "Silent Cries and Mighty Echoes" as Eloy's best album. And I think most of the similarities to Pink Floyd are limited to Bornemann's guitar-playing on the first side of the album. The opening track "Master of Sensation" has an instrumental intro that sounds very much like "Shine on You Crazy Diamond" and the track itself is drenched in atmospheric background-effects that sound like something from "Meddle". But the track is still a very good up-tempo track with some great synth-solos in the middle. "The Apocalypse" is 15 delightful minutes of slow-paced and atmospheric symphonic progressive rock dominated by Bornemann's Gilmour-influenced guitar-playing and lots of the usual dreamy keyboards from Schmidtchen. The Pink Floyd-influences are more or less absent from the second side of the album that seems to be more in the vein of "Ocean". "Pilot to Paradise" is an absolutely outstanding track with a great organ-theme and a beautiful synth-break in the middle. "De Labore Solis" is a very laidback song based in another very nice and typical Eloy-theme played on the moog. The closing-number "Mighty Echoes" has a much more sinister theme and feel. This and "Ocean" are Eloy's most essential albums.
Eloy - "Colours" (Harvest 1980)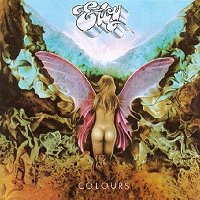 Eloy entered the 80's with a new line-up again. Musically they had also changed and "Colours" marked a move into shorter and more compact songs with gradually more 80's-sounding arrangements. The album also tried to fuse their symphonic style with driving hard rock-riffs, and "Illuminations" and "Child Migration" are the best examples of this. There are also several songs here in the 3-minute range and all of them are surprisingly good. The opener "Horizons" combines a complex rhythm with a nice melody sung by a female choir. "Impressions" is a nice song with a flute-solo, and "Giant" is the track here that reminds most of 70's Eloy. The closing instrumental "Sunset" reminds me a lot of the Japanese new age-artist Kitaro! "Colours" is an original album that proved that Eloy was one of the few progressive rock bands that could evolve and change without selling out but instead still remaining progressive.
Eloy - "Planets" (Harvest 1981)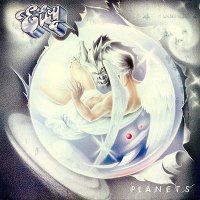 "Planets" was the first of two concept-albums about the planet Salta and its inhabitants the Ikareens in the solar system Hel. The heavy riffs of "Colours" had obviously only been a one-time experiment, as they were mostly absent here. What "Planets" offered instead was a very well produced symphonic progressive rock sound with all the most important trademarks of Eloy, but still with the tight and more compact song-structures of "Colours". The atmosphere was also even more spacey than before, and this was a natural consequence of the story and concept. "Planets" showed the band at their best, and remains their creative peak from the 80's. It's also one of the few examples of a progressive rock band that actually handled the transition from the 70's to the 80's very well. The album opened with a 2-minute introduction of spacey synths that immediately let you know that you're in for a cosmic adventure. The highlight of the first side was undoubtedly the impressive "Mysterious Monolith" that featured some of the best instrumental-passages Eloy ever did. The second side featured some strings that reminded slightly of the arrangements from "Dawn", especially on "At the Gates of Dawn"(!). The hard rocking "Queen of the Night" is the musical opposite, while "Spinx" is more in the style of the first side. The album is closed with "Carried by Cosmic Winds" that is carried along by a strong keyboard-riff and dreamy female vocals. "Planets" is one of the best progressive rock albums from the early 80's, and stands next to "Ocean" and "Silent Cries and Mighty Echoes" as Eloy's finest moment.
Eloy - "Time to Turn" (Harvest 1982)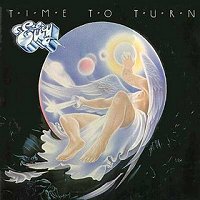 The second and last album about Salta and the Ikareens had a sound very similar to "Planets" but the material was a bit weaker. "Behind the Walls of Imagination" is one of my favouriters here, and has some very interesting use of clavinet, as the instrument is the main part of the track's rhythmic foundation. "End of an Odyssey" is with its 9-minutes the longest track on the album and features lengthy passages with lots of spacey keyboards that make sure you won't miss the typical sci-fi atmosphere that usually is one of the most important things on an Eloy-album. The title-track is a strongly melodic tune with a very nice female-chorus. The opener "Through a Somber Galaxy" and "Magic Mirrors" are both well-structured tracks with decent melodies and more of the spacey atmosphere. "Say, Is It Really True?" is on the other hand one of the rather few acoustic-based songs of Eloy. The weakest track here is "The Flash". This rather uninspired song becomes even worse because of the awful synths in the instrumental mid-part. "Time to Turn" is overall not in the same class as "Planets", but the connection to that album makes it essential if you want the conclusion of the common concept of the two albums.
Next Page