Previous Page
Edgar Froese - "Aqua" (Brain 1974)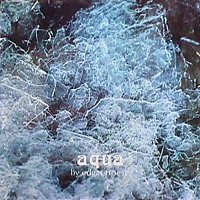 Edgar Froese was one of the utterly few examples of an artist who released solo-albums of the same quality and importance as the works of his main band. His excellent solo-debut "Aqua" from 1974 can even be seen as a missing link, as it sounds like a transitional work between the Ohr and Virgin-era of Tangerine Dream. The first minutes of the opener "NGC 891" combines the noise of traffic (both planes and cars, I can even hear a VW beetle) with some beautiful and atmospheric electronic sounds. You should just close your eyes and imagine all those 70's cars drive by while you listen. It's surely a mind-expanding experience. These sounds were recorded with Gunther Brunschen's "Artificial Head System", and the cover recommends that you listen to it with headphones to get the full effect of it. But the track then picks up the pace, and evolves into the first example of Froese's use of sequenced electronic rhythms (a thing that at the same time would be very important in Tangerine Dream's classic sound too). Chris Franke also guests here, and delivers some improvisations on Moog above the rhythms. This was 70's electronic progressive music at its best and most innovative. "Upland" is a piece based around some organ-chords surrounded by some quite hyper-active electronic sounds. As you surely could expect, the subject of the nearly 17-minute title-track is water, starting with the sounds of flowing water that soon glides into bubbling synth-sounds and electronic experimentation. The track stabilizes itself into a floating, dreamy and very warm keyboard in the vein of "Atem" that just glides gently and caressing through the whole track, and occasionally gets washed over by the earlier mentioned sounds. Pure magic. "Panorphelia" is mostly played on some dark and gloomy Mellotron over a croaking electronic rhythm, and closes the album in the most fitting way. "Aqua" is an essential piece of 70's electronic progressive music.
Label
Edgar Froese - "Ypsilon in Malaysian Pale" (Brain 1975)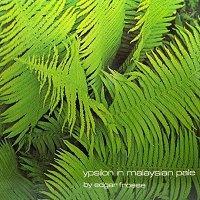 Any serious and passionate music-lover have some albums which means so much to him that it's hard to keep an objective tone when he's going to review them. "Ypsilon in Malaysian Pale" is one of those records to me. It represents the absolute peak of Froese's solo career, and is equalled only by Tangerine Dream's albums from the same period. The album is made up of two side-long masterpieces consisting of some of the most beautiful and otherworldly music ever put on vinyl. The music was inspired by some trips that Froese made to Malaysia and Australia. This is very apparent in the title-track that takes you to the warmest, greenest and deepest forest you can imagine, but in the mystical and dreamy state that was so typical for Froese/Tangerine Dream at their best. The arrangements on this track is probably the most Mellotron-drenched you'll ever hear. Almost every sound you hear is made on the Mellotron, with the exception of some sequencers on the rhythmic part. But most of the track focuses entirely on that delicious instrument. Froese uses the strings of the Mellotron as the underlying foundation for the sound, while the flute-sound (is there really any sound more beautiful than Mellotron-flute? I seriously can't think of any!) has the solo-voice and improvises through many gorgeous tone-figures through the whole track. And the atmosphere? Absolutely fantastic. The other track, "Maroubra Bay" is named after the bay of the same name in Australia, and is far more based around sequenced rhythms. It opens rather dark and sinister, but gets quickly brighter before the hypnotic rhythms appear around one of the most infectious Mellotron-riffs you'll ever hear. The synth-sounds that come and goes through the whole track (to me they clearly symbolizes light) are among the most tasteful that Froese ever used. On "Ypsilon in Malaysian Pale", Froese was God. Sometimes I really wish time could stand still.
Edgar Froese - "Macula Transfer" (Brain 1976)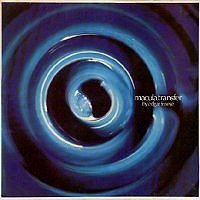 Travelling was obviously a thing that brought lots of inspiration to Froese, as all the material on his third album "Macula Transfer" was composed during flights in 1975 and 1976. Monique Froese's beautiful and atmospheric photo of a sunlit train inside the gatefold cover further enhances the feel of travel. The opener "OS 452" (each track on the album was named after the flight where they were conceived) is the first on a Froese record to feature his guitar prominently. Here it lays the rhythmic foundation for some discreet Mellotron-choir, slightly louder strings and a spacey synth-sound that appears frequently, but never gets really dominating. "AF 765" has an opening similar to the UK-version of "Panorphelia", but in a different arrangement. Any other similarity to that track vanishes completely as soon as a simple, two-chord electronic rhythm appears and goes into a very dramatic piece of music dominated by loud Mellotron-riffs, intense guitar soloing and a spooky, distorted voice that swirls around the music from time to time. There's also a humming synth-sound (especially during the guitar parts) of the kind that Klaus Schulze often used with great effect. "PA 701" opens the second side, and manages in just seven minutes to showcase absolutely everything that I love about 70's electronic progressive music. It's quite complex, featuring one of the best sequenced rhythms to be found on a Froese album along with the trademark Mellotrons and tasty synths that together creates a fantastic atmosphere. For a few seconds at the very end it almost feels like we're taken back to "Ypsilon in Malaysian Pale" again, but with some distant clashing sounds in the background. "Quantas 611" is the only track on the record to feature no kind of rhythms at all, consisting entirely of dark, sweeping Mellotrons and nothing else. The typical sequenced rhythms return again in the closer "IF 810", but now with a quite effective twist on one the chords. The Mellotron and synths again blend beautifully, creating some wonderfully atmospheric and pleasant themes. The track seems to slowly stop toward the end, but suddenly starts again to fade out with one of the main Mellotron-themes. "Macula Transfer" was Froese's third classic as a solo-artist.
Edgar Froese - "Ages" (Virgin 1978)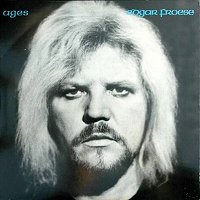 The double album "Ages" is Froese's most diverse and varied solo work, but that goes unfortunately for the quality too. Musically, "Ages" headed in a more conventional progressive rock direction, just like Tangerine Dream's records from the same period, with Klaus Krieger's drumming well incorporated in the music. To get the bad stuff out of the way first, "Children's Deeper Study" is without a doubt the worst and most cheesy thing that Froese ever did put on a record in the 70's. It's just a very idiotic and infantile repetitive theme played in a very synthetic arrangement. And then to the mediocre stuff: I've always found the album's 20-minute piece "Tropic of Capricorn" to be something of a disappointment. Sure, it got a gorgeous mid-part with lots of piano, string-synths and Froese's signature Mellotron, but the opening and closing sections of the track are way too repetitive. "Icarus" is a bit out of the usual, as the electronic rhythm has got an almost bluesy touch. The track itself seems to be sketchy and half-written. "Ode to Granny A" is quite sweet and fluffy, and has more in common with Vangelis than classic Froese/Tangerine Dream. "Golghata and the Circle Closes" is based in some very simple chords that evolve slowly during the track, and features some nice guitar-work. But finally to the really good stuff the album has to offer: the opener "Metropolis" is inspired by Fritz Lang's movie of the same name, and the track would surely made a very good soundtrack to the film. With its kind of old-fashioned futuristic feel and swirling Mellotron-themes, it would fit perfectly to the fascinating black and white pictures of the movie. But the highlight for me is still "Era of the Slaves". This is classic and ultra-typical 70's Froese/Tangerine Dream of the kind I never get tired of delving into. Improvisations on the Mellotron and synths floats gracefully over an irresistible electronic rhythm-pattern, resulting in the typical hypnotic ear candy that all good, 70's electronic progressive music gives me. "Nights of Automatic Women" shows Froese in a rare and unusual rocking mode, with an aggressive electronic rhythm that compliments Krieger's drumming very well. And let's not forget the superb "Pizarro and Atahuallpha" where a funky, percussive theme lays the foundation for a waving Mellotron-riff and something that sounds suspiciously like Mellotron-guitar?! So, while not the most even or consistent piece of work, "Ages" is still a necessary part of any serious Froese/Tangerine Dream fan's collection. By the way, Monique Froese's photo inside the gatefold cover is a great piece of art that perfectly symbolizes Froese and Tangerine Dream's musical evolution toward the end of the 70's.
Edgar Froese - "Stuntman" (Virgin 1979)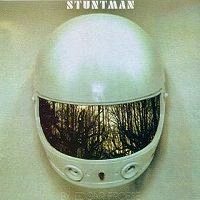 After "Ages", Froese decided to focus and partly renew himself on the far more thoroughly edited and better composed "Stuntman". He unfortunately also ditched the Mellotron and started to use more digital equipment (he was so proud of all this new stuff that he had several pictures of it on the inner sleeve of the album). But the music was still typical 70's progressive electronic, and even all the new sounds he used were tasteful and maintained the warmth and atmosphere that is so important for this music. "Stuntman" was undoubtedly the most melodic of Froese's solo-works, also making it his most accessible one. The opening title-track has one of the finest melodic themes that Froese ever wrote, and should have been a hit just as big as Jean-Michel Jarre's "Oxygene IV" as the potential DEFINITIVELY is there. However, the album quickly strays away from this somewhat commercial opening, and went into the complex 10-minute "It Would be Like Samoa". This is a return to more abstract and less melodic territory, but Froese's new equipment still makes it sound fresh and different. "Detroit Snackbar Dreamer" has along with the title-track one of the most immediate melodies on the record, played on a whistling, high-pitched synth. It also features some really majestic symphonic fanfares that also make nice use of the bass drum effect that Froese & co. had discovered the same year on "Force Majeure". The first part of "Drunken Mozart in the Desert" is based around a quirky electronic riff that bounces up and down with yet another theme swirling around it, while a glassy synth is improvising melodies on top of both. The last part is dreamier, based upon some quite beautiful chords and pleasant melodies. "A Dali-Esque Sleep Fuse" is basically a jam and showcase for Froese's electric guitar. It's probably the weakest track on the album, but still works as a good contrast to the dreamy and pleasant feel of the rest. "Scarlet Score for Mescalero" is a very romantic track, featuring no rhythms, just atmospheric synths, sweet but not too sweet. "Stuntman" proved that Froese's musical creativity and artistic qualities still blossomed at the very end of the 70's.
Fruupp - "Future Legends" (Dawn 1973)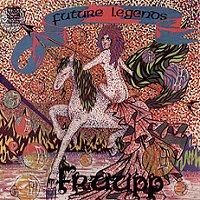 Fruupp was a legendary symphonic progressive rock band from Ireland who unfortunately never got the attention they were worthy of. Guitarist Vincent McCusker, who also was the main songwriter in the band next to keyboard-player Stephen Houston, formed the band. Their influences was quite the usual stuff for a progressive rock band (Genesis, Yes and so on...), but they managed to make a sound of their own, much thanks to the distinctive keyboards of Houston (who used keyboards like farfisa-organ and string-synths instead of the mellotron and moog). "Future Legends" is a nice debut-album with only good tracks. "Olde Tyme Future" remains one of their most beautiful and emotional tracks ever, with a heavenly melody, great vocal-harmonies and atmospheric organ. "Decision" features some aggressive guitar-work from McCusker and some high-pitched vocal-harmonies from Houston. "Lord of the Incubus" and the gloomy "Graveyard Epistle" has some really tight and intense instrumental-parts. Houston also plays oboe on the latter one. "Song for a Thought" builds up from a relaxed vocal-part to an energetic, full-blown symphonic finale. Great! Here you'll also hear the band's ability to integrate strings in their music, even on the more up-tempo parts. "As Day Breaks With Dawn" sounds partly like aggressive Genesis with farfisa-organ.
Fruupp - "Seven Secrets" (Dawn 1974)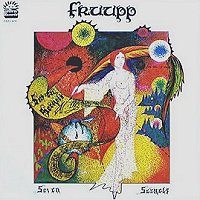 The second album was a more relaxed, atmospheric and low-key work than the debut. The album often focuses on long and quite free-floating atmospheric instrumental parts, especially on "Garden Lady". The best track of the album is probably "Faced With Shekinah". A complex masterpiece that combines the sound of the first album with the baroque-influences of this album to perfection. "White Eyes" is a track that reminds me a lot of the quietest parts from "Tubular Bells", and it also includes some of the best vocal-harmonies the band ever recorded. And what a wonderful, fairy-tale like atmosphere on this track and the short title-track. Their classical influences also shines stronger through here than on their debut-album. "Wiser than Wisdom" starts with a string-dominated instrumental part that soon goes into an excellent organ-riff. You're taken right to heaven when the vocals starts, before the whole track goes into a hypnotic, baroque-influenced instrumental-part. The fairy-tale feel and atmosphere of this album is just great. The baroque-influences are taken even a step further on "Elizabeth". "Three Spires" is a wonderful, symphonic and folk-influenced ballad. This album is always a winner with me when I'm in the mood for some relaxed and atmospheric symphonic progressive rock.
Fruupp - "The Prince of Heaven's Eyes" (Dawn 1974)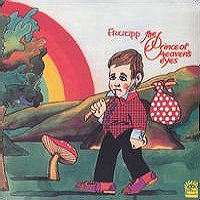 The third album was released already later the same year, but it was definitively not a sloppy piece of rushed work. Actually, "The Prince..." is the best Fruupp album for many people. The album had a tighter but also more polished symphonic sound than the two first albums. Houston's piano and string-synths had become the most dominating of the keyboards, although there was still a fair amount of organ. The album was a concept album about a young man named Mud Flanagan who went out in the world to find the meaning of life. My favourite track on the album and one of Fruupp's best songs is "Annie Austere". A very tight, tasty, melodic and catchy track that could rival anything that Genesis did in the same style. This track floats into "Knowing You" that probably is the most beautiful moment on the whole album. "It's All Up Now" is beautifully slow-paced symphonic progressive. "Crystal Brook" featured an instrumental-part reminiscent of "Olde Tyme Future" from the first album. "Seaward Sunset" is a piano/flute dominated ballad with classical influences and sung in a high falsetto. Very beautiful. "Perfect Wish" is one of those tracks that grow on you with each listen, and it features lots of great themes, melodies and ideas. And it gives me chills down my spine when the opening theme on the album comes in at the end of the track. A striking end to a classic concept album.
Fruupp - "Modern Masquerades" (Dawn 1975)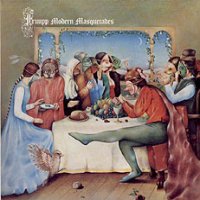 The future was actually starting to look bright for Fruupp around the time of "The Prince...". The tour went very well, and the band was still getting praise from rock-critics for their great symphonic progressive rock. However, Stephen Houston had other interests. He had suddenly turned to religion and his spiritual search became so intense that he left the band. John Mason replaced him and the band returned to the studio to record what turned out to be their last album. It became apparent that Houston had meant quite a lot to the band as some of the charm and distinctive "Fruupp-ish-ness" seemed to have gone with him. But "Modern Masquerades" is still a good work of mid-70's symphonic progressive rock. Mason's playing style is in a similar vein as Houston's, although less distinctive and his el-piano gives some passages a slightly more jazzy feel, especially on "Misty Morning Way", "Sheva's Song" and not at least "Gormenghast". The latter was at over ten minutes also the longest track they ever recorded. The best and most typical Fruupp track on the album is with no doubt "Masquerading With Dawn". The vocal-parts sounds like they could have been taken from "The Prince..." and the grandiose instrumental-part give me goosebumps every time. One of their very best tracks actually. "Mystery Might" features some of the most energetic passages the band ever recorded. There are also some funk-influences on some parts on this track, and it works surprisingly well. The band broke up the following year, and that was maybe the right thing to do at the right time. It's good to have at least a few progressive rock bands that released only good albums and remained progressive all the time of their career.
Label
Führs & Fröhling - "Ammerland" (Brain 1978)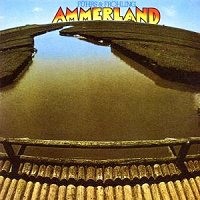 When drummer Eduard Schicke left the legendary German trio Schicke, Führs und Fröhling, the two remaining members decided to carry on without him. "Ammerland" was their first release as a duo, and it's an exceptional beautiful work of instrumental symphonic progressive music at its most atmospheric and relaxed. The music is strongly dominated by Gerd Führs' various keyboards (mellotron, moog, organ, piano) underpinned by Heinz Fröhling's acoustic guitar-work. All the 8 tracks on the album are close to perfect, and it opens with the mighty and majestic title-track. It almost makes me shiver when Führs' spacey synths imitates birds in the mid-part. "Gentle Breeze" is not far from sounding like Steve Howe's "Mood for a Day" with synths. And "Dance of the Leaves" shows the duo at their most wonderful, where the mellotron and synth are laid upon each other to make dreamy atmospheres while the moody guitar builds elegantly around it all. "Street Dance" is a lot more cheerful, with an excellent moog-solo in the middle. Then you have two rather medieval/baroque-influenced tracks with "Sarabande" and "Circles of Life". The 14-minute "Every Land Tells a Story" starts with a pleasant theme that is repeated for some minutes before the track goes into something that sounds slightly like Yes in their most atmospheric and laid-back mood ("And You And I"). The closing-number "Ammernoon" is typical German, ambient progressive music with a whistling and beautiful synth upon a carpet of flowing keyboards in the background. Great stuff.