Previous Page
Goblin - "Profondo Rosso" (Cinevox 1975)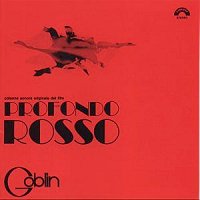 "The fact that Goblin was an Italian progressive rock band already makes them somewhat unique". This ridiculous and utterly ignorant quote from allmusicguide.com shows all too well why mainstream "rock critics" should keep far away from writing anything about progressive rock, even in the very few cases where they unbelievable enough are able to understand and appreciate the music. As many of my readers probably already know, Goblin originally went under the name Cherry Five (probably "the other Italian progressive rock band" according to allmusicguide.com) that recorded a superb album in 1974, but wasn't released before two years later. After switching drummer and changing name to Goblin, the band focused primarily on making soundtracks for movies, especially the cheesy B-horror films of Dario Argento. And their debut under the name Goblin was actually a soundtrack for Argento's "Profondo Rosso". Most of their output the three first years of their career is instrumental progressive rock with lots of distinctive qualities and originality, and "Profondo Rosso" is one of their best. As with most other soundtracks, it opens with the main theme, and here you can hear Goblin's signature sound right away. Keyboardist and main man Claudio Simonetti along with second keyboardist Maurizio Guarini and bassist Fabio Pignatelli lay a subdued rhythmical theme for the track that the simple but very effective melodic main-theme rests on. The sound gets darker and more powerful when the rest of the band kicks in, and the alternation between the loud and silent variation of the melody is very striking, resulting in one of Goblin's classic and most recognizable themes. "Death Dies" allows guitarist Massimo Morante to pull off some jazzy riffs over a very low, energetic, one-chord piano-theme with an almost percussive effect. The rest of the record reveals several interesting influences from other progressive artists. The bass-riff on "Mad Puppet" is indeed reminiscent of the last part of side one from Mike Oldfield's "Tubular Bells". "Wild Session" starts with some sinister and typical B-horror sound effects, but the main portion of the track has several similarities to the louder parts of Gentle Giant's "The Advent of Panurge". And "Deep Shadows" reminds me just in general of King Crimson. The record then closes with two short orchestral pieces that were the only things left of Giorgio Gaslini's original score that Argento wasn't happy with.
Goblin - "Roller" (Cinevox 1976)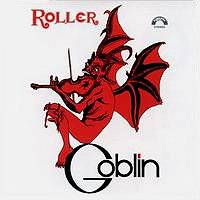 Goblin released my favourite of their albums with "Roller". This was actually a regular progressive rock album, and not a soundtrack. And that's perfectly fine with me, meaning that we don't have to associate it with any crappy and ridiculous movie, as well as avoiding bits and fragments of music that perhaps work well together with the pictures they're meant for, but doesn't make much sense on a record. "Roller" belongs actually to the finest classics from Italy, being instrumental progressive rock of the highest order. The opening title-track proves, despite an opening rhythm reminiscent of Gentle Giant, that Goblin had found their signature sound. The feel and sound is similar to the main theme from "Profondo Rosso", but with a more complex melody that serves as more than just building up tension and atmosphere. "Aquaman" is among Goblin's most overlooked classics, starting with yet another typical Goblin-theme. It's first played on el-piano, but then on a glassy, crystal-clear organ-sound that fit the title very well, before surprisingly going into full Pink Floyd-mode in the middle. "Snip Snap" is a funky and utterly catchy tune, followed by the acoustic "Il Risveglio del Serpente", a moody and peaceful piece (yes, hopeless choice of words) consisting mainly of piano and guitar. The 12-minute "Goblin" is a true masterpiece, and perhaps the musically best thing the band ever did. You can't simply write better melodies or play more intense jams than this. Truly fantastic. The band makes a return to the more sinister horror-mood in "Dr. Frankenstein", and the funky edge is actually no threat to the dark atmosphere. "Roller" is your starter with Goblin.
Goblin - "Suspiria" (Cinevox 1977)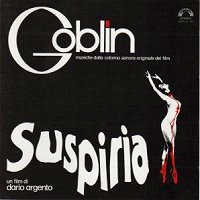 Goblin returned to Dario Argento again for their third album, this time to compose the soundtrack for his new movie "Suspiria". The resulting album features their creepiest, scariest, most dramatic and dynamic music, and the band themselves regard it as their masterpiece. However, before I write about the music I'll also comment a bit about the movie itself. Personally I simply don't get what all the fuzz is about, neither about this particular movie nor Argento in general. Apart from his use of artsy scenery and coloured lighting (which gives the movie an unrealistic feel that further takes away whatever scary potential it may have had) and Goblin's superb music, there's simply nothing to distinguish "Suspiria" from hundreds of other low-budget and amateurish shockers. All the typical flaws of B-horror are here, including terrible acting, lot of ugly and stupid girls who are running screaming away from a murder that you never see before he shuts them up in the most gruesome way, shown in great graphic detail (the scene where you can see a close up of the killer's knife entering the victim's still beating heart after he has ripped her chest wide open is particularly....well, over the top!) . I find absolutely nothing of this to be the tiniest bit scary, just plain annoying. And the blood and gore is so ridiculously fake-looking that I'm almost convinced it got to be some kind of humour or irony from Mr. Argento's side. The music Goblin made for the movie is however a completely different matter, and stands probably as the very best horror music ever made. The main theme was based on the melody of an old children's rhyme, played on celeste, synth and with a demonic voice whispering "la la la" beneath it. The far more rocking and upbeat mid-part is one of Goblin's most powerful moments, featuring their trademark gloomy organ-sound along with the demonic voice now shouting "Witch!". And that is also the title of the next track that with good reason was used in many of the most dramatic and tense moments of the movie. It's based around some of the most hard-hitting and fastest playing on the timpani that you'll ever hear, along with wild screams, sinister symphonic sounds and powerful bass riffs. The wide use of ghoulish and frightening voices on the soundtrack reaches a climax at the end of "Sighs", after it has built up from off-key acoustic guitar chords and a cascade of massing voices. "Markos" was used for the dramatic finale of the movie, featuring lots of wild bass, percussions and Mellotron around a monotonous synth-theme. The album also featured a 12-minute suite where none of its two segments "Black Forest" and "Blind Concert" appeared in the movie. Both showed the jazzier and funkier side of Goblin's music, with less focus on sinister atmospheres. The closing "Death Valzer" is just a couple of minutes with a traditional piano waltz that was used in the dance lessons scenes in the movie, and its inclusion here is probably only for the sake of completeness. Still, "Suspiria" is undoubtedly Goblin's best soundtrack.
Label
Goblin - "Il Fantastico Viaggio del "Bagarozzo" Mark" (Cinevox 1978)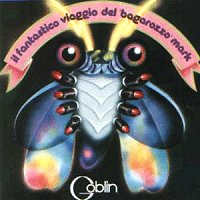 After "Suspiria", Goblin once again took a temporarily break from soundtracks in order to make a more traditional progressive rock album. This time they also decided to include vocals and lyrics. The result, a concept album called "Il Fantastico Viaggio del "Bagarozzo" Mark" proved that the band could handle the vocal version of progressive rock quite well too, although I personally prefer them in instrumental form. It's no coincidence that both my favourite tracks on the album are the two instrumental ones. With its beautiful melodies and mighty arrangements, "La Cascate di Viridiana" will be a winner with every symphonic progressive rock fan. And "…E Suono Rock" also belongs to Goblin's classic track, building up from a low-key opening before bursting into the fastest passage on the record with a striking wordless vocal theme on top. The vocal tracks don't stand out as strong as these two, although none of them are bad. "Un Ragazzo D'Argento" has a pleasant, dreamy arrangement, stuffed with Simonetti's various keyboards. The more pop-oriented "Opera Magnifica" is most noticeable for borrowing a melody from Genesis' holy "The Cinema Show". "Mark il Bagarozzo" and "La Danza" clearly try to combine the instrumental and vocal side of the album with pretty decent results. Morante's vocals are, while technically competent, lacking a bit of personality, sounding like lot of other Italian progressive rock vocalists. The concept of the album tells a rather strange story of a bug named Mark and a boy, and will of course be completely oblivious to anyone who doesn't know the Italian language anyway. Next to "Suspiria", this is probably Goblin's best produced album, boasting a powerful and dynamic sound. But when it comes to the music and material, "Roller" is still the best of the band's non-soundtrack works, and probably their best one overall.
Goblin - "Zombi" (Cinevox 1978)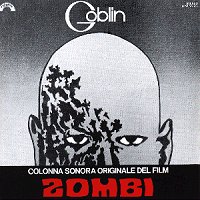 Goblin went back to instrumental horror movie music again later in 1978 when they composed the soundtrack for George A. Romero's "Zombi" (better known in its international version titled "Dawn of the Dead" that actually featured less of Goblin's music). The record opened with the two best tracks that both again showed that Goblin were masters when it came to making the perfect horror-atmosphere with a progressive rock sound. "L'Alba Dei Morti Viventi" has a slow, stamping pace with sinister bells, Mellotron-choirs (or synthesised chorales? I'm not sure) and a spooky synth-theme. The title-track creates an even more complete Zombie-feel with tribal percussions, dark and massing choirs and the typical dynamic riffs and rhythms that were among Goblin's trademarks. The rest of the record is a more mixed bag in my opinion, and a little bit tame when compared to "Suspiria" to be honest. The whimsical "Torte in Faccia" and the country of "Tirassegno" probably fitted well to some of the lighter scenes in the movie, but they aren't worth much on their own. And the laidback and pure mood music of "Oblio" is a bit too wimpy and sappy for my taste, despite its pleasant and relaxing feel. The riff of the title-track is reprised in "La Caccia", but now interspersed with tasty passages of classical guitar. The electronic hard rock of "Zaratozom" is an interesting experiment, although seem to lack something in the compositional department. And small snippets like "Safari" and "Ai Margini Della Follia" are examples of typical soundtrack music that don't serves much purpose outside the movie they were meant for. Personally I found "Zombi" as a whole to be a bit uneven, and not on the same level as "Profondo Rosso" and "Suspiria", although the highlights here are well worth a listen.
Goblin - "Amo Non Amo" (Cinevox 1979)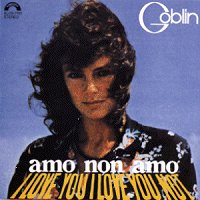 As with most other progressive rock groups at the end of the '70s, Goblin (now temporarily reduced to a trio) started to lose their musical vision in search for a more commercial approach adjusted to the trends of the time. This also affected what kind of movies they chose to make music for, and in 1979 they released their soundtrack for Armenia Balducci's harmless and entirely forgettable love drama "Amo Non Amo" featuring Jacqueline Bisset in one of the main roles. This movie was so far as it could be from anything else they had made soundtracks for, and this was not surprisingly very apparent in the music too. The opening main theme is a bright, romantic and melodic pop-ballad with a strong '70s-feel. The musical talent involved makes sure that it's not without some qualities, but it still feels VERY lightweight for being Goblin. The gritty and riff-driven hard rock of "Maniera" is a bit surprising after this opening to the soundtrack, and is the only track with some slight progressive undertones here. "Both-Two" is a quite tasty, laidback and atmospheric tune with a nice acoustic melody. But the funky and jazzy pop of "Funky Top" was perhaps the definitive proof that Goblin now had left progressive realms pretty much for good. It also seemed that some of the creative force was starting to escape them, as this actually was the entire soundtrack, even if we only have reached the end of side one! The rest of the album was therefore lazily filled up with the main themes from "Profondo Rosso", "Suspiria" and "Zombi" in their standard versions. The band should however be credited for also including the non-album single "Yell" that had been released the year before. This was in my opinion one of their best non-horror themes, and was used in the Italian television series "Sette Storie Per Non Dormire". The progressive feel of the organ, Mellotron and synths blends well in with a simple but immediately memorable theme on el-piano that creates a nice urban feel very typical for general '70s soundtrack music.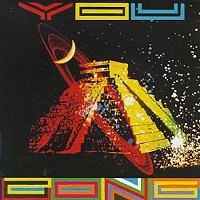 I guess all of us have a "what-the-hell-is-all-the-fuzz-about-this??" band. You know, a band that everyone else seems to enjoy very much but yourself simply can't understand why. I think Gong is that band for me. To me, they are nothing else than a fusion-band(yawn!) pretending to be space-rockers. And all these idiotic vocals that was supposed to be "funny" and the infantile concept about the planet Gong and all its stupid creatures...I HATE it! This bullshit was enough for many people to declare Gong as a band with "a great sense of humour". Sorry guys, I'm not even close to smiling when listening to a Gong album but much closer to sleeping. Anyway, "You" was the last album in their "Radio Gnome" trilogy and is often regarded as their best work. And it does actually feature one of the very few tracks by them that I enjoy: "A Sprinkling of Clouds". This was a good piece of atmospheric space-music very reminiscent of Sensation's Fix' excellent "Fragments of Light" album. But the rest of the album sounds like Gong used to sound. Pointless and tiresome fusion-noodling where a bunch of spacey synths desperately tries to create something that was supposed to be spacey atmospheres. I think "Isle of Everywhere" is a "good" example of this. It's based in a simple funky rhythm that just goes on for about 10-minutes without any development at all. You should better check out bands like Hawkwind, Ashra Tempel, Sensations Fix and Mythos if you're looking for a trip to outer space. They knew MUCH better how to create space-rock than what Gong ever did.
Gotic - "Escénes" (Movieplay 1978)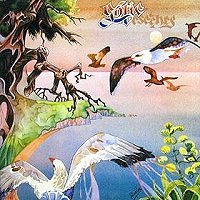 Gotic were a more than competent instrumental jazzy symphonic progressive rock band from Spain who released the excellent "Escénes" in 1978. The band took influences mainly from Camel, Premiata Forneria Marconi and Maneige and melted them all into complex instrumental compositions of high quality. Flutist Jep Nuix and keyboardist Jordi Vilaprinyó were the most dominant musicians in the band. Vilaprinyó focused most on his el-piano, but also used synths and organ occasionally. The band didn't have any permanent guitarist, but the album featured two guest guitarists who delivered some solos on a couple of tracks. "Escénes de la Terra en Festa i de la Mar en Calma" opens the record with a happy, fast and cheerful melody that nicely shows the playing between Nuix and Vilaprinyó and also introduces the impressive drumming of Jordi Martí. The mid-part is a far more relaxed and affair, including flowing string-synths and ethereal flute. "Imprompt-1" has a stronger influence of jazz and is probably the most complex piece. Here you also can hear guest Josep Albert Cubero play one of the few guitar solos on the record. The jazz-influences fade away in the end, as the track moves into a very beautiful and symphonic finale. "Jocs D'Ocells" is instrumental symphonic progressive rock at its finest, featuring plenty of Nuix' melodic flute. "La Revolucio" seems to gather more influences from folk music and jigs. The same goes for "Danca D'Estiu" but in a more baroque way and with stronger elements of jazz. Here Vilaprinyó's organ also appears for the first time. "I Tu Que Ho Veies Tot Tan Facil" opens quite typical for the band, mellow with the flute upon a carpet of string-synths but turns midway into some Akkerman-sounding guitar that leads into an upbeat and joyful part that features probably the best synth playing on the entire album. "Historia d'una Gota D'Aigua" starts with some nice classical guitar along with the flute that starts a complex and gradual build-up to the main theme that is a very typical and beautiful symphonic progressive rock melody that goes on for quite a time. It never stops to amaze me how bands this good could disappear without a trace after only one album, but that sadly seems to be the norm with many 70's progressive rock groups, especially when they appeared as late as 1978.
Label
Gracious - "Gracious!" (Vertigo 1970)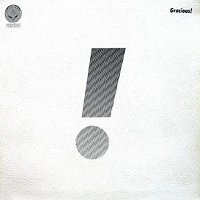 Legendary British progressive band, and their classic debut-album explains why. The first side of the album seems to have a concept about heaven and hell, and the lifestyles which will lead to one of those places (if you believe that bullshit!). The music is good old English progressive with loads of mellotron and harpsichord. The highlight is the beautiful "Heaven". With its floating mellotron theme and symphonic sound, this track lives up to its name. "Hell" is, as you may suggest, a much more uglier and heavier track with some very distorted organ creating a perfect hell-atmosphere. You can almost smell the sulphur! "Fugue in 'D' Minor" is a pure baroque piece played on guitar and harpsichord. The 16-minute "The Dream" features a load of time changes and different moods. From symphonic and beautiful, to disharmonious and energetic. This is a impressive and truly progressive rock album that every 70's progressive rock fan should own.
Gracious - "This is...Gracious!!" (Philips 1972)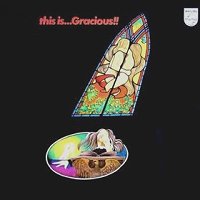 Gracious had already disbanded at the time of the release of their second album. That's a shame, cause "This is...Gracious!!" remains one of the finest British symphonic progressive rock albums from the early 70's. It surpasses even their strong debut and their sound had become tighter and more energetic. Next to Spring's album, this is probably also the most mellotron-drenched progressive rock album I've heard. The instrument is present in the sound all the way through, playing powerful riffs or just creating a mighty floating carpet of delightful sound in the background. The first side of the album consists of a fantastic 21-minute suite called "Super Nova". It starts quite experimental and atmospheric, almost sounding like something from an Amon Düül II improvisation. However, when the track really starts we're soon taken over on British ground again with the coolest and most powerful mellotron-sound you can imagine. The suite varies from rocking progressive not too far from early mellotron-drenched King Crimson and to beautiful acoustic parts before it builds up to a wonderful finale where the mellotron and a beautiful organ-sound gives any listener with good taste goosebumps. This is simply progressive rock so good and perfect as it can get. Three of the four tracks on side 2 is in a slightly different vein. A quite unique combination of energetic 70's rock and symphonic progressive arrangements where the mellotron is used in a very original way. Striking stuff! The track called "What's Come To Be" was obviously meant to be somewhere in "Super Nova" so don't ask me why they have placed it on side 2 and not in the suite itself.
Gravy Train - "(A Ballad of) A Peaceful Man" (Vertigo 1971)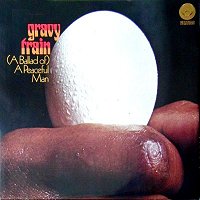 Gravy Train spent most of their time being a flute-driven hard rock band, probably not too far away from what Jethro Tull would have ended up like if they hadn't evolved after "Stand Up". But their second album "(A Ballad of) A Peaceful Man" took a slightly different and far better approach where their progressive tendencies (no matter how minor they were) came better through. Although "Can Anybody See Me?" and "Won't Talk About It" rocked just as hard as anything on their debut from earlier the same year, most of the heaviness was gone in favour of a much softer, more symphonic and melodic sound. The result was in my opinion an album that featured some of the strongest and finest songwriting ever on an album from the early 70's. The band had also added strings and some Mellotron to their sound. In addition to the wonderful melodies, the tasty arrangements made the album an instant classic of early British progressive rock. The flute was still very dominant and played some truly wonderful melodies in tracks like "Julee's Delight", "Messenger" and the title-track. "Alone in Georgia" is basically a symphonic pop-song that gives me goosebumps while the closing track "Home Again" featured some ethnic-sounding flute that made the track sound quite a lot like Jade Warrior. "(A Ballad of) A Peaceful Man" is essential in any collection, and its in fact one of the albums I would have taken with me to a deserted island.
Next Page