Previous Page
Greenslade - "Greenslade" (Warner Bros. 1973)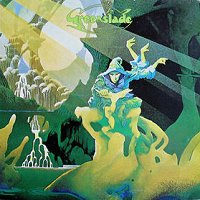 British progressive rock group formed by former Colosseum member Dave Greenslade. The band also included Dave Lawson who earlier had played in The Web and Samurai (in fact the same group but with different names). This debut-album is very representative for the group. The music was strongly keyboard-dominated (both Greenslade and Lawson played keyboards) progressive/symphonic rock in a quite typical British style. The keyboard arrangements were quite distinctive. Lawson usually played el-piano and synthesisers while Dave Greenslade played organ and mellotron. The songwriting on the album is good, and includes several highlights. "Drowning Man" and "Feathered Friends" are both tracks that will satisfy most lovers of typical early 70's sounding symphonic progressive. As on any Greenslade album, there were also some instrumentals here. "Melange" and "Sundance" gives the whole band opportunities to stretch out. Overall, a good debut-album.
Label
Greenslade - "Bedside Manners Are Extra" (Warner Bros. 1973)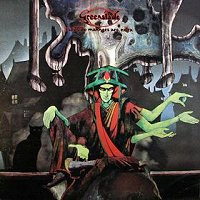 Even better than the debut, and this is with no doubt the most mellotron-drenched of all Greenslade's albums. The album starts with the quite relaxed and piano-dominated title-track, before the wonderful instrumental "Pilgrims Progress". Great track! And "Time to Dream" is one of the group's best vocal-tracks, but it includes great solo-passages as well. "Drum Folk" is another instrumental, and the mid-part really proves that mellotron-flute is one of the most wonderful sounds on earth! "Sunkissed You're Not" is a more Dave Lawson dominated track, while the last track, "Chalkhill", is another instrumental. Not so good as the others, but still good. A great album and if you're not familiar with Greenslade, start with this one.
Greenslade - "Spyglass Guest" (Warner Bros. 1974)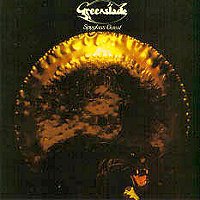 The third album starts with another very typical and excellent Greenslade instrumental called "Spirit of the Dance". Very classical inspired and good. But the rest of the album was less symphonic, and more dominated by the more jazzy leanings of Dave Lawson, and the el-piano was more dominant than on the previous albums. But these tracks were good anyway, with "Little Red Fry-Up", the atmospheric "Rainbow" and the instrumental "Siam Seesaw" as highlights. "Joie De Vivre" was on the other hand a symphonic track in the typical Greenslade style, while the instrumental "Melancholic Race" sounded like an attempt at fusing the two styles on the album together. The only real bad track on the album is the lame and uninspired version of Jack Bruce's "Theme From an Imaginary Western". Those of you who have heard the Mountain version knows that this is a great track, but it doesn't sound so in Greenslade's version. But most of the album is good.
Greenslade - "Time and Tide" (Warner Bros. 1975)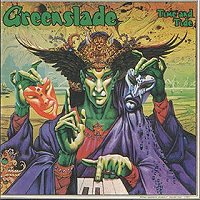 On the last album the group turned into an almost pop-progressive vein with shorter tracks than on previous albums. The songwriting was fortunately just as good as always, and the album includes several goodies. My favourites of the vocal-tracks are probably "The Ass' Ears" and the atmospheric "Doldrums". But there were still lot of instrumental stuff for you to enjoy. "Time" is played by harpsichord and a choir. Very medieval styled. "Tide" has some incredibly majestic mellotron while "Catalan" is a cheerful, almost folky track. "Gangsters" were used in a TV-series, and it sounds very "70's TV-series". Overall, this is a worthy farewell with a good progressive rock band.
Dave Greenslade - "Cactus Choir" (Warner Bros. 1976)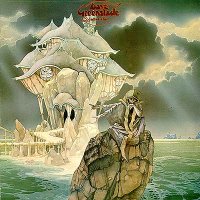 Dave Greenslade's first and undoubtedly best solo-effort was a solid concept-album about the earliest phases in American history. Musically it's close to his previous band, and he had gathered together a very competent bunch of musicians here, including Simon Phillips on drums, Mick Grabham on guitar, ex-Rare Bird singer Steve Gould on vocals and John Perry and his former band-mate Tony Reeves on bass. The album was just like the band Greenslade's albums a mix of instrumentals and tunes with vocals. All the instrumental stuff is top-notch material, ranging from energetic numbers like "Pedro's Party" and "Country Dance" to atmospheric pieces like "Swings and Roundabouts" and "Forever and Ever" and finally to the grandiose "Finale" that included an orchestra. Greenslade maintained his rich, varied and colourful keyboard-style here, making these tracks a true pleasure for any fan of classic 70's symphonic progressive rock. The title-track combines the instrumental and vocal side of the album, and is the best track with vocals here. "Gettysburg" was obviously a track dating back from Greenslade's time with Colosseum, as Jon Hiseman was partly credited for it. But it's a very nice song anyway, and Gould proves to be a much better singer than what Dave Lawson ever was. "Time Takes My Time" is a whimsical song that doesn't take itself to seriously, although it becomes a bit tedious after a while. But that's mostly the only flaw on an otherwise excellent album.
Dave Greenslade/Patrick Woodroffe - "The Pentateuch of the Cosmogony" (EMI 1979)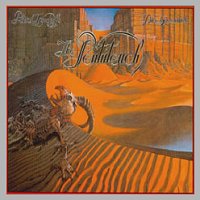 For the most ambitious project of his career, Greenslade joined forces with fantasy-artist Patrick Woodroffe who earlier had designed the cover for "Time and Tide" and Judas Priest's "Sad Wings of Destiny"(!). Their idea was to make a combined fantasy-book/record where Woodroffe wrote the story and made all the illustrations, while Greenslade composed and performed all the music. The resulting double-album came in the most fantastic and expensive cover I've seen so far. The cost of the cover was actually so high that the album was priced as a triple-album! It would be more accurate to describe this record as a thick book with two slices of vinyl attached to the inside. Woodroffe's story for the album told about the godly creation and destruction of a world. It has a few biblical parallels, but the story was fortunately too sci-fi and fantasy to have any sign of christian or preachy crap. But the true stars of the album are of course the fantastic and awesome illustrations that Woodroffe made for it. You can study them for hours and still find new details and things that you overlooked the last time. It's too bad that he didn't do any much more cover-art, as he easily could have been just as big and recognised as Roger Dean. I've unfortunately always been less impressed by Greenslade's part of the project. He went for a far more electronic kind of progressive rock here, with some rather cheesy and synthetic-sounding arrangements as result. And some of the tracks, such as "Birds, Bats and Dragonflies", sound clumsy in an almost infantile way. Most of side one was recorded without any drums, and consisted mostly of half-baked themes that didn't go anywhere. Things got a little better on side two where Greenslade was joined by drums played by Phil Collins and John Lingwood, and included decent themes as "Nursery Hymn", "The Minstrel" and "Barcarole". On side three I really starts to wonder. Where the hell does the disco-rhythms of "Forest Kingdom" connect with Woodroffe's illustrations and story? "Mischief" has an ugly and synthetic theme, and it doesn't help that the mid-part of the track actually is quite beautiful and atmospheric. Side four has some even more absurd ideas, like including something that sounds strangely much like the melody of The Animal's "House of the Rising Sun" played on an unbearably plastic-sounding synth in "Lament for the Sea". Awful and completely out of place. "Miasma Generator" is a bit better and actually fits to Woodroffe's illustration of the event, but it's not exactly great either. "Jubilate" is worth mentioning as it's the only track that features a real organ among all the synths. "The Tiger and the Dove" closes the album with something that sounds like what Tangerine Dream did at the same time. The cover and package makes this a highly collectible item from the late 70's progressive rock scene, but the music is unfortunately forgettable most of the time.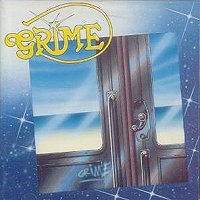 Both the cover and the band looked like shit, but their music was fortunately better. It's not very hard to hear that this was a French band. Personally I can hear influences from a lot of different French bands. Grime had the vocal-style of Atlantide, the keyboard-sound of Wapassou and the overall theatrical and dramatic atmosphere of the music makes me think of Ange. The band also used saxophone, which is quite unusual in this style of progressive rock. The songwriting is good, but not outstanding. Tracks like "Ocean", "Message Aux Ancetres" and "Conte Galactique" are quite nice and atmospheric. The album was a private pressing, and this is not hard to hear on the sound quality. Anyway, a nice album if you like typical French-sounding progressive rock.
Grobschnitt - "Grobschnitt" (Brain 1971)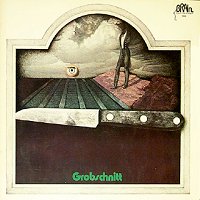 Superb German progressive rock group. They are most known as a symphonic progressive group in the vein of Yes, but they also explored other progressive rock styles. On this, their debut-album, they sounded almost like a progressive rock version of Santana. Both the guitar sound and the excellent drumming of Eroc reminds a lot of Santana, but the sound as a whole is of course much more progressive. Some of the organ parts have also some slight space-tendencies. As on all of Grobschnitt best albums, the tracks are lengthy with room for both structured themes and more jam-based parts. The drummer Eroc is well known for his humour and madness. His narration on the beginning of "Sun Trip" is quite striking! The album also features a medieval-styled song, "Wonderful Music", which truly lives up to its name. Overall, this is a great debut-album. Powerful, energetic and well played.
Grobschnitt - "Ballermann" (Brain 1974)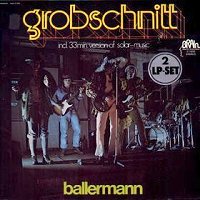 The debut-album was followed up with this fantastic double-album. The Santana influence from the debut was gone, and the two records which made up the album consisted of excellent progressive rock but of a quite different kind. The first record featured symphonic progressive rock gems as "Magic Train", "Morning Song" and "Nickel-Odeon". You could also hear Eroc's sense of humour on "Sahara". The second record consisted of just one, continuos 33-minute long space-rock piece called "Solar Music". This is probably the only REAL space-rock track by Grobschnitt, but WHAT a track! It features tons of excellent space jamming, but the track as a whole is still structured and well written. Organ, electronic-space sounds and excellent spacey guitar make an awesome space-atmosphere. An essential album from the German progressive rock scene.
Grobschnitt - "Jumbo" (Brain 1975)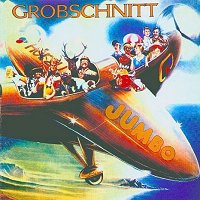 On the third album, the group had turned into a pure symphonic progressive rock group with no signs of either space or kraut-rock anymore. Most people seem to think that Grobschnitt reminds of Yes. I won't disagree, but they have a sound of their own too. The vocals of Stefan Danielak (Wildschwein) are probably so far from Jon Anderson as you can get, and the band was never a clone of Yes or any other band. "Jumbo" (that also was released in a German version) consists of symphonic progressive rock of the kind most of you will enjoy. Here you'll find good tracks like "Clown" and "Sunny Sunday's Sunset". "Dream and Reality" is a more relaxed track, and the vocal part in the middle reminds me in fact of Magna Carta. Overall, a decent album, but the sound and style of it was not perfected until the next album.
Grobschnitt - "Rockpommel's Land" (Brain 1976)
From the cover to the concept, music, arrangements and atmosphere this is a very accomplished symphonic progressive rock album, and undoubtedly Grobschnitt's finest studio-album. A concept album about a young boy who flies away in his paper-plane and meet a giant bird who takes him to a fantasy land called Rockpommel's Land. The album consists of four, lengthy, complex and strong tracks. The arrangements are stuffed with everything you want: mellotron, organ and lots of tasteful and very symphonic sounding synths and guitars. It's not often I hear an album that reminds me so much about why I started to listen to progressive rock in the first place. Symphonic, majestic, great and a concept so far from reality as you can get. The music is well written and structured, and there's no point in pointing out highlights here. For any symphonic progressive rock fan, the whole album is a highlight. The lyrics are very amusing and make the album to a world of its own. If you enjoy this style of progressive rock, then you'll surely take a lot of trips to Rockpommel's Land.
Label
Grobschnitt - "Solar Music - Live" (Brain 1977)
This monster album consists of a 54-minute live-version of the band's space rock classic "Solar Music". This must be one of the most intense and impressive performances I've heard from any band! Without any rest at all, the band delivers a continuos, almost one hour long jam so intense, energetic and inspired as it's impossible to not be impressed. The band stays true to the structure of the studio-version, but there's of course room for some new themes and even longer and more breathtakingly energetic jams. This is with no doubt one of the 5 best progressive space rock albums of all time, and simply so insanely good that it's totally obligatory in any progressive rock collection. Progressive energy at it's bet and most unbelievable. This is THE definitive space rock blowout and tour-de-force! But I wonder if the band really managed to do this piece so damn good as this every time they performed it.
Gryphon - "Gryphon" (Transatlantic 1973)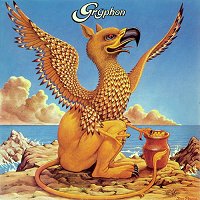 Gryphon were formed by the classically trained flutist Richard Harvey along with guitarist Graeme Taylor and Brian Gulland who played krumhorn and bassoon. Percussionist David Oberlé completed the line-up that would record the band's self-titled debut in 1973. The band were at this moment pretty much a pure medieval folk group, and their progressive elements hadn't yet been developed. However, good music is good music no matter what genre, and "Gryphon" is no less than the best medieval folk album ever made! It consisted of a mixture of traditional covers and originals, both instrumentals and with vocals. Harvey, Taylor and Gulland also shared some occasional keyboard duties, and this could be heard in the middle of the opener "Kemp's Jig" that also introduced Harvey's trademark recorder and Gulland's bassoon. The krumhorn made its first appearance on "Sir Gavin Grimbold" and would turn out to be yet another of the most important trademarks of Gryphon's unique sound. The song was also the first of five vocal numbers on the album. The first original comes with "Touch and Go", a short instrumental by Taylor and Harvey where the acoustic guitar and recorder play a nice little melody that creates a magic medieval atmosphere. But the band quickly returns to traditional ground again with "Three Jolly Butchers". The most surprising composer of one of the many covers on the record is none other than King Henry VIII as the band made a version of his "Pastime with Good Company"! "The Unquiet Grave" is easily the best vocal number on the record, a morbid and supernatural love story in best old folk tradition. Oberlé's various percussions comes to the fore on "Estampie" that is some kind of a folk-dance. "Crossing the Styles" is a couple of peaceful minutes by Taylor and his acoustic guitar, and "The Astrologer" could almost have been an early hit for the band as they had turned this traditional tune into a catchy folk-pop song. Still, "Juniper Suite" composed by the whole band is the track on the album that is closest to display the band's full potential. It has the same distinctive medieval arrangements as the rest of the record, but the complex structure reveals a band that had higher ambitions than just covering old folk tunes. "The Devil and the Farmer's Wife" is just some old nonsense that has more charm than musical value, but still cute and fun. Progressive elements or not, "Gryphon" should still be counted among the band's classic releases.
Gryphon - "Midnight Mushrumps" (Transatlantic 1974)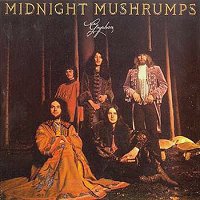 No matter how good the debut was as a pure medieval folk album, "Juniper Suite" obviously made the band aware that it would be musically more rewarding and interesting to focus their attention on complex, self-written material instead of covers of old traditional tunes. They also expanded the band by including Philip Nestor as their full-time bassist. The second album "Midnight Mushrumps" established Richard Harvey as one of the main composers in the band, and the fact that he composed the 19-minute title-track should be more than enough to defend that position. It starts with some soft and caressing organ-chords that soon are joined by the krumhorn that slowly evolves into the main theme of the track. And make no mistake, this is THE most beautiful and best melody Harvey ever wrote, and I never got tired of listening to it and enjoy its magic beauty. It makes several appearances throughout the entire track, but in various arrangements and the composition also have many other strong themes on display. The medieval atmosphere of the debut is well taken care of here, but the complex progressive rock structures makes the music overall much more engaging and demanding. The track as a whole feels like a medieval fairy-tale told through music, and is one of the definitive highlights of Gryphon's production. The second side starts with "The Ploughboy's Dream" that is the only cover and vocal-number of the album. "The Last Flash of Gaberdine Tailor" and "Dubbel Dutch" have both some slight baroque influences, and display some of Harvey's classical background. The only misstep on the album is Gulland's "Gulland Rock", a very disjointed and sketchy piece that seems to go nowhere. The best track of the second side is undoubtedly the closer "Ethellion", starting with some wild laughter, bass and percussions that leads the way into a very cool krumhorn-based part before the cheerful and catchy main theme comes to the fore and the arrangements gradually evolves and become more intense through the track. But the title-track is still what makes "Midnight Mushrumps" an essential album.
Gryphon - "Red Queen to Gryphon Three" (Transatlantic 1974)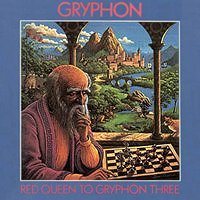 This fully instrumental concept-album about the rather well known game chess is widely and deservedly regarded as Gryphon's crowning achievement. Here they found the perfect balance between their medieval folk style and progressive rock influences mainly from Gentle Giant and Mike Oldfield. The album also introduced tasteful and sparse use of synths to the band's sound, which can be heard right away on the opening chords of "Opening Move". The track itself follows many of the same structural ideas and complexity of the title-track from the previous album, but now with a stronger progressive rock feel mixed in with Gryphon's trademark and delightful medieval sound. And the melodies and themes are again instantly strong and memorable. "Second Spasm" shows Gryphon at their most upbeat, cheerful and energetic. The middle part also reveals some sense of musical humour, and includes something that sounds suspiciously much like a fart! It should almost be impossible to pick a highlight from an album as thoroughly consistent and even as "Red Queen to Gryphon Three". But if I had to pick one it would have to be the masterful "Lament". It opens with a beautiful melody that alternates between Harvey's recorder and Gulland's krumhorn over the probably most genially constructed chords that the band ever created. It then goes into a quite mellow part dominated mainly by the krumhorn and a feel and atmosphere not too far from Mike Oldfield's "Hergest Ridge" from the same year. Oberle's cymbals then introduces a much faster and happier sequence that finally returns the whole track to the opening again, but now in a completely different and full-blown symphonic progressive rock arrangement. The closer "Checkmate" has a very jazzy opening that fits surprisingly well to Gryphon, but the track quickly stabilises itself into a complex medieval piece with a pretty theme on Harvey's recorder and a grandiose finale on synths. Gryphon never made a more consistent and better album than this, and will always remain a progressive rock classic of musical beauty, superb musicianship and compositional abilities of the highest class.
Label
Gryphon - "Raindance" (Transatlantic 1975)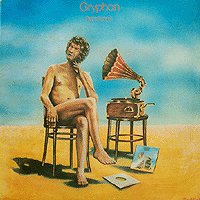 Nestor chose to leave Gryphon after the superb "Red Queen to Gryphon Three", and was replaced by Malcolm Bennett who also was credited with flute. The band took a quite different approach on "Raindance" than on the previous album, focusing more on shorter tracks and more stylistically variation. The keyboards (especially the synths) are also more prominently featured. The album opens with a fast, quirky and very catchy instrumental in "Down the Dog" and continues with the hypnotic title-track that even is close to flirting with electronic progressive arrangements and structures. It's definitively nice to hear that the band were willing to evolve, move forward and try new things, but this would later also prove to represent a threat to the band's musical identity and signature sound. A very "Gryphonised" cover of The Beatles' "Mother Nature's Son" further strengthens the diversity of various influences on the album. "Le Cabrioleur Est Dans Le Mouchoir" and "Ormolu" are short and not so very serious pieces, while "Fontinental Version" is a complex vocal number that partly revealed what was to come on Gryphon's final album two years later. The band turns up the tempo a bit for the energetic instrumental "Wallbanger" and the simple and electric rocker "Don't Let Go" is probably the biggest musical surprise here. However, the real goodie and masterpiece of the album was saved for the very end in form of the fantastic 16-minute "(Ein Klein) Heldenleben". This monumental piece of progressive rock of the highest calibre was yet another proof that Richard Harvey was one of the best and most talented composers of 70's progressive rock. As with all the others of Gryphon's longest and best pieces, the complexity is breathtaking and the melodies are stunning in all their timeless beauty. Besides the usual medieval influences and progressive rock stylings, the track also featured some of the band's most hard rocking playing, especially from Taylor who delivered a bigger amount of electric guitar than before. "Raindance" was Gryphon's last classic album for me, but few other progressive rock bands have left the classic phase of their career with a more impressive piece than "(Ein Klein) Heldenleben".
Gryphon - "Treason" (Harvest 1977)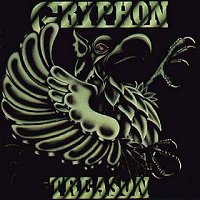 It took Gryphon their biggest gap between two albums and a switch of label from Transatlantic to Harvest before they released the last album of their career. The line-up had also changed and been expanded since "Raindance". Jonathan Davie had replaced Bennett on bass, while Bob foster replaced Taylor on guitar. The band had also gotten a second drummer in Alex Baird who probably played the basic beat while Oberle was responsible for the various percussive devices and effects. "Treason" is unfortunately partly a fitting title to the first and only album of this new version of Gryphon, as they had betrayed most of their medieval folk roots that after all were their main trademark. The band went now mainly for vocal-based songs, although the structures and rhythms still were too sophisticated to be accused of a sell-out. Still, the album IS more commercial than anything else they released, and in my opinion easily their weakest album. But in all fairness, the 10-minute opener "Spring Song" is a classic and their best vocal-number, featuring a fantastic melody and very good vocal harmonies. But the album fails to maintain the standard of that track. "Round and Round" and "Fall of the Leaf" are pretty but generally uninteresting songs, and the verse of "Major Disaster" sounds scarily much like James Taylor. Surprisingly, it also features a good old-fashioned recorder solo from Harvey, just to remind us what the band really used to be about. The funky "Flash in the Pantry" and the instrumental "Snakes and Ladders" toys a lot with Oberle's arsenal of percussions, but none of them become very memorable songs in my opinion. The latter one also borrows something from Gentle Giant's "Way of Life". "Falero Lady" is a good and quirky song, but compared to masterpieces like "Lament" or "Midnight Mushrumps" it feels almost like a waste. In conclusion: this is the last Gryphon album you should get.
Gäa - "Auf Der Bahn Zum Uranus" (Kerston 1973)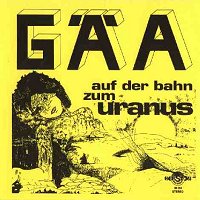 The first and only album by this German band. The album consists of good and varied progressive kraut-rock, but much more structured than most other such bands. The opening track, "Uranus", has a strong space feeling with heavy vocal parts and a long and beautifully atmospheric instrumental-part dominated by organ and acoustic guitar. Probably the best track on the album. Both "Tanz Mit Dem Mond" and "Welt Im Dunkel" sounds quite dark and mellow with some good vocal-harmonies. The organ on the latter reminds me in fact of Bo Hansson. "Mutter Erde" and the instrumental "Bossa Rustica" are more energetic and cheerful tracks. I must admit that I often find this album to be hard to label, and I guess that's a good thing. The track simply just called "Gäa" reminds me of a slightly rougher version of Sweet Smoke. It includes some flute as well. If you want to check out some German 70's underground progressive, then this is one of the very best places to start.