-H-
Steve Hackett - "Voyage of the Acolyte" (Charisma 1975)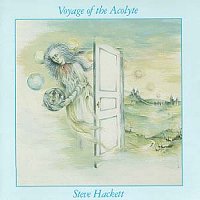 Steve Hackett's solo-debut remains a progressive rock classic. Tasteful symphonic progressive very much in the vein of Genesis, but it may not come as a surprise as both Mike Rutherford and Phil Collins contributes on the album. However, his later albums proved that he could stand very well on his own legs too. It's a quite varied album too. It's a long way from the pure beauty of "Hands of the Priestess", "The Lovers" and "Shadow of the Hierophant" to the very ugly and experimental "A Tower Struck Down". "Star of Sirius" is a track sung by Phil Collins, and sounds like something from "Wind and Wurthering". "Ace of Wands" is a very impressive and complex instrumental track. The highlight anyway, is "Shadow...". A extremely beautiful track surely will please any Genesis fan. One of the best solo-albums from a Genesis member, and personally I would rate this and "Spectral Mornings" and Anthony Phillip's "The Geese and the Ghost" as the best albums from ex-Genesis members.
Steve Hackett - "Please Don't Touch" (Charisma 1978)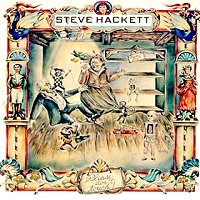 Hackett's second album and his first post-genesis release was a much more song and vocal orientated work than "Voyage...". It also reflected his wish to work with black musicians, and it included guest performances from people like Chester Thompson, Richie Havens and (yuck!) Randy Crawford. Other guests included Steve Walsh and Phil Ehart from Kansas. Personally I think all these musicians and their different backgrounds makes the album a little bit messy as a whole, but it's still stuffed with great music. The only weak track here is "Hoping Love Will Last" and this ballad is just as boring as the lady who sings it (Randy Crawford). The most Genesis-sounding tracks here is the bizarre Agatha Christie tribute "Carry On Up the Vicarage" and the closing number "Icarus Ascending". "How Can I?" is a folky tune sung by Richie Havens. "Narnia" and "Racing in a" are both sung by Steve Walsh, and his distinctive vocals makes these two tracks sound quite a lot like Kansas. "Kim" is a beautiful and atmospheric instrumental track played on acoustic guitar and flute. The thundering title-track is another instrumental and it sounds like a modernized version of the Genesis-sound. A good album, but you should start with "Voyage..." or the next album...
Steve Hackett - "Spectral Mornings" (Charisma 1979)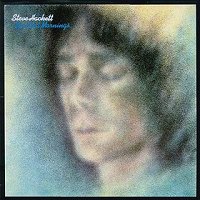 A masterpiece and Hackett's best album next to "Voyage...". It was also a much more focused and even album than "Please Don't Touch" with just good tracks. The opening track "Every Day" features a catchy theme and a long and delightful guitar-solo that was his best since "Firth of Fifth". "Clocks" is a sinister instrumental-track with Mellotron and a dramatic guitar-theme, stuffed with the sounds of lot of ticking clocks made on guitar and percussion! The whimsical "Ballad of the Decomposing Man" shows Hackett from his most humours and least serious side, while the guitar/flute-based instrumental "Lost Time in Cordoba" is Hackett in his most atmospheric and mystical mood. "Virgin and the Gypsy" is a pleasant and beautiful vocal-track with more excellent flute-playing. "Tigermoth" features a long and dark instrumental-part with a atmosphere quite similar to "Clocks". The China-influenced "The Red Flower of Tachai Blooms Everywhere" is another beautiful, symphonic and atmospheric theme, and the albums ends in a striking way with the mighty title-track. It sounds just so emotional and...well, BIG!. When it comes to feeling, few other guitarists can match Hackett. WHAT a great artist. "Spectral Mornings" is the best progressive rock album from 1979.
Peter Hammill - "Fool's Mate" (Charisma 1971)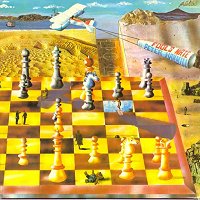 The Van der Graaf Generator-singer and leader would along with people like Steve Hackett and Anthony Phillips be one of the few progressive rock artists who released solo-albums that were of the same high quality as the albums of his band. VDGG had temporarily broken up in 1971 after releasing three classic progressive rock albums in a row ("The Least We Can Do is Wave to Each Other", "H to He Who am the Only One" and "Pawn Hearts") and Hammill used all his energy on a solo career. He was backed up more or less by the whole VDGG-line up on his solo-debut "Fool's Mate" but it couldn't save the album from being disappointing. All of the songs were short and lacked the weirdness and dynamics of VDGG, even if the sound itself was quite similar on many tracks. Still, there are some highlights here, especially the energetic and cheerful "Imperial Zeppelin", the piano-ballad "Vision" and "Re-Awakening". There's also some nice details on some tracks, like the atmospheric use of harmonica on "Solitude" and "Viking". But most of the album was still too wimpy when compared to what Hammill just had done with VDGG and is mostly for Hammill/VDGG fanatics only.
Peter Hammill - "The Silent Corner and the Empty Stage" (Charisma 1974)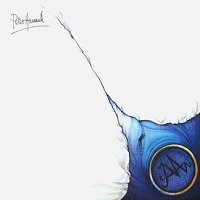 Hammill's third solo-album is one of his very best and proved that he on his own could make classic progressive rock albums. Each song on the album has something of it's own, and just like classic VDGG, they melt together beautiful melodies with weird and experimental passages. The opener "Modern" is a good example of this. It opens with a simple, acoustic line before it bursts into a very striking and emotional chorus (few could do this better than Hammill). Then comes a quite heavy sax-riff in the best VDGG-tradition and then the track goes into a distorted, instrumental mid-part and then back to the opening part again. Very striking and progressive stuff, and you'll almost not notice that the track doesn't feature any drums at all. The beautiful piano/Mellotron-dominated ballad "Wilhelmina" was dedicated to Hammill's daughter and makes quite a contrast to the opening track. The mystical and atmospheric "The Lie (Bernini's Saint Theresa)" features lots of religious imagery and shows Hammill's vocals at its absolutely best and most emotional. "Forsaken Gardens" and the 12-minute "A Louse is not a Home" predicted the sound and style that VDGG later would explore on the albums "Godbluff" and "Still Life". And the sinister "Red Shift" would become a stage-favourite and is probably the best-known track from the album. One of the best progressive rock-releases from 1974, and the contest was quite hard that year!
Bo Hansson - "Sagan om Ringen" (Silence 1970)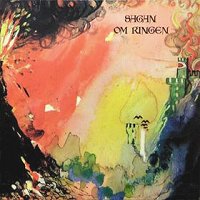 Bo Hansson's famous debut-album inspired by Tolkien's "Lord of the Rings" made him the most successful progressive rock artist from Sweden and Scandinavia as it sold to gold status in both the UK and Australia. Hansson's music could best be described as atmospheric and instrumental fairy-tale progressive rock. "Sagan om Ringen" consisted of melodic and atmospheric themes, where each of them was a musical interpretation of a part from Tolkien's book. The music is played mostly on organ, guitar, flute, bass and drums. The sound and atmosphere Hansson created in his music makes it very unique. Some of the tracks, like "De svarte ryttarna och flykten fra vadstället" and "Rohans horn och slaget vid Peleonnors slätter" had both a driving, percussive rhythm with Hansson's distinctive organ and guitar playing the themes. "Första vandringen", "I Eldronds hus och ringen vandrar söderut" and "Drömmar i läkandets hus" are all more relaxed and dreamy pieces. Flute and sax joins in with the organ-riff to great effect on "Den gamla skogen och Tom Bombadill". "I skuggornas rike" and "En vandring i mörker" were both short and sinister pieces were Hansson was experimenting with the Moog. And you can really see Gandalf in your mind, riding his white horse in "Skuggfaxe". The whole album perfectly fits Tolkien's book, and was probably the first Scandinavian progressive rock classic. It has a homemade charm and quality that no modern, slick and digitalized crap can come up with.
Bo Hansson - "Ur Trollkarlens Hatt" (Silence 1972)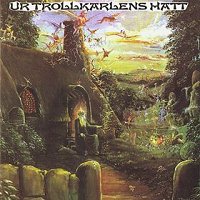 The follow up was a less even album than "Sagan om Ringen" as it unfortunately included some tedious stuff like "Vandringslåt" and "Solen (parallellt eller 90 grader)". The latter was a jam with lots of el-piano and no development and seemed to have no other function than filling up the album. But despite these flaws, most of the album is another atmospheric and enjoyable collection of fairy-tale themes. The flute and sax is a lot more dominant here than on "Sagan om Ringen", giving the album a slightly different feel but still with Hansson's distinctive signature-sound. "Elidor", "Före regnet", "Fylke" and "Sluttningar (lek i nerförsbacke)" are all short but wonderful fairy-tale themes that will make you think of elves and deep forests. Hansson also explores some new territory. "Utflykt med förvecklingar" starts very much in the vein of "Sagan om Ringen" but turns surprisingly into a pure jazz-part at the end. But the attempt at fusing a bluesy harmonica into the sound on "Uppvaknandet" was not very successful. The jazzy 11-minute "Storstad" was much better and showed a growing degree of complexity that would later be explored on "Mellanväsen", making "Ur Trollkarlens Hatt" a somewhat transitional but still good album.
Label
Bo Hansson - "Mellanväsen" (Silence 1975)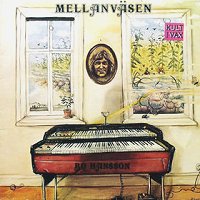 Hansson's third album was for me the culmination of all the promises of the two first albums. Hansson took all the elements of his signature sound a step further and melted them into far more complex, involving and longer compositions than on the two first albums, with a much better, tighter and more professional sound. And he did all this without sacrificing a bit of the charm and fairy-tale atmosphere. The synths were now also an integrated part of the sound, and not just some experimental noodling between the tracks. The compositions are all flawless and featured some of the most beautiful themes Hansson ever wrote. For the first time he also wrote suites that were divided into several parts. The first one, "Funderingar på vinden" is easily one of his strongest tracks ever, featuring wonderful flute-melodies, powerful guitar-work, beautiful piano-fanfares and a finale stuffed with a very typical Hansson-sounding fairy-tale theme. After a short interlude ("Tid och rum") we're taken into the synth-drenched "Väntan...". This is also one of Hansson's best themes and demonstrated his ability to develop his sound without actually changing it much at all. The title-track experiments with both waltz and jazz-influences! "Dags för stordåd" features mighty Mellotron and complex time-changes. "Hybrillerna" is just like the title-track experimenting with weird chords. "Kaninmusik" is a two-part suite that really showed Hansson's maturing as a composer of complex progressive rock instrumentals. "Dag och natt" went on the other hand back to the most basic and simple parts of "Sagan om ringen". The closing number "Lyckat upptåg" manages elegantly to include almost all sides of Hansson's music into three and a half minutes. "Sagan om ringen" is with no doubt Bo Hansson's best known and most commercial successful album, but I see no reason why "Mellanväsen" shouldn't be regarded as his best from a musical point of view.
Harmonium - "Harmonium" (Célébration 1974)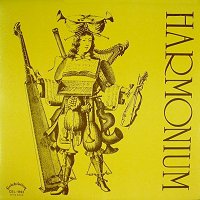 Harmonium were probably the most beloved and best known progressive band to come from Québec in the 70's. The first version of the group was a trio consisting of vocalist, guitarist and main songwriter Serge Fiori, bassist Louis Valois and yet another singer and guitarist in Michel Normandeau. It was this line-up of the group who completed the band's self-titled debut in 1974, with the help of guest Réjean Émond on drums. It's definitively their most modest and least progressive album (meaning also their least interesting one), but it never the less became their most popular release home in Québec where several of the songs became huge hits. Musically the record was acoustic and sophisticated folk with some very minor progressive hints. The eight songs are all dominated a lot by the two acoustic guitars and Fiori's vocals, which by the way definitively are some of the most pleasant I've heard from a French language singer. There's also some nice vocal harmonising between Fiori and Normandeau, which reaches a climax on the gorgeous ending of the opener "Harmonium" that also features guest Alan Penfold on flugelhorn. There's also some unaccredited piano, flute and harpsichord on several of the songs. Best songs include the earlier mentioned "Harmonium", "Aujourd Hui, Je Dis Bonjour à La Vie" (featuring an acoustic showcase from the two guitarists), the pretty "Vielles Courroies" and their signature tune "Pour un Instant". But it's hard to not feel that the band's full and true musical potential yet had to surface, no matter how good these songs are. And the sing-along ending of "Un Musicien Parmi Tant D'Autres" is a bit too cheesy for me, sounding like some sort of union-anthem. Luckily, Fiori & co. would quickly ditch this basic approach to the music, and instead explore their full progressive strengths and abilities on the two next albums.
Label
Harmonium - "Si On Avait Besoin d'une Cinquième Saison" (Célébration 1975)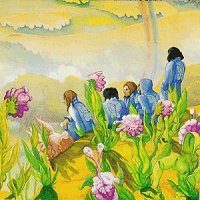 On their second album, Harmonium had expanded from a trio to a five-piece as they were joined by keyboardist Serge Locat and Pierre Daigneault who handled various wind instruments, including flute, clarinet and saxophone. This time there were actually no drums around at all, but you won't probably give it a thought at all when you're listening to the rich and progressive sound of "Si On Avait Besoin d'une Cinquième Saison" that had a concept based around the different seasons of the year. And before anyone start arguing that an old Italian used the same concept exactly 250 years earlier: Harmonium added their own twist by including a mysterious fifth season. This imaginary season was represented by the fantastic 17-minute "Histories Sans Paroles". This complex and mostly instrumental masterpiece showed compositional talent and abilities from Fiori that put him in the same class as Richard Harvey from Gryphon. And although Gryphon and Harmonium doesn't sound very much like each other, the comparison is still justified by the fact that both bands evolved from folk to their own kind of complex progressive rock that still maintained the folk roots within the sound. "Histories Sans Paroles" is so full of delicious arrangements and beautiful themes that never stays the same for very long, making it a piece that you never get tired of exploring while soothing in the many breathtaking melodies that pervade the entire suite. The only vocals featured are some completely wordless ones from Fiori himself, singing a melody that Daigneault's recorder quickly takes over before Fiori again appears, now singing it much higher and backed up by Locat's Mellotron. The emotional intensity and beauty of this part can't be described by words. Guest Judy Rich delivers some understated vocals when the music calms down again. Another noticeable guest appearance is Marie Bernard Pagé who could be heard with her Ondes Martenot a year later in Et Cetera. The second most progressive season on the album is the autumn in the 10-minute "Depuis L Automne" where Locat's sweeping Mellotron blends graciously in with the vocal harmonies, creating symphonic passages that floats in between the typically acoustic melodies of Fiori. The three remaining seasons on the album were slightly closer to the first album in style, but even here you could sense some more refinement. The spring in "Vert" is more complex than anything on the debut, and makes fine use of Daigneault's diverse wind instruments, while the most whimsical and somewhat energetic moment comes in the bright and swinging "Dixie" that describes the summer. The winter comes in "En Pleine Face" that is based in one of the finest melodies on the record, and includes some accordion played by Normandeau. "Si On Avait Besoin d'une Cinquième Saison" was the first of Harmonium's classics, and undoubtedly also the record that made them into one of the progressive heavyweights from Québec.
Harmonium - "L'Heptade" (CBS 1976)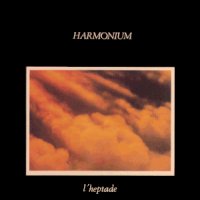 Harmonium's gradual transformation from acoustic folk to symphonic progressive rock was finally and definitively completed on "L'Heptade", a double album of utter musical depth and beauty dealing with the seven levels of consciousness. Fiori's ambitions kept getting bigger with each album and demanded the line-up to change and expand yet again, including now not just a permanent drummer in Denis Farmer, but also guitarist Robert Stanley who made the electric guitar more featured in the sound. His inclusion in the group was needed for other reasons too, as Normandeau actually left the band before the album was finished. The record also included several guest musicians, one of the most important were arranger Neil Chotem who in addition to play various keyboards also conducted the Montreal Symphony Orchestra on several passages during the record. They had also gotten a new wind player in Libert Subirana, as Daigneault decided to leave the band after the previous album. After a lush and moody orchestral prologue, the first song that graces our ears is "Comme un Fou" that has to be one of the best tracks the band recorded. All the new elements of the sound were presented here, and all of them worked as well as they could. The vocal harmonies (consisting both male and female voices) are wonderful, as well as the melodies and the very tasteful and integrated synths which play some of the main themes. You won't find much music that is more thoroughly and beautifully arranged than this. It should also be noted that Normandeau gets writing credits here and on several other tracks, so he were obviously a lot involved in the creation of the record, even if he's not featured on much of it. "Chanson Noire" shows that the more whimsical and light-hearted side of the band could come through even within the very ambitious frames of "L'Heptade". The song itself is far from simple though, featuring several chord changes and subtle symphonic passages with Mellotron. "Le Premier Ciel" has a pretty typical structure for an epic and lengthy progressive rock song, starting quite low-key and mellow before gradually building up the pace and evolving into one of the most infectious melodies on the album. Here the orchestral arrangements also really melt in together with the band, and the track climaxes with a lengthy instrumental part featuring excellent synth-work above an almost funky rhythm. The first part of "L'Exil" is an acoustic ballad where Fiori's emotional and dramatic vocal delivery is not far from Christian De Camps from Ange. The mid-part is a very dreamy and mystical instrumental section featuring nothing else than a drifting synth, taking the listener to a higher level of consciousness. But the track lightens considerably up when the vocals return in the end, before entering a grand and powerful finale. Guest vocalist Estelle St. Croix takes centre stage on "Le Corridor", singing a strong melody over the el-piano. The instrumental part of this song is also dreamy and quiet, but now underpinned by acoustic guitars. The least accessible moment on "L'Heptade" is probably "Lumières de Vie", featuring lots of classical piano and rather dark and subdued vocal parts. But again, also this track gets lighter in the end when the whole band joins in to play the concluding instrumental theme. "Comme un Sage" is a song that stays pretty much the same all the way through, despite the fact that it takes up nearly the entire fourth side of the album. Still, it doesn't become repetitive or boring for a second, but instead just glides gracefully away carried by a lovely melody and Fiori's pleasant vocals. And there are parts where the pace is turned up some levels too, like the one where the wordless vocal harmonies almost seem to be dancing around the band's powerful playing. But it slows down afterward again, just to build up to a striking finale where the beautiful chorus increases in intensity, before the orchestra joins in to top it off at the very end. The whole album is then ended with an orchestral epilogue that ends with the very first chords of the prologue. "L'Heptade" shows that Harmonium probably were the most original progressive rock band from Quèbec, as it won't remind you of any other band. And let's face it, no matter how many superb symphonic progressive rock bands that existed in the 70's, not too many of them were able to create a sound that was completely their own, but that's just what Harmonium did here.
Label
Harmonium - "En Tournée" (CBS 1980)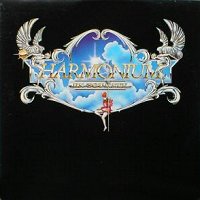 This double live album was actually released two years after Harmonium broke up, and shows the band on stage in Vancouver in June 1977 on the tour for "L'Heptade". Instead of displaying songs from their entire career, "En Tournée" focuses entirely on the band's live rendition of the complete "L'Heptade" album. And it all makes perfect sense when you hear how insanely good and solid this performance is. What Harmonium did here is to a certain extent similar to what Gröbschnitt did with their "Solar Music" piece when they released it as a live album on its own. Harmonium didn't have an orchestra with them on the tour, so Neil Chotem's orchestral parts had naturally to be dropped from the piece. What you get instead is a more loose and energetic version of the album, with more room for the band itself to stretch out instrumentally. "Comme un Fou" and "Chanson Noire" stay both structurally true to the studio versions, but with a more energetic live feel. But the fantastic 20-minute version of "Le Premier Ciel" is where the band really shows their full strength as a live band, and probably remains the highlight of "En Tournée". The song is considerably jazzier here than in studio, but without losing any of its symphonic grandeur and many beautiful melodies. The playing is absolutely superb, and the band manages to keep the focus all the way through, despite churning out one tight jam after another between the main parts of the track. And Locat's extended version of his synth-solo at the end is the icing of the cake. Now, THIS is what a REALLY good live band should be. "L'Exil" is another highlight, despite being much more true to the studio version. Fiori manages to sing just as emotional and good live as in studio, and the instrumental part in the middle sounded now quite a lot like the first part of Klaus Schulze's "Mindphaser" of all things. Monique Fauteux then takes the main spot for a while with a perfect rendition of the vocal part of "Le Corridor". The instrumental part is ditched, and the track goes instead right into an extended version of "Lumière de Vie" that continues on side four. The instrumental section is far more varied than on the studio version, as Locat now beside the piano also added lengthy passages with lot of organ, Mellotron and looping synths. "Comme un Sage" stays safely to the studio version, and is perhaps the only track here that I think is a tad weaker than its original version. I especially miss the orchestral climax at the end, but by any means, this is still an outstanding performance of the song. And the sound quality of the entire album is actually just as good as on any studio record. But no matter how good "En Tournée" is, I prefer to see it as an alternative version to the more atmospheric and polished studio original, and not a substitute as some people do. My advice is to get both versions, as the piece itself is in my opinion the best thing that ever came from the progressive rock scene of Québec.
Label
Richard Harvey - "A New Way of Seeing" (ICL 1979)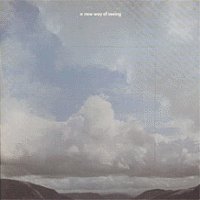 Richard Harvey's first solo record "Divisions On a Ground" from 1975 was a pure baroque classical album without the slightest hint of progressive rock. When Gryphon broke up in the late 70's, he started a career as composer of music for everything from TV commercials to soundtracks for movies. In 1979 he was given the task to make some music for the visual presentations of ICL's new systems. The result was his second solo album, "A New Way of Seeing" where he returned to progressive rock again. Musically it's complex instrumental symphonic progressive rock with a rather strong influence from Mike Oldfield from time to time. But his past with Gryphon can also be detected here, especially through the complex structures of the four lengthy tracks on the album. But the melodies are also quite typical for Harvey. The title-track opens the album and is a fine example of Harvey's ability to make a lengthy track of mostly the same themes the whole way through, but still avoiding repetitiveness. He also showed this skill in his work with Gryphon, although the spacey synths here give it a slightly different and less medieval feel. "Tangents" has more twists and turns, and even his guitar work sounds a lot like Oldfield here. The musically most varied track on the album is undoubtedly "Patterns and Horizons". It evolves from tender, symphonic, rural and folk-influenced melodies to futuristic sci-fi atmospheres and then to 30's swing-jazz! The closer "Reaching Out" returns to the structures of the title-track, with fewer themes that instead are explored in various arrangements. "A New Way of Seeing" is probably Harvey's finest solo work, and will appeal to fans of Gryphon and Mike Oldfield. Sadly, the album was doomed to obscurity right from the start by the simple fact that it only was given to employees at ICL and never sold in shops.
Next Page