-J-
Jacula - "Tardo Pede In Magiam Versus" (Rogers 1972)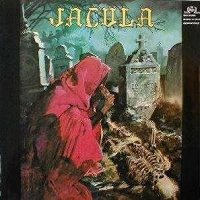 This Italian group consisted supposedly of some occultists who wanted to express their occult interests through music. But you shouldn't expect some raw and brutal heavy-progressive here. The album is very quiet and relaxed, and the music (that was composed during spiritual seances) was played on church-organ, harpsichord, flute, violin, guitar, some female vocals and no drums. The first track "U.F.D.M." was probably the best on the album. It featured a good melody sung by a female singer, and the track has some sinister electronic effects along with the church-organ. Unfortunately, the only other good track on the album was the atmospheric and pleasant flute-based instrumental "Jacula Walzer". "Praesentia Domini" and "In Old Castle" consisted both of some spoken incantations accompanied by lots of endless noodling on a church-organ. Boring stuff. "Long Black Magic Night" was played mostly on violin and flute, but was ruined by some spoken, English vocals with a horrible accent. Jacula is not much else than a curiosity for satanic weirdoes only.
Jade Warrior - "Jade Warrior" (Vertigo 1971)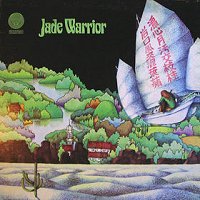 Jade Warrior was one of the most original and unusual progressive rock bands to come from Britain in the early 70's. They combined strong ethnic influences (mostly from Chinese/Japanese culture) with progressive rock that ranged from heavy, flute-driven Tull-like riffs to peaceful and atmospheric parts. The main musicians in the band were Tony Duhig on guitar and Jon Field, who contributed with flute and lots of ethnic percussion. Especially the first side on their self-titled debut showcased their originality very well. The three-part "Masai Morning" is an orgy of ethnic percussion and very fuzzed and heavy riffs played on guitar and flute. But Duhig's distinctive sound on the guitar is actually best heard on the more quiet songs, like "The Traveller" and "Dragonfly Day". "A Prenormal Day at Brighton" is structurally a quite straightforward, flute driven heavy-prog tune, but the band manages to integrate their ethnic influences into even this one. The second side is a bit more basic but still good, although I don't care too much for the the stripped-down blues of "Petunia". The hard rock of "Telephone Girl" is better, and one of the best known tunes here. "Psychiatric Sergeant" has some cool jazzy flute, and the two last tracks are quiet pieces with more of the band's ethnic influences. A unique and strong debut that clearly showcased what an original and creative band Jade Warrior was.
Jade Warrior - "Released" (Vertigo 1971)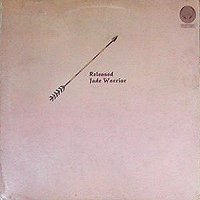 The second album was obviously meant to show the band from a more careless, spontaneous and harder rocking side than the debut. But some parts are also slightly jazzier in sound, most because of the saxophone played by guest Dave Conners. The opener "Three-Horned Dragon King", the Tull-ish "Eyes on You", "Minnamoto's Dream" and the truly annoying single "We Have Reason to Believe" all rocks quite hard and intense. And it's no coincidence if you think the riff of "Minnamoto's Dream" is similar to "A Prenormal Day at Brighton" from the debut, as it's actually the same riff played backwards! The laid-back side of the band is represented by the two pleasant ballads "Bride of Summer" and "Yellow Eyes". "Barazinbar" is a 15-minute jam where the more jazz-inflected side of the album shines through. However, personally I think this works even better in the instrumental "Water Curtain Cave" that easily stands as my favourite on this album. This is early 70's, jazzy and atmospheric progressive rock at its best. The original sleeve was of the spectacular kind and worth a note. It was designed by Jon Field himself, and gave the term "fold-out" a whole new dimension.
Jade Warrior - "Last Autumn's Dream" (Vertigo 1972)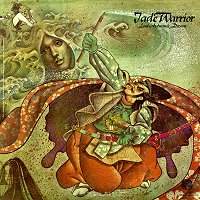 "Last Autumn's Dream" is for many people Jade Warrior's best album on Vertigo. It displays an impressive range of moods, while still flowing graciously well together. It's quite a long way from the wintry images of the atmospheric opener "A Winter's Tale" to the hazy jungle of the improvised "Dark River" and then to the symphonic and mighty finale of "Borne on the Solar Wind". In between this you get the band at their heaviest and most aggressive in the rousing "Snake" and even a catchy attempt at a hit song in "The Demon Trucker". "Joanne" is a great and more typical Jade Warrior rocker, while "May Queen" successfully combines several elements of the band's sound into a bouncing and quirky tune. The grandiose instrumental "Obedience" sounds almost like an overture of some kind with lots of overdubbed guitars. The ballad "Lady of the Lake" flows into the earlier mentioned "Borne on the Solar Wind" that creates a grandiose finale to the album. But "Last Autumn's Dream" turned out to be their last album with vocals, and also the last they released on Vertigo.
Jade Warrior - "Floating World" (Island 1974)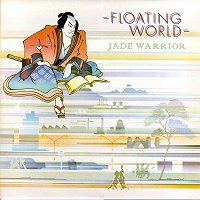 Jade Warrior shifted label to Island and went through some personell changes. Singer Glyn Havard had left the band, and they decided to continue as a pure instrumental group. On their first album for Island, "Floating World", Duhig's brother John on guitar joined them. Their sound was still very recognisable, but it had taken a turn into a slightly softer and more tranquil direction. Most of the album is relaxed, pleasant and atmospheric, but the music could still burst out into some of the heaviest riffs you could get in the 70's. Just check out "Red Lotus" and hear for yourself. "Monkey Chant" also included some very aggressive guitar-work over the ethnic percussion. But the rest of the record is music you can drift along to, like the soft and pleasant flute-theme of "Mountain of Fruit and Flowers" and the beautiful "Memories of a Distant Sea". "Rainflower" and "Easty" are tracks where the Duhig-brothers really let their distinctive guitar-sound shine through, and are both among the highlights of the album. "Floating World" is no less than a little masterpiece of highly original instrumental progressive rock, and should considered to be essential stuff.
Jade Warrior - "Waves" (Island 1975)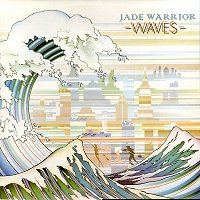 "Waves" is probably Jade Warrior's most relaxed, atmospheric and dreamy album. It consisted of just one 45-minute composition that took up both sides of the record. The theme for the music is, as you may have guessed, waves in different motions. The start of the piece builds slowly up from improvised atmospheric sounds to a laidback and jazzy part where Steve Winwood appears as a guest on piano. The sound becomes very typical Jade Warrior as soon as Field's melodic flute comes to the fore. This goes into a very hypnotic part where a dreamy, echoing two-chord theme lays the foundation for melodic explorations on flute and guitar. The first part then ends with a pleasant semi-acoustic passage. Side 2 opens with the sounds of birds that soon glide into a percussive part and evolves into Duhig' characteristic anthem-like guitar work before Field's ethereal flute returns again. Then we're in for the obligatory rocking part that breaks up the laidback feel of the record, although they do it a bit funkier than earlier. Here's lots of intense duelling between Duhig's guitar and Winwood's Moog. The final parts of the piece is Jade Warrior from their most beautiful and atmospheric side with Field's flute playing wonderful melodies upon Duhig's guitar. At the very end we're taken far out to the sea, and sounds of whales starts to swirl around the music. "Waves" could very well be my personal favourite of Jade Warrior's albums.
Jade Warrior - "Kites" (Island 1976)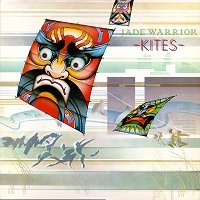 "Kites" went back to shorter tracks with individual titles again. It didn't make all that much difference as all of them floated together and created a continuous flow of music. The record had a kind of split-concept where the tracks on the first side was the musical description of a kite's flight through the air, while the second side was inspired by an ancient Japanese legend about the Zen Master Teh Ch'eng. It sounded like the guys had listened a bit to Mike Oldfield, as especially some tracks on the first side has sounds and moods that could have been taken straight from "Ommadawn". It even features a guest appearance from Clodagh Simmons who usually did the few vocals on Oldfield's classic albums. "Songs of the Forest" and "Wind Song" are both good examples of this. "Emperor Kite" is the band at their most Eastern-influenced, while "Kite Song" that follows it went back to and explores more of the ideas of "Wind Song". And as usual, here are ethereal flutes and guitars everywhere, creating outstanding atmospheres. The second side is dominated more by Duhig's guitar, especially in the partly improvised "Quietly by the River Bank". The two best tracks here however are the two last ones, "Towards the Mountain" and "Last Question" which both features some of the best melodies on the record. The appearance of three players on violin also makes a fine variation from the flute and guitar. Just like the three other albums they released on Island, "Kites" is one of Jade Warrior's finest works.
Jade Warrior - "Way of the Sun" (Island 1978)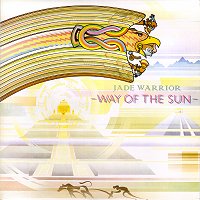 Jade Warrior's last album of the 70's (and their last for a long time) had a concept about the South American Indians before the time of the conquistadors. The music is a bit more upbeat than in a long time, and the title-track and "Carnival" featured Latin rhythms that fitted very well to the concept. Field's flute has been overdubbed several times on the two openers "Sun Ra" and "Sun Child", making the tracks sound like orchestral overtures. "Dance of the Sun" features some very sharp guitar work from Duhig over a percussive beat and some evolving themes underneath. Interestingly enough, the two members have each their highlight on the album. "Heaven Stone" is easily one of the most beautiful and atmospheric melodies Field ever played on his flute, while Duhig deliver some of his best playing on the very emotional "Death of Ra" that closes the album. But "Way of the Sun" was the end of Jade Warrior's artistic golden age. A couple of forgettable albums were recorded during the 80's, and Jon Field reportedly hates both of them. And the band could never be the same again after Tony Duhig's death in 1991.
Label
Jane - "Together" (Brain 1972)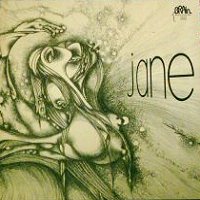 Jane were one of the legends of German 70's progressive rock, even if they never made it outside their native country. Their acclaimed debut "Together" was strongly influenced by the German underground-scene of the same time, but surpassed many other bands in that genre. The music of the album was dark, mellow, moody and heavy with lots of great organ and bluesy guitar. It also included two of Jane's best-known songs: "Daytime" and "Hangman". Both tunes featured beautiful vocal-melodies and intense jams in the best German tradition. But the remaining material was of the same high standard, especially the 11-minute "Spain". The organ and Bernd Pulst's emotional vocals at the end gives me goosebumps, and the solo part had a slightly spacey feel to it. "Wind" features the heaviest riff on the album, while the title-track and "Try to Find" are progressive ballad that maintained the mellow mood of the rest of the record. "Together" is easily the best of Jane's earliest albums.
Jane - "Fire, Water, Earth & Air" (Brain 1976)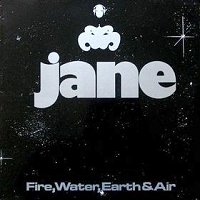 After a good and promising debut, Jane went into a somewhat frustrating period where they sounded like an ordinary and uninteresting hard rock band, and released a series disappointing records. The band then wisely decided to return to progressive rock again with the successful concept-album "Fire, Water, Earth & Air". The music was much more symphonic than earlier, and drenched in spacey, atmospheric string-synths. Klaus Hess had taken over all the vocals, and both his voice and guitar-style sounded now strongly influenced by Pink Floyd. Most of the songs floated seamlessly together, and created a nice flow of pleasant and atmospheric progressive rock of the kind you can drift along to. However, when it comes to variation, the album is quite the opposite of "Here We Are". The mood and pace of the album never changes, and I must admit that I'm a bit tired of it when I've reached the middle of the second side. But the album still sounds to good to be criticised for more than that, and the synth-sounds couldn't have been more tasty, spacey, atmospheric and typical German-sounding. Fans of Pink Floyd and spacey symphonic progressive rock in general will undoubtedly enjoy this album.
Jane - "Live at Home" (Brain 1976)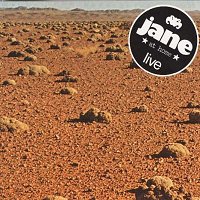 This double live-album represents the peak in Jane's career, as it made them one of the best-selling bands of all time in Germany. Musically it was also maybe their finest moment, and featured lots of material that not could be found on the studio-albums. This included "Expectation", "Another Way", the instrumental "Hightime for Crusaders" and the 18-minute "Windows". All these were well-written and high-quality tracks, and not just some lousy live-jams. The rest of the album consisted of strong versions of some of the best songs from the albums, including "Daytime" and "Hangman" from the debut, and both tracks benefited a lot from the addition of synths. "All My Friends" is a slightly altered version of "Air (Superman)" from "Fire, Water, Earth and Air". "I Need You" from "Jane III" had got the same treatment in form of "Rest of My Life". The sound and production is crystal clear, and I think Grobschnitt's "Solar Music Live" is the only other German live-album that has managed to impress me in the same way. "Live at Home" proves that live-albums on very rare occasions can have the same value and importance to a band as their studio-albums. If you want only one album by Jane, then I would go for this. And this comes from somebody who usually doesn't care too much for live-albums.
Jane - "Between Heaven and Hell" (Brain 1977)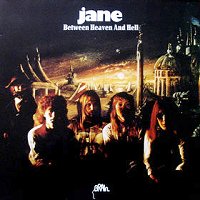 Jane followed up their biggest success quite well with "Between Heaven and Hell". The album had more abrupt chord-changes and didn't have the same seamless flow as "Fire, Water, Earth & Air". But that made it on the other hand a more dynamic and varied record that better captured all the different sides of the band. The 20-minute title-track had it all: sinister instrumental-passages with some electronic effects, pleasant Pink Floyd-like vocal-parts, loud heavy-prog riffs, sweeping solo-passages with atmospheric string-synths, and even a gothic choir to make the right gloomy mood. "Twilight" starts as an average hard rock song, but turns quickly into a beautiful and energetic instrumental-part that easily is some of the best that Jane ever recorded. "Voice in the Wind" is a melodic and heavily synth-based song that floats graciously away in its spacey feel. The closing-track "Your Circle" is a very basic and ordinary boogie-rock track, but it's still kind of funny as it makes such a big contrast to the rest of the album. "Between Heaven and Hell" was yet another proof that Jane was on a winning streak in the late 70's, as it's easily among their best albums.
Jane - "Age of Madness" (Brain 1978)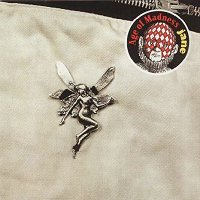 "Age of Madness" is usually referred to as Jane's last good album. The songs were considerably shorter and simpler than before, but the sound and music was in the same style that Jane had developed in the late 70s: synth-based, spacey and atmospheric tunes side by side with heavy riffs and more down to earth-tracks. The title-track, "Memory Symphony", "Auroville" and "Meadow" was spacey symphonic progressive rock at its most typical German. "Bad Game" is a solid hard rock track, and Hess delivers some nice slide-guitar in "With Her Smile". However, the single "Love Song" was an embarrassing attempt at a pop-hit, and "Get This Power" sounds like it could have come from "Jane III" or "Lady". In other words: basic and uninteresting blues-rock with a hard edge. But with their later albums in mind, "Age of Madness" was most of the time yet another satisfying slice of spacey, German symphonic progressive rock with some hard rock elements thrown in. But their career was pretty much downhill from here, and you can safely avoid all their later albums.
Jean-Michel Jarre - "Oxygene" (Polydor 1976)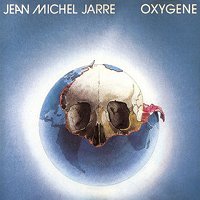 You can of course say whatever you like about this self-appointed "Messiah of electronic music" and all his ridiculous and overblown "events"(known as "concerts" to us mortals), but nothing can prevent his legendary debut and with no doubt best album to be one of the classics of 70's progressive electronic music. In the early years of his career, Jarre was influenced by German artists like Klaus Schulze and Tangerine Dream, but gave his own music a lighter, more accessible touch and even melted some pop-themes into it all. Ironically, Jarre would then have an obvious influence on his own inspirations as Tangerine Dream's "Stratosfear" from the same year is quite reminiscent of "Oxygene" in both sound and atmosphere. "Oxygene" is the perfect album to relax to as it's a sweet, spacey, atmospheric, dreamy and continuos album-length work in six movements. Tons of analogue synths, spacey effects and even some Mellotron gives you a perfect 70's electronic progressive sound. The light and pop-orientated "Oxygene Part 4" even became a hit, but it differed alot from the other and much more free-floating and progressive parts on the album. Although "Oxygene Part 4" is a nice little theme, it's still unfortunate that it represented the direction that Jarre later would go into. A classic debut and the Jarre-album to get.
J.E.T. - "Fede, Speranza, Carita" (Durium 1972)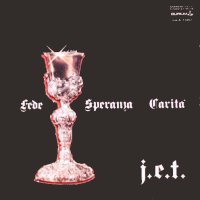 Excellent Italian heavy progressive. The album opens with the title-track. VERY powerful track that combines great Hammond-work with thundering guitar-riffs. And there's still lot of timechanges, different themes and all the other stuff necessary to make a progressive rock fan satisfied! Great track. "Il Prete E Il Pescatore" is another killer track with great vocal-harmonies and aggressive guitar playing along with the Hammond and some synths. The second part of the album is not of the same class, but still good. "C'e Chi Non Ha" is a nice acoustic track, but a little bit repetitive. "Sinfonia Per Un Re" is probably the best track on side two. It reminds me in fact a little bit of Semiramis. But overall, this is a great album, and you'll eat it up if you like other Italian bands like Biglietto Per'L Inferno, Semiramis and Eneide.
Jethro Tull - "Aqualung" (Island 1971)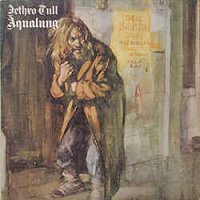 Jethro Tull started in the late 60's as a basic blues-rock band, but leader/songwriter/singer/flutist Ian Anderson would gradually transform them into one of the leading progressive rock-acts of the 70's. Their evolution toward progressive rock reached its peak with the classic "Aqualung". The album had a kind of a split-concept where the first side featured songs about poor people and social differences, while the second side was about the problems and evil of organized religion. Musically the album was a superb blend of heavy-progressive rock mixed with tasty, acoustic melodies dominated by Anderson's distinctive flute-playing and Martin Barre's excellent guitar-riffs. The opening title-track demonstrated all sides of the band very well and is the best song on the album, even if it's one of the few Tull-tracks to feature no flute at all. "Cross Eyed Mary" starts with some mellotron and flute before it goes into a crunching rocker where Anderson sings aggressively about a female Robin Hood. "Mother Goose" and "Wond'ring Aloud" are among Tull's finest acoustic ballads with beautiful melodies and tasty string-arrangements. Side 2 starts with the sinister "My God" and this track is next to the title-track the most progressive song on the album. The mid-part where a choir joins Anderson's flute is one of the most magical moments here. The blasphemous "Hymn 43" shows Tull from their most rocking and catchy side, but "Locomotive Breath" captures that side of the band even better with one of the greatest rock riffs in history. The closing-number "Wind Up" starts as a ballad but turns into yet another hard rocking tune with a great sense of melody and a quite progressive structure.
Jethro Tull - "Thick as a Brick" (Chrysalis 1972)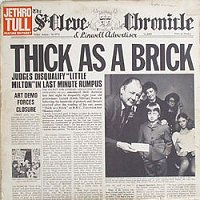 This album was Tull's crowning achievement and definitive masterpiece as it showed Tull at the most ultra-progressive, consisting of one continuous 43-minute piece spread over both sides of the LP. The lyrics on the album was written by a kid named Gerald Bostock, who of course was none other than Ian Anderson himself, and they dealt with everything from childhood heroes to sexual curiosity. The whole story (and lots of other things) can be read in the 12-page newspaper that the record was wrapped up in. Keyboardist John Evan had now also been much more involved and integrated in Tull's sound, and his organ-playing is often similar to Tony Banks in tone and sound. This album could probably have been analyzed over several pages as it's so complex, rich, varied and compositionally brilliant. It varies from soft, acoustic passages to very energetic, cheerful parts and then to aggressive jams, some medieval-influenced stuff and folk-melodies. Anderson's superb flute-playing is present all the time, and he was undoubtedly one of progressive rock's most talented persons in this phase of Tull's career. If you only buy one album by Tull, be sure this is the one. Extremely essential!
Label
Jethro Tull - "A Passion Play" (Chrysalis 1973)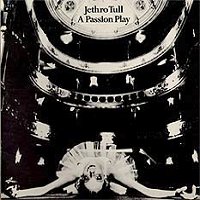 Despite its musical qualities, "Thick as a Brick" had received mixed reactions from both the press and fans but it was still nothing compared to the merciless butchering that "A Passion Play" had to go through. The record consisted of yet another album-length suite, but of a much darker tone than the previous album. Much of the criticism was understandable as the album featured no really standout parts, and several passages are rather dull and tuneless. The album also suffered from the overstated seriousness that really didn't fit Tull at all. The piece was broken up in the middle by the childish fairytale "The Hare Who Lost His Spectacles" in an attempt at making up for some of the lack of humour on most of the album. Anderson had also tried to develop Tull's sound further by adding lots of saxophone played by himself, but I've never cared much for that as I think the instrument sounded mostly like an alien element in the sound. The lyrics on the album told supposedly about a young girl and the choices she had to take in her life after death, but it's completely impossible to get anything understandable out of the lyrics. I would bet that if all the parts on this album had been divided into separate songs with silence in between them, then no progressive rock fan would have regarded this as an "underrated and misunderstood album", but instead declared it for what it really is: an over-ambitious experiment that failed, no matter how honest the attempt may was.
Jethro Tull - "Warchild" (Chrysalis 1974)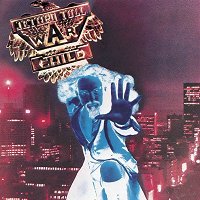 "War Child" went back to separate songs of a more normal length, and was an obvious attempt at making the sound of "A Passion Play" more accessible. As I didn't like the sound of that album at all, it may not come as a surprise that I don't care too much for "War Child" either. The album does feature a couple of nice ballads ("Ladies" and "Skating Away on the Thin Ice of the New Day") and the cheerful "Third Hoorah". "Sea Lion" is an aggressive rocker of the typical Tull-kind. But the rest of the album is not much to write home about. "Backdoor Angels" is uninspired progressive rock of the same kind as "A Passion Play". No engaging melodies and uninspired, pointless instrumental-parts dominates the song. "Bungle in the Jungle" is a boring pop-tune that became a minor hit. "Two Fingers" is a really limp re-write of the excellent song "Lick Your Fingers Clean" that was meant to be a single released around the same time as "Aqualung". Not a very noteworthy album in my opinion, and mostly for hardcore Tull-fans.
Jethro Tull - "Minstrel in the Gallery" (Chrysalis 1975)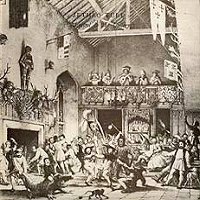 Yes! Tull was finally back on tracks again with the superb "Minstrel in the Gallery". The album went back to the classic Tull-style that we all know and love: powerful, heavy and complex progressive rock mixed with beautiful, acoustic folk-melodies. The sound had also become richer and more symphonic as the band on a permanent basis now had David Palmer to add tasty string-arrangements to the songs. The title-track opens with an acoustic, minstrel-like medieval part before it explodes into the heaviest and most hard-hitting instrumental-passage Tull ever recorded. The main part of the song is a catchy, flute-driven rocker that would become a favourite on stage for years to come. "Cold Wind to Valhalla" starts also as a soft, acoustic tune, but becomes more aggressive when the whole band kicks in and plays the excellent melody of the track. "Black Satin Dancer" is maybe Tull's most overlooked classic ever. The main melody is one of the most beautiful Anderson ever wrote, and the string-arrangement makes it even more majestic. The sinister and heavy instrumental part is a prime example of progressive rock at its absolutely best and most dynamic. "Requiem" is a very nice and cosy acoustic ballad. The melody is maybe not the strongest or best, but what a great atmosphere and feeling. The second side opens with more acoustic beauty in the form of "One White Duck/Nothing at All" before you're in for the ambitious, 17-minute "Baker Street Muse". This would be Tull's last really lengthy epic, but it's still a very good one, although not so good as "Thick as a Brick" but still light-years better than anything on "A Passion Play". Overall, one of Tull's best albums.
Jethro Tull - "Too Old to Rock'N'Roll: Too Young to Die" (Chrysalis 1976)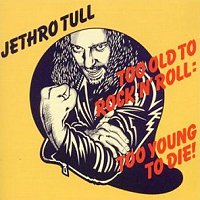 A lousy concept-album about a rock star named Ray Lomas (the whole story can be read in the comic inside of the fold-out cover). There are no impressive and lengthy progressive pieces here, just a limp mix of uninspired rockers and boring ballads of the straightforward kind. It's always a pleasure to listen to Anderson's voice and flute, but those two things alone can't save the album. The album opens with two decent but still far from fantastic tracks ("Quizz Kid" and "Crazed Institution") and it goes straight downward from there. "Salamander" could have been a nice acoustic ballad, but the problem is that the track is nothing else than a weak re-write of "Cold Wind to Valhalla" from the previous album. "Taxi Grab" attempts to re-create the sound of very early and blues-based Tull. A rather strange thing to do when the band had worked very hard the whole first part of the 70's for establishing themselves as one of the leading progressive rock acts! The best-known track here is the repetitive and annoying title-track. "Big Dipper" is just plain embarrassing, and the ballads lack memorable melodies (with the possible exception of the closing-number "The Chequered Flag (Dead or Alive)". And there's not a single track here close to being a Tull-classic. For serious Tull-fans only.
Jethro Tull - "Songs From the Wood" (Chrysalis 1977)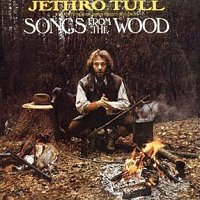 Ian Anderson became a farmer in the second half of the 70's, and his new and rural life-style gave him enough inspiration to make what I personally consider to be Tull's last really classic album. As the title says, all the songs on the album are clearly inspired by the forest and nature. As a natural consequence of this, the folk-element in the music was taken a step further here, but there was still plenty of powerful electric guitar-work from Barre. The title-track is the best known song of the album, and features great vocal-harmonies that get relieved by complex and aggressive instrumental-parts. The two other most progressive tracks here are "Velvet Green" and "Pibroch (Cap in Hand)". Both these songs have also a clear baroque influence that works absolutely excellent. "Hunting Girl" is the most aggressive song here, and the main melody is in a marvellous way being varied by playing it both as an aggressive riff and a polished vocal-part. The rest of the album is made up of very nice and beautiful tunes like "Cup of Wonder", the catchy "The Whistler" and the Christmas-song "Ring Out Solstice Bells". "Songs from the Wood" was Tull's 4th and final classic 70's album.
Jethro Tull - "Heavy Horses" (Chrysalis 1978)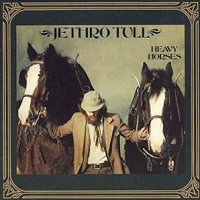 This one follows the same direction and sound as "Songs from the Wood" but the presence of some filler makes it less successful. The opening track "And the Mouse Police Never Sleeps" and "Journeyman" are in my opinion both rather weak and uninspired songs. And the title-track is too repetitive and too little creative for its ambitions of being a lengthy progressive rock song. But the rest of the songs are not far from rival the best moments on the previous album. "Acres Wild" and "Rover" are both great tunes, the same goes for the beautiful ballad "Moths". The dramatic "No Lullaby" is the best progressive song here, combining the soft and heavy side of Tull to perfection. And lets not forget about "One Brown Mouse" and "Weathercock". Both are great, folk-influenced Tull-songs with very good melodies. By the way, former Curved Air-violinist Darryl Way appeared as a guest-musician on this album. There's enough good stuff here to make "Heavy Horses" a nice addition AFTER you've got "Aqualung", "Thick as a Brick", "Minstrel in the Gallery" and "Songs from the Wood".
Jonesy - "No Alternative" (Dawn 1972)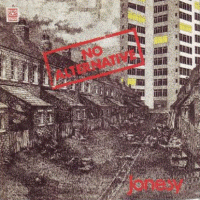 Jonesy were another obscure legend of British 70's progressive rock. They released three Mellotron-dominated albums that were acclaimed in progressive rock circles, but failed to make an impression on a bigger audience. They were often compared to early King Crimson, but their debut-album "No Alternative" tends to remind me even more of Gracious' classic second-album. The way they used the Mellotron to create both dreamy, floating sounds in the background and rocking, uptempo riffs is very similar to Gracious. The band consisted at this point of John Evan Jones on vocals and guitar, Jamie Kaleth on Mellotron, David Paull on bass and Jim Payne on drums. The songs are good and lengthy and varies between rather rough and harsh tracks like "Mind of the Century" and the title-track and then to beautiful, melodic stuff like "Heaven". The latter is with no doubt strongly inspired by "In the Court of the Crimson King"-era King Crimson. "1958" is also a good and energetic track, but it's maybe dragged out too much and that makes it a little bit tedious and repetitive in the long run. "Pollution" is the most complex track on the album, and this and the title-track showed that the band had social conscience. The album closes with "Ricochet" and it's a catchy track with a perfect 70's feel. This was also released as a single without making much of an impression. But "No Alternative" was never the less a good and promising debut.
Label (German issue)
Jonesy - "Keeping Up..." (Dawn 1973)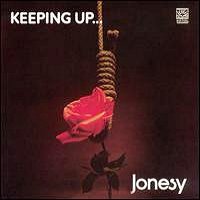 Jim Payne and David Paull left Jonesy after the debut-album, and Plug Thomas and Gypsy Jones replaced them. They also hired Alan Bown on various wind-instruments, and Ray Russell delivered some tasteful string-arrangements. This gave the music stronger influences of classical baroque music and jazz, and the band managed to make their own unique style of Mellotron-driven progressive rock on "Keeping Up..." that usually is regarded as their classic release. Jones had further developed the wah-wah styled way of playing that he had done on "Ricochet" from the previous album, and this could best be heard on the opener "Masquerade" and "Questions and Answers". The combination of wah-wah guitar and Mellotron is not very common, and resulted in a very distinctive sound. But tracks like the two melodic beauties "Sunset and Evening Star", "Song" and the impressive "Children" showed that the band still owed a lot to early, melodic, symphonic and Mellotron-dominated King Crimson. The earlier mentioned "Questions and Answers" also had a very beautiful prelude called "Preview" with lots of strings, harpsichord and Bown's trumpet. "Critique (With Exceptions)" is a jazzy and improvised piece that sounds quite different from the rest of the record, but still fits in well. You'll like this album if you like the earliest works of King Crimson, but "Keeping Up..." benefits from a higher degree of originality than most other Crimson-influenced bands.
Label
Jonesy - "Growing" (Dawn 1973)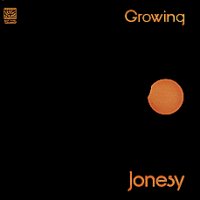 Jonesy's third and final album was probably their most expensive and best produced affair, as they had hired well-acclaimed producer Rupert Hine. But the musical content was a different matter. The band had moved from the mellow symphonic style of "Keeping Up..." to a jazzier and more upbeat approach. Apart from that, there's really not much focus to find on "Growing", revealing an instrumentally and compositionally still good band who had got somewhat lost in search for new directions. The song "Hard Road" is a good example of this. It opens with something that sounds like classic Ekseption before moving into a lightweight pop tune with slight Beatles influences, and ends in what sounds like soul-inflected jazzy funk. Other tracks are however more satisfying, especially "Know Who Your Friends Are" that is my favourite here. It starts as a energetic rock song with a good melody that midways turn into a beautiful laidback passage where the sound can remind of Fruupp's classic "Gormenghast", before ending in an intense finale with Bown's electric trumpet at the forefront. "Waltz for Yesterday" is pretty much glorified typical melodic '70s rock with a nice string section in the first part. The opener "Can You Get That Together" was probably the most energetic and intense song Jonesy ever did, and shows Kaleth's new focus on the el-piano. The track itself is however only ok, and I don't care much for the strained main riff on the beginning and end. The instrumental track simply titled "Jonesy" was with its nearly 12 minutes probably meant to be one of the main attractions on the album, though personally I think it sounds mostly like one of King Crimson's less interesting experimental and improvised pieces, although the string section has an eerie quality to it here. I actually like the catchy and fairly straightforward title-track much better, being typical '70s pop/rock with a progressive touch. "Growing" is overall too uneven and stylistically unfocused to rival "Keeping Up..." as Jonesy's classic release, but there are interesting and good things to be found during much of the album's course.
Julian's Treatment - "A Time Before This" (Youngblood 1970)
The first and only album (a double one) by this band is a lost and overlooked treasure from the British progressive rock scene of the early 70's. The band was lead by organ-player and sci-fi writer Julian Savarin, who wrote all the lyrics and music. The album had a very ambitious concept about a man from Earth who comes to the planet Alkon where he meets a female-creature named Altarra (the Earth had obviously been destroyed before this happened!). The whole story and album is divided into 12 chapters (songs), none of them are bad. Although the songs usually aren't all that long, they have a fair amount of time-changes and different parts that will keep any progressive listener satisfied. The sound is very dominated by the excellent and sometimes spacey organ playing of Savarin who had a very tasty sound on his organ. But there's also some flute, vibes and guitar in addition to the bass and drum. Cathy Pruden sings all the vocals, and her clear female-vocals add some more distinctiveness to the music. Highlights includes "Black Tower", "Altarra", "Twin Suns of Centauri/Alkon, Planet of Centauri" and the instrumental themes "The Coming of the Mule" and "Terran". The concept of this album was originally intended to continue on two following albums, but the band did unfortunately disband before that happened (a fate quite similar to Mandalaband and their "The Eye of Wendor" project). But Savarin released a solo-album called "Waiters on the Dance" in 1973 that was the continuation of the story on "A Time Before This". I haven't heard that one, but I've been told that it is in a similar vein and just as good. I'm sure any lover of early 70's prog will enjoy "A Time Before This".
Label