-K-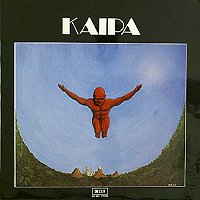 The debut-album of this Swedish symphonic progressive group. They had a very traditional and typical symphonic progressive 70's sound which may not be the most original you've heard, but at their best they were a very good band. Their sound is tasteful and most of the time it's based in good and very beautiful themes. Just listen to "Musiken Är Ljuset", "Oceaner Föder Liv" and the instrumental "Skogspromenad" and you'll hear. Singer and keyboard-player Hans Lundin has a voice that in fact reminds me of Jon Anderson with a cold! The instrumental "Förlorad i Istanbul" is more eastern-influenced, and is quite different from the rest of the album. A good and even debut-album, which should satisfy fans of bands like Yes and Camel.
Kaipa - "Inget Nytt Under Solen" (Decca 1976)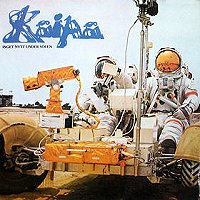 An essential album from Sweden. Mostly because of the 22-minute track "Skenet Bedrar", which in my opinion musically is one of the best tracks ever from a Scandinavian progressive rock band. Wonderfully symphonic progressive with lots of Hammond, moogs, excellent guitar and of course also some mellotron. The track is quite complex, and the themes and melodies are extremely strong all the way through the track. The only bad thing about this track is the completely ridiculous lyrics. I've never liked political oriented lyrics in music (for me it don't seem right that your political views shall decide what music you like. Music and politic has nothing to do with each other simply because it's two totally different things), on top of that the lyric is extremely badly and asinine written. But musically, "Skenet Bedrar" remains a true masterpiece. The rest of the album never reaches the same height, but it would rather be too much to expect a whole album of such quality! The best of the other tracks is the instrumental "Korståg", with great Hammond and mellotron and with some Jan Akkerman-like guitar playing from Stolt. The other tracks are listenable, but nothing fantastic. Anyway, "Skenet Bedrar", and partly "Korståg" make this an essential album that you just can't miss.
Kansas - "Kansas" (Kirshner 1974)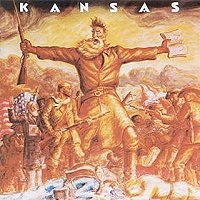 Kansas were the leading American progressive rock band. The first and ultimately best line-up of the band would last for the entire 70's, and consisted of bassist David Hope, drummer Phil Ehart, violinist Robbie Steinhardt, guitarist Richard Williams and not at least the two main songwriters Kerry Livgren on guitar and Steve Walsh on vocals and keyboards. The group knew just how to create an identity and signature sound of their own by combining progressive rock strongly influenced by the British scene with more typically American-sounding, melodic 70's hard rock. Their self-titled debut from 1974 showed that this formula worked extremely well, most thanks to strong material and the band's tight and technically impressive performance. The two first songs on the album, "Can I Tell You" and a cover of J. J. Cale's "Bringing it Back", showed the basic and rocking side of their sound, although Steinhardt's violin and Walsh' various keyboards gave them a fresh and colourful sound. The mellow ballad "Lonely Wind" became one of the better-known songs from the LP, as it also was the single. "Belexes" brings the band back in harder rocking territory again, but they finally and ultimately flexes all their progressive muscles in the masterful epic "Journey from Mariabronn" that clearly showed Livgren as the most progressive oriented songwriter in the band. The track is a feast for anyone who loves classic 70's progressive rock, and demonstrates to the full what a tight, powerful and energetic band Kansas really were. Side 2 opens with the short, but still slightly sophisticated "The Pilgrimage" before we're in for more progressive bliss in "Apercu". Walsh sings the lyrics in a melodic and emotional manner that would prove typical of him, while the instrumental passages usually were left over to his organ, synths, Steinhardt's violin and Livgren's guitar. The two musical styles of the band is finally fused together in the closer "Death of Mother Nature Suite". This thundering heavy progressive epic features lyrics that showed a clear social consciousness from Livgren's side. The band would still have to wait some time to finally take off commercially, but their debut was musically superb anyway.
Kansas - "Song For America" (Kirshner 1975)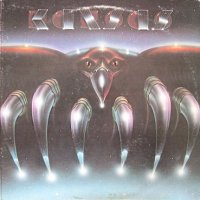 Kansas took their progressive side a step further on their second LP. "Song for America" is mainly made up of lengthy epics, but also with a few shorter rockers thrown in between them. "Down the Road" is, as you may be able to expect, one of them. It opens the album in a swinging and rocking fashion, but is pretty much forgotten as soon as the monumental title-track makes it entrance. This is for me probably the definitive composition by Kansas. It has so many cool chord-changes, tasteful solo-passages, catchy hooks and good playing that I can accept that they shamelessly borrowed a theme from Genesis' holy "Firth of Fifth" and used it twice in the song. "Song for America" is for American progressive rock what "The Musical Box" is for British progressive rock. "Lamplight Symphony" is strongly dominated by Walsh' melodic keyboards, and features one of the most touching lyrics Livgren ever wrote. But the band also wanted to show that they still could rock hard and basic, and did just that in the slow and bluesy "Lonely Street" and the considerably faster and more energetic "The Devil Game". The latter one introduced one of the less appealing things of Kansas: Christian lyrics that only would get increasingly more dominant later in their career. But they then set into the longest track they ever recorded with the 12-minute "Incomudro - Hymn to the Atman". It opens with a grandiose and symphonic synth-theme but slows quickly down into a mellow vocal section, before heading out in a lengthy instrumental journey where Walsh stretches out on various synths and even Ehart is allowed to take the solo spot for a few minutes. "Song for America" was a more than worthy follow-up to their debut, and again, the title-track IS their best song and one of the best of American progressive rock.
Label
Kansas - "Masque" (Kirshner 1975)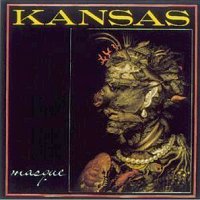 Kansas' third album opens weirdly enough with yet another straightforward rock'n'roll song, this time in form of the awfully titled "It Takes a Woman's Love (To Make a Man)". It almost seemed like the band preferred to save their true progressive strengths for later on each of their LP's. "Two Cents Worth" continues in a quite straightforward manner, although more sophisticated and interesting. But the first progressive jewel on the record comes with "Icarus - Borne on Wings of Steel". The lyrics are of course based on the ancient Greek myth, and the music is progressive Kansas at their best. From there, the album never strays away from progressive realms, perhaps with the exception of the short rocker "It's You". The impressive and complex symphonic progressive rock of "All the World" was the first Kansas song where Steinhardt had contributed to the songwriting, and he couldn't have debuted in a better way. Here he delivers mellow violin-lines along with Walsh's melodic vocals and piano, not to mention the rest of the band that really cooks on the instrumental passage. Livgren chooses to let hard rock be the main influence in his "Child of Innocence", but with a degree of sophistication and creativity that you won't find in too many hard rock bands. The melodies and riffs are really outstanding. "Mysteries and Mayhem" is in a similar vein, and would prove to be a winner in concert. After all these goodies after one another, the band finally tops themselves with the epic "The Pinnacle" that ranks as one of Livgren's best compositions. This is one of the tunes you can use to test if a person really enjoys progressive rock or not, and further proof of Kansas as the probably definitive American progressive rock band. The only thing they lacked now was a hit-song and album to give them the commercial breakthrough and success they deserved, and that was luckily just around the corner!
Kansas - "Leftoverture" (Kirshner 1976)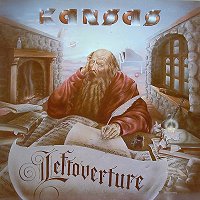 "Leftoverture" was Kansas' big breakthrough and is usually also regarded as their finest hour. And that could very well be correct too, as the band now had successfully and seamlessly fused the progressive rock style together with their American rock influences. The record opened with their signature tune and hit "Carry on Wayward Son" that was a true gem of catchy, melodic and harmonic progressive rock with sophisticatedly constructed song structures and hard rock overtones, especially in the rocking riffs. "The Wall" is one of the band's strongest melodies, and also features a sweeping and symphonic theme on violin from Steinhardt. "What's On My Mind" is the closest the LP comes to pure hard rock, but again characterized by the band's sense for strong melodies, and not just hard riffs. Some of the instrumental passages of "Miracles Out of Nowhere" and "Opus Insert" showed that Livgren finally was letting his admiration for Gentle Giant shine through, and that's of course not a bad thing at all. "Questions of My Childhood" is an upbeat and bouncing tune to set you in a good mood, and the overall bright and optimistic feel of the album is in sharp contrast to the darker themes on "Masque". The only exception is perhaps "Cheyenne Anthem", a touching symphonic progressive epic about the brutal and degenerating way that the American native population always has been treated by the authorities. The record closes on a big note with the composition that, despite its title, actually gave the album its name: "Magnum Opus". This breathtakingly complex and mostly instrumental suite was reportedly made up of several bits and pieces that had been left over from various sessions and aborted songs. Technically it's probably the most impressive performance the band ever did on vinyl, and makes a hell of a finale to Kansas' perhaps best album.
Kansas - "Point of Know Return" (Kirshner 1977)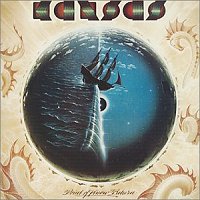 Many bands painfully experiences that getting a major-selling album and hit song also means pressure and demand from their label to turn into a more commercial direction aimed at the big masses. Kansas were obviously well aware of this, and managed to come up with a solution to the task on "Point of Know Return". Without losing any of the progressive edge and sound, the band had taken a slight turn toward shorter songs and also came up with another big hit in form of the acoustic "Dust in the Wind" that had a melody memorable enough to make it their best known tune next to "Carry On Wayward Son". The title-track is one of the best examples of commercial progressive rock that actually works, and the instrumental "The Spider" shows that a track doesn't have to be very long to still feature an impressive amount of complex chord-changes. There were also signs here that the band went back to their old fashion of more clearly separating the progressive and hard rock side of their music, evidenced by the fact that fairly straightforward rockers like "Portrait (He Knew)" and "Lightning's Hand" stands side by side with lengthy epics like "Hopelessly Human" and "Closet Chronicles", which both probably were the two last great progressive songs Kansas would record. The two styles were however fused again in "Paradox" that could have been one of the shorter songs from "Leftoverture". "Nobody's Home" is a pleasant ballad with some grandiose violin from Steinhardt, and the band also experiences with some very slight funk/disco-influences in "Sparks of the Tempest". "Point of Know Return" was the last essential studio album to come from Kansas.
Kansas - "Two for the Show" (Kirshner 1978)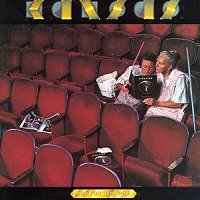 Kansas chose just the right moment in their career to release a double live-album. "Two for the Show" was recorded during the tour for "Point of Know Return", meaning that they still just had good material to choose from, and nothing of the inferior stuff on their later records. Most of the songs are performed very closely to the studio originals, although there are exceptions too. "Point of Know Return" is clearly faster, and "Song for America" is surprisingly a few minutes shorter than the original, but doesn't suffer from that at all. We're also getting an extract from the instrumental section of "Lamplight Symphony", and "Dust in the Wind" is followed by an acoustic guitar solo that goes over into a piano piece that finally turns into "Lonely Wind". The band were just as tight and good live as in studio, check the versions of "Closet Chronicles" (even not some sloppy and off-key vocals from Walsh can ruin this one), "Mysteries and Mayhem", "Icarus - Borne on Wings of Steel" and not at least "Magnum Opus" for proof. "Portrait (He Knew)" sounds heavier and more powerful here, although I personally feel the opposite unfortunately is the case with "Journey from Mariabronn". Especially Steinhardt's violin in the instrumental passage sounds a bit tamer compared to the superior studio version. But I've no problem with forgiving them for that, considering the high quality of the rest of the set. "Two for the Show" was Kansas' last essential album.
Kansas - "Monolith" (Kirshner 1979)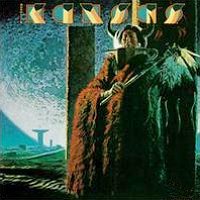 "Monolith" was the first LP from Kansas where you could sense a decrease in quality. The artwork on the cover was the most creative and thought provoking to ever grace one of their albums, but the music inside was uneven and not as progressive as before. The album starts decent enough with Livgren's "On the Other Side" that can pass as quality AOR, although not exactly on par with his best progressive epics. And he really sinks to the bottom and delivers his worst song of the 70's with the embarrassing "People of the South Wind". This is strained and blatant commercialism at its worst, and was of course selected as one of two singles released from the record. Walsh' "Angels Have Fallen" is a lot better, and surprisingly also the most progressive track on "Monolith". It would have fitted well onto any of their previous albums. "How My Soul Cries Out for You" was another tune by Walsh, and this is good, progressive hard rock that probably is one of the hardest and fastest songs that Kansas ever recorded. "A Glimpse of Home" is also one of the best on the record, being a nice combination of hard rock, melodic AOR and symphonic rock. "Away From You" maintains the classic and distinct Kansas-sound, although the song itself is an exercise in mediocrity. "Stay Out of Trouble" is a listenable rocker, although hardly fantastic or very progressive. The album closes on a quite symphonic note with Livgren's ballad "Reason to Be" that features a nice string-arrangement. Although "People of the South Wind" is the only REAL stinker here, "Monolith" still featured to many questionable elements to make it amongst Kansas' best albums.
Kansas - "Audio-Visions" (Kirshner 1980)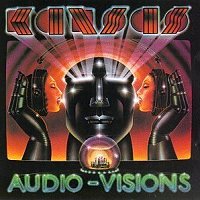 This was the last record to feature Steve Walsh in the band, and therefore also the last real Kansas album for many people (I don't count the reunion from some time back). Musically it pretty much continued what had been started with "Monolith": streamlining the band's sound into a more straightforward AOR/hard rock hybrid. The only two songs that could qualify as progressive epics on "Audio-Visions" were not surprisingly both written by Livgren, but none of them are up to his previous standards. "No One Together" sounds way too cheesy and awkward for my taste, and the idiotic chorus doesn't help much. Most of "Curtain of Iron" is mediocre, but has at least buried within it one of the best hard rock riffs that the band ever had. The less progressive songs on the album varies from decent to crappy. "Relentless" is good, hard rocking AOR, but stuff like Walsh's "Anything for You" is worthless. Another dubious fact is that Steinhardt's violin is strangely absent (or at least inaudible) on large parts of the LP. Rockers like "Loner" and "Got to Rock On" are listenable, but not very exciting or creative compared to what the band were capable of at their best in the 70's. The best-known song from the record is the hit "Hold On", and this sappy ballad makes "Dust in the Wind" sound like "Stairway to Heaven" in comparison. The increasingly Christian lyrics from Livgren were now also starting to become a bit too dominating. This was after all America's best progressive rock band, and not a bunch of pathetic and preachy "Christian rockers". The band also makes a surprising Scottish-influenced ending to "Back Door" in an attempt to add some extra spice to an otherwise bland song. If you only want the best with Kansas, get everything from the debut and up to and including "Two for the Show".
Kayak - "See See the Sun" (EMI 1973)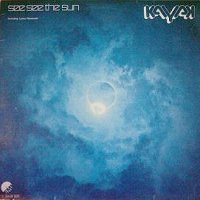 Dutch symphonic / progressive with a poppy edge. This was their first and probably best album. The opening track, "Reason for it All" has a beautiful synth theme, light vocals and harpsicord dominated instrumental parts, and this is with no doubt my favourite track of the album. It reminds in fact quite a lot of Yes. "The Cripple Ballet" has a very Genesis-sounding keyboard theme, but the vocal parts are more poppy. "Lovely Luna" is a very symphonic, mighty and beautiful track, with flute-mellotron and great vocal harmonies. "Morly Wood" and the title track is also great songs, and "Mammoth" is a quite genious symphonic progressive pop-song, while "Forever is a Lonely Thought" is a beautiful symphonic ballad. As you may understand, it`s lots of good tracks on this album, so there`s absoluteley no reason for you to not check it out.
Kayak - "Royal Bed Bouncer" (EMI 1975)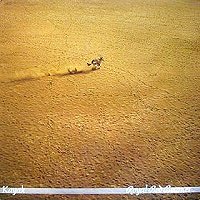 The third Kayak album and also their most popular one. They had now moved into a more Supertramp-influenced pop-progressive style, but better, tighter, more progressive and energetic than what Supertramp ever was. The songwriting and playing is of a very high class and the production is as good as it can get for an album from 1975. Catchy up-tempo tracks like "Chance for a Lifetime" and the title-track features complex arrangements and breaks, despite their obvious pop-leanings. There's also some excellent woodwind-work on several of the songs. "Bury the World" and "Said No Word" are the most progressive and complex tracks of the bunch. There are also some truly wonderful ballads here, like "Life of Gold" and "Patricia Anglaia". The latter is an instrumental-number with some word-less female vocals. "(You're So) Bizarre" is pure pop, but not without the progressive quirkiness in the arrangement. "If this is Your Welcome" has always been my personal fave from this album, simply because it's a very tight and wonderfully constructed song that perfectly demonstrates Kayak's talent for writing catchy, pop-progressive music. Overall, this album is a tad less progressive and more pop orientated than "See See the Sun" but it's just as good in terms of musical quality.
Kerrs Pink - "Kerrs Pink" (Potittskiver 1980)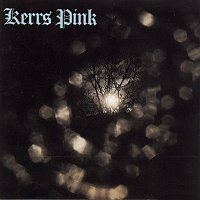 The debut-album of this Norwegian progressive group. Their sound reminds a bit of Camel, but with a unique Norwegian touch (you probably have to be Norwegian to hear that). There are several good tracks here. Mostly instrumentals, but also some vocals here and there. "Sett Dem bare ned" begins with an acoustic flute-part, while the vocal-part later is more rocking. "Pimpernelle" and "Avskjed" is both very nice and atmospheric tracks, while "Sirrus" has a quite Pink Floyd-ish part in the middle. "Parringstevet" is inspired by Norwegian folk-music, and "Hvis jeg er der neste år" is a excellent, symphonic vocal track. "Sang fra skogen" is a pleasant track with very cosy lyrics. Kerrs Pink is with no doubt one of the best Norwegian progressive bands. They write good songs and have a sound of their own.
Kestrel - "Kestrel" (Cube 1975)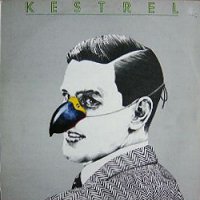 Kestrel released their album of smooth, polished and song-based mid-70's symphonic progressive rock in 1975, and then vanished completely. Not an unknown fate for many bands from the same period, but it was perhaps a bit odder with Kestrel than other groups, as their highly professional and accessible music still should have had great commercial appeal in 1975. All the songs on "Kestrel" were written by guitarist Dave Black, with the exception of "End of the Affair" that was penned by keyboardist John Cook. The songs can be, to be honest, a bit hard to distinguish from each other at first, but repeated listens will quickly solve that problem. "The Acrobat" is one of the strongest tracks, and also very representative for Kestrel's style. Cook provides a backdrop of string-synths, organ and Mellotron underneath the bright and uplifting vocal melodies of Tom Knowles. Cook also adds clavinet and el-piano to the instrumental passage, making sure to give the arrangements the needed degree of variety. "Wind Cloud" is a lush ballad, but "I Believe In You" goes back to the style of "The Acrobat" again. Already here it becomes apparent that the band's sound was extremely defined, and it would have been interesting to see how they would have developed it if they had stayed around long enough for another record. "Last Request" strays away from the formula a bit by having a laid-back, piano-dominated verse with a more powerful and dramatic bridge leading up to the chorus that again is unmistakeable Kestrel. They successfully attempt some slightly more complex structures in "In the War" that is far darker than the rest of the album. "Take it Away" takes the band back on "safe" ground again, although it's probably the weakest song. Cook delivers his only song on the album with "End of the Affair", a good progressive ballad with some nice melodies. The first part of "August Carol" is yet another ultra-typical Kestrel-sounding song, but climaxes into a majestic Mellotron-theme to die for, and brings a superb finale to this forgotten minor classic.
Khan - "Space Shanty" (Deram 1972)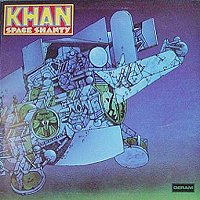 Khan was the second band of Steve Hillage (he had actually played in a very early incarnation of Egg), and their first and only album "Space Shanty" also featured Dave Stewart on organ and piano. Musically it's absolutely superb classic early 70's progressive rock of the first class, and it's definitively one of the best records Hillage and Stewart have played on. The opening title-track is representative for the album, both in quality and style. Lengthy and complex with tons of strong melodies, riffs and very extended instrumental parts that will impress and satisfy any true progressive rock fan. Stewart's organ sound is immediately recognisable, and the addition of Hillage's guitar work gives the band a sonic range that the otherwise excellent Egg didn't have. There is a slight space-edge to some of the instrumental parts (quite natural with an album-title like this) but I still wouldn't consider the overall sound to be spacey or space rock. "Stranded (Effervescent Psychonovelty No. 5)" features a beautiful, deep organ-tone from Stewart along with sprinkling piano and a very strong vocal melody. The instrumental part burst out in a heavy riff, and an acoustic flamenco-influenced guitar solo makes a surprising appearance. This song flows right into "Mixed Up Man of the Mountains". The instrumental parts on this one has a slightly jazzier feel, with wordless vocals and lots of soloing between Hillage and Stewart. "Driving to Amsterdam" also starts a bit jazzy and turns quickly into some delicious melodies played by Hillage and Stewart simultaneously. The melody on the vocal part is perhaps the most beautiful on the whole record. The first seconds of "Stargazers" reminds a lot of Gentle Giant, and the song itself is progressive rock at its catchiest and most immediate. "Hollow Stone (Escape of the Space Pirates)" has soft and pleasant vocal passages with Stewart's dreamy organ in the background, while the more distorted side of his sound dominates the solo parts. The track ends with an incredibly grand-sounding heavy riff that creates a hell of a climax to the song. "Space Shanty" is a must-have, and it's too bad that they didn't last long enough to make more records. Honestly I prefer the style and sound here more than the bands that Hillage and Stewart later appeared in (Gong, Hatfield and the North, National Health).
King Crimson - "In the Court of the Crimson King" (Island 1969)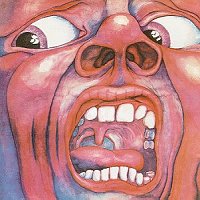 No serious progressive rock fan can be without at least four or five King Crimson-albums in his collection. While their output not always was the most even one, they were undoubtedly one of the most important and influential progressive rock bands ever. They also had record in unstable line-ups and shifting personnel, but leader and guitarist Robert Fripp kept the band going, no matter how often the other members came and went. "In the Court of the Crimson King" is the definitive debut-album by a progressive rock band. There's absolutely no doubt or question about it, and it remains for me as Crimson's best album ever. The fact that I can forgive the 10 completely pointless minutes of tuning instruments in "Moonchild" gives a clue about how extremely good the rest of the album is. The legendary opener "21st Century Schizoid Man" is a heavy, complex, raw, angry and ultra energetic showcase of angry, sax-driven progressive rock. Greg Lake spits out the lyrics with a distorted effect on his voice to underline the aggression and anger in both the music and lyrics. And speaking of lyrics, let's not forget about Crimson's permanent lyricist Peter Sinfield that in my opinion wrote some of the best and most poetic lyrics in progressive rock. His lyrics may seems weird and hard to understand at first, but most people with a certain degree of fantasy will be able to understand most of his genius metaphors. The rest of the record is of a much more mellow and symphonic kind, where the mellotron creates an often-sinister carpet of sound that perfectly fits the mood of the music and lyrics. "I Talk to the Wind" is actually one of the "brightest" moments here, with a pleasant and relaxed melody that is beautifully surrounded by the flute. "Epitaph" is far darker and features one of Sinfield's best lyrics ever. Just the mellotron combined with Fripp's mellow guitar-tones on the beginning is enough to make me shiver. The two first minutes of "Moonchild" is some of the prettiest music Crimson ever recorded, but the 10 remaining minutes of it demonstrates unfortunately one of the problems with Crimson. Fripp had obviously a desire for on most albums including something so experimental and weird that it more or less lacked any musical value, and the 10 last minutes of "Moonchild" is this album's example of that. But it's still bearable to listen through it, as you know you have the fantastic title-track waiting for you afterwards. That song is simply so beautiful and majestic that it can't be described in words. Nobody had until then used the mellotron in a better, more powerful and symphonic way than this. Everything goes straight to heaven each time the chorus appears. Symphonic progressive rock can impossibly get any better than this. "In the Court of the Crimson King" is the ultimate King Crimson-record, and one of progressive rock's most magic moments.
King Crimson - "In the Wake of Poseidon" (Island 1970)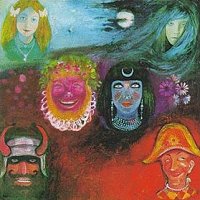 No matter how successful their debut was, King Crimson was a band close to a full break up in 1970. Most of the members from the debut had already left, but Greg Lake stayed long enough to complete the vocal-tracks for most of the songs on "In the Wake of Poseidon" before he went to join Emerson, Lake and Palmer. Among the new members of the band were keyboardist Keith Tippett and the well-known saxophonist/flutist Mel Collins. The album became structurally and musically very similar to the debut, but that album was so good that we surely can take it a second time too! "Pictures of a City" is this album's "21st Century Schizoid Man", but with a funkier sax-riff and more float in the vocal-parts. The title-track is a really beautiful, mellotron-driven symphonic progressive rock track, and sounds like a cross of "Epitaph" and the title-track from the previous record. "Cadence and Cascade" was much in the same vein as "I Talk to the Wind" but the voice of new singer Gordon Haskell made it at least sound a little bit different. The cheerful and jazzy "Cat Food" and the very sinister instrumental "The Devil's Triangle" (based on "Mars" from Gustav Holt's "The Planets") was the only tracks where the band managed to do something that they already hadn't done on the debut, and should be admired for just that. Although the original of course is better, "In the Wake of Poseidon" is never the less among King Crimson's best LP's.
Label
King Crimson - "Lizard" (Island 1970)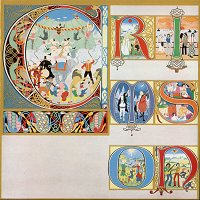 The excellent "Lizard" showed that Crimson musically moved on after the stagnation on their second album. They added a stronger jazz-element to the sound, and had now actually also written new material instead of re-writing the songs of the previous album. But the album still opened quite safe with the grandiose, mellotron-drenched "Circus" that left no doubt what band you was listening to, and a great way to open the record. "Indoor Games" was a lighter, almost pop-jazzy track with lots of good sax-work from Collins. But the most original and interesting track on the first side was undoubtedly the quirky "Happy Family". The arrangement on this track is extremely complex and chaotic, but the catchy melody of the song still makes it very structured all the way through. "Lady of the Dancing Water" is a short ballad that is a pleasant and nice song, but musically the least adventurous track on the album. The 23-minute title-track remains Crimson's only sidelong suite. Jon Anderson makes a short guest-appearance here as he sings the melodic and harmonic opening theme of the piece. The rest of the suite is largely instrumental, and includes the beautiful and very jazzy "Bolero" that gets relieved by "The Battle of Glass Tears". This part is early Crimson at their best and most typical, featuring heavy sax-riffs and lots of dramatic mellotron. "Lizard" is an exciting album of strongly jazz-influenced symphonic progressive rock that never gets into boring fusion-territory, but instead creates its own sound and style.
King Crimson - "Islands" (Island 1971)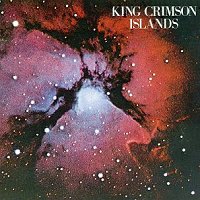 Gordon Haskell left Crimson right after the release of "Lizard" and was replaced by Boz Burrell on vocals and bass. "Islands" was the only studio-album by this line-up, and also the last to feature Peter Sinfield. It's then even sadder that "Island" is for the most time a boring and forgettable album that sounded far too fluffy and wimpy compared to their previous releases. "Formentera Lady" and the title-track are both tedious songs that drags for too long, no matter how pretty they may actually are. "The Sailor's Tale" is an instrumental that features some of the power and drama of classic Crimson, but the track doesn't have much of memorable themes. "The Letters" is probably the most interesting track here, and it also featured one of Sinfield's best lyrics. "Ladies of the Road" is an attempt at a rock song that sounds too similar to the first part of "Suite in C" from McDonald and Giles' album that was released a year earlier. And "Song of the Gulls" is a rather uninteresting orchestrated piece that dated back to Fripp's period with Giles, Giles and Fripp. Use of such old material revealed that the band had problems with writing new songs for the record. "Islands" is as a whole simply too boring and tame to be amongst Crimson's best albums.
King Crimson - "Lark's Tongues in Aspic" (Island 1973)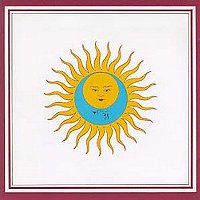 The previous Crimson line-up had broke completely up after the release of the horrible live-album "Earthbound" (a release so shitty that I don't even care for reviewing it) and Fripp was left completely on his own. He used some time to gather together a new line-up that included Bill Bruford on drums, John Wetton on vocals and bass and David Cross on violin. The first version of this line-up also included Jamie Muir on various percussions. The new Crimson played progressive rock of a kind and in a way no other band had done before them. Their new style was often based in very heavy and loud riffs built around raw and freaked-out improvisations, and sounded very refreshing after the boring fluff of "Islands". The two title-tracks are both good examples of this, and feature some of the best riffs Fripp ever wrote. But the band could also still be melodic and harmonic, as clearly demonstrated in the beautiful "Exiles". "Easy Money" is a powerful rocker complete with mellotron and a catchy vocal-riff. The only track that I don't care much for is "The Talking Drum" that mostly sounds like a pointless jam they put on the album to fill it up. But the rest remains some of the best that this version of Crimson ever did.
King Crimson - "Starless and Bible Black" (Island 1974)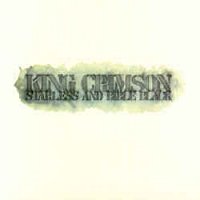 "Starless and Bible Black" continued to explore the sound and style of "Larks' Tongues in Aspic" and proved that Crimson could handle it very well, but also stretch it a bit too far on parts of the album, especially on "The Mincer" and the title-track. Both compositions sounds to me like unstructured, pointless jams and exercises in distorted sounds and experimentalism that doesn't go anywhere and fails completely to engage me in any way. Typical Crimson at their worst, but the rest of the album is fortunately of prime quality. The masterful "Fracture" is a track in the same sound and style as the two earlier mentioned ones, but with a lot more meaning as it's based in strong riffs and themes all the way through and avoid all kind of directionless and boring "improvisations" (is that actually much more than a fancy word for jamming?). The album opens with two very strong and powerful rock tracks in the form of "The Great Deceiver" and "Lament". Both songs proved Crimson's ability to play hard rock with a kind of sophistication, complexity and virtuosi few other bands could rival. And there are even a couple of improvisations here that actually works fine. First you have "We'll Let You Know" that is based around Wetton's powerful bass, and "Trio" where the mellotron, violin and guitar create some pleasant and relaxing atmospheres. The album also included the wonderful ballad "The Night Watch" that became Crimson's first single-release since "Cat Food" four years earlier. The most experimental stuff makes "Starless and Bible Black" a bit uneven, but the good stuff here is as good as Crimson ever could get.
King Crimson - "Red" (Island 1974)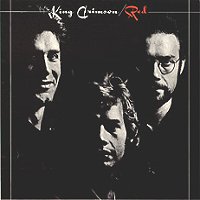 "Red" proved to be Crimson's last studio-album from the 70's and seems to be many people's favourite of the band's mid-70's period. The title-track opens the album, and is as typical for this version of Crimson as it can get, consisting of a simple but yet powerful and heavy riff that carries the track all the way through. "Fallen Angel" is a strong vocal-track with the mellotron mixed very far back in the sound on the verse, while the chorus is a far heavier and more electric thing. "One More Red Nightmare" is another prime example of how Fripp could use a very simple riff to create a really powerful and enjoyable progressive rock track. Unfortunately, the album also featured the typical "Crimson-at-its-worst" piece in form of 9 pointless minutes of random sounds and noise in "Providence". However, you'll soon forget about that, as it's followed by the perhaps greatest Crimson-song ever: "Starless" (NOT to be confused with the title-track of the previous album). This 12-minute masterpiece is probably the definitive Crimson-song as it manages to feature absolutely every side of the band's sound and personality. It starts as a slow and wonderful mellotron-drenched ballad with a beautiful main-theme. It then goes into a disharmonic instrumental-part that gradually becomes more intense and noisy before it's relieved by a powerful jam where Wetton really shows what he's good for at the bass. But the real climax doesn't appear before the very end, where the track returns the opening theme of the song, but now played really loud and heavy by the whole band. Incredible majestic and powerful, and it alone makes the album worth having.
Kingdom Come - "Journey" (Polydor 1973)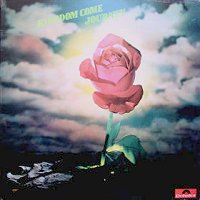 This is NOT the Led Zeppelin-clone from the 80's, but a progressive group led by the famous Arthur Brown. The group released three albums, which supposedly was quite different from each other. I don't know what the other albums sounds like, but "Journey" is an absolutely superb album of symphonic space-progressive. If you can imagine a mix of Hawkwind`s "Warrior on the Edge of Time" and Sensation's Fix' "Fragments of Light", then you got a clue about what this album sounds like. My only complaint is that the band used a drum- machine (and believe me, a drum- machine didn't sound very great in 1973!) instead of a real drummer. But the rest of the sound is totally flawless. The mellotrons simply sounds ENORMOUS on this album! Just check out fantastic tracks like "Gypsy" and "Superficial Roadblocks" and you'll hear. And as a lot of you probably already know, Arthur Brown is an awesome vocalist. Excellent album, and essential for any fan of space- progressive.
Kraftwerk - "Autobahn" (Philips 1974)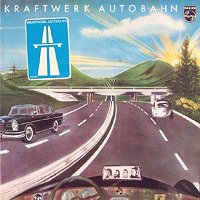 Kraftwerk started as a duo called Organisation that consisted of Ralf Hütter and Florian Schneider. After releasing just one album, they changed name to Kraftwerk and released three experimental albums that placed the duo in the category of German progressive electronic music of the early 70's. The band became a four-piece when Wolfgang Flür on electronic percussion and Klaus Roeder on guitar joined them. This line-up released Kraftwerk's artistic and commercial breakthrough with the classic "Autobahn". The 22-minute title-track became a big hit even in America when it was released in edited form as a single, and that was quite an achievement for a song with German vocals. But it's of course only the full-length version on the album that really matters. The track featured some of Kraftwerk's finest themes, built around sequenced electronic rhythm patterns. Schneider's atmospheric flute gives some passages an almost otherworldly feel, but he would unfortunately stop using it after this album. The band also used the electronic equipment to imitate the sounds of speeding cars along the Autobahn, and this experimentation was taken even further on the completely instrumental second side of the record. The 12-minute, two-part "Kometenmelodie" featured lots of spacey sounds that illustrated flying comets, especially on the first part. The theme from the first part had evolved completely in the second part, and should be counted as yet another classic Kraftwerk-theme. It was also released on single as "Comet Melody 2". The gloomy and sinister "Mitternacht" lives up to its name, which means "Midnight". The rural "Morgenspaziergang" featured lots of electronic imitations of birds and running water, with a simple and repetitive melody played on flute. "Autobahn" remains one of the best and most memorable electronic progressive album made in the 70's, but their later records moved toward electro-pop.
Krokodil - "An Invisible World Revealed" (Liberty 1971)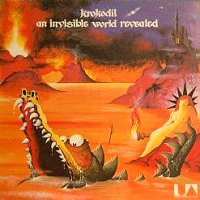 The third album is the one to get by this Swiss four-piece. "An Invisible..." is a highly original album that can be described as psychedelic heavy-progressive with some eastern influences and dominated by the rather unusual combination of Mellotron and bluesy harmonica! The album includes two complex 15-minute tracks that demonstrates and capsules the very original style and sound of the album very well. Lots of Mellotron, harmonica, flute, hard rocking guitar work and even some sitar. The performance of the material is very fresh and energetic. Like it or not, but this stuff is actually much more progressive in the true sense of the word than what your average Yes/Genesis- influenced progressive rock band ever will be. "Lady of Attraction" is probably the best of the shorter tracks and is a little bit more acoustic and laid-back than the rest of the album. The Mellotron and harmonica reaches heavenly heights at the end of this track. "An Invisible World Revealed" was Krokodil's masterpiece and should be in every 70's progressive rock collection.
Kyrie Eleison - "The Fountain Beyond the Sunrise" (Merlin 1976)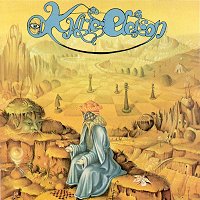 There is little classic progressive rock is overflowing more with than Genesis-clones. Many of them are mostly uninteresting, while some are pretty good and a very few of them are essential. Kyrie Eleison from Austria definitively belonged to the latter category, and gets my vote as the best Genesis-clone ever. Their album "The Fountain Beyond the Sunrise" took absolutely everything that was great about the classic Genesis-sound at its peak and used it over four long, complex and marvellously strong and well-composed tracks. The band's instrumental abilities were great, and their sound is powerful with lots of depth and punch, despite a somewhat murky production. Their singer Michael Schubert managed to pull off Peter Gabriel's voice very convincingly, but keyboardist Gerald Krampl is the one who impresses me most here. His organ, Mellotron and synths had the same delightful feel as Tony Bank's best arrangements. The opener "Out of the Dimension" sets the tone very well for the rest of the album: strong melodies, lengthy and complex song-structures, lots of tasteful keyboard work from our man Krampl in addition to powerful playing from the rest of the band. In the 14-minute multi-part title-track, Schubert also shows that he very well could do the theatrical vocal twists that were so typical for Gabriel (like in "Get 'Em Out by Friday" for example). "Forgotten Words" is with its eight minutes and forty seconds the shortest track, but yet another great showcase of the band's sense for melodies and dynamic structures. The nearly 17-minute "Lenny" is packed to the rim with excellent ideas and great hooks. It's actually surprising how such a complex and long piece can be so immediately catchy. I can hardly find a bad thing to say about this album. Kyrie Eleison were for Genesis what Starcastle were for Yes: a clone so good and convincing that you in an inattentive moment could forget that it's actually not the real thing you're listening to! "The Fountain Beyond the Sunrise" would turn out to be Kyrie Eleison's only release, but it alone still crapped most other Genesis-clones altogether.
Label