-L-
Latte E Miele - "Passio Secundum Mattheum" (Polydor 1972)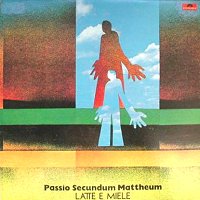 Latte E Miele was along with Le Orme the best-known symphonic progressive rock trio to come from Italy. Their debut "Passio Secundum Mattheum" is often considered to be their best, and was a concept album about some biblical and Jesus-related crap (for once, I'm glad that I don't understand much of the Italian language). But the music is good, and the band managed to make a very grandiose and impressive sound for being only a three-piece. The variation on the album is also quite impressive: the powerful and symphonic sound of "Indroduzione", the rhythmic energy of "I Testimoni", the pure beauty of "Getzemani" and "Il Pianto", the raw aggression of "Giuda", the sinister "Il Calvario" - this album has most of the elements you'll except from a good progressive rock work. The arrangements included choirs, church-organ and lots of very nice and tasty synth-work from keyboardist Oliviero Lacagnina. The vocals vary from narrative to beautifully melodic and emotional in the best Italian tradition. Another interesting thing about this album is that it mostly doesn't feature any bass at all.
Latte E Miele - "Papillon" (Polydor 1973)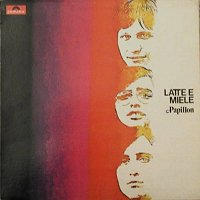 The second album replaced some of the grandiose and rock opera-like feel of the debut with a more traditional, and clearly ELP-influenced progressive rock sound. But musically, it's just as good. The title-track is a 20-minute suite with many fine melodies, and Lacagnina was not afraid to show that he had listened a lot to Keith Emerson this time. The track also features some orchestrated passages, but it still sounded a bit more modest and less ambitious than "Passio Secundum Mattheum". This song was undoubtedly one of the highlights of Latte E Miele's career. Most of the second side was taken up by an adaptation of Beethoven's "Patetique". Latte E Miele chose to do a more experimental and unconventional version of the piece, than what Capsicum Red did on their album "Appunti Per Un 'Idea Fissa". The influence from Keith Emerson again shines through, both in the playing and in the way the piece has been changed. Recommended.
Latte E Miele - "Aquile e Scoiattoli" (Subteranea 1976)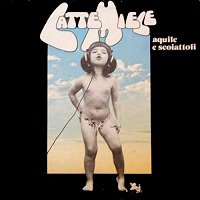 Latte E Miele's third and final album was recorded almost by a completely different band, as drummer Alfio Vitanza was the only remaining original member. The band had also expanded to a four-piece. The only album by this line-up was just as good as the two first ones. It opens nice with the acoustic and folky title-track. "Vacche Sacre" is an excellent and very catchy progressive rock song with lots of great organ and Mellotron. "Menestrello" is a more relaxed and beautiful track, typical Italian progressive at its best. The rest of the album is very classical influenced. First you get an adaptation of Beethoven's "Opera 21". Very nicely played, but probably the least interesting moment on the album. The 23-minute instrumental track "Pavana" that takes up all of side 2 is much better. This is classical influenced progressive rock of the highest class. The track has a relaxed and atmospheric pace all the way through, and the strong melodies make sure that the listener never loses interest. Great stuff.
The Load - "Praise the Load" (Owl 1976)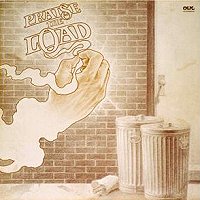 American progressive rock trio consisting of keyboards, drums and bass (what else?). The album opens very good with the instrumental track "Fandango". As the title suggests, the track has a quite Spanish feel to it. Very fresh, energetic and keyboard-dominated progressive the way we like it. "Flyaway" is on the other hand a rather boring and uninteresting vocal-track. The third track is an adaptation of the third movement of Bach's "Brandenburg". Not bad, but personally I don't find it too interesting. "Dave's 'A' Song" is quite catchy and energetic but not fantastic. "The Betrayal" is a vocal-track and a nice progressive rock track. The album ends with a version of "The William Tell Overture". As you might expect, the theme is just played straight-forward, but with a progressive rock arrangement. Overall, the album is listenable and the band had good instrumental skills, but it's not a classic.
Locanda Delle Fate - "Forse Le Lucciole Non Si Amano Piu" (Polydor 1977)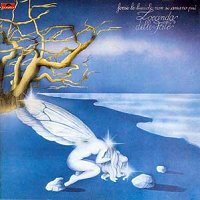 VERY highly acclaimed Italian progressive from the late 70's. Locanda Delle Fate played a quite soft and relaxed kind of progressive, but the complexity of their songs is really breathtaking. Just check out the title- track. There are time- changes nearly all the time, but the track hangs amazingly well together all the way through. The same goes for the rest of the album too. The tracks are extremely carefully written and constructed. The arrangements are tasteful with lots of piano, flute and guitar. Their sound reminds me a little bit of Maxophone, but most of the time they sounds like none other than themselves. My personal favourite on the album is "Vendesi Saggezza". It's quite amazing how the band manages to get SO many beautiful themes and melodies pressed into a 9-minute track. Not my favourite album of the Italian progressive rock scene (that award goes probably to Il Balletto Di Bronzo's "Ys"), but a true classic anyway.
Ralph Lundsten - "Nordisk Natursymfoni Nr. 1: Strömkarlen" (HMV 1973)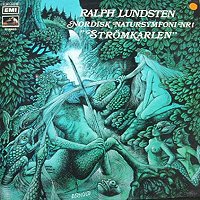 Swedish composer Ralph Lundsten became famous in his homeland during the 70's with his highly experimental and atmospheric electronic progressive tone poems. "Strömkarlen" was the first of his "Nordiska Natursymfonier", a series of works inspired by Nordic nature and fairytales. The 10-minute opener "Näcken och den Nedförda Jungfrun" is very representative for both the album and Lundsten's music from the 70's. General sounds from nature and the woods (flowing water, birds and other animals) are mixed with Lundsten's warm and shimmering electronic sounds. "I Landet Längesen" represents Lundsten at his very best, conjuring up mystical and dreamy atmospheres just by using some stripped down electronic sounds. His compositional style often bordered on minimalism, but "Upptåg i Sommarhagen" showed that he also could handle richer and more complex arrangements. This track also featured some krumhorn, an instrument that automatically makes me think of Gryphon. "Bäckahästpolka" consists only of several overdubbed flutes, while "Älvaspel" starts with lots of fingerplayed strings before it goes into more familiar electronic territory again. "Strömkarlen" is definitively not for everyone, but fans of early electronic sounds and 70's electronic progressive music will surely find some interest in it.
Ralph Lundsten - "Shangri-la" (HMV 1975)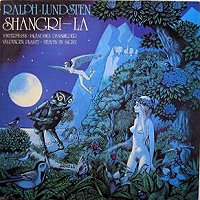 Unlike most of Lundsten's other works, "Shangri-la" wasn't a concept-album. The tracks on the album had instead a theme each of their own, making it a bit more varied in mood than what Lundsten's records usually were. The title-track shows him from his best side, consisting of simple and hypnotic chords enveloped by dreamy chorales and droning, spacey electronic sounds. The warm and comforting atmosphere of this track is quite the opposite of the chilling, cold and freezing feeling created by the humming and monotonous sounds of the four-part suite "Vintermusik". These sounds gradually evolve into something that sounds like distorted bells and chimes, meant to give association to Christmas. The second side opens with the three-part "Heaven by Night". This futuristic suite features some percussion, making it a lot more rhythmic than the rest of the record. The mid-part called "Robbie is Dancing the Waltz" gives a rare glimpse of Lundsten's humour, although many will probably find it way too cheesy. The sinisterly titled "Våldtagen Planet" starts bright enough with sounds of birds and nature, but goes quickly into some rather dark and creepy electronic sounds that create images of a dead and thrashed planet. The short two-part "Isländska Dansbilder" starts with "I Havsfruns Rike" that sounds like something Tangerine Dream could have done at the same time. "Till en Sädesärla" is mostly an improvised flute-piece. "Shangri-la" is a varied and interesting record of experimental, mid-70's electronic progressive music, but Lundsten's best work would come later the same year.
Ralph Lundsten - "Nordisk Natursymfoni Nr. 2: Johannes och Huldran" (Odeon 1975)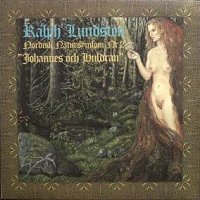 The second instalment in the "Nordiska Natursymfonier" series is undoubtedly the finest album by Lundsten I've heard. It perfectly captures the atmosphere and mysticism of the forest. Most of the tracks were just as those on "Strömkarlen" based in Lundsten's electronic sounds mixed with sounds from nature, but now better and more mature. A track like "Oväder" at first listen may sound just likes another bunch of random experimental electronic sounds, but repeated listens reveals that it's based in a very structured theme. "Fågelsträck" is a very accurate musical description of birds in flight, while tracks like "Skogen Vaknar", "I Drömmernas År" and "Den Förtrollade Skogen" are dreamy soundscapes that creates images of deep and mystical forests in the listener's mind. "Den Ystra Kärleksjakten" combines Lundsten's typically weird sounds with laugther that finally leads up to a few chords from the wedding march. "Äktenskapsdansen" is musically quite similar to "Upptåg I Sommarhagen" from "Strömkarlen", and is a lot more cheerful and "upbeat" than the rest of the record. "Huldran Kallar I Sommarnatten" has a floating, almost inaudible chorale in the bottom with electronic sounds upon that illustrate Huldran's voice in the summer night. The sorrowful end of the story demands of course a somewhat darker atmosphere toward the end of the album, and we get just that in "Och Det Blev Höst" and the almost spacey "Begravning". But the mood actually gets a little brighter again in the closer "Lovsång" that features lots of organ. If you want to check out some of Ralph Lundsten's atmospheric music, be sure that "Johannes och Huldran" is the album you start with.
Label
Ralph Lundsten - "Cosmic Love" (Harvest 1976)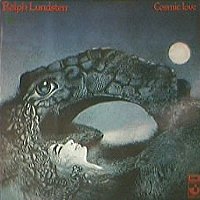 By the mid-70's, artists like Tangerine Dream and Jean-Michel Jarre had proved that even electronic progressive music could be highly profitable, and it was no surprise that also Lundsten attempted to launch an international career. His first try came with the compilation "Cosmic Love" released on Harvest and consisting of selections from his Swedish albums. The titles had of course been translated (often clumsily and badly) into English. "Näcken och Den Nedförda Jungfrun" had became "The Neck and the Virgin" to mention one example. The other selections from "Strömkarlen" and "Johannes och Huldran" did little else than prove that these tracks worked better in their original setting on the albums than on a compilation. The title-track combined lots of experimental and spacey sounds with a couple having sex(!) and the track evolved into a more rhythmical part toward the end. There are also a couple of examples of Lundsten at his absolutely weirdest here. "Midnight Hour" is mostly just a collage of sounds of tolling bells and squeaking doors, creating a sinister atmosphere. And "Ode to a Lost Soul" is several minutes of a monotonous electronic tone upon the sounds of a heartbeat. "Shangri-La" is represented here with its title-track. The closer "Amen" is a nice chorale from Lundsten's very religious "Fadervår" album from 1972. "Cosmic Love" gave people outside Sweden a chance to hear what Lundsten was all about, but his compositional style would prove to be too experimental and inaccessible to appeal to the large mainstream audience.