-M-
Machiavel - "Jester" (EMI 1976)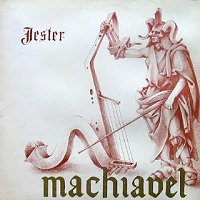 Very solid, complex and melodic symphonic progressive rock from Belgium. "Jester" was Machiavel's second album and one of their classic releases. The music is lush and atmospheric with tons of excellent guitar and keyboard-work (string synths, Mellotron, moog and el-piano) and it sounds very typical late 70's European symphonic progressive rock. Their main influence seemed to be Genesis, but they also mix in some very Supertramp-like el-piano on the more catchy and up-tempo parts of the tracks. For some strange reason they have placed the only weak track first on the album. "Wisdom" is a kind of a non-existing track and sounds partly like some boring neo-progressive crap. But you shouldn't let that scare you off, as the rest of the album is really excellent. The title-track demonstrates all the sides of the group very well. Beautiful, symphonic and atmospheric instrumental-parts stand side by side with catchy vocal-parts that just stick to your brain. "Sparkling Jaw" and "In the Reign of Queen Pollution" are other examples of this combination, while "Mr. Street Fair" is a more pure symphonic track. With the exception of "Wisdom", this is a great album and recommended to all fans of symphonic progressive.
Machiavel - "Mechanical Moonbeams" (EMI 1978)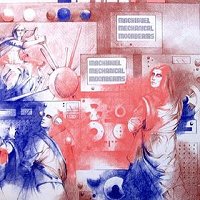 Machiavel's third and last progressive album turned out to be another of the few classics of symphonic progressive rock from Belgium. Most of the Supertramp-tendencies of "Jester" were gone, and the band experimented instead with some rock'n'roll-elements on several passages and it fits surprisingly well into their otherwise traditional and complex symphonic progressive rock. The last part of "After the Crop" is one of the VERY few places on an album where you can hear the Mellotron playing a hard-rock riff! "Summon Up Your Strength" is the other example of this on the album. The rest of the album consists of real high-class, complex and melodic symphonic progressive rock stuffed with great synth and Mellotron-work. The only really straightforward track here is the heavenly beautiful ballad "Rope Dancer". Other tracks like "Beyond the Silence", "Rebirth" and the closing number "The Fifth Season" are all impossible to dislike if you're into this kind of progressive rock. "Jester" and this album are among the best progressive rock-releases of the late 70's, so you should of course get both. The rest of Machiavel's albums are not very interesting from a progressive point of view.
Madison Dyke - "Zeitmaschine" (Racket 1977)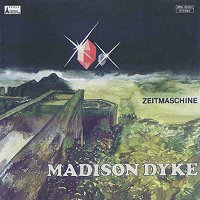 Despite the German title of Madison Dyke's only album, all their lyrics were sung in English by flutist Burkhard Rittler who also was credited with Mellotron, although I personally can't hear any of it on the record. What you sure can hear plenty of is lots of those very typical German-sounding string-synths that were one of the most important trademarks for many German symphonic progressive rock bands. Their main keyboardist Jürgen Baumann (apparently no connection with the Baumann of Tangerine Dream fame) also handled guitars and vocals, but the band also included a main guitarist in Andreas Nedde. "Zeitmaschine" means "time machine", and with a title like that, the strong sci-fi feel of the water colour cover art and lots of the earlier mentioned German arrangements you would probably expect some progressive rock of the spacey kind. And sure enough, such tendencies are present here, especially on the opening of "First Step" that is loaded with string-synths reminiscent of Novalis' "Sommerabend" and the beautiful keyboard-theme at the ending of the 16-minute title-track. But Madison Dyke also took influences from outside their country too, as Rittler's flute often adds a Jethro Tull feel, and some of the heavier parts can actually remind slightly of Black Sabbath, although the band definitively remained a symphonic progressive rock group. The material is quite complex and ambitious, and "First Step" is probably the one that best demonstrates all the different sides of the band. By the way, Burkard Engel's bass drum on the opening is more or less identical to Jürgen Rostenhal's from Eloy's "Lost!??!", but more or less every German progressive rock band who sprung up around this time were, in a way or another, influenced by Eloy, so that's not meant as a criticism from my side. The acoustic "Cooking Time of an Egg" has a nice flute-melody, and "Next Conceptions" is best described as complex and sophisticated hard rock with lots of synths and flute. But it's the earlier mentioned "First Step" and the side-long title-track that are the most progressive tracks here, both being well-written and arranged with enough chord-changes and good themes to keep me satisfied. Weak points? Well, Rittler's vocals are never more than decent, and the murky production tends to obscure and muffle the drums and Robert Krause's bass a bit. But compositionally, "Zeitmaschine" is a thoroughly solid effort.
Label
Magma - "Mekanïk Destruktïw Kommandöh" (A&M 1973)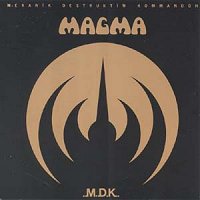 Magma from France were one of the leading Zeuhl-bands and lead by Christian Vander. Their albums were all based around a concept that told about a planet called Kobaia, and all the lyrics were sung in Kobaian (a language invented by the band themselves!). Musically, most of their albums are supposed to be in a fusion-vein, but their 3rd and most regarded album "Mekanïk Destruktïw Kommandöh" is not fusion at all. The whole album consists of a continuous suite in 7 parts that sounds like absolutely no other progressive rock band. The piece is strongly dominated by a 5-member choir who are singing more or less uninterrupted through the whole album. The rest of the arrangements consist of percussion, organ, piano, bass and various wind-instruments. But the choir remains the most visible part in the sound of this album. The melody-lines are often repetitive and have several memorable "hooks" (if you can use such an expression about this kind of music). The lyrics are of course impossible to understand as they're all sung in the earlier mentioned Kobaian language. Many prog-fans regard this as a classic masterpiece, and I'll have to agree that this is a fascinating listen for a while. However, I must also admit that I've usually had enough of it when I've listened through the first side. The choir is very impressive, but it also makes the album quite monotonous in the long run as they NEVER shut up. There's several fine and nice piano/organ interludes here, and the album would have worked better in my ears if the choir had rested for a while and instead let other instruments have the dominating role on at least some passages. So my conclusion and opinion about "Mekanïk Destruktïw Kommandöh" is that it's a fascinating and unique listen, but the lack of variation in the sound and mood makes me loose my interest before the album has ended.
Mainhorse - "Mainhorse" (Polydor 1971)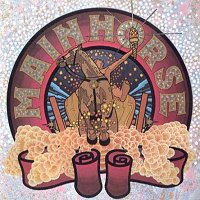 This was one of the very first bands with Patrick Moraz, the Swiss keyboard-wizard that later would join Refugee, Yes and finally The Moody Blues. The one and only album of Mainhorse is very typical, rough edged early 70's prog dominated by Hammond-organ and aggressive guitar playing. They also used some strings that gave the music some symphonic tendencies on a couple of tracks. "Introduction" and "Such a Beautiful Day" seems to be two very typical Mainhorse tracks. Powerful with Moraz' excellent organ-playing in front and the vocal-melodies sometimes takes some unexpected turns. Moraz' playing is mostly rocking and almost bluesy on some passages, but he also turns out some clearly classical-influenced melodies. "Pale Sky" is basically a melodic and symphonic track with a long, experimental and percussion-dominated instrumental-break in the middle. "Basia" and the epic "God" is maybe the most ultra-progressive tracks here, while "Passing Years" is a nice, simple and symphonic song. "More Tea Vicar" is an atmospheric instrumental-theme with a cool early 70's atmosphere and with some glockenspiel played by Moraz. A good listen for anyone into early 70's progressive rock.
Mandalaband - "Mandalaband" (Chrysalis 1975)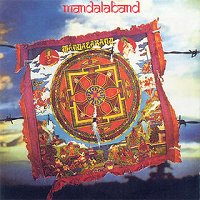 This group were a project launched by a producer named David Rohl. But because of different circumstances, he was not involved in the recording of the group's first album. But he had written all the material on the album, which for the most part is excellent. It opens with a 20-minute piece called "Om Mani Padme Hum". A VERY symphonic track with choirs, orchestral-sounding keyboards and very beautiful themes. The last movement of the piece is especially powerful with some real intense guitar.. The best of the four remaining songs is with no doubt "Roof of the World". Very powerful and effective. "Song for a King" is quite beautiful, and gave a clue about the next album from the band. A great album.
Mandalaband - "The Eye of Wendor" (Chrysalis 1978)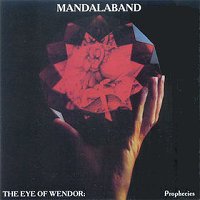 The whole line-up from the first album were gone, and this album consisted of David Rohl himself with the help of Barclay James Harvest, 10cc, Justin Hayward and Maddy Prior. This album had a strongly Tolkien inspired concept about a fairy-tale land called Wendor. And as most fairy-tale lands, Wendor had magicians, kings and queens, brave princes and evil witches. The music can best be described as symphonic pop-progressive at its very best. The instrumental title-track opens the album, and it sounds incredibly beautiful and symphonic. It got both a harmonica and a real orchestra. A more rocking part appears at the end, before the whole track is being faded out with some really dreaming mellotron. I have very special feelings for this track, because it was used as the theme for a Norwegian TV-series I just loved as a kid (it was called "Brødrene Dal"). The fairy-tale feel is very clear all the way through the album. Other highlights includes the instrumental "Ride to the City", "Like the Wind" (Maddy Prior sings like a Goddess!), "Dawn of a New Day" (Justin Hayward as the nice prince), the very mighty "Departure from Carthilias" and "Elsethea". The original plan was to make two more albums about Wendor, but the plans did sadly never become reality. But you can get THIS album, and that's definitively something you should do!
Label
Maneige - "Maneige" (Harvest 1975)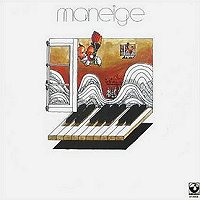 Maneige were next to Harmonium probably the progressive rock band from Québec that best succeeded in creating their own distinctive progressive sound. The band consisted of highly skilled and classically trained musicians with sense for complex music and beautiful melodies. They played a kind of instrumental progressive rock where the main ingredients were Alain Bergeron's ever-present melodic flute, brothers Jerome and Vincent Langlois' keyboards and a wide array of percussions from drummer Gilles Schetagne. Their self-titled first album is indeed very ambitious for being a debut, and features some of their most demanding and least accessible material. That is not to say that the band's distinctive style isn't recognizable here, as it sure is, but the compositional style is more experimental with longer tracks than on their two best-known albums a couple of years later. The 21-minute "Le Rafiot" occupies the first side, and remains probably the band's most complex piece. It opens with some minutes of experimental sounds that border on avant-garde, but enters far more melodic and harmonic realms as soon as the piano and flute make their first appearances. The themes and melodies never stay the same for long during the entire piece, shifting focus all the time and making lots of listens necessary before you're really able to pick up the many strong melodies it has to offer. The piano and flute are the main instruments here, but bassist Yves Léonard and Schetagne's percussions are also important for the total sound. Guitarist Denis Lapierre's contributions to the piece are mainly limited to a few fuzzed chords that would prove to be rather unusual for him. "Le Rafiot" is a fascinating musical journey that takes some time to get into, but that only makes it more rewarding. The second side is made up of three tracks with pretty much the same degree of complexity despite their shorter length, but slightly more upbeat and a bit closer to the band's later material. "Une Année Sans Fin" features the flute and the xylophone playing many of the melodies simultaneously, something that would be one of the band's trademarks. "Jean-Jacques" is the most immediately accessible track on the record, also having some of its very best melodies with detectable classical influences. "Galerie III" is jazzier in approach, also featuring some free-form passages and a rather rare appearance of a few vocals in Maneige's music. The track evolves however into more melodic territory after a while, featuring Lapierre's most prominent guitar-work on the album before ending in the same experimental sounds that opened "Le Rafiot". Maneige were easily one of Québec's finest progressive rock acts, and as this debut proves, also one of the most original ones.
Maneige - "Les Porches" (Harvest 1975)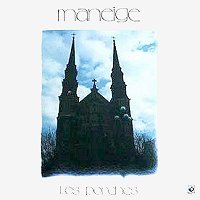 Maneige's second album followed surprisingly quickly a short time later the same year as their debut. "Les Porches" showed that they hadn't lowered their ambitions, and was another solid slice of challenging and quite unique progressive rock. The 19-minute "Les Porches de Notre-Dame" dominates the first side. This multi-part suite starts with a very mellow and low-key overture with clarinet, glockenspiel and Bergeron's melodic flute as the only instruments. Three other segments then follow it where piano, flute, guitar and bells play some wonderful and atmospheric melodies. These starts to slowly build up to a very emotional finale with some lyrics sung by guest Raoul Duguay, and this is undoubtedly the best of the VERY few vocal passages that can be found in Maneige's music. The whole band then kicks in and closes the suite with an intense jam where trumpet, saxophone and guitar fights for the solo spot. After this, side 1 is closed with the short and very symphonic "La Grosse Torche" that features some strings and pointed partly forward to the next album. Most of the second side is taken up by the 15-minute "Les Adventures de Saxinette et Clarophone" where the band's influences from jazz shines clearly through. It's also much more upbeat than the first side, and demonstrates the band's extensive use of various percussive instruments, such as xylophone, vibes and bongos. The very last part of the suite reminds me slightly of the French band Carpe Diem. The album closes with the two-part "Chromo" that is close to avant-garde with some weird twists and turns where the flute again takes the leading role. "Les Porches" is a strong and exciting album, but turned out to be the last one from this incarnation of Maneige.
Maneige - "Ni Vent...Ni Nouvelle" (Polydor 1977)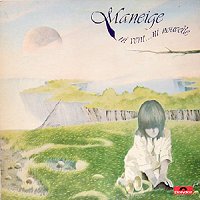 Guitarist, keyboardist and clarinet player Jèrome Langlois left Maneige after "Les Porches" and the band chose to not replace him. They did however get percussionist Paul Picard into the band, who surprisingly had been a member of the group prior to the two first albums. This line-up made Maneige's best and most popular albums, starting with "Ni Vent...Ni Nouvelle". They went for shorter and tighter tunes here, but still with a breathtaking degree of complexity incorporated in each of the ten compositions that made up the album. They had also hired a small string-ensemble to make the sound even grander and more symphonic. Influences from other bands were a bit clearer here than on the debut and "Les Porches". Tracks like "La Fin De L'Histoire" and "Le Gros Roux" perfectly fuses Camel and Gentle Giant. Bergeron's melodic and rural flute work is mixed with jazzy elements of a rather urban character in "Au Clair De La Prune". The following track "11 Julliet" has much of the same structure, but with a harder edge. "Douce-Amere" starts with a jazzy part where the xylophone plays a complex melody before the track turns into a mighty chorale and ends with some fine guitar work from Vincent Langlois. The short "Time Square" sounds almost like something from a Broadway musical. The far more complex and challenging "Les Folleries" starts with a melody played on flute and piano and then turns into a percussive and rhythmical jazzy jam with lots of saxophone before it all builds up to an irresistible groove that finally ends in a rather typical Maneige-theme, played on flute and xylophone simultaneously. "Les Epinettes" is perhaps the most grandiose and symphonic moment on the whole album, consisting mostly of flute, piano and strings playing a really beautiful melody. "Manbo Chant" should also be mentioned for its wonderful airy arrangement and melody. "Ni Vent...Ni Nouvelle" offers a unique brand of instrumental symphonic progressive rock with a strong jazzy influence, and comes recommended for all fans of high quality 70's progressive rock.
Maneige - "Libre Service - Self Service" (Polydor 1978)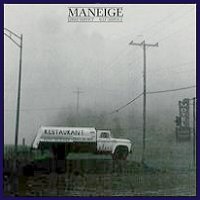 "Libre Service - Self Service" was Maneige's commercially most successful album. The sharper and edgier production gave a more contemporary sound to tracks like "Troizix", "Les Péntoncles" and "La Belle et la Bête" and the symphonic side of their sound was toned down to make the percussive elements a bit more apparent. But despite this, most of the musical key-ingredients from "Ni Vent...Ni Nouvelle" were still intact. Consisting of complex, well written and quirky pieces dominated by beautiful melodies played in the band's trademark flute/xylophone fashion, the album is every inch as good as the previous one. "Célébration" and "Miro Vibro" has to be two of the most beautiful pieces the band ever wrote, and equals even the best Camel. They also added a Latin flavour in tunes like "L'Envol des Singes Latins" and "Toujours Trop Tard". The latter features some razor-sharp guitar work from Denis LaPierre. "Bagdad" mixes the Maneige sound with some eastern influences; while the earlier mentioned "Les Péntoncles" have an irresistible catchy theme along with sweeping synths and the atmospheric flute. And "La Noce" is no less than a little masterpiece of complex, flute-driven progressive rock. "Ni Vent...Ni Nouvelle" and "Libre Service - Self Service" are for most fans Maneige's best and most accessible albums.
Maneige - "Composite" (Polydor 1979)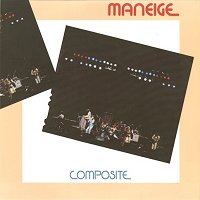 "Composite" is more than just an ordinary live-album, as 3/4 of the material was brand new and never performed on any other record. The only familiar tracks here are "Toujours Trop Tard" and "Douche Amère". Both are rather faithful to the studio originals, but slightly faster and with no attempt at recreating the vocal harmonies of the latter one. A slight drop in quality can be sensed in some of the new material, especially in the opener "L'Éveil et I'Approche" and "Cancan" where the band started to stray closer to more average, slicker and generic jazz rock-territory with Latin overtones. But several of the new tunes were quite superb too, especially "Un Certain Regard" that alternates between a classic Maneige melody and one of the band's most infectious riffs. The short "Ètrange Hiver" also showed that the band still had their sense for writing a good and memorable melody. "Bullfrog Dance" includes some quite hard rocking passages among the more melodic flute-based ones, and Lapierre shows himself from a more aggressive side here than on the more polished studio albums. "Max the Whale" is mostly a showcase for drummer Schetagne (what's this thing about naming drum-solos after animals, and especially whales?) but also includes some intense and great playing from the whole band at the end. "Composite" as a whole is not quite on the same level as the previous records, but still well worth a listen. Schetagne left the band after this album, making it not only their last 70's album but also the last one from the classic incarnation of the group.
Manfred Mann's Earth Band - "Solar Fire" (Bronze 1974)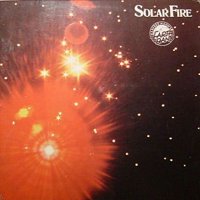 South African-born keyboardist Manfred Mann were already something of a veteran in the British pop and rock scene when he formed the band that most of you will associate with him: Manfred Mann's Earth Band. Musically they varied from commercial pop (often in the form of cover-versions), typical 70's rock and finally but not at least, progressive rock. The only really essential album they ever released was their fourth one, "Solar Fire", but it's definitively a classic when it comes to easy accessible and - to a certain degree - "commercial" 70's progressive rock. The record had a concept about space and the universe in general, and they got this idea after they got their first hit with the excellent "Joybringer" (unfortunately not included on the album) that was based on a theme from "Jupiter" from Gustav Holst's "The Planets". The opener on the album managed to transform Bob Dylan's (yuck!) "Father of Day, Father of Night" into a fantastic, 9-minute Mellotron-drenched symphonic progressive rock goodie, and stands as the best cover-versions they ever did. All the rest of the album was self-penned, and the space concept carefully held the entire album well together, despite the varying styles and moods of the songs. "In the Beginning, Darkness" and the title-track were both strong, spacey rockers while the instrumental "Pluto the Dog" was a showcase for Mann's superb Moog-work (Mann were actually one of the best and most creative players on this keyboard). "Saturn, Lord of the Ring" was a lengthier instrumental number, with a very striking dialogue between Mann's Moog and Mick Rogers' guitar at the end. The two-part "Earth, the Circle" (the two parts are for some unknown reason placed in the wrong order) combines Gentle Giant and Yes in an interesting way. Of all the records that Manfred Mann has been involved in (and that's quite a lot), "Solar Fire" is definitively the one to have.
Label
Marsupilami - "Marsupilami" (Transatlantic 1970)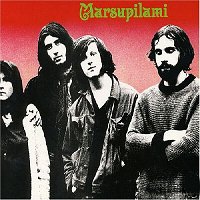 Marsupilami were next to Gryphon the best band on Transatlantic. They played progressive rock with impressively advanced song structures for its time. With the exception of Genesis, King Crimson, Gentle Giant and some others, few bands surpassed Marsupilami when it came to complexity in 1970 (Yes hadn't even figured out how to write 10-minute long epics yet). The 11-minute instrumental "Ad Initio Ab Finem (The Opera)" is a striking example of their sound and style. The arrangements are full of organ, guitar and melodic flute. The themes, melodies and riffs are creative and inspired, just like the playing. There are lots of interesting details and unexpected twists in all of the 5 long tracks on the album. The closer "Facilis Descencus Averni" (both tracks on side 2 had Latin titles) starts with a theme that is repeated by the flute afterwards, but now played intentionally out of tune. The drummer often had a quite intense and furious style of playing, just check parts of the opener "Dorian Deep" and the swinging and upbeat instrumental passages of "Born to be Free". There is also some occasional use of harmonica here, something that makes me think of Subject Esq.'s album. "And the Eagle Chased the Dove to its Ruin" is the most vocal oriented song on the record, but still maintains the complex song structures that dominates the other tracks on this strong and convincing debut.
Marsupilami - "Arena" (Transatlantic 1971)
Marsupilami followed up their excellent debut with this ambitious concept album about the extremely brutal and sadistic culture of ancient Rome. They had now also got an additional member on flute and saxophone, while keyboardist Leary Hasson (probably vocalist Fred Hasson's brother) had expanded his set of equipment to include Mellotron and el-piano beside the organ and piano, something that made their sound even better. Producer Peter Bardens also contributed with some percussion. The opener "Prelude to the Arena" opens with some vibrating organ sounds that leads right into a surprisingly heavy part with screaming and partly narrative vocals from Hasson, followed by wild drumming and guitar. But it quickly slows down to a melodic and harmonic part before a beautiful theme played on flute appears, and here we also hear the first tones of the holy Mellotron. The song then goes into a fast and catchy vocal part followed by a solo on el-piano and finally ends with the opening riff again. This is classic 70's progressive rock at its best, and the high standard lasts for the rest of the album. "Peace of Rome" is stuffed with themes that varies from mellow and beautiful to faster and more disharmonic stuff. The most complex track is undoubtedly the 13-minute "The Arena". The lyrics on the record are naturally full of gladiators, violence, fights in the arena, martyrs and evil emperors, and the band manages to capture all this drama very well in the music. The 11-minute "Time Shadows" starts with some echoing narration that sounds EXACTLY like what Michael Moorcock would do on Hawkwind's superb "Warrior on the Edge of Time" four years later. After that, the track goes into a jam where new member Mandy Reidelbanch is allowed to stretch out on saxophone. This is very efficiently followed by some themes from "Peace of Rome" and "The Arena". The album closes with "Spring" that is based around a nice melody on flute, but also features lots of chanting vocals and long duels between the two female flutists in the band. Marsupilami would unfortunately broke up after "Arena", but they left behind two obscure classics of 70's progressive rock.
Label
Maxophone - "Maxophone" (Produttori Associati 1976)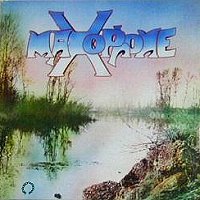 Maxophone's sole album could very well be among the ten best Italian progressive rock records of all time. They didn't sound like any other Italian band either. Instead they carved a distinctive sound of their own, combining influences of such greats as Genesis and Gentle Giant with brass-driven passages that ranged from classical symphonic to jazz. Similarities to Genesis were mainly because of their bassist Alberto Ravasini, who had a voice in the vein of Collins/Gabriel. He was also one of the very few Italian vocalists who could sing in English flawlessly. There were of course plenty of saxophones and flutes among the wind instruments they used, but the most distinctive was undoubtedly the French horn of Maurizio Bianchini that added a very majestic touch to many themes. "Life Can Be Like Music" is an impressive opener for the album, showing how the band easily could go from complex, upbeat progressive rock to lush symphonic passages, and then to old-fashioned swing jazz and even a short waltz! Beautiful details are scattered all over the complex arrangements, and the quality of the vocal melodies is very high during the entire record. "Six Against One" is maybe my personal favourite song by the group. It opens quite grandiose with Ravasini singing yet another superb melody over Sergio Lattuada's powerful organ before kicking into one of the best instrumental parts on the record where guitarist Roberto Giuliani and the various wind instruments play perfectly along with each other. The track then goes into a part built around a quite typical symphonic progressive organ theme before it transforms into yet another upbeat and jazzy solo-section. It then slows down again to an utterly beautiful vocal part that lasts only for a short time, before the track then returns to the opening again. Symphonic progressive rock cannot under any circumstance be any better than this, even if there's no Mellotron here! The band's love for Gentle Giant shines clearly through on "When We Were Young", a beautifully atmospheric piece with lyrics that would have fitted right into "Three Friends". "Fase" is the only instrumental number here, and gets the honour of opening the second side. Just as you could expect, it's a complex piece going from hard riffs to jazzy symphonic sections and to looser, more solo-oriented parts. "I Heard a Butterfly" is next to "When We Were Young" the least original song on the album, being a fairly typical Genesis-influenced tune, but never the less with the same very high level of quality that the band displayed everywhere else. "Live Together or Die" is on the other hand perhaps the most unique and original song on the record, melting big-band riffs with melodic, vocal-oriented symphonic progressive rock that goes into a spacey instrumental theme in the middle while still maintaining the main vocal melody(!) before ending in a fading gospel-choir. It's really not easy to describe how impressive this album is. It's definitively one of the essentials from the Italian scene, saying quite a lot. The only other thing that was heard from the band was the single "Il Fischio del Vapore Cono di Gelato" the year after. Although it was a decent folk-influenced song, it just couldn't compete with the material from the album.
Label
McDonald and Giles - "McDonald and Giles" (Atlantic 1970)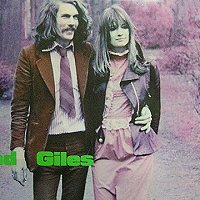 A project by two previous members of the first King Crimson line-up. The album is of a much lighter and less sinister tone than anything King Crimson ever did and, unfortunately, without any mellotron at all. Personally I would say that they managed to create their own style of progressive rock, and that's of course a good thing. But to be honest, the idea of making "happy music" also results in some rather cheesy sounding parts, like the first vocal part on "Birdman". But the rest of this 20-minute track is quite good. Atmospheric and some good orchestration. The first three minutes of "Suite in C" reminds quite a lot of Crimson's "Ladies of the Road", but that's on the other hand not a very typical Crimson track. And "Flight of the Ibis" has the same basic melody-line as "Cadence and Cascade", but personally I would say that "Cadence..." is much better than "Flight...". The best track on the album is probably "Tomorrows People". A very catchy track where the cheerful and "happy" feeling of the music works quite well. Not a bad album, but I must admit that I haven't played it all that much.
Next Page