Previous Page
Metamorfosi - "...E Fu Il Sesto Giorno" (Vedette 1972)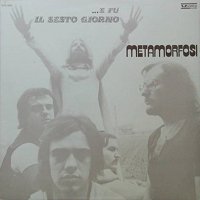 Another Italian monster band. But this debut-album did unfortunately not show what the band really was capable to. The album consists of melodic and rather simple progressive rock songs of a kind you've heard many times before. The songwriting seems mediocre, even it there's some listenable tracks here like "Crepuscolo" and the title-track. The arrangements features organ, harpsichord and some flute, but it don't help when the compositions simply not are interesting enough. Fortunately, the following album was a totally different story....
Metamorfosi - "Inferno" (Vedette 1973)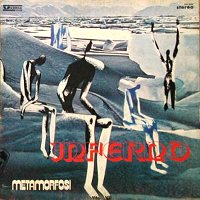 Now THIS is the album that made Metamorfosi a legend in Italian progressive rock. The mediocrity from the debut was completely gone, and "Inferno" is and amazing, 40-minute piece of keyboard oriented progressive rock at its best. The album was a concept album based on Dante's "Inferno", and most of the time the tracks flows together. There are loads of excellent moog playing here, but also very powerful Hammond organ. And Jimmy Spitaleri really shows that he has one of the best voices of Italian progressive. The themes and melodies is very inspired all the way through, and there's still some of the nice flute heard on the better parts on the debut-album. If you like ELP and keyboard oriented progressive in general, then you simply need this album!
Mirthrandir - "For You the Old Women" (1976)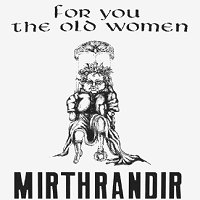 Very good American band. Unfortunately, Mirthrandir released only this album but it's an impressive one. The music is incredibly complex and well played. The arrangements are pure perfection, and includes flute, organ and also some trumpet. No mellotron, but the sound is so good that you won't notice it. The album kicks off with the title-track. It starts very energetic; almost chaotic with excellent trumpet-themes that gives the music structure. The track slows down after a few minutes and becomes very melodic and pleasant with great atmosphere. Other great tracks includes the instrumental "Number Six" (the trumpet sounds really good, so I wish they would have used it more on the other tracks too) and of course the 14-minute "For Four". This track includes most of what you want from a progressive rock. One of the best American progressive rock albums of the 70's.
Mo.Do. - "La Schimmia Sulla Schiena Del Re" (IAF 1978)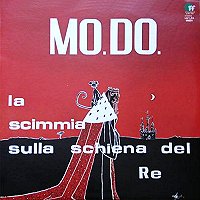 Quirky progressive rock from Italy. The only thing I know about this band is that it included some members from a band called Dalton that I haven't heard yet. This album is quite decent anyway. The closest comparison would probably be Gentle Giant. At least, tracks like "Grindel" and the title-track have some quite GG- sounding parts in them. Most of the album is instrumental, but there are also some vocal-tracks here that are more relaxed than the instrumental stuff. Flute and oboe dominate the quiet parts, and that gives sometimes those parts a quite caractheristis sound. The instrumental- tracks are usually quite energetic and quirky like "Seltz" and "Grindel". But "Oltre La Terza Porta" is more symphonic sounding along with the vocal- tracks. There's also a slight folk-influence here and there.
Mona Lisa - "Le Petit Violon de Mr Grégorie" (Crypto 1976)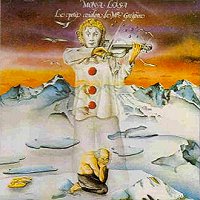 Very typical French theatrical, symphonic progressive rock. "Le..." was their third one and supposed to be their best. To me they sounded like a less powerful version of Ange. The vocalist sings in the same dramatic and theatrical style as Christan Decamps and they also tried to imitate Ange's unique keyboard-sound without getting the grip completely. But this is a fine album anyway. The 20-minute, three-part title-track has lots of nice themes and melodies. None of the tracks on the album are bad, but on the other hand, there's no really stand out tracks here either. But all of them are quite nice, including some good instrumental-themes and some narrative parts, which obviously was obligatory in this kind of symphonic progressive French rock. Nice stuff if you're into this style.
The Moody Blues - "Days of Future Passed" (Deram 1967)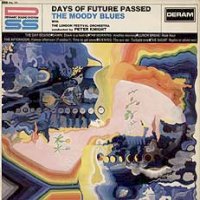 Yes, I know they're not the most complex band but their influence on progressive rock (and especially the symphonic part of it) is highly underrated. They were one of the first bands to play rock with a symphonic sound, and they were in fact the very first band to use the holy Mellotron. So actually, every band who uses a Mellotron is influenced by the Moodies, like it or not! They originally started as a normal pop-band, but they turned into a symphonic band when Justin Hayward and John Lodge joined them. "Days..." is by some people considered to be the very first progressive album and I agree completely. The album has a concept that tells about a day in the life of an average man. It was also the first attempt of mixing a classical orchestra (The London Festival Orchestra) with a rock band. They failed to melt the orchestra together with the rock band (the orchestra and the Moodies rarely played together at the same time), but the album was saved by the good and inspired songwriting. "Nights in White Satin" (the Moodies' signature tune) and "Tuesday Afternoon" are the best known tracks here, and very typical for the classic Moody Blues sound. Melancholic, emotional and beautiful melodies played with tasty arrangements that included Mellotron, flute and high vocal-harmonies. Each of the band members usually contributed with 2-3 songs on each album. Justin Hayward is responsible for most of the best-known songs, but all of the members are talented songwriters. Overall, this is a amusing album with both historical and musical value. Important stuff for everyone who wants to explore the roots of symphonic rock.
The Moody Blues - "In Search of the Lost Chord" (Deram 1968)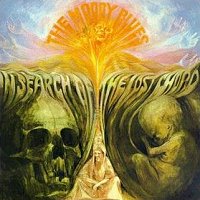 Probably their most drug-related album, but possibly also the best of their '60s works. Fortunately they discovered that they could sound symphonic without an orchestra, so the album is very dominated by the Mellotron. This is also the most flute-dominated Moody Blues album. The album is stuffed with goodies like "The Actor" (one of Hayward's best and most beautiful songs). Here you'll also get some of the group's most progressive tracks with "House of Four Doors" and "Legend of a Mind". "Ride My See-Saw" (a quite typical John Lodge track) and "Dr. Livingstone, I Presume?" shows the band from their more cheerful and less melancholic side. Mike Pinder was obviously the one of the Moodies with most love for more eastern-influenced and psychedelic tracks, and he demonstrates this in "Om". Drummer Graeme Edge was at this time still happy with just speaking some short poems between the tracks on the album. A classic album, and one of the Moodies' very best.
The Moody Blues - "On the Threshold of a Dream" (Deram 1969)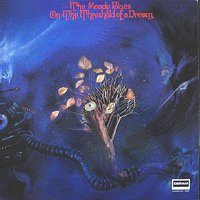 From a progressive point of view this is a less interesting album than the two previous ones, consisting mostly of straightforward tracks with a happier and less melancholic feel. But it's still good, thanks to the good songwriting. Tracks like "Lovely to See You", "Are You Sitting Comfortably?" and "So Deep Within You" are all Moody Blues classics, but "Never Comes the Day" is overrated. "Dear Diary" have some very slight jazz-influence while John Lodge's contributions, "Send Me No Wine" and "To Share Our Love", are both cheerful and straightforward tracks with no progressive or symphonic tendencies at all. The most progressive track here is Pinder's instrumental "The Voyage". Symphonic and beautiful with great atmosphere, and the Mellotron sounds heavenly. Overall, this album proves that you don't necessary need 1200 time-changes in each song to make good music. But of course, it's not all that progressive either.
The Moody Blues - "To Our Children's Children's Children" (Threshold 1969)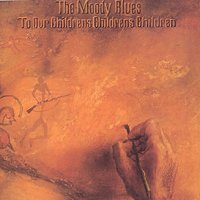 Their first album on their own label, Threshold. The first thing you'll notice on this album is that Graeme Edge had written his first two "real" songs with "Higher and Higher" and the instrumental "Beyond", which both are excellent. Most of the album is the Moodies the way they're meant to be: symphonic and melancholic. Listen to tracks like "Candle of Life" and "Watching and Waiting" and you'll hear. It's just so mellow and beautiful. "Gypsy" and "Higher..." are more up-tempo tracks, but still with a great symphonic sound. Pinder was still messing around with some hippie-like psychedelic nonsense in "Sun is Still Shining", but it was fortunately the last Moodies track in that style. Overall, this album is more representative for Moody Blues than "On the Threshold...". The album had probably also the most developed and accomplished Moody Blues sound of all their '60s albums.
The Moody Blues - "A Question of Balance" (Threshold 1970)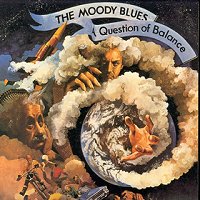 The Moodies entered the '70s with another strong album. Actually, all the albums they released in their classic period (1967-1972) are good. The album opens with the symphonic energy of "Question", one of the very best tracks Hayward ever wrote. Ray Thomas also contributed with one of his best tracks ever: "The Tide Rushes In". John Lodge seemed like always to be in a happier mood than the rest of the band and wrote the energetic "Tortoise and the Hare" and the cheerful and slightly folk-influenced "Minstrel's Song" for the album. Pinder's "Melancholic Man" gets a little bit too repetitive. Fortunately, his other contribution "How Is It? (We are Here)" is much better. Another great Moody Blues album. It's not so much more to say.
The Moody Blues - "Every Good Boy Deserves Favour" (Threshold 1971)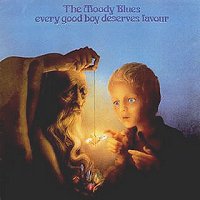 The album opens with the only track all the members wrote together, an experimental and impressionistic instrumental called "Procession". With the exception of John Lodge's all too sweet and fluffy "Emily's Song" and Ray Thomas' idiotic "Nice to be Here", this album is the Moodies at their very, very best. Pinder deliver the group's most progressive track ever with "My Song". It's based in a simple but beautiful melody with a fantastic and grandiose symphonic mid-part. Edge delivered his best known track with the cheerful "After You Came". Other outstanding tracks includes "Our Guessing Game" (next to "The Tide...", this is Thomas' best track), "Story In Your Eyes", "You Can Never Go Home" and "One More Time To Live". Overall, the album has two flaws, but the rest of it is excellent.
The Moody Blues - "Seventh Sojourn" (Threshold 1972)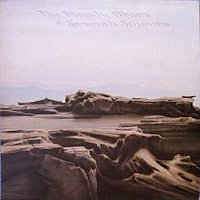 The last classic Moody Blues album. As usual, the album features songwriting of high quality. Lodge delivers his best track ever with "Isn't Life Strange". His other contribution, the hit-song "I'm Just a Singer (In a Rock-'n-roll Band)" is on the other hand the most cheesy and pathetic attempt of playing rock-'n-roll I've ever heard. By the way, Moody Blues is NOT a rock-'n-roll band! Hayward is in his typical melancholic mood and writes two beautiful and emotional tracks with "New Horizons" and "Land of Make Believe". Pinder is obviously very depressed on this album, and delivers two of the darkest Moody Blues tracks ever with "Lost in a Lost World" and "When You're a Free Man". Thomas' "For My Lady" and Edge/Hayward's "You and Me" less melancholic sounding than the rest of the album. A classic album (if you forget about "I'm Just...), and the last Moody Blues album before they broke up. They re-united in 1978, but most of the music they've made since then is forgetable crap.
Morgan - "Nova Solis" (RCA 1972)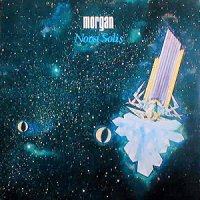 This British band took their name from their keyboardist Morgan Fisher, who later would earn much more money in Moot the Hoople! But Morgan was a pure progressive rock band, as clearly showed on their debut "Nova Solis". Fisher seemed to be the main musician in the band, as his keyboards were everywhere in the sound. He used el-piano and synths that gave the band a slightly spacey sound. The organ was used in a much more sparse way, and never became very dominant. The vocals of Tim Staffell are often in a high-pitched falsetto that becomes a bit annoying sometimes. "Samarkhand the Golden" opens the album, and stands probably as the best track here. It demonstrates Fisher's personal style on the keyboards quite well, and features strong melodies and a quirky solo part in the middle. "Alone" reminds me slightly of a typical King Crimson ballad from the Wetton-era. "War Games" is fare more upbeat, although probably the least satisfying track on the album. The 20-minute title-track takes up the whole of the second side. The band used the mid-theme from Gustav Holst's "Jupiter" to underline their spacey orientation. They were of course not able to write a melody of the same class themselves, but the suite features many fine parts, although a few boring ones too. But they're easily forgiven when they turn into an excellent and complex instrumental part in the second half of the track. Morgan actually recorded another album the year after, but it wouldn't see the light of day for many years to come. I wouldn't describe "Nova Solis" as essential, but it will be a worthwhile addition to any collection of 70's progressive rock.
Morse Code - "La Marche des Hommes" (Capitol 1975)
In 1971, a Canadian psych-group from Quebec called Morse Code Transmission released their debut without much notice. After a second album the following year, the band temporarily disappeared for some years. But in 1975 they were back again, now just named Morse Code and had evolved into a full-blown symphonic progressive rock group inspired quite a lot by Genesis. But they avoided the usual clone-syndrome, mainly because singer, keyboardist and main songwriter Christian Simard didn't sound like Peter Gabriel at all. The vocals are more in the vein of the French band Atoll, although the language itself of course also contributes to that. "La Marche des Hommes" is best known for its epic 11-minute title-track and the instrumental "Cocktail". The later one was released on single and became a hit in Quebec. Musically it blends melodic Mellotron and flute with some funky keyboard of the kind that Eela Craig would explore on their classic "One Niter" album the year after. The title-track shows impressive songwriting-skills from Simard, often with the instrumental and vocal-sections based in partly the same themes, giving the track a feel of continuity despite its complexity and many chord-changes. Great stuff. "Le Pays d'Or" is a ballad with one of the finest melodies on the record, featuring some unusually authentic-sounding Mellotron-strings. This one is followed by "La Cérémonie de Minuit" where Simard further shows clear influences from Tony Banks in his keyboard playing. "Une Goutte de Pluie" is the band in really laidback and relaxed mood, pleasant and moody. "Qu'est-Ce Que T'As Compris?" is quite the opposite, showing their upbeat and rocking side, but still wrapped up in the same symphonic progressive arrangements as the rest of the songs. The album ends with "Problème", a grandiose ballad but with a modest length at only two minutes.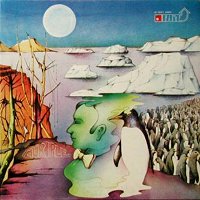 Another unknown gem from the 70's Italian progressive rock scene. I know mostly nothing about the band, but they played very typical Italian progressive rock with all the right moves. The albums seems to have a concept since all the tracks floats together and creates two 18-minute long tracks of a high quality. You'll will especially notice the keyboard player. He plays both hammond organ and piano in a very convincing way. The songwriting is good from start to finish, and the album has a good balance between vocal-parts and instrumental-parts. All the way it varies from quiet and atmospheric to more energetic progressive rock. I don't find so very much more to say. If you like 70's Italian progressive then you'll love this album, and I'm pretty sure that most other 70's progressive rock fans will like it too.
Museo Rosenbach - "Zarathustra" (Ricordi 1973)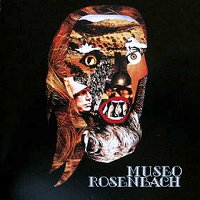 It's not hard to understand why this is regarded as one of the main albums of Italian progressive rock, cause you won't get a more accomplished and typical Italian progressive rock album than "Zarathustra". This is symphonic progressive with a rough edge, but without becoming heavy progressive in my ears. The arrangements are heavily loaded with Mellotron, organ, piano, aggressive guitar and furious drumming - everything played excellent! If you can imagine Semiramis' "Dedicato a Frazz" with Mellotron and Hammond added, then you'll have something that doesn't sound too far from this album. The compositions are flawless. Very complex with time changes and something happening all the time. You'll never get a rest here! The 20-minute title-track features all the things I've mentioned, and go through an impressive amount of different parts and sections. This is progressive rock at its most complex and...progressive! The three other tracks on the album maintain the same high standard. If I should find anything to complain about, then it must be the obvious lack of originality. As I said, this is VERY typical Italian sounding and it won't give you anything new or any surprises if you already own a bunch of Italian progressive rock albums. But why should you care? This is as good as it can get and should be in any thinking progressive rock fan's collection.
Mythos - "Dreamlab" (Kosmische Musik 1975)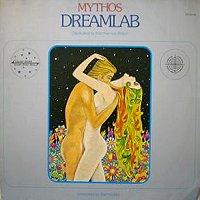 Classic space-progressive rock from Germany. If you can imagine a mix of Ashra Tempel and Jethro Tull, then you got a clue about how this album sounds. The space-atmosphere on the album is close to perfection, with great use of different synths, flute, spacey guitar and even the heavenly mellotron. The only problem is the dreadful vocals of Stephan Kaske, but fortunately he don't "sing" too often. The material is good all the way through, and it varies from quite jam-oriented parts (like the excellent title-track) to more structured and theme-based parts. There's lots of great flute here, and the mellotron has got a beautiful spacey sound to it. Just check out the extremely beautiful "Mythalgia" and you'll hear. This album is essential for anyone into spacey progressive.