-P-
Panna Fredda - "Uno" (Vedette 1971)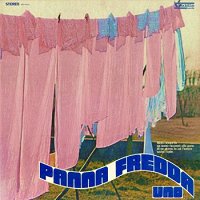 It wasn't before 1972 that the Italian progressive rock movement really exploded in both quality and quantity, so you can say that Panna Fredda were quite early out with their excellent album. From the album title and the cover you could almost get a impression that this were an one-man project, but I doubt if that was the case. The album starts with some electronic sounds before bursting into some quite gloomy, heavy and atmospheric progressive rock of high quality. The arrangements are great with lots of organ and excellent guitar and the vocalist sounds kinda sad and mellow. Great! You get something of a surprise when you then hear "Un Re Senza Reame". The organ theme is in fact taken straight from Gracious' "Heaven"! A great track anyway, and with some ELP-ish organ at the end. "Un Uomo" is more in the vein of the opening track. "Scacco Al Re Lot" is the most complex track of the album with loads of time changes. The 10-minute "Il Vento, La Luna E Pulcini Blu" is the longest track here, and very baroque influenced with lots of harpsichord. The instrumental "Waiting" ends the album in a very powerful and effective way. A great album, and if you don't like it then you'll probably don't like early 70's progressive either. Then you're probably deaf!
Paternoster - "Paternoster" (CBS 1972)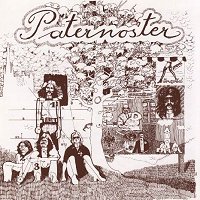 Very dark and depressing Austrian progressive. Most of the tracks here are rather slow and kinda heavy, dominated by organ and a vocalist who sounds like absolutely EVERYTHING in life sucks! He sounds extremely depressed and tired. Judging from the lyrics, the band was religious, but they still seemed to have a very pessimistic view of life. Just check this lyric from "Blind Children": Try to call yourself on the phone/Surely You are Not at Home/Sweep the Swept Floor Once Again/Stab Yourself and Feel the Pain/. And this is only an excerpt from one song! I think the band had their own style, and even if the music ain't either very virtuose or perfectionisted, I still like it. And the organ sounds great. Worth having if you like 70's progressive.
Pavlov's Dog - "Pampered Menial" (CBS 1974)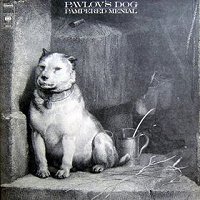 Pavlov's Dog was an American group who released a couple of albums in the mid-70's. Their style was very song-based and actually not all that far from British bands like Spring or Cirkus, but still with an American touch to their sound (although I must admit that I don't know exactly what that should be in PD's case). Anyway, "Pampered Menial" was their first and supposedly best album. It consists of strongly melodic tracks that focus more on strong melodies and tasty arrangements than complexity. And I guess it is the arrangements here that give the music its progressive edge. The Mellotron is present in the sound all the time, and some brief passages also include flute, violin, organ and tasty moog. The synth-solo in "Late November" has a very Wakeman-ish feel and atmosphere. Other highlights include "Julia", the hard-edged "Song Dance" and "Theme from Subway Sue". The latter must have one of the most emotional endings I've ever heard on a song, and David Surkamp takes his very distinctive high-pitched vibrato-voice to absurd heights. The most progressive tune here is "Of Once and Future Kings" and this complex track starts with a very medieval-sounding intro called "Preludin". The only track that I don't care for here is "Natchez Trace" and this limp hard-rocker lacks the strong melodies that characterize the rest of the album and doesn't seem to belong here. "Pampered Menial" will appeal to progressive rock fans who enjoys strong melodies and who doesn't necessarily want everything they hear to be as complex as Gentle Giant.
Pavlov's Dog - "At the Sound of the Bell" (CBS 1976)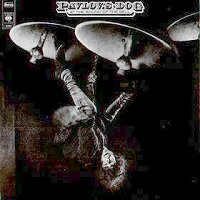 Their second and last album while they still existed was a lighter and less powerful effort then their excellent debut, but the album is saved by generally strong songwriting and tasty arrangements. The atmospheric ballad "Standing Here With You (Megan's Song)" and the superb (and one of my personal faves) "Early Morning On" features lots of strings that gives these songs the majestic lift they needs. The opener "She Came Shining" and "Valkerie" are PD-classics of the same calibre as "Julia" from the debut. The sound and atmosphere of "Gold Nuggets" reminds me of something from the second part of "Tubular Bells"! The nice ballad "Mersey" and the poppy "She Breaks Like a Morning Sky" features saxophone, giving these songs a slightly different feel from the rest of the album. And just as on the debut, the most progressive songs are placed last on the album. The earlier mentioned "Early Morning On" has a cool mid-part with a boy choir, while the closing-number "Did You See Him Cry" is a complex and dramatic song. Oh, and David Surkamp sings in a lower tone and in a more normal way here than on the debut, probably making this album easier to adapt to for those of you who have problems with high-pitched vocals.
Pell Mell - "Marburg" (Bellaphon 1972)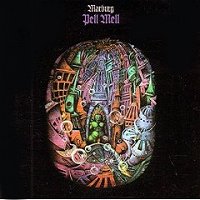 Excellent German- progressive with some rough edges, dominated by organ and superb violin- playing. The band's sound gives some slight associations to High Tide, but Pell Mell is more progressive, structured and the music never falls into aimless jams. The 5 songs on the album are all of a high quality. 70's fans will with no doubt eat up tracks like "The Clown and the Queen" and "Friends". The latter has an almost medieval-sounding mid-part with some funny vocal-effects that sounds like something Thjis Van Leer could have done. "Moldau" is an instrumental and the most symphonic track on the album. Excellent. The main part of "City Monster" combines a very simple organ-riff with a rather vanguard violin-theme. Very striking! "Alone" is a quite atmospheric track, and the vocal-parts have a kind of a 60's feeling to them. And the violin and organ sounds great. Overall, this is a classic of 70's progressive rock so get it!
Anthony Phillips - "The Geese and the Ghost" (Hit & Run 1977)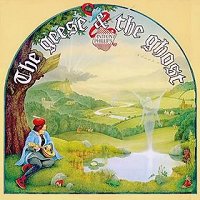 No one seemed to have heard anything from Genesis' first guitarist after he left the band in 1970, so Phillips caught everyone by surprise when he suddenly appeared in 1977 with his absolutely wonderful solo-debut "The Geese and the Ghost". The album had been recorded over a course of several years, and among the many guest musicians were Mike Rutherford, Phil Collins and Steve Hackett's brother John who also were a regular guest on his brother's own albums. And make no mistake; "The Geese and the Ghost" is next to Hackett's "Voyage of the Acolyte" and "Spectral Mornings" the best album to come from a former Genesis member. It reveals very well what an important and underrated role Phillips had in shaping the classic Genesis-sound, as his style of playing was more or less cloned by Hackett when he joined Genesis. The style of the album is strongly in the "Trespass"/"Nursery Cryme" vein, but softer and more pastoral. You can also sense a "More Fool Me"-vibe in the two tracks sung by Phil Collins: "Which Way the Wind Blows" and "God If I Saw Her Now" where the latter definitively is my favourite of the two. Phillips also sings himself on the pleasant and orchestral "Collections" that goes right into the beautiful instrumental "Sleepfall: the Geese Fly West". And Phillips definitively shows his most interesting side in instrumental form, so it's no coincidence that the two lengthy main pieces of the album both were instrumentals. First you have the 12-minute multi-part suite "Henry; Portraits from Tudor Times" that was co-written by Mike Rutherford. It's a masterfully crafted composition that despite its overall peaceful nature also has its share of powerful dynamics and contrasts, as well as majestic medieval fanfares and choirs. The 15-minute two-part title-track is however the best showcase on the album for Phillips' trademark 12-string work. This is a full-blown symphonic progressive rock piece that sounds probably almost exactly like what Genesis would if they had gone all instrumental in '70/'71. The mood is romantic and beautiful; the same can be said about the melodies and arrangements. The mighty finale builds slowly up and climaxes with some very typical Phillips/Hackett chords played over one of the main themes of the track. "The Geese and the Ghost" is Phillips' masterpiece, but he has unfortunately never been able to equal or top it ever since.
Label
Anthony Phillips - "Wise after the Event" (Arista 1978)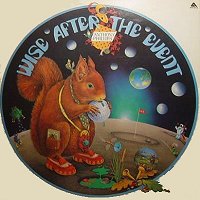 Switching from the obviously very short-lived Hit & Run Music to a major label like Arista proved to be frustrating for both Phillips and many of his fans. Sure, it made him able to continue to release music but, as he has admitted several times, not always the kind of music that he really wanted to release. And this is apparent from the very start with "Wise after the Event" that I've personally always viewed as a disappointment after the classic "The Geese and the Ghost". Phillips had gathered together an impressive bunch of backing musicians; among them were Mike Giles, Mel Collins, John G. Perry and Rupert Hine who also produced the album. But that still can't save "Wise after the Event" from being a bore with way too little variation for such a long album. The music is still a bit too sophisticated to qualify as a blatant sell-out, but the approach definitively IS more commercial and "mainstream-friendly" (yuck!) than on the previous album. The main problem for me is that this is a purely vocal and song-based record, while Phillips' main strength and talent as a solo artist undoubtedly was instrumental pieces based around his guitar work. On this album Phillips sings more or less all the time, with little to none variation in tone or emotion. And I couldn't care less about whatever he sings. Here he appears as a tedious singer/songwriter with a half-hearted progressive edge instead of the pure and complete progressive rock artist of the debut. Among the better songs on the album are "Birdsong" and "Now What (Are They Doing to My Little Friends?)" although I even here find the vocal melodies to be nothing more than just decent. "We're All as We Lie" is typically boring late '70s transitional stuff from a progressive rock artist who attempted to adjust his sound to fit in with the changing taste of the mainstream audience. The song reminds me actually quite a lot of what Genesis decreased into at the same time. The rest of the record pretty much bores me to tears, with songs like "Moonshooter", "Paper Chase", "Greenhouse" and the crappy hit-song attempt in "Pulling Faces" being examples of shallow song-based stuff that does absolutely nothing for me. But the most annoying piece on the album is probably the title track, consisting of nearly 9 minutes with the same monotone guitar chords repeated over and over again. This is followed by some unaccredited and wonderfully atmospheric instrumental music at the very end of side one, obviously just to remind us of how wrong the focus of this album is.
Anthony Phillips - "Sides" (Arista 1979)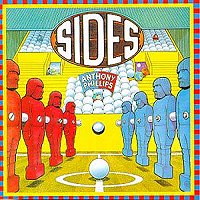 Phillips' musical dilemma was plain for everyone to see and hear on his third album. Should he please the label who wanted him to go pop, or the fans who wanted him to remain in a progressive vein? He came up with the most obvious compromise he possibly could with "Sides" as side one featured his commercial side, while the second side was left over to his true persona: the progressive one. This musical conflict was reflected in both the title as well as in the genius cover art of Peter Cross. Despite featuring two utterly awful songs (the terrible soft-rock ballad "I Want Your Love" and the half-assed cheese of "Holy Deadlock") I prefer "Sides" as whole over "Wise after the Event" as it at least avoids the monotonous boredom of that album and sparks more energy, variation and inspiration. The two earlier mentioned tracks are not surprisingly both to be found on the pop-orientated first side, but the three remaining tracks are actually completely tolerable. "Um & Argh" is a really catchy and likeable song, and "Side Door" is acceptable late 70's slick pop. "Lucy Will" is a simple but pretty ballad with a nice arrangement and melody. But things doesn't get really serious before we turn around the record and enters side two that starts with the Genesis-like instrumental "Sisters of Remindum" that should be pretty much impossible to dislike for anyone into Genesis. "Bleak House" is a beautiful and symphonic tune with the undoubtedly strongest melody on the album, as well as an arrangement full of harpsichord and Mellotron. "Magdalen" is nothing more than OK, but takes partly off during the tight instrumental break. The main theme from the closing instrumental "Nightmare" showed that Phillips had picked up a trick or two from Hackett's solo-albums from the same time, but that's just fair enough considering that Hackett pretty much had made his own playing as similar as possible to Phillips when he replaced him in Genesis. "Sides" is definitively NO "The Geese and the Ghost" but at least better than "Wise after the Event".
Anthony Phillips - "Private Parts and Pieces" (Arista 1979)
Phillips has never denied that he wasn't too comfortable with the commercial direction that Arista tried to force him into with both "Wise after the Event" and "Sides". To compensate for some of this he decided to include "Private Parts and Pieces" as a separate free bonus album with the first 5000 copies of "Sides". This was a compilation of various pieces of music that Phillips had written and recorded between 1972 and 1976, and together they resulted in a surprisingly cohesive album that was a lot closer to the music Phillips really wanted to do than what both the two previous albums had been. Most of the record consists of intricate and complex acoustic pieces that show Phillips' undeniable talent as both a composer and unique guitarist. "Tregenna Afternoons", "Reaper" and not at least "Flamingo" are lengthy and impressive compositions played entirely on acoustic classical guitar. Especially the latter one ranks as one of Phillips finest pieces ever. The moody "Field of Eternity" was a collaboration with Mike Rutherford from 1972, and some of it was according to Phillips' liner notes meant to be used in a Genesis tune. The meditative and hypnotic "Tibetan Yak-Music" is very trademark Phillips, both in sound and playing style. The short "Lullaby - Old Father Time" was also featured here in a vocal version called "Seven Long Years" featuring piano, by the way also the only vocal track on the album. "Harmonium in the Dust" features the only glimpse of electric guitar you'll find here, as well as (not very surprisingly considering the title) an organ. The opener "Beauty and the Beast" wraps up a rather simple little melody on acoustic guitar with a slightly experimental piano arrangement. "Autumnal" is a pure piano solo piece where the pretty melodies and mood fit the title well. "Private Parts and Pieces" is a warm and moody album that makes for some very pleasant late-night listening, and ranks as one of Phillips' finest and most enduring releases, as this kind of music literally never dates.
Label
Anthony Phillips - "Private Parts and Pieces II : Back to the Pavilion" (PVC 1980)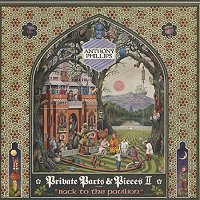 The second instalment in the "Private Parts and Pieces" series was only available as an American import. But it was well worth the extra money you had to pay, mostly because of the 15-minute 5-part epic "Scottish Suite" that opened the album. This track from 1976 featured Mike Rutherford, and incorporated themes from "The Geese and The Ghost" as well as "Henry; Portraits from Tudor Times" and "The Reaper", but the final result was a completely new masterpiece of instrumental progressive rock that next to the "The Geese and the Ghost" album was the best thing that Phillips ever did as a solo-artist. The record also surprisingly featured two completely electronic and synth-based pieces in the dreamy and spacey "K2" and the occasionally Bach-influenced "Heaven". The rest of the album had more in common with the first "Private Parts and Pieces" record. And that meant nice, melodic piano-pieces like "Lindsay", the title-track and the mystical "Magic Garden", side by side with pure classical guitar pieces like "Spring Meeting", "Nocturne" and "Postlude: End of the Sun". "Tremulous" is a short piece featuring Mel Collins on flute, and "I Saw You Today" is a laidback vocal-number with only Phillips and his guitar. The album as a whole is perhaps slightly less cohesive than the first "Private Parts and Pieces", as some of the many short bits and pieces can't hide that they're just exactly that: short bits, pieces and sketches that Phillips didn't quite know what to do with, such as "Romany's Aria" and a pointless bunch of loose guitar-chords called "Will O' the Wisp". But as mentioned, these pieces are short, and their presence is more than made up for by the good stuff on the album. This, "The Geese and the Ghost" and the first "Private Parts and Pieces" are the albums to own by Phillips.
Label
Pholas Dactylus - "Concerto Delle Menti" (Magma 1973)
A very obscure and original Italian album that definitively deserves more attention. And consisting of only one track of 53 minutes, the album is indeed VERY progressive. The first thing you'll notice is that all the lyrics on the album is being spoken as a poem. The vocalist (or maybe I should say speaker) has a warm, deep and relaxed voice. The music is also quite interesting. The guitarist varies his playing all the time between rocking to more jazz-influenced. There's also lot of organ and piano here. The moods in the music are changing from relaxed and atmospheric to disharmonious and energetic. A long way out in the piece, the organ playing gets almost a kind of a ELP-ish sound to it. Some Gentle Giant-like vocal harmonies also appears at the very end. A very interesting and original album that will engage most open minded progressive rock fans.
Pink Floyd - "Meddle" (Harvest 1971)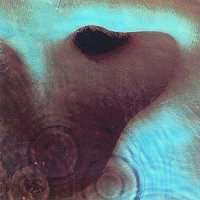 One of Pink Floyd's essential albums, mostly because of the 23-minute masterpiece "Echoes". This track is in my opinion the best PF ever have done. It got a very typical PF melody, very atmospheric keyboards, excellent Gilmour guitar, dark and gloomy parts with natural sounds and a great Hammond sound from Wright. This track is simply progressive rock at its very, very best. But there's another classic here to, with the instrumental "One of These Days" which is quite genius in all its simplicity. Basically it's just a bass-line and a two chord keyboard theme, but it sounds really awesome. The rest of the album is unfortunately rather mediocre. But "Echoes" and "One of These Days" is about 30-minutes of music together, and with such quality these two tracks make the album worth the prize.
Pink Floyd - "The Dark Side of the Moon" (Harvest 1973)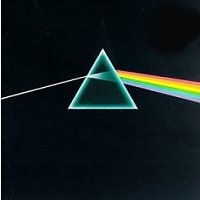 It's almost impossible to not have heard this album if you have the slightest interest in rock music. "Dark Side of the Moon" is perhaps the most overplayed and overexposed album ever, and personally I'm so sick and tired of it that it's not easy for me to any longer judge its musical qualities. However, what I'm really sure about is that I've never cared much for "Money" as I think it's a boring and half-assed tune and a cheap attempt at making a hit-song. The rest of the album is far better, with tracks like "Breathe in the Air", "Us and Them" and "Brain Damage" defining the classic Pink Floyd-sound very well with their slow-paced and mellow vocal melodies. "Time" has always been my personal favourite on the record. And in between these songs the band also stretches out instrumentally on tracks like the experimental "On the Run" and the synth-drenched "Any Colour You Like". Personally I've always felt that Pink Floyd have made better and more progressive albums than this one, but it's impossible to deny the fact that it's their (and one of rock's) most successful records in terms of sales.
Planetarium - "Infinity" (Victory 1971)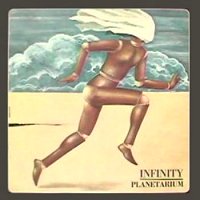 Another original, but quite overlooked Italian release. This band`s originality was that they used a lot of wordless vocal harmonies, making them a instrumental band even if the music had lots of vocals! The album seemed to have a kind of a concept about the good and bad things in man. Most of the themes are played by mellotron, organ and vocals. "Life" and the title-track are quite typical tracks for this band, while "Man" and "Love" both are very beautiful and atmospheric tracks. Sounds almost like The Enid at their sweetest. "War" sounds like something from a old, black/white war-documentary. In "The Moon", the vocal harmonies sounds a little Yes-like. It`s always nice to find a band with a sound of their own, and Planetarium was one of them.
Pollen - "Pollen" (Kébec 1976)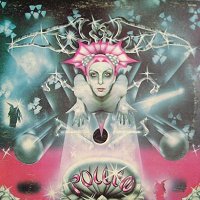 Pollen's self-titled debut is for several reasons perhaps the best introduction to Québec's prosperous progressive rock scene of the mid-to late 70's. The most obvious reason is simply because their music will fit the taste to almost anyone into classic 70's symphonic progressive rock. The band were formed four years earlier, and had apparently a quite eventful career already before their debut finally was recorded and released. With the exception of drummer Sylvain Coutu, all the members of the band were obviously multi-instrumentalist who beside their main instruments also handled flute, keyboards and vibes. "Vieux Corps de Vie d'Ange" opens the record with a quite weird theme that wouldn't been out of place on Il Balletto di Bronzo's "Ys", although Pollen's music is far more harmonic and melodic This part doesn't last for long either, as the track quickly transforms into a complex piece that alternates between vocal and instrumental passages before it all starts to build slowly up to a very beautiful and powerful finale with lots of swirling keyboards and bassist Jacques Rivest's emotional vocals. This is for me easily one of the highlights of the record. "Étoile" is tasteful and soft symphonic progressive rock in the vein of classic Premiata Forneria Marconi, although Pollen cleverly avoided sounding like the band they obviously were inspired by. The acoustic and pretty ballad "L'Indien" has some slight similarities to Harmonium, who were another excellent progressive band from Québec. The track is not entirely acoustic either, as it also features a dreamy keyboard passage. The second side seems to be slightly more upbeat, and kicks right off with the short and catchy "Tout l'Temps" that is based around a quite intricate keyboard theme. "Vivre la Mort" starts as an organ-driven progressive rocker that midway transforms into a dramatic instrumental piece. "La Femme Aileé" is with its 10 minutes the longest track on the album. It opens with an acoustic part with some beautiful whistling synths, but picks gradually up pace and ends in the most impressive, intense and complex instrumental section of the entire album. Here the band really showed that they equalled even the best of any other 70's progressive rock group. The band decided to break up later the same year, a fact that should make everybody even happier that they at least got time enough to record this album.
Label
Popol Vuh - "Popol Vuh" (Polydor 1972)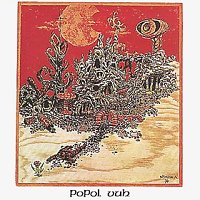 The story of the best Norwegian symphonic progressive rock band started with a group called Arman Sumpe Dur Express. After releasing just one single, their horn-section was reduced to flutist Pjokken Eide only and they changed name to Popol Vuh, unaware of the German band with the same name. Their self-titled debut showed a band with a kind of musicianship and professionalism that had been unheard from a Norwegian progressive band up to that point. Probably was Aunt Mary the only other Norwegian band from the same time that could equal the best international acts. The album showed a band that with ease could play almost any kind of progressive rock they wanted to. Here's symphonic progressive pop in "Hunchback", jazzy and fusion oriented material in "Joy and Pleasure" and the instrumental "Sucklin' Pig", full-blown symphonic progressive rock in the mighty and utterly impressive "For Eternity", Moody Blues-like balladry in "All We Have is the Past" and finally thundering heavyprog in the complex "Medicine" that closes the album. The arrangements are stuffed with lots of Mellotron, flute, Moog (only occasionally on the two first albums) and the creative and varied guitar work of Arne Schulze who also wrote most of the band's material (keyboardist Pete Knutsen, drummer Thor Andreassen and singer Jahn Teigen would also contribute with songs from time to time). By the way, Teigen has lots of personality and was a hilarious stage persona. The only stinker on the album is the basic and uninspired bluesy rock of "Leavin' Chicago" that felt like completely out of place, and it's a mystery to me why it would be a permanent part of their live repertoire for their entire career. But apart from that, "Popol Vuh" was a very good debut that promised even better things to come.
Popol Vuh - "Quichè Maya" (Polydor 1973)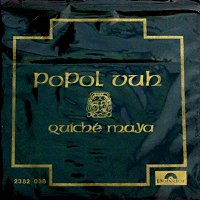 The excellent non-album single "The Art of Living" became the last Popol Vuh release to feature flutist Eide who left in 1973. The band decided to carry on without a flutist, and recorded "Quichè Maya" later the same year. It came wrapped up in a very handy plastic bag, and was musically even better and more mature than the debut. It opens with one of their most popular tracks, the rough but still sophisticated rocker "Queen of All Queens" that became a hit in Norway. "Mrs. Randalie" is a really unique song based around a complex bass-line with lots of Moog and Mellotron floating above it. It evolves into a dramatic instrumental part in the middle where the theme is now played on synth. Norwegian symphonic progressive rock won't get better than this. Other highlights include strongly melodic tracks like "Music Box" and the mighty and Mellotron-drenched "Yesterdays". The progressive and spacey funk of "Get Up" shows the band at their weirdest, while "Between You and Me" is a rather straightforward piano ballad. "Dark Nights" was probably the best song Teigen wrote in the group, and is despite its lightness and poppy feel a sophisticated and cleverly constructed song. The clavinet-dominated "Milk-White Satin Dressed Departure" shows how the band could be catchy without losing the progressive and complex feel of the music.
Popol Ace - "Stolen from Time" (Polydor 1976)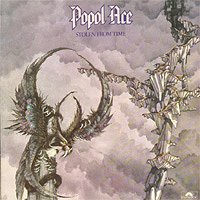 Polydor was so impressed with Popol Vuh's two first albums and the success home here in Norway that they finally decided to launch the band internationally. To avoid any trouble with the German band, the name was changed to Popol Ace. Everybody at Polydor and the band was reportedly overwhelmed about how good the demos with the new material sounded, so they went off to several famous studios in Europe to record the album. It's no big secret that the band themselves was not happy with how the production of the album turned out, but "Stolen from Time" was musically their best, most focused and atmospheric album. It has an accomplished and polished symphonic progressive rock sound that lasts all the way from the opening chords of "Bury Me Dead" and to the fading harmonies of the closer "Suicide". The synths were used on a wider scale than before, and were also better integrated in the sound. Knutsen and Andreassen wrote what I personally consider to be next to "Hunchback" their three best contributions with the band: "Jester", "Sleepwalker" and the earlier mentioned "Bury Me Dead". Schulze wrote all the other highlights on the album: the quirky heavyprog of "Mr. Bigalow", the superb "Today Another Day", the pretty ballads "Sweet Tune" and "I Can See Tears" and the lyrically absurd "Suicide". Do NOT listen to the latter one if you ever have considered suicide! Teigen delivered the only modest and simple song on the album in the lullabye-like "Soft Shoe Dancer". As time would show, "Stolen from Time" did unfortunately not give the band the international breakthrough they deserved, but musically it remains one of the best and most solid symphonic progressive rock albums from Norway.
Popol Ace - "Curly Sounds" (Polydor 1978)
Jahn Teigen (who soon would become a popular entertainer in Norway) decided to leave Popol Ace in 1977 and was replaced by Asbjørn Krogtoft, a technical competent but faceless singer who lacked Teigen's personality. And with Krogtoft behind the mic, Popol Ace suffered the same ugly fate as too many other progressive rock bands in the late 70's. Their label realized that progressive rock no longer did appeal to the ever changing taste of the too often braindead record-buying public, and forced the band into a commercial direction. The result "Curly Sounds" is a worthless exercise in slick, funky pop that too often borders on disco. You'll have to search really hard for any kind of redeeming values among the ten bland and forgettable songs that make up the album. The opener "Bye Bye" features at least a tasteful symphonic part in the middle with real strings and some decent falsetto from Krogtoft. Tracks like "Tango for one", "Joe's my Name" and the pure disco of "Let the Music Turn You On" (yeah, right!) has as little in common with classic, progressive Popol Ace as possible. Sure, it's very professional and well performed, but who the hell should be interested in crap being performed professionally? It just demonstrates too well what a waste of great talent this album is. I guess it also says a lot that the band chose to use a drum machine on the infantile "Wonderland" that closes the album. "Northern Winds" was the only song that to a certain degree avoided the slick disco/pop feel of the album, but lacked the grandiose arrangement necessary to fulfil its true potential. The band's three first albums are all essential to anyone interested in Scandinavian 70's symphonic progressive rock, but "Curly Sounds" is completely disposable and should be avoided. When the album also flopped commercially (this time very well deserved), the band decided to quit.
Next Page