Previous Page
Premiata Forneria Marconi - "Storia di un Minuto" (Numero Uno 1972)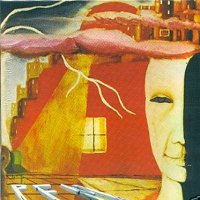 Premiata Forneria Marconi would turn out to be the most famous and successful Italian progressive rock band of all time. They had formed already in 1970, but wisely used a lot of time to develop and perfect their sound and style before recording their debut two years later. And "Storia di un Minuto" is without a trace of doubt the best and most important Italian progressive rock debut. Apart from a true lead singer, the band had probably the perfect instrumental line-up for a classic symphonic progressive rock band. The organ, Mellotron, Moog, piano and harpsichord of keyboardist Flavio Premoli blends in with the flute and violin of Mauro Pagani as well as the guitar of Franco Mussida and of course the reliable rhythm-section of drummer Franzi Di Cioccio and bassist Giorgi Piazza. Not a single one of these instrument stands out on their own or takes away the focus from the rest, as all of them are integrated in the bands very accomplished and complex sound. The style of "Storia di Un Minuto" lies somewhere between Genesis and early Greg Lake-era King Crimson, but despite this the music still sounds uniquely Italian. The short intro that opens the record takes us immediately into the band's lush and atmospheric symphonic world. with acoustic guitar, wordless vocals and floating Mellotrons. The sudden change into a loud saxophone riff shows the band's sense for dramatic contrasts and dynamics, and brings us right into the first real track: "Impressioni di Settembre". This is one of the band's most beloved pieces, and it's easy to hear why. Alternating between a moody acoustic ballad and a fantastic and symphonic Moog-theme, this is a classic progressive rock tune in the same class as "The Musical Box" or "And You And I". The structure of the song is somewhat similar to the title-track from King Crimson's holy "In the Court of the Crimson King" but changes in the end into a gorgeous finale that builds up slowly. "E Festa" shows the opposite side of the band, being a very energetic, cheerful and hard rocking progressive rock tune with intense instrumental parts and a graciously calm vocal section. "Dove...Quando..." is a two-part suite where the first part is a dark and beautifully arranged vocal piece with lots of woodwinds and a melody to die for. The second part is completely instrumental, and here the band takes you through absolutely every side of their musical and instrumental range. "La Carozza di Hans" is a quirky and complex tune, starting quite heavy but quickly calming down to an acoustic and wistful song where the band's vocal harmonies showed that they really didn't need a lead singer all that much after all. The lengthy acoustic solo that follows ends in a superb instrumental section based around Premoli's Hammond organ. The closer "Grazie Davvero" fits perhaps not entirely in with the rest of the album, as it sort of experiments with brass-rock, but it's still a good and interesting tune on its own. As far as debuts go, "Storia di un Minuto" is for Italian progressive rock what "In the Court of the Crimson King" is for British progressive rock, and laid the foundation for Premiata Forneria Marconi's further success.
Premiata Forneria Marconi - "Per un Amico" (Numero Uno 1972)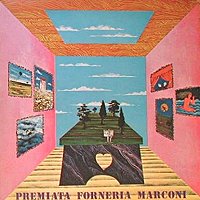 Despite appearing the same year as their classic debut, "Per un Amico" was as far from a rushed work that you probably could get, and is often rated as the band's definitive masterpiece. The music seemed to have been even more polished and perfected since the debut, and the album is definitively Premiata Forneria Marconi's most lush, symphonic, beautiful and pleasant album. The opener "Appena un Po'" is my personal favourite track by the band, and is so complex that it could need a review of its own. It opens with some very dreamy and mystical Mellotron and harp that slowly fades in from nowhere before going into a baroque part with classical guitar and flute. It builds slowly up when both organ and harpsichord joins in, and then suddenly the whole band kicks into a dramatic and classical-influenced part dominated by Pagani's violin. The vocal parts are soft, lush and very atmospheric and they build up to what for me is the highlight of the whole track: an instrumental symphonic melody as soothing, beautiful and gracious as it possibly can be. It then goes into a more folksy part before returning to the vocal part again that leads up to the finale with more of the earlier mentioned instrumental melody. If I had to choose just one Italian progressive rock track to play for someone, then "Appena un Po'" would be the one. And the band never strays away from the complex structures for the rest of the album. "Generale" is an instrumental number that incorporates nearly every side of progressive rock you can think of. The opening riff is very energetic, and continues with a rocking mid-tempo section that somewhat disappears to give room for a slowly building snare-drum with a cheerful, folksy flute-melody on top! Then you get some really quirky and unexpected chord-changes, including the appearance of a church-like organ before the track returns to the opening riff again. The title-track opens as a really moody song with beautiful Italian vocals, but goes quickly into even more complex instrumental territory. "Il Banchetto" is one of those songs that it should be pretty impossible to dislike if you're into classic 70's symphonic progressive rock, being strongly melodic with an airy and tasteful arrangement. Premoli's experimentation with synths in the middle, followed by a lengthy piano solo gives the track variation and complexity. "Genario" is even quirkier, and the instrumental sections on this one reminds me occasionally of Gentle Giant, never a bad thing I guess. So, "Per un Amico" is completely essential, not only if you're into the 70's Italian progressive rock scene, but in progressive rock in general.
Label
Premiata Forneria Marconi - "Photos of Ghosts" (Manticore 1973)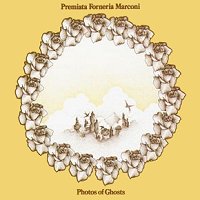 Premiata Forneria Marconi's career changed drastically in 1973 when they were discovered by Emerson, Lake and Palmer's label Manticore that wanted to launch the band worldwide. Their first releases for Manticore were the single "Celebration" (a more polished version of "E Festa" from the debut) and the album "Photos of Ghosts" that basically was "Per Un Amico" with English lyrics. Instead of translating the Italian lyrics, Peter Sinfield wrote completely new lyrics for the band and also mixed the album. The new lyrics and accented English vocals were however not the only differences between the two albums. "Celebration" as well as its b-side "Old Rain" (a partly improvised instrumental piece) was both added to the album, making it longer than the Italian original. "Appena Un Po'" had now become "River of Life" and the first minute of Mellotron and harp had been edited away, so the track now opened directly into the acoustic guitar. The Mellotron on the rest of the track had also been lowered in the mix in favour of the string-synths. Still, even in this version it remains my favourite track by the band. The title-track featured probably Sinfield's best lyrics on the album, and he had even taken the liberty to add lyrics to "Generale!" that now was named "Mr. Nine Till Five". "Genario" was transformed to "Promenade the Puzzle", and here you can easily recognize Sinfield's style from early King Crimson. "Il Banchetto" remained however unchanged with its Italian lyrics still intact. Perhaps an honest attempt at gradually making an English-speaking audience used to another language? But no matter if "Per Un Amico" is even better; I still can't help to be annoyed by people who constantly dismiss "Photos of Ghosts" in favour of the Italian original. First of all, many of those very same people would never have heard of Premiata Forneria Marconi in the first place if it wasn't for this album. "Photos of Ghosts" was the record that introduced Italian progressive rock to the rest of the world, and gave the band cult status in America as well as the rest of Europe. In the process it naturally became the best-selling and most famous album from the entire Italian progressive rock scene, and it should be valued for the important task it fulfilled. It will also be far cheaper and easier to find than "Per Un Amico", so pick it up if you see it. It's a classic in its own right.
Label
Premiata Forneria Marconi - "L'Isola Di Niente" (Numero Uno 1974)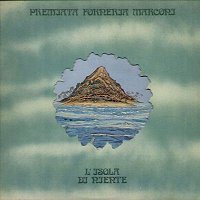 The first change in Premiata Forneria Marconi's line-up came in 1974 when bassist Giorgio Piazza was replaced with Jan Patrick Djivas. Despite the success of "Photos of Ghosts" the year before, the band refused to let go of their Italian roots yet, and released another Italian album in "L'Isola Di Niente" that was housed in a striking die-cut cover. And it didn't disappoint at all. The dynamics and variation of the record was nothing less than incredible, and the production was better, tighter and bigger than before. The album opened with the impressive 10-minute title-track. It starts with a mighty choir before turning into a surprisingly modern sounding and rocking vocal-part. This is soon followed by a complex and quieter instrumental-part that gradually picks up the pace before returning to the vocals again. This is very powerful stuff, and a further proof that their status as Italy's leading progressive rock band was well deserved. "Is My Face on Straight?" is a great example of how to integrate catchy melodies into a complex progressive rock tune, and featured English lyrics written by Peter Sinfield. The sound and style of this track also partly pointed forward to the "Chocolate Kings" album. The cheerful and energetic "La Luna Nuova" is structurally similar to "E Festa", and would become one of the band's favourites on stage. "Dolcissima Maria" is a nice little ballad that reaches its climax when the beautiful main melody is played by the flute at the end. The instrumental "Via Lumiere" was the band's first and undoubtedly best and most powerful attempt at fusion-inflected progressive rock, but ends in more familiar symphonic territory anyway. "L'Isola Di Niente" was the last classic of Premiata Forneria Marconi's Italian albums.
Premiata Forneria Marconi - "The World Became the World" (Manticore 1974)
Considering the attention the band had gained with "Photos of Ghosts", it was no surprise that also "L'Isola Di Niente" was released internationally in an English language version with more lyrics by Pete Sinfield. The first difference you'll notice is that the die-cut cover now had turned blue, but it should probably have been changed even more, as the cover now had no connection to the title. The title-track of the original album was now titled "The Mountain", and Sinfield based the new lyrics around an ancient Japanese myth of the God of Mountains. The order of the tracks has also been altered; as the English version of "Dolcissima Maria" called "Just Look Away" followed it. The title-track is a re-recording of "Impressioni di Settembre" from the debut. The production is naturally much superior to the original, but they had unfortunately ditched the beautiful finale of the song. "La Luna Nuova" had now become "Four Holes in the Ground" and it was this version of the song that most people would be familiar with. Sinfield rhymes "luck" with "fuck" in the lyrics, but the word is not sung or written in the lyrics sheet! "Is My Face on Straight?" is of course unchanged, although it would show some great sense of humour if they actually had made an Italian version of it here. "Via Lumiere" is titled "Have Your Cake and Beat It" and remains an instrumental, so there's no attempt at a new "Mr. Nine Till Five" here. It's not much more to say about "The World Became the World" than it's of course a superb album, and will just as "Photos of Ghosts" be cheaper and easier to find than the Italian original.
Premiata Forneria Marconi - "Live in U.S.A." (Numero Uno 1974)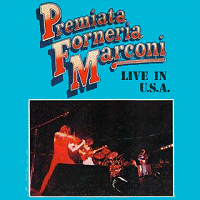 With the success of both "Photos of Ghosts" and "The World Became the World" it was only a matter of time before the band would tour internationally, and in 1974 they were on their first tour in America. The band wisely decided to document the event, and resulted in "Live in U.S.A.". Anyone who were just familiar with them as the lush and polished symphonic progressive rock band that they were on their studio records will be surprised about what a raw and energetic unit they were on stage. The record kicks off with a version of "Four Holes in the Ground" that borders on controlled chaos, and it's impressive that the band manages to keep pace with themselves here. But after this sweaty opening, the band also takes time to show their calmer side through a down-stripped version of the first part of "Dove...Quando..." that the American audience after all wasn't familiar with at all. This is followed by a lengthy acoustic guitar solo that leads into a good version of "Just Look Away". But the band then kicks into high-octane mood again with "Celebration" that actually has a lot more in common with the original "E Festa", and that's not just because the verse is sung in Italian! The band rounds it off with the theme from "The World Became the World" that I personally prefer to know as "Impressioni di Settembre". As you could expect, "Mr. Nine Till Five" is played incredibly fast, tight and flawless, although the riff on the beginning and end sound somewhat thin here. The rest of the record is taken up by the 15-minute jam "Alta Ioma Five Till Nine" that only can be hard on this album. The band plays just as convincing and energetic here as on the rest, and especially Pagani takes completely off on his violin after a while. The jam ends in an interpretation of Rossini's "William Tell Overture", and is to my knowledge the only time where the band has made a reference to a classical theme on record. "Live in U.S.A." is pretty much everything a good live-album should be: raw, energetic and occasionally improvised.
Premiata Forneria Marconi - "Chocolate Kings" (Numero Uno 1975)
"Chocolate Kings" was the last good album from Premiata Forneria Marconi, and undoubtedly also their most underrated one. It marked the entrance of vocalist Bernardo Lanzetti, who earlier had been with Acqua Fragile, into the band. With Lanzetti, the band had got a strong main vocal focus that they had lacked until then. Some people seem to strongly dislike his Peter Gabriel/Roger Chapman-hybrid, but personally I love it, and his accent just adds some charm to it. But there are also divided opinions about the album itself. It could have something to do with apparent anti-capitalism theme of some of the lyrics, something that seemed rather pathetic and hypocritical when coming from an Italian band who now had switched entirely to English lyrics as well as touring more than ever worldwide. But the music had perhaps also changed slightly, despite still being classic 70's progressive rock. Some of the most lush, pastoral and symphonic elements of the previous albums had been traded in for a hard-hitting, up-tempo and even more technical style with focus on fast chops and virtuosity. But the most important thing is of course that the band still managed to come up with strong material, and there's not a bad track at all on "Chocolate Kings". The perhaps strongest melody on the album is to be found in the opener "From Under" that despite being a completely different melody, reminds me strongly of "Is My Face on Straight?". "Harlequin" opens as a ballad where you'll notice that Premoli's use of el-piano started to get more dominant in the band's sound, and soon would take them over in jazzier territory. The mid-part of the song is however as far from a ballad as you can get, being the possibly hardest, tightest and most intense groove the band ever delivered. This seriously rocks! The title-track definitively also rocks quite hard, again with impressive tightness from the whole band. The slightly jazzy "Out on the Roundabout" calms things down a bit, and is probably the most introverted track on the record and the one that will take most time to fully get into. A few of the chords here are clearly borrowed from Gentle Giant's "In a Glasshouse". "Paper Charms" is probably the most symphonic track to be found here, featuring some quite mighty and dynamic themes, but the band's new sense for faster tempos and more energy is apparent also here. But as already mentioned, "Chocolate Kings" would prove to be the band's last worthwhile release. Their next album was a dull and lifeless fusion-record called "Jet Lag" where every trace of inspiration seemed to be drained away from the band. After that, their records tended to be even worse. But all of the albums reviewed here should definitively be in your collection.
Procession - "Frontiera" (Help 1972)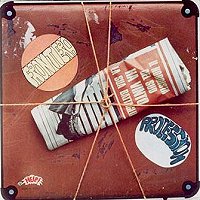 The debut of these Italian guys reminds me a lot of De De Lind's album, but without the flute. Even the build-up of the album is quite similar to De De Lind, with many of the same themes going through the whole album, especially on side 2. Another thing reminiscent of De De Lind is the variation between acoustic and heavy parts. This is quite complex heavy progressive rock with strong riffs and melodies. The arrangements are most dominated by lots of excellent and rough guitar, but "Anche Io Sono Un Uomo" and the folky "Incontro" also features the holy Mellotron. The latter one used Mellotron-flute in a way I've not heard any other place. The opening riff on "Un'Ombra Che Vaga" could have been taken straight from Crimson's "Lark's Tongues in Aspic" album, but the track goes quickly back to unmistakeable Italian ground again, and some riffs and themes from "Un Mondo Di Libertá" are repeated. "Solo" (1 & 2) even features some obvious blues-influences, but that's not representative for the rest of the album. "Cittá Grande" goes from light, harmonic and very typical Italian progressive rock and into dark and heavy instrumental parts. This album will sure be your thing if you enjoy the earlier mentioned De De Lind album, and Italian 70's heavy progressive rock in general.
Procession - "Fiaba" (Fonit Cetra 1974)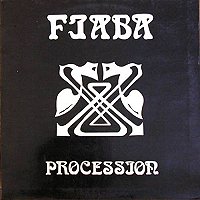 Their second and last album has quite a different feel from their first one. The heavy riffs are gone in favour of a softer and more relaxed progressive rock style with slight influences from both folk and jazz. They had now also added flute and saxophone the sound. The opening track "Uomini Di Vento" is probably the most rocking here, but lighter than anything on the debut and the flute gives it a more folky touch. The melodic "Un Mondo Sprecato" is maybe the strongest track here, with a very strong melody and an energetic instrumental-break in the middle. "C'Era Una Volta" is an atmospheric track with much vibes saxophone and acoustic guitar. They could have skipped the attempt at sounding like Pink Floyd's "The Great Gig in the Sky" at the end of this track. "Notturno" is another acoustic track, but with a very spacey arrangement and a distorted sax-solo in the middle. Actually not too far from Hawkwind in one of their most relaxed and acoustic moments. "Il Volo Della Paura" is not much more than ok, and the title-track has really nothing more to it than some nice flute. Overall a listenable album, but I prefer the debut.
Pulsar - "The Strands of the Future" (CBS 1976)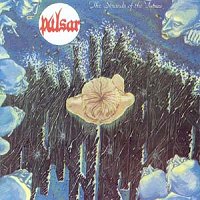 Pulsar was one of the finest symphonic progressive rock bands from France, and "The Strands of the Future" was their second album. Although it was hampered by a weak and amateurish production, no one can deny the musical quality. Spacey symphonic progressive rock can't get much better than the 22-minute title-track that takes up side 1. With the exception of a few lines sung in French, the track is an instrumental journey stuffed with complex chord changes, complex themes and arrangements loaded with organ, mellotron, synths and lots of spacey guitar. A hauntingly beautiful and atmospheric flute also appears at the very end, while the intro sounds a lot like classic Klaus Schulze. Classic stuff. Side 2 is not as strong, but still features some good music. "Flight" is an excellent instrumental that, despite its modest length, features several different passages that more or less encapsulates the sound of the whole album in a few minutes. "Windows" is an atmospheric, laid-back and very mellow song that pointed forward to their next and best album. The closing number "Fool's Failure" is unfortunately a uninspired and tedious track that never takes off, and also includes some failed attempts at creating some drama by adding lots of narration. The fact that it's 10-minutes long and the earlier mentioned lacklustre production weakens the album a bit, but the good stuff (especially the title-track) is so good that it makes the record worthwhile.
Pulsar - "Halloween" (CBS 1977)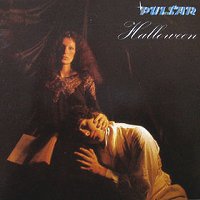 Pulsar's third album "Halloween" was their masterpiece, and benefited from a much better production than the previous album. The music was a bit less spacey and instead more symphonic in a more traditional way. It was a concept-album divided into two parts, which of course were the two sides of the record. These parts were again divided into several songs with individual titles. Part 1 opens with a simple melody sung by a child accompanied by a piano. Then a lengthy and very atmospheric instrumental-part appears with lots of beautiful mellotron and synth-sounds that are reminiscent of early Jean-Michel Jarre. It becomes increasingly more dramatic, intense and energetic as the whole band gradually joins in. It then slows down to an emotional and very beautiful vocal-part. The vocals are really pleasant to listen to, and have improved a lot since the previous album. The same goes for the opening song in part 2 that evolve into an emotional guitar-solo. The rest of the part features instrumental passages that vary between spooky synth-solos to energetic, almost funky themes. "Halloween" is simply a touchingly beautiful and emotional symphonic progressive rock album, and one of the essential ones from the French progressive rock scene of the 70's.