-T-
Tangerine Dream - "Electronic Meditation" (Ohr 1970)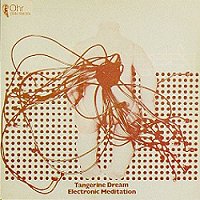 Tangerine Dream were the best and most important electronic progressive act of all time in the 70's, and they would over the decade make some of my all-time favourite music. Edgar Froese, an art student who associated none less than Salvador Dali among others, formed the group in Berlin in 1967. The band didn't get a contract before they signed up with the notorious underground label Ohr in 1970. The band consisted at this moment of Froese himself on guitar and various primitive electronic equipments along with drummer Klaus Schulze and Conrad Schnitzler who contributed mostly with flute and cello. Ohr wanted the band to release a debut album as quickly as possible, actually so quickly that Tangerine Dream didn't even get any time to record an album at all! So instead, the band found a tape with jams and rehearsals that they had recorded the year before and released it as their debut to keep their part of the contract with Ohr. It was named "Electronic Meditation", and it's very ironic that it was the only Tangerine Dream album released in the 70's where this title didn't fit at all. The album consists entirely of experimental noise without direction and purpose, and nothing worse or less representative could have been released as the band's debut. A few of the tracks, such as "Journey Through a Burning Brain" and "Cold Smoke" features hints of dreamy and experimental passages of organ and various electronics that would be among the band's trademarks, but it doesn't help much when it's all quickly drowned out by Froese's feedback-drenched noise on guitar backed up by Schulze's drum bashing. These passages do absolutely nothing for me, and have none of the atmospheric qualities of a track like "Amboss" from Ashra Temple's debut the year after. "Asche zu Asche" is a short and pure krautrock-jam of the kind that early Amon Düül II probably did lots of on their demos. The final track "Resurrection" features some spoken vocals played backwards over a flowing organ. "Electronic Mediation" is of interest to historians and completists only.
Tangerine Dream - "Alpha Centauri" (Ohr 1971)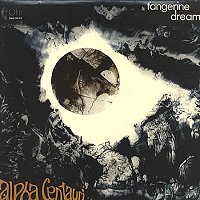 Klaus Schulze and Conrad Schnitzler left the band after the debut. They were replaced by Christopher Franke and Steve Schroeder. "Alpha Centauri" became the only album from this line-up of the band, and was tremendously closer to what Tangerine Dream would be all about than what their debut had been. Sure, it still sounded rather primitive and low-budget, but the band had now clearly discovered that spacey, atmospheric and dreamy experimental electronic music was the way to go for them. The two tracks on side one, "Sunrise in the Third System" and "Fly and Collision of Coma Sola", were both based around a flowing farfisa-organ, surrounded by electronic effects, flute and a wailing, spooky guitar-tone from Froese. The title-track took up the whole second side, and is an interesting improvisation based around spacey electronic sounds, organs and Froese's earlier mentioned guitar. The more earthly flute makes a fine atmospheric contrast. At the very end the track goes into a poem spoken in German, and it finally climaxes into one of the very few cases of human vocal-harmonies on a Tangerine Dream album. The structure of the album would prove to be very representative for several of records to come from the band, with one side-long title-track and a couple of "shorter" tracks on the other side. So despite some technical shortcomings, "Alpha Centauri" was an important release in the musical evolution of Tangerine Dream.
Tangerine Dream - "Zeit" (Ohr 1972)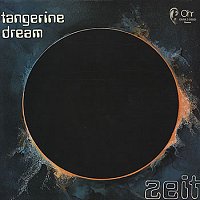 Steve Schroeder's time with Tangerine Dream proved to be very short, as he soon was replaced with Peter Baumann. Baumann completed what would prove to be the classic and undoubtedly best line-up of Tangerine Dream, producing a string of eight albums that all are classics of 70's electronic progressive music. The first album from this line-up would also show itself to be one of the most ambitious and controversial ones of the band's entire career. It wouldn't be too far off the mark to describe "Zeit" as the "Tales from Topographic Oceans" of electronic progressive music. It's a double album consisting of a 20-minute movement on each of its four sides, and opinions about the record differs wildly even among the most fanatic fans of the band. Musically it pretty much perfected the style that the band had experimented with on "Alpha Centauri", and it was all recorded, performed and produced far better and more professional. The first and in my opinion best movement on the album is the first one, the promisingly titled "Birth of Liquid Plejades". It opens with the gloomy sounds of three cellos improvising around some droning chords. We quickly enter electronic territory afterwards, when some Moog played by guest Florian Fricke from Popol Vuh appears. Froese's spacey wailing on electric guitar soon envelops these slow and simple chords. The final part of the composition goes into a shimmering and warm organ that creates the perfect and most pleasant space atmosphere you can get. The second movement, "Nebulous Dawn", is one of Tangerine Dream's most experimental and least accessible pieces of music ever recorded. It has no intention of depicting space in a romantic sci-fi way. Instead it's a musical description of space the way it really is: dark, vast and hostile, filled with toxic gases and lethal radiation. The third movement is titled "Origin of Supernatural Probabilities" and starts with some soft and moody chords on guitar that quickly turns into the more typical wailing spacey sound that get surrounded by some bubbling electronic sounds. This track will make you think of large and gigantic rocks that slowly glides through big clouds of stardust in space. The fourth and final movement is the title-track that consists of free-form synths and electronic effects along with Froese's guitar, depicting space as the atmospheric chaos it is. "Zeit" is a monumental piece of early electronic progressive experimental space music.
Tangerine Dream - "Atem" (Ohr 1973)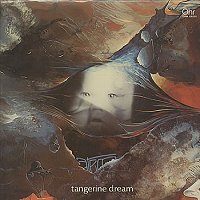 "Atem" turned for several different reasons out to be a very important album in Tangerine Dream's history. It was their first record to receive some serious attention outside Germany, something that soon would reward them with a lucrative contract with Virgin and launch their international career. The legendary British DJ John Peel also had "Atem" as his choice for "LP of the year" in 1973, and he played it regularly on his radio show. But the record was important for the band's further musical development to, as it was their first record where they used the Mellotron, an instrument that would prove to be a very important part of their sound in the years that followed. "Atem" starts with its 20-minute title-track that in my opinion probably was the best and most flawless piece of music that Tangerine Dream recorded for Ohr. It opens very powerful and loud with thundering drums and majestic, grandiose Mellotrons. This music has a kind of a mysterious and epic ancient feel to it. The drums pick up the pace after a while, and distorted electronic sounds join in to increase the tension and drama of the music. But then suddenly, it all stops and quickly slows down to a quiet, flowing and very atmospheric piece of spacey dream music that just seem to float along for some time. It gets gradually a bit more sinister toward the end, with some mysterious thumping sounds and an overall darker mood. This is very mind-expanding stuff that will take you to places you never thought you would go. Another reviewer described the 10-minute "Fauni-Gena" as the sounds from a forest of an alien planet, and that's a very accurate description. It blends the sounds of birds and other creatures with Mellotron and flute. "Circulations of Events" is basically nearly six minutes of humming and gloomy electronic sounds, building up lots of tension. The three guys toys around with their voices on the first minute of the closer "Wahn" before it turns into a powerful finale with drums and lots of Mellotron. "Atem" was the band's masterpiece on Ohr.
Label (UK issue)
Tangerine Dream - "Phaedra" (Virgin 1974)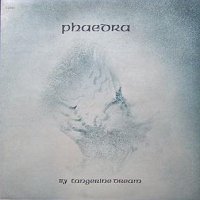 Tangerine Dream's debut for Virgin is rightfully and deservedly regarded as one of their definitive classics. "Phaedra" showed not only that the band's set of equipment obviously had grown a lot bigger and more expensive since their early days on Ohr, but also that their musical expression had evolved and progressed without losing any of the depth and mysticism of their best works for Ohr. The most noticeable new feature in their sound was the inclusion of complex, sequenced electronic rhythm patterns that slowly evolved and changed shape underneath the atmospheric sounds of Moogs, Mellotrons, flute and lots of various electronic equipment. This came into full bloom on the 17-minute title-track that would set a whole new standard for the Tangerine Dream sound. The minimalism of their records on Ohr was pretty much gone, as the sequenced rhythms provided the band with a rich and fat sound stuffed to the rim with mystical and delightful atmospheres. The climax of the track comes surprisingly enough AFTER the sequencer has stopped, and makes room for a sinister and incredibly moody part filled with Mellotron, gongs and haunting electronic sounds, building up some of the most fantastic atmospheres ever created by humans. And to add to the feel of beyond and mystery, some distant and faint sounds of children playing can be heard several seconds after the track has ended. What does it symbolize? Did you just wake up from a dream? It's up to each listener himself to decide how he will interpret this utterly fantastic music. The second side opens with the nearly 10-minute "Mysterious Semblance at the Strand of Nightmares" that reportedly was a pure solo number by Froese. It consists almost entirely of grandiose washes of Mellotrons, but also some spacey electronic sounds. The opening of "Movements of a Visionary" seems to improve the voice-experiments of "Wahn" from the previous album. The rest of the track consists of a warm and comforting organ improvising around the sequenced rhythms that now was one of the band main trademarks. Baumann's brief flute-piece "Sequent C'" closes the record in a moody way. "Phaedra" even made it into the British top ten without nearly any promotion at all. The 70's really was a time of musical taste and intelligence, even among the mainstream audience.
Tangerine Dream - "Rubycon" (Virgin 1975)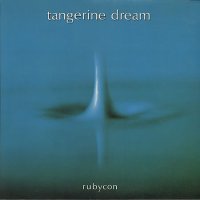 So how could Tangerine Dream follow up a record that not only had been an unexpected international breakthrough, but also one of their definitive artistic achievements? Easy! They just further perfected and smoothened the formula of that very album, and came up with not just their most perfect work but perhaps also the best album of the entire genre they operated in. "Rubycon" is one of the few albums where you honestly can say that not an entire second is mediocre or wasted. It's a peak as high as the band possibly ever could reach. It was also their first album consisting of just one 40-minute long track that only was broken up by the two sides of the record. It starts with some sounds where the mood alternates between dark and light, before it beautifully and graciously rises up toward a grandiose and haunting part with some fantastic atmospheres that in a dream take us to the ocean. It quiets down after a while, and starts to build up some tension to prepare us for the sequenced part. Together with eerie Mellotrons, distorted piano-chords and droning organs, the electronic sequenced rhythms carry you away in the same dreamlike state as "Phaedra" did. The second part of "Rubycon" starts quite dark and sinister, with an almost metallic, gloomy tone dragging up and down that evolves into a spooky Mellotron-choir in the same tone. The part with the sequenced rhythms is a bit more dramatic and energetic here than on the first side, and features some effective backwards guitar from Froese. The sequencer part ends in something that sounds like electronic swells toward the shore. The finale is a bit brighter, consisting of Mellotron-flute around dreamy and mysterious synths that conjure up images of light. This music is so magic and precious to me that I wouldn't trade it in for anything else in the world.
Tangerine Dream - "Ricochet" (Virgin 1975)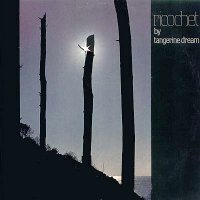 "Ricochet" was yet another album featuring only one long composition during the entire record, but unlike "Rubycon" it had been recorded live in France and Britain during the band's European tour in 1975. It's perhaps hard to imagine, but even the electronic music of Tangerine Dream sounded rougher and less polished live than what it did in studio. The band didn't use a mixing-desk live, so the volume pretty much lived a life of its own during the concerts. This can clearly be heard on the sequenced part of the first side that occasionally sounds extremely loud. Here you also can hear Froese use the guitar to play an actual melody for the first time, and not just as an atmospheric effect. It also introduced the use of electronic percussions and not at least the Mellotron-brass, a sound that would be used quite a lot on several of their albums from the second half of the 70's. Side 2 is calmer and more relaxed, opening up surprisingly with some grand piano that gets surrounded and finally overtaken by the ethereal Mellotron-flute. The sequenced rhythms that appear right afterward are soft and dreamy, leading into a great theme played on Mellotron-brass that is being improvised around for the rest of the track. There are also some weird voice-effects toward the end, but it all builds up to and return to the main idea again for the finale. Considering the fact that "Rubycon", Froese's "Ypsilon in Malaysian Pale" and Klaus Schulze's "Timewind" also were released the same year, "Ricochet" was the final jewel in the crown that turned 1975 into the very best year in Tangerine Dream-related history. By the way, Tangerine Dream's covers were designed by Froese's wife Monique, and her cover for "Ricochet" is one of the best examples of her ability to perfectly capture the atmosphere of Tangerine Dream's music.
Label
Tangerine Dream - "Stratosfear" (Virgin 1976)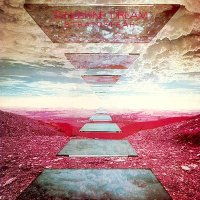 "Stratosfear" took the style that had been developed on the three previous albums into slicker, more melodic and slightly less abstract territory. It was the first album since the debut to not feature a side-long track. Still, a record consisting of only four songs (where two of them were over 10 minutes) could not be accused of being a commercial sell-out, not even by 70's standards. The title-track opens with some relaxed and pleasant chords on guitar by Froese, which creates an atmosphere that fits the title very well. The obligatory electronic rhythms then start, and introduce one of the best and most recognizable melodies that Tangerine Dream ever wrote. This is the track that Jean-Michel Jarre always dreamt about making, but never had the full ability or taste to write (although I've no problems admitting that I enjoy both "Oxygene" and "Equinoxe"). "The Big Sleep in Search of Hades" is an even bigger surprise, starting with harpsichord laying the foundation for a little melody played on Mellotron-flute that quickly gets stopped by a sinister synth-theme followed by some dark Mellotron-strings. The mid-part sounds eastern-influenced in a quirky way, but quickly return to the opening harpsichord again. "3 AM at the Border of the Marsh from Okefenokee" was the first Tangerine Dream track with reference to a real existing place on earth, and introduced something as unlikely as harmonica to the sound. But it was used entirely just as an atmospheric effect on the beginning and end of the track, definitively no blues here! Most of the composition is made up of a pleasant electronic rhythm that slowly moves forward and evolves while Mellotron-flute and atmospheric synths dance gracefully on top of it. "Invisible Limits" is with its eleven and a half minute the longest track on the album, but of course still quite short for being Tangerine Dream. The funky guitar-style of Froese on the slowly building opening adds some 70's-influences of the unusual and surprising kind. The opening climaxes in a very loud burst of Mellotron before slowing down to a melodic and laidback guitar-theme that leads into far faster and more energetic electronic rhythms. The finale sounds quite emotional with its melodic grand piano and longing synth-lines. "Stratosfear" represented the natural and necessary evolvement from the previous albums, and that at a time when Tangerine Dream still could change within their signature sound.
Tangerine Dream - "Sorcerer" (MCA 1977)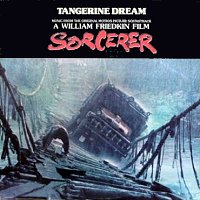 Tangerine Dream were an internationally established act by the mid-70's and had fans from all over the world. One of them were none other than movie director William Friedkin, who always will be remembered best for the classics "The French Connection" from 1970 and "The Exorcist" from 1973. The latter one made use of the theme from Mike Oldfield's "Tubular Bells", so Friedkin was clearly a man with great musical taste. He asked Tangerine Dream if they were interested in making the soundtrack for his new movie. The band reportedly composed and recorded nearly one hour and a half of material, and handed it over to Friedkin who at this point didn't have the slightest idea about what film he was going to make! As a result, the final movie was actually inspired by the soundtrack instead of the far more usual other way around. The movie was titled "Sorcerer", a remake of the French film "Le Salair de la peur" from 1953. Sadly for Friedkin, the movie became a flop in addition to being a critical fiasco. But the soundtrack itself ranks among Tangerine Dream's classic records. The original material that had been sent to Friedkin was edited down to a single album. The best way to approach it is to forget the movie, and instead view it as a regular Tangerine Dream release. The most significant difference from this and the other best works of the band was the number of tracks and their length. There were no less than twelve tracks here, several of them in the two or three minute range. But it doesn't matter at all when considering the overwhelming quality of the material. "Creation" and especially "Vengeance" could both have been taken from "Stratosfear", while the rhythm of "Rain Forest" is very reminiscent of "Phaedra". And the longest track of the record, the seven minute "Abyss", has certain similarities to "AF 765" from Froese's "Macula Transfer" album. "Search", "Grind" and "Betrayal (Sorcerer Theme)" are all short but classic themes in Tangerine Dream's catalogue, perfectly demonstrating the band's classic sound even within the short running time. "The Call" is two minutes of pure atmospheric beauty at its most pleasant, and "Impressions of Sorcerer" have a surprisingly funky rhythm that fits well along with the superb Mellotron-brass. "The Journey" has the Mellotron-flute that was so typical for Tangerine Dream, but the underlying rhythm of the track reminds me actually more of early Kraftwerk. The weirdest and most experimental piece on the record is "Main Title", consisting of five minutes of sinister and dark synth sounds. The only track that I've never cared much for on the record is "The Mountain Road" that reminds me way too much of some crappy 80's new age stuff with its electronic ethnic percussion sounds. But apart from that, "Sorcerer" is classic Tangerine Dream.
Tangerine Dream - "Encore" (Virgin 1977)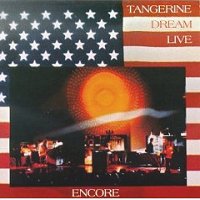 Tangerine Dream's tour of America in 1977 resulted in the superb double live-album "Encore". The title would unfortunately prove to be very fitting, as it was the last record to feature Peter Baumann and also the last where the classic Tangerine Dream sound still was fully intact. As a logical consequence of these factors, it was also their last essential release. But "Encore" was an enormously worthy way to end their classic years, consisting of four side-long tracks that blend new ideas and material with older themes. "Cherokee Lane" is a good example of this, as it improvises around themes from "Sorcerer", "Ricochet" and even "Maroubra Bay" from Froese's solo masterpiece "Ypsilon in Malaysian Pale" but still ends up as a completely new track. The Mellotrons are all over the place, creating that hauntingly beautiful and mystical mood that none other than Tangerine Dream at their best could do. "Monolight" starts with the opening of the second side of "Ricochet", but is quickly cut off by some experimental sounds that lead into a surprisingly happy and light new melody. This is followed by a classic sequencer-part with lots of clicky Mellotron-brass, before the theme of "Stratosfear" appears, and finally it all ends with the finale of "Invisible Limits". The two other tracks on the album were all new, with absolutely no references to older material. "Coldwater Canyon" is an intense, upbeat and rocking track that features Froese in top form on guitar. Tangerine Dream hadn't rocked this hard since the debut, but in a MUCH better way! The last track "Desert Dream" is based purely in atmosphere, shifting from dark, experimental passages to beautiful and ethereal parts with tons of Mellotrons and an eastern-feel that fits the title of the track. The highlight is undoubtedly a touchingly mellow, lonesome and slow melody played on Mellotron-brass that appears toward the end. "Encore" was Tangerine Dream's last masterpiece, and one of the strongest proofs of the genius that the band possessed from 1972 to 1977.
Tangerine Dream - "Cyclone" (Virgin 1978)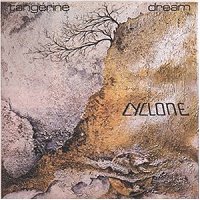 The departure of Peter Baumann after "Encore" marked the ending of Tangerine Dream's artistic and creative peak period. The band could never be the same again, so Froese and Franke decided to use the opportunity to do something completely different from what they had done before. They added Klaus Krieger on drums and ex-Steamhammer flutist Steve Jolliffe to the band, and insisted for the first time to make an album with vocals. Many fans of Tangerine Dream despise the resulting record "Cyclone", and partly with good reason. The 13-minute "Bent Cold Sidewalk" opens the record and sounds like a mediocre cross between Pink Floyd and Eela Craig on their "One Niter" album. The lyrics are as you could expect rather mystical, and Jolliffe delivers them with much drama and a supposed serious tone. The instrumental part in the middle is not surprisingly the only passage of the song that reminds you that it's actually Tangerine Dream you're listening to. But the track still sound like a masterpiece compared to the hopeless and awful "Rising Runner Missed by Endless Sender". Nothing could have proved better that five minute long vocal numbers definitively NOT was Tangerine Dream's thing. It suffers from bad and clumsy songwriting, and what's up with Jolliffe's ridiculous moaning and breathing on several passages? It seriously sounds as if he's shitting himself. The second side brings the band back to instrumental ground again, consisting entirely of the 20-minute "Madrigal Meridian". It features a very good theme played on Mellotron-brass and a gorgeous ending that includes Jolliffe's flute. But most the track seems to meander on aimlessly for most of its time. Krieger's drumming doesn't even sound fully adjusted or incorporated into the music of this track, although that problem would be solved on the next album. Jolliffe left the band after "Cyclone", but the record was probably never meant as anything else than a one-time experiment anyway. Sadly it was also the last Tangerine Dream album where the Mellotron still had a dominating role, and the band's sound would from now on become gradually more synthetic and digital.
Tangerine Dream - "Force Majeure" (Virgin 1979)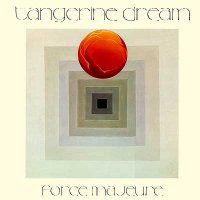 Tangerine Dream returned to purely instrumental territory again with "Force Majeure" (pressed on precious transparent vinyl), but the album itself was musically still a continuation of the more conventional progressive rock style they had explored on "Cyclone". And Tangerine Dream at their best had absolutely nothing to do with being conventional. The title-track takes up side one, and is one of the most varied pieces the band recorded in the 70's. The drumming fits better into the music here than what it did on "Madrigal Meridian" from the previous album. Most parts of the track have some decent melodic ideas, and the finale is something of a surprise, alternating between a Kraftwerk-influenced pop melody and a grandiose symphonic passage driven forward by Krieger's bass drum. I won't deny the melodic and musical quality of the track, but it's still too slick and shallow when considering what Tangerine Dream had done earlier. Albums like "Phaedra" and "Rubycon" are on a completely different level and dimension than anything "Force Majeure" can come up with. The band had in essence lost their identity. The magic feel and mystical atmosphere seemed to be gone. It was also very apparent that they now were ditching much of their old equipment (including the essential Mellotron that now was nearly inaudible) in favour of much more modern polysynth-crap. Nowhere is this more evident than on the utterly weak "Cloudburst Flight". It doesn't help much that the track features one of Froese's most impressive performances on guitar, when the rest of it is just a showcase for the newest and most synthetic synth-sounds you could get in 1979. "Thru Metamorphic Rocks" is the oddest track on the album, starting as a kind of guitar-based symphonic progressive rock track, but after a few minutes goes into an unusually hard and aggressive electronic rhythm featuring some percussive effects. It's undoubtedly the passage on the album with most in common with the Tangerine Dream of old, but still with a more modern and less human approach. Many Tangerine Dream fans rate this album highly, but sorry, I'm not one of them. I would rather advice you to stick to the albums of the Froese/Franke/Baumann version of the band, as they represent the absolutely best period in the band's (too long) career.
O Terço - "Criaturas Da Noite" (Underground 1975)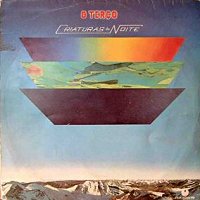 I've often seen O Terço's second album "Criaturas Da Noite" being praised as one of the seminal progressive rock classics from Brazil in the 70's. Based on that, I must admit that I personally think the album partly fails to deliver. First of all, O Terço sounded like an extremely confused band to my ears, shifting style from one song to another through the entire album, and only two of those songs can be labelled as prog. "Hey Amigo" opens the record with some very simple hard rock that borders on the banal. Then they switches to acoustic folk in "Queimada" before going into Santana-inflected Latin rock mode in "Pano De Fundo". The instrumental "Ponto Final" is the first track that is anywhere close to bringing us over in a progressive realm, featuring sweeping Mellotron, Moog and some nice melodies. Instead of keeping this focus, they instead sadly then crashed right to the ground with the truly annoying and unimaginative rock'n'roll of "Volte Na Proxima Semana" that is undoubtedly the worst song on the record. The title-track is a string and piano-led ballad, nice but isn't this still too simple and straightforward for being labelled as classic progressive rock? And "Joco Das Pedras" is pure 70's pop, although I'll admit I like the song, as it's catchy, upbeat and thoroughly enjoyable for what it is. But when 12 minutes remain of the record, then the band suddenly decides to throw all their uncertainty and musical confusion away, and successfully dives straight into full-blown, complex symphonic progressive rock in the excellent "1974". Why they couldn't have done this earlier in the album and remained that way is a mystery to me, as this track proves that they after all had what it takes to be a good progressive rock band. Weirdly enough, there's also a riff somewhere in here that sounds identical to one from Nektar's "Recycled" from the same year. Maybe it's no coincidence that Nektar were singing about Brazil on that very album! So, there's about 17 minutes of pure and good progressive rock on this album, while the rest is pretty much a mishmash of various 70's rock styles. You have to decide for yourself if that's good enough for you to investigate.
Terpandre - "Terpandre" (Dionysos 1978)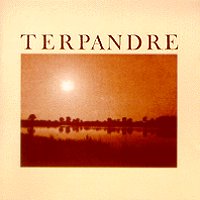 This French band played relaxed and instrumental symphonic progressive with some jazz-influences. The band used a lot of mellotron, and that is probably reason enough for you to buy the album. Most of the tracks are based in good and pleasant melodies. The most fusion influenced passages seems to bore me a little bit (as fusion always do to me), but all of the tracks have interesting things to offer. "Conte En Vert" could have been a relaxed Focus track with the mellotron replacing Jan Akkerman's guitar. The best track for me is "Anne-Michaele". The track is not based in a theme at all, but is just a very beautiful piece of sound played by mellotron and piano. The 13-minute "Carrousel" has also some very good mellotron-passages in it but unfortunately some boring fusion too. An ok album, but personally I think it's a little bit overrated.
Tomita - "Snowflakes are Dancing" (RCA 1974)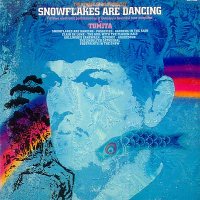 Isao Tomita from Japan is a bit different from other progressive electronic artists from the 70's. Artists like Tangerine Dream, Klaus Schulze and Vangelis composed their own material, but Tomita preferred to instead transform music of various modern classical composers into electronic soundscapes. This meant that he always had high-class material to work with, but required also a lot from his talents as a musical interpreter. His debut "Snowflakes are Dancing" from 1974 was based on ten pieces by the French impressionist Claude Debussy. The album is most exciting and interesting on tracks that originally were pure piano-pieces, such as "Arabesque No. 1" and "The Girl With the Flaxen Hair". Tomita successfully transform them into sweeping and atmospheric synth-pieces. The version of "Clair de Lune" attempts on the other hand to recreate the orchestral arrangement on synths. He used an impressive arsenal of various Moogs, oscillators, sequencers, filters and also a Mellotron to create his own distinctive sound. Some of the sounds he used also had a kind of an Eastern/Japanese touch to them that I really can't explain. Other highlights include "Children's Corner No. 4" (the title-track), the majestic "Preludes Book 1 No. 8" ("The Engulfed Cathedral") and "Reverie". "Children's Corner No. 6" ("Golliwog's Cakewalk") represents the more cheesy and less serious side of Tomita, and is great fun for anyone interested in old analogue synths. The overall short length of the tracks and their lack of a common concept make "Snowflakes are Dancing" a bit more fragmented than his later albums, but it was still a groundbreaking debut and remains a favourite among many fans of the genre.
Tomita - "Pictures at an Exhibition" (RCA 1975)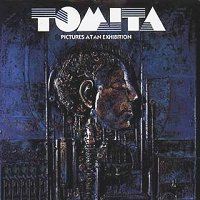 Tomita chose to do a quirky and futuristic take on Mussorgsky's "Pictures at an Exhibition" as the follow-up for "Snowflakes are Dancing". His version was clearly based on Ravel's orchestral interpretation of the piece, as Mussorgsky's original was a pure piano-piece. Right from the beginning you know you're in for a rather experimental and exciting version, as it starts with the well-known promenade played on a cold but still atmospheric synth-sound. However, warmth is brought into the sound as soon as the Mellotron appears. Some will probably have problems with the experimental and metallic sounds on "The Gnome" and at the start of "Limoges/Catacombs", but Tomita was on the other hand not for everyone anyway. "Bydlo" sounds really dramatic and massive with lots of Mellotron-choir, and the beautiful version of "The Old Castle" is another highlight. "Ballet of the Chicks in their Shells" is hilarious and impossible to listen to today without smiling. If you thought you had heard cheesy and dated synths before, take a listen to this! The Mellotron-choir returns again in "Samuel Goldenberg and Schmuyle" and makes an interesting contrast to the dynamic and experimental synth-sounds. Some of the sounds are similar to those Vangelis used on his "Beaubourg" album. "Baba Yaga (Hut on Fowl's Legs)" has lots of bubbling synths in between the energetic main theme, while the version of "Great Gate of Kiev" has got a much more conventional and symphonic arrangement that at least won't provoke or outrage any listener. As with most others of Tomita's works, "Pictures at an Exhibition" is no substitute for the original version, but I don't think Tomita ever intended any of his albums to be that either. What you instead get are some unique and involving musical experiments that will appeal to anyone into 70's progressive electronic music and modern classical composers.
Tomita - "Firebird" (RCA 1975)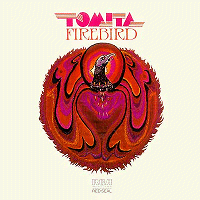 Stravinsky's ballet "Firebird" is in my opinion one of the greatest pieces of music ever written, and you got to have balls like an elephant to even think of doing something out of the ordinary with it. So Tomita wisely decided to make a rather straightforward electronic version of the piece. The most successful part of Tomita's version is undoubtedly the beautiful interpretation of "Round of the Princesses". However, it's impossible to capture the full drama and majestic power of "King Kastchei's Infernal Dance" and the famous finale by just using synths. But on the other hand, Tomita's use of softer and less experimental sounds here makes "Firebird Suite" probably easier to adapt to for some listeners than "Pictures at an Exhibition". Tomita returns to more familiar ground on the second side that consists of two compositions by Debussy and Mussorgsky. Debussy's "Prelude to the Afternoon of a Faun" is a perfect piece to just drift along to, and Tomita manages to capture it very well as I don't think an electronic version of it could have been done in another way than this. Mussorgsky's "A Night on Bare Mountain" is also performed rather faithfully to the original, and allowed Tomita to demonstrate the whole spectre of his sounds (and that's not few).
Tomita - "The Planets" (RCA 1976)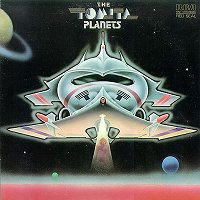 Tomita made what many regards as his best work when he recorded his version of Gustav Holst's "The Planets" in 1976, and it's easy to hear why. The interpretations of "Pictures at an Exhibition" and "Firebird Suite" had both been interesting electronic experiments, but "The Planets" was the first time Tomita had managed to make a version of a major classical piece that could equal even the original. Some listeners were outraged because Tomita had taken a few artistic liberties when he recorded Holst's masterpiece. However, these were mainly limited to some VERY minor adjustments to the structure of the piece, including a brief preview of the theme from "Jupiter" on the beginning and end of the record and the addition of a few atmospheric interludes to strengthen the spacey mood of the work. After the few tones from "Jupiter" and a countdown to take-off (!) we're floating into the opening segment "Mars". The dramatic themes and thundering timpani are recreated impressively well on Tomita's electronic equipment. The versions of "Venus" and "Mercury" are both very beautifully interpreted. But the highlight for me is still "Jupiter". The mighty theme in the middle sounds more powerful and emotional here than on any orchestral version I've heard, as Tomita chose to build it slowly up instead of going right into the highest tones, resulting in a gigantic climax. This was followed by one of the controversial interludes that Tomita had added to the piece, and then we're taken over in "Saturn". This one feels like an abstract cosmic dream where Tomita's spacey synths, his extensive use of the choral-effect on the Mellotron and a spacey organ create the perfect astral atmosphere. The same goes for the closing pieces "Uranus" and "Neptune". If you want an album of atmospheric and spacey 70's electronic progressive music with more melodic content than what the genre usually is known for, then you can't get wrong with "The Planets". It will also be the best place to start if you're not familiar with Tomita.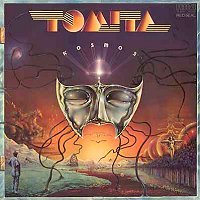 After the successful "The Planets" it was no surprise that Tomita chose to make another space-oriented album. But "Kosmos" turned out to be a disappointingly messy and unfocused effort. The reason for that was quite simple and obvious. Instead of focusing on just one or a few composers, he had now chosen to do material from a whole bunch of composers. The album included material of such wildly different composers as Bach, Richard Strauss, John Williams, Wagner, Edvard Grieg, Arthur Honegger, Charles Ives, Grigoras Dinicu, Jascha Heifetz and Rodrigo, making the mess complete. The album opens with a cheesy pop-version of the theme from "Star Wars" that becomes even cheesier at the end when it turns into Beethoven's "Für Elise" for a few seconds. Things gets a bit better in the suite "Space Fantasy" that combines the well-known opening theme of Strauss' "Also Sprach Zarathustra" with Wagner's "Ride of the Valkyries". This is followed by two avant-garde pieces: Honegger's "Pacific 231" and Ives' "The Unanswered Question" that both show Tomita at his most experimental. The latter one is undoubtedly the best, giving the listener a feeling of "being pulled away from the earth into a space without gravity" as Tomita himself states in the sleeve notes. It creates a perfect spacey atmosphere, and stands perhaps as the best track on the album for me. Rodrigo's "Aranjuez" is a much more melodic and accessible track, and yet another of the better moments on the record. Grieg's "Solveig's Song" is an absolutely stunningly beautiful theme, but I think most people who already are familiar with the theme will agree that it just doesn't fit into the spacey context that Tomita tries to give it here. Dinicu/Heifetz' "Hora Staccato" is just as awful here as in its original version (classical music at its lightest and most tasteless) and has NOTHING spacey about it at all. The lengthy "The Sea Named "Solaris"" combines Bach's "Three Part Invention, No. 2" and "Ich Ruf zu Dir, Jesu Christ" with a few passages written by Tomita himself. The result is a sweet and symphonic suite that naturally becomes a bit more baroque than what Tomita usually was. "Kosmos" has its moments, but it's an uneven effort overall and doesn't stand a chance to rival "The Planets".
Tomita - "The Bermuda Triangle" (RCA 1978)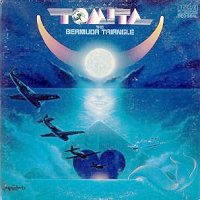 This spooky concept-album about the legendary Bermuda triangle is one of Tomita's most creative efforts, and maybe my personal favourite of his works. He used primarily music of Prokofiev to create his musical vision of the mysterious triangle, but the album also featured a version of Sibelius' "Valse Triste" that could equal even Tangerine Dream when it came to gloomy atmospheres. Tomita had also written a few passages himself, and incorporated the theme from "Close encounters of the Third Kind" in "The Venus Wearing the Space Uniform Shining in Florescent Light Color [The Return of UFO]". And yes, the titles Tomita made for the individual pieces will make any sci-fi fan drool. Or what do you say about "The Round Space Ship Landing on the Earth While Emitting Silvery Lights [The Arrival of UFO and the Mysterious Electric Waves]", "The Giant Pyramid Sitting at the Bottom of the Sea of Bermuda and the Ancient People", " The Children Playing in Agharta, the Deep Underground Kingdom" or " The Visionary Flight to the 1448 Nebular Group of the Bootes [The Departure of UFO]" to name just a few. The mystical and gloomy atmosphere of the music lives up to these titles; just check the excellent versions of such pieces as "The Adoration of Veles and Ala" from "Scythian Suite", "Allegro Marcato" from Prokofiev's 5th symphony and the beautiful "Allegro Moderato" from his 6th symphony. But best of them all was perhaps the version of "Allegro Moderato" from "Violin Concerto No. 1". It's probably my favourite piece by Prokofiev, next to " Montagues and Capulets" from the "Romeo and Juliet" ballet. That theme was actually also included here, but in a very brief and completely unrecognisable version. The album came in a blue coloured vinyl to symbolize the deep blue waters of the Bermuda triangle, and both sides of the record featured a secret message that only could be decoded by using a now completely outdated system called TARBEL. Promotional gimmicks? Sure. But cool? Yes!
Tomita - "Daphnis et Chloé" (RCA 1979)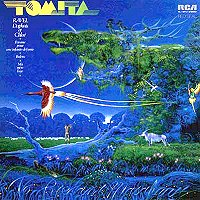 Tomita went back to earth again with "Daphnis et Chloé" after a trilogy of sci-fi and space-related albums. The album was in its entirety dedicated to the music of Maurice Ravel. The result was probably Tomita's sweetest and most harmonic album since "Snowflakes are Dancing". The grandiose "Daphnis et Chloé Suite No.2" is just as beautiful and impressive here as in its original version. It builds perfectly up from the ambient, atmospheric and free-floating "Lever du Jour" and "Pantomime" to the more clearly structured and dramatic "Danse Genérale". You could almost believe that this piece was composed with synths in mind, even if Ravel wrote it back in 1909-1912! "Pavane pour une Infante Défunte" is yet another one of Ravel's most beautiful pieces, although of a lighter and less complex kind. Tomita does a very fine interpretation of it, capturing both the atmosphere and wonderful melody.Most of you should be familiar with "Bolero" as this is Ravel's best-known piece. Tomita's version is approximately 7 minutes shorter than the original, but the 8 minutes here are still more than enough to capture the essence of this very repetitive composition. "Ma Mère l'Oye Suite" features some of the finest themes Ravel ever wrote, and it's also the one on the album where Tomita takes some chances with the arrangements. This is clearest on "Laideronnette, Impératrice des Pagodes". This was the most energetic part of the suite, and Tomita performed it with a synth that imitated the Balinese gamelan timbres, resulting in a very Eastern-like sound and mood. "Daphnis et Chloé" is overall one of Tomita's most tasteful albums as he avoids any kind of cheesy and dated sounds. It's easy to hear why it's his own favourite of all his albums. "The Planets", "The Bermuda Triangle" and "Daphnis et Chloé" are in my opinion the Tomita-albums you should try first. If you like them, pick up the other ones reviewed here too.
Tonton Macoute - "Tonton Macoute" (Neon 1971)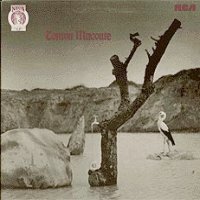 Tonton Macoute's self-titled album was yet another fine progressive album released on the Neon-label. The band played progressive rock where the main influences clearly were jazz and blues. Most of the songs on the record are lengthy and complex, and none of them sounds similar to each other. The opener "Just Like a Stone" is dominated by flute and el-piano and has a quite relaxed and laidback feel. "Don't Make Me Cry" is jazzy, early 70's prog as good as it gets. Lots of cool organ riffs with extended flute/sax/vibe solos. "Flying South in Winter" is an excellent and atmospheric flute-driven instrumental and one of the best tracks on the album. Side 2 opens with the simple but utterly beautiful melodic "Dreams". It features a tasty arrangement, and the melody is simply just wonderful. "You Make My Jelly Roll" is a piano-driven, bluesy jazz-tune (or jazzy blues?). The two-part closing number "Natural High" is cleverly composed track with several good melodies, riffs and solos. Good stuff overall.
Next Page