Previous Page
Trace - "Trace" (Philips 1974)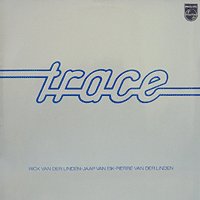 Rick van der Linden formed Trace after he left Ekseption in 1973. The rest of the trio was made up of Jaap van Eik on bass and former Focus-drummer Pierre van der Linden. Musically they were a very solid, tight and energetic classical-influenced, keyboard-based progressive rock band, but of a more conventional kind than Ekseption. Anyway, they still recorded some excellent progressive rock, and their self-titled debut is often regarded as their best album. It opens with their maybe best recording ever in form of the 14-minute "Gaillarde". This fantastic jam is partly based on some passages from Bach's "Italian Concerto" (but not the same ones that Ekseption did on "Beggar Julia's Time Trip") and goes from the most energetic organ-solos you can imagine and to beautiful and majestic melodies. This track will surely make any fan of keyboard-based progressive rock drool. The rest of the album never reaches the same heights again, but is still good most of the way. The adaptation of Grieg's "Åses Død" is very tasty, and demonstrates well all the different sounds in Linden's impressive arsenal. "The Escape of the Piper" is based in a fast theme played on piano, and is broken up in the middle with a synth-part that sounds like bagpipes. "Once" is a more organ-based piece with a very energetic and jazzy mid-part. "Progression" is a 12-minute jam that unfortunately seems to drag a bit and the themes are a little bit too generic and mediocre, but the performance itself is flawless and very fresh and energetic. "A Memory" is a beautiful piece based in an old folk-melody from Sweden, but is unfortunately weakened by a pointless drum-solo in the middle. The closing number "Final Trace" is as typical Rick van der Linden as he gets, but it features nothing that he already had done in Ekseption. Still, this album is a must-have for all fans of keyboard-based progressive rock of the classic kind.
Trace - "Birds" (Philips 1975)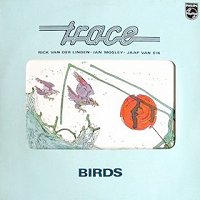 Pierre van der Linden left the band, and was replaced by future Marillion-drummer (yuck!) Ian Mosley. Their second album "Birds" stayed true to the sound of the debut-album. What really makes it worth having is undoubtedly the 22-minute "King Bird Suite" written by Linden himself. It's a very glorious and impressive piece of keyboard-based progressive rock, and it was next to "Gaillarde" probably the best thing the band ever did. Side 1 of the album was pretty much what you could expect: classical covers with a few self-written tunes thrown in between. The version of Bach's "Boureè" is fresh and energetic with a cool clavinet-break in the middle. The version of "Opus 1065" (another Bach-composition) was a bit more ambitious, and featured a guest appearance from Darryl Way on violin. No matter how good this is, I still can't help to feel that Linden already had done stuff like this in a more original and distinctive way with Ekseption. There's interestingly enough also a short cover here of a tune by one of Linden's very first musical influences: Bix Beiderbecke. Anyway, "King Bird Suite" still makes the album a good purchase.
Trettioåriga Kriget - "Krigssång" (CBS 1975)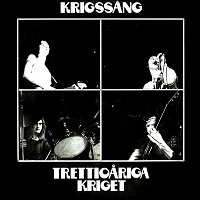 Legendary Swedish heavy-progressive. However, the only addition to the normal guitar, bass and drums instrumentation is some mellotron here and there. And the tracks are not all that complex, so the band may not be to any progressive rock fan's taste. But the group wrote some very good tracks any way, and they sounded good too and I guess that is the most important thing. The 17-minute "Krigssång II" contains some moog too in addition to the mellotron. And "Jag och jag och "jag"" is a quite atmospheric acoustic track. My only complaint is that the production sounds a little lame and flat. But musically, this is a album that fans of 70's rock in general will enjoy, and not just progressive rock listeners.
Triade - "1998: La Storia di Sabazio" (Derby 1973)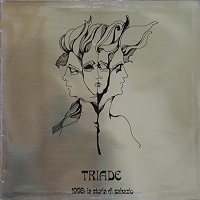 Italian trio, and as most other progressive rock trios, they were quite influenced by ELP. The album starts with a instrumental in four parts. Excellently played, but the composition and the themes sounds rather lame and uninspired. The rest of the album is much better, and in a more typical Italian style. Sounds like a mix of PFM and Le Orme. The compositions on this part of the album is of the usual high Italian quality, and the performance is very solid. Unfortunately, the album is very short (just about 30 minutes), so the instrumental at the beginning makes this a very uneven album. You should have very many other Italian releases before you buy this one.
Triana - "Hijos Del Agobio" (Gong 1976)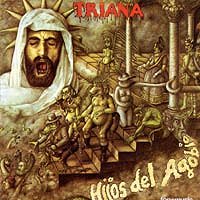 One of the best known of the Spanish-progressive rock groups. Personally I think groups like Crack, Tarantula and Atila were more interesting, but Triana are of course not bad. They played a quite simple soft symphonic progressive with a strong flamenco-influence. The tracks are usually very beautiful and melancholic sounding. Just check out the title-track and "Sentimientos De Amor" and you'll hear. Lots of flamenco guitar and tasteful keyboards. "Ya Esta Bien" is on the other hand the band from their more "energetic" side. The only problem is that the music ain't very complex or challenging, and it would not be too far from the truth to call Triana a flamenco-version of Moody Blues. Musically it's not bad, but there are more interesting Spanish progressive bands.
Trilogy - "Here It Is" (Cain 1980)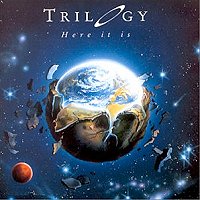 The first and only album by this German keyboard-based instrumental progressive rock group. Their music is probably not the most original you'll hear, mixing influences from ELP and Genesis. However, the songwriting is really good. There's not a bad track on the album, and all the tracks are stuffed with great themes and melodies. The arrangements are tasteful and great with lots of Hammond, moog and floating synths. There's also some guitar here, but it rarely gets very dominating . It's not so much more to say. If you like melodic and complex instrumental progressive rock with the most ultra-typical 70's symphonic progressive rock sound you can imagine, then you'll surely enjoy this album. And it's also one of the few good progressive rock albums from the 80's.
The Trip - "Atlantide" (RCA 1972)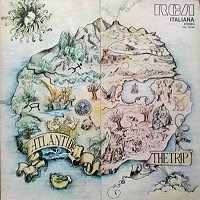 This was an Italian trio, but not exactly in the same league as Le Orme or Latte E Miele. But at least they had a keyboard sound of their own and a stronger rock influence than many other progressive trios, so they didn't sound like an ELP clone. In fact, I like the more straightforward tracks here better than the most progressive ones. Tracks like "Distruzione" and the title-track are ok, but not fantastic. And a five-minute drum solo on an album that lasts for only 30-minutes is unforgivable. "Evoluzione" and "Energia" are better tracks, and "Analisi" sounds like some early British progressive. All the lyrics are in English so don't ask me why the song-titles are written in Italian. Not fantastic, and there are so many much more better obscure 70's progressive rock albums out there.
Tritonus - "Tritonus" (BASF 1975)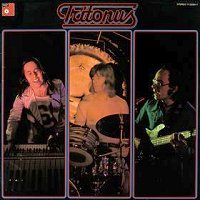 Don't ask me why, but there were definitively a lot of progressive rock trios in the 70's with a name that started with "Tr...". This one was from Germany, and sounded like a mix of the typical spacey-symphonic German-progressive rock sound and ELP. The Hammond-sound is at least very Emerson like. They were not in the same class as Triumvirat, and too often hampered by clumsy and amateurish vocals and mediocre material. On this debut-album you'll get typical and long 70's progressive rock pieces like "Escape and No Way Out" and "Far in the Sky". Tons of Hammond, spacey moogs and some mellotron. "Sunday Waltz" is on the other hand a nice acoustic track. Overall, this is not the strongest or most original album you'll hear, and is probably best left for completists and progressive rock collectors.
Tritonus - "Between the Universes" (BASF 1976)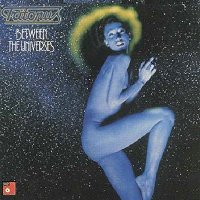 Their second and final album was a bit more original than the first one, but is it much better? This one sounds more symphonic, spacey and grandiose. The keyboard-arrangements sounds quite good on the album, and there's still a slight Emerson-influence here. The band had also added some choir-arrangements on the title-track and "The Day Works". The last mentioned track is the second part of the three-part suite "Suburban Day Suite" which takes up the whole second side of the album. The title-track has a very cosmic, almost religious spacey symphonic progressive rock sound to it, and the band managed to make a sound of their own here. "Mars Detection" is a VERY spacey instrumental based in a lot of electronics. Very hypnotic and German sounding. "Suburban Day Suite" is atmospheric and symphonic with some decent melodies and themes through all of the three parts. Despite these qualities, the music was stilled marred by some amateurish tendencies, but it's still a better record than the debut.
Triumvirat - "Mediterranean Tales" (Harvest 1972)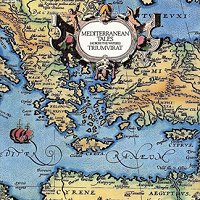 Excellent and very ELP-influenced progressive rock trio from Germany who released some classic albums. Their sound was of course strongly dominated by the superb and very virtuose keyboard-playing of Jürgen Fritz(Mr. Triumvirat himself). His playing style was so inspired by Keith Emerson that many people have considered Triumvirat to be nothing else than an ELP-clone. However, the vocals were often lighter, less pretentious and catchier than ELP and that was giving them a sound of their own. "Mediterranean Tales" was a very strong debut-album, even if the vocals and production didn't quite stand up to the following albums. "Across the Waters" takes up the whole first side of the album, and demonstrates all the sides of the band. Very energetic and powerful with some really breathtaking instrumental-passages. This track also incorporates a Mozart-theme in a way that reminds me of the first Beggar's Opera album. The second side opens with "Eleven Kids" and this is another example of the group's undeniable talent for making catchy, ELP-influenced progressive rock. The Hammond-playing of Fritz sounds almost exactly like Emerson. "E Minor 5/9 Minor/5" is an instrumental-number that sounds more German-influenced both in the arrangement and structure. "Broken Mirror" closes the album in a very energetic way and parts of this track sounds inspired by The Crazy World of Arthur Brown. A classic debut.
Triumvirat - "Illusions on a Double Dimple" (Harvest 1974)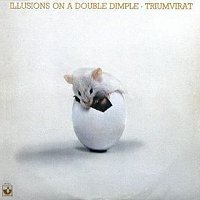 Singer and bass-player Hans Pape had left Triumvirat after the debut-album and was replaced by Helmut Köllen. The best Triumvirat line-up was then reality. "Illusions..." was an improvement on their already great debut-album. The production was a lot better and Köllen was a much more talented vocalist than Pape. "Illusions..." was basically made up of two side-long tracks. The title-track is the best of the two. It includes tons of excellent instrumental-passages dominated by Fritz' awesome keyboard-work. The balance between the Hammond-organ and the warm, analogue synths he used are almost perfect. The band had now also perfected the vocal-parts, and some tasty strings often backed them up. The track on the second side is called "Mister Ten Percent" and is another orgy of catchy vocal-parts and long, ELP-ish instrumental parts. If I should find anything to criticise here, then it must be that the track is maybe a little bit too similar to the title-track in the structure and build-up. Even the same drum-riff is here! But why the heck should you care about that? The album is a feast for all who loves keyboard-based 70's progressive rock with ELP-influences. Essential.
Triumvirat - "Spartacus" (Harvest 1975)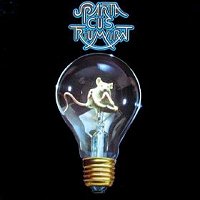 Triumvirat reached their absolute creative peak with their third album and masterpiece "Spartacus". This was a stunning concept-album about the Roman freedom fighter, and it featured Triumvirat's best, most even and inspired songwriting ever. It was made up of shorter tracks than the two previous albums, but they had in no way sold out. The album offers a great degree of variation. Mighty, majestic and powerful instrumental-themes like "The Capitol of Power", "The Walls of Doom" and "The Burning Sword of Capua" demonstrates Fritz' extreme skills as both an instrumentalist and gifted songwriter very well. "The Deadly Dream of Freedom" and "The Sweetest Sound of Liberty" was more acoustic-based, melodic vocal-tracks while "The School of Instant Pain" very successfully mixed the acoustic side of the band with the virtuose keyboard-orgies of Fritz, making an awesome symphonic progressive rock track. "The March to the Eternal City" is more German-sounding in the arrangement and it features an irresistible rhythmic part in the middle. The title-track is on the other hand Triumvirat from their most shameless and obvious ELP-influenced. But what a great track anyway! "Spartacus" is easily one of the best progressive rock albums from the mid-70's, and it equals the best moments of ELP.
Label
Triumvirat - "Old Loves Die Hard" (Harvest 1976)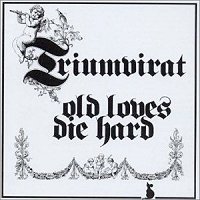 The inspiration did unfortunately slowly begin to slip away from Triumvirat after the great "Spartacus". Hans Köllen had left the band and was replaced by Barry Palmer on vocals and Dick Frangenberg on bass, expanding the band to a four-piece. "Old Loves..." has its fair share of good moments, but the earlier mentioned lack of inspiration was already beginning to show. The opening track "I Believe" starts promising with an atmospheric and classical-influenced theme, but turns very soon into a rather mediocre and uninspired vocal-track with some truly embarrassing lyrics about the hard life as a rock star(not very fitting for Triumvirat at all). ¨"A Day in a Life" is on the other hand an exciting, three part instrumental number that after some beautiful piano-passages reaches and energetic and powerful climax with the whole band kicking ass. "The History of Mystery" is also an excellent track and classic Triumvirat. "A Cold Old Worried Lady" is basically a pleasant piano-ballad with strings, but it's too long and it starts to bore me before it has ended. "Panic on 5th Avenue" is a good jam where the whole band delivers an impressive and very energetic performance. But the title-track was possibly the most boring and weakest song the group had recorded until then. As a whole this is an uneven album, but the good tracks here are really good and makes it worth having.
(New) Triumvirat - "Pompeii" (Harvest 1977)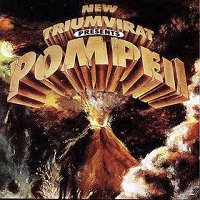 It became unsure if Triumvirat's name had been used legally right, so they had to change name to New Triumvirat for the album "Pompeii". The band had more or less disbanded after "Old Loves..." but Fritz was able to get Palmer back in the fold again. Curt Cress and Dieter Petereit replaced Hans Bathelt and Dick Frangenberg. The album went back to the concept-album format of "Spartacus" but it didn't help much when the music just proved that Triumvirat had their best years and albums behind them. The album starts quite good with a track in the classic Triumvirat-tradition and sound. Lots of cool and Keith Emerson-influenced organ in this song. However, the album sinks like a stone after that. "Journey of a Fallen Angel" and "The Rich Man and the Carpenter" are both slick and typical late 70's AOR-crap that I just can't stand. "The Time of Your Life" is a pop-track that reminds me of Kayak in one of their least interesting moments. "Vesuvius 79 a.d." is a pointless mess that mixes themes from other tracks on the album with some fusion-influenced passages. "Viva Pompeii" is a kind of cheerful and catchy theme where Fritz lets all the synths and Hammond rest in favour of the piano. "Dance on the Volcano" is a traditional Triumvirat theme. Decent but not fantastic. The album ends with "The Hymn" and this song is based in a grandiose choir-theme. Personally I find it to be both boring and tasteless. An album only for Triumvirat-completists. And the two albums that followed ("A La Carte" and "Russian Roulette") are to be avoided at all costs and the existing copies should be burned!
Troya - "Point of Eruption" (Förderturm 1976)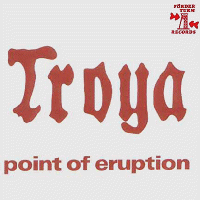 The only album these German guys left behind was their debut "Point of Eruption" that was released in a minor number of copies on a private label. The quality of the recording reveals that this was a very low-budget release, and the amateurish production makes it sound more like a demo tape than a finished album. Musically the album sounds more like something from 1971 than 1976. This is traditional 70's symphonic progressive rock where the guitar and organ are the main instruments. I think I also barely can hear some flute or Mellotron buried in the "mix" somewhere in "Battle Rock", but I'm not sure. Some of the quiet passages remind me of their countrymen Faithful Breath, but Troya had better instrumental skills and also wrote far more dynamic material. The very Genesis-like opener "She" has a fine and interesting vocal melody, although the vocals themselves are very mediocre. The other two best tracks on the album are the instrumentals "Chromatik" and "Choke". The themes and melodies are rather simple and maybe not so very original, but still strong. The rest of the album follows in the same style, although with slightly less interesting songs in my opinion. If the band had got the time to rehearse a bit more and recorded in a real studio, then "Point of Eruption" could have been a gem. Now it's mostly a demonstration of talent and potential that unfortunately never got the full chance it deserved.
T 2 - "It'll All Work out in Boomland" (Decca 1970)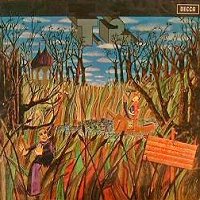 Probably one of the first classic heavy-prog albums ever. T 2 was a British trio where drummer(!) Peter Dunton seemed to be the creative force (he wrote all the material and was also the lead-singer). Their sound is mostly dominated by the rough and excellent guitar work of Keith Cross. But the ballad "J.L.T" also features some very tasty Mellotron and piano played by Cross. The melodic theme at the end of this track is just so 70's and beautiful as it can get! There's also some horns here and there, but it never gets a dominant role in the sound. All the four, lengthy tracks here are very good. The 21-minute "Morning" features tons of great riffs and themes relieved by atmospheric vocal-parts, and the playing is really good, inspired and energetic. "In Circles" and "No More White Horses" are both in the same style and runs over 8-minutes each. I can't actually find another band to compare them to, and I guess that's a good thing too. An essential album for any fan of 70's heavy-progressive rock.
Twenty Sixty Six and Then - "Reflections on the Future" (United Artists 1972)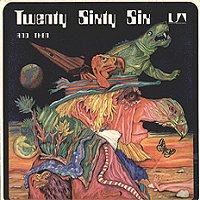 It's really tragic that "Reflections on the Future" was the only album released by this German group, as it's one of the greatest heavy-progressive albums you'll ever hear. The sound of the album is dominated by lots of organ, flute and heavy guitars. There's also some Mellotron and spacey effects to be found here. The performance is strong and powerful with excellent and very soulful vocals. All of the five tracks on the album are superb with great riffs, melodies and complex instrumental passages. The 15-minute title-track and the 9-minute "Autumn" are the tracks that show the band at their progressive best, while the rocking opener "At My Home" is a simpler but still great song. "Butterking" has some very weird lyrics and an interesting and unusual structure. The closing-number "How do You Feel" has probably the best vocal-melody on the whole album. But the group would split up soon after the album, no matter how much great potential "Reflections on the Future" clearly demonstrated.
Label