-V-
Van Der Graaf Generator - "The Least We Can do is Wave to Each Other" (Charisma 1969)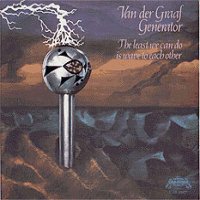 Few progressive rock fans would disagree that VdGG was a progressive rock band of the highest class. But for some strange reason, the band never got the attention they deserved. Their sound was already well developed on their second album. The unmistakable voice of Peter Hammill and his always interesting lyrics, the powerful organ of Hugh Banton and not at least, the saxophone of Dave Jackson. Just as I think about Jethro Tull every time I hear a flute dominated prog-band, I always think of VdGG when I hear a saxophone dominated progressive band. In the period of 1969-1975, it seemed that it wasn`t possible to make a bad song for VdGG, even if they had tried! This album is stuffed with goodies, such as "After the Flood", "Refugee" and "White Hammer". The last mentioned song is about the witch-hunting in the middle-ages, and the instrumental part on the end is extremely heavy and thundering. This is POWER! This is not VdGG`s best album, but there`s still not a bad thing to say about it! I guess that should give you a clue about the quality of this band.
Van Der Graaf Generator - "H to He Who am the Only One" (Charisma 1970)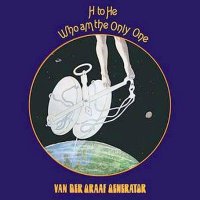 A massive masterpiece from beginning to end. VdGG at their ultimately best. Every track is a classic. Some disharmonious elements begins to appear, mostly in "Lost" and "Sequel to C.", making an interesting contrast to the more melodic parts, and adding some incredible energy to the music. "House with no Door" is on the other hand an excellent example of the more lyric and melodious side of the band, while "Emperor in His War-Room" has a almost spacey feel to it. The opening track "Killer" is hard and energetic progressive rock as good as it can get. The songwriting is pure genius, and I feel really sorry for the people who didn't buy this back in 70`. If they only knew what they missed! If you don't like this, then you simply cant be a progressive rock fan.
Van Der Graaf Generator - "Pawn Hearts" (Charisma 1971)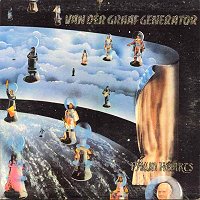 Van der Graaf Generator's most complex and challenging album. The three long tracks on the album are all stuffed with the typical Hammill-sounding melodies and themes relieved by an progressive, complex and disharmonic energy of a kind that will leave you breathless. Personally I think this variation between structured melodic themes to ugly, noisy and disharmonic parts often places the music of Van der Graaf Genearator in the same vein as King Crimson but, of course, with a sound totally of their own. And to be honest, I think Van der Graaf Generator were a better and more even band than what King Crimson ever were after their debut. It may not come as a surprise that Robert Fripp appears as a guest musician on this album. The 23-minute "A Plague of Lighthouse Keepers" features absolutely everything I've mentioned. And the arrangements are as usual characterised by the saxophone and very heavy and powerful organ of Hugh Banton together with Hammill's distinctive voice. The two other tracks, "Lemmings" and "Man-Erg", are both over 10-minutes long and contain enough chord-changes, great themes and ideas to keep every thinking progressive rock fan satisfied. This, "H to He, Who Am the Only One" and "Godbluff" are Van der Graaf Generator's best albums.
Van Der Graaf Generator - "Godbluff" (Charisma 1975)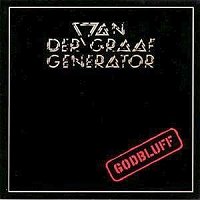 After a four year long break (which was extremely long in the 70's!), VDGG returned with another goodie. The music on "Godbluff" was much less disharmonious than on the previous albums and more based in pretty melodies. This should probably make this album more accessible for the average rock listener, but the band were with no doubt still progressive, and the music had not straightened too much out! "The Undercover Man" and "Sleepwalkers" are both examples of this. Very good, melodious and harmonious tracks with the typical VDGG sound. "Scorched Earth" and "Arrow" are both more aggressive tracks, but still far from the same intense and disharmonious kind that on the previous albums. But both tracks are of course EXCELLENT, especially "Arrow" which includes some very emotional and angry vocals from Hammill. Very good album, but VDGG's best period will in my opinion always be 1970-1971.
Van Der Graaf Generator - "Still Life" (Charisma 1976)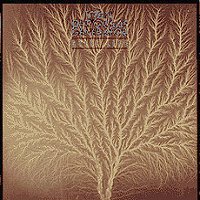 The band were still going strong on this album, which is in a quite similar vein as "Godbluff". The opening track "Pilgrims" is typical for VDGG of this period. Melodious and excellent progressive rock. Most of the title-track is the band from their most quiet side, but it features a part in the middle with the typical VDGG heavy-ness. And the organ of Hugh Banton sounds very powerful as always. "La Rossa" is a more cheerful and rocking track, but still very progressive and complex. "My Room" shows Hammill from his most lyric side, while the closing number "Childlike Faith in Childhood's End" probably is the most ambitious track on the album. Personally I think this album is a little tad weaker than "Godbluff", but it's good anyway.
Vangelis - "Heaven and Hell" (RCA 1975)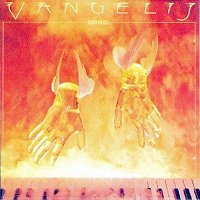 Most of you(probably TOO many of you!) will think of sweet and fluffy soundtracks from the 80's and 90's when you hear the name Vangelis. But in the 70's he was one of the most creative and varied of all the progressive keyboard-wizards, and released many innovative and truly progressive albums after he left Aphrodite's Child. Jon Anderson had his reasons when he wanted the man to join Yes in 1974. However, Vangelis himself was an individualist who made no compromises, so he preferred a solo career instead. "Heaven and Hell" was his second official album. This is one of his very best works and probably the one to start with for progressive rock fans. The album is a very powerful and grandiose mix of rock, jazz, symphonic and classical music with tons of choirs and wonderful, analogue and very symphonic keyboard sounds. Vangelis didn't use Hammond or the Mellotron, but the sounds he used was always so tasty and warm that they more than made up for it. The fanfare-like sounds he sometimes used on this album makes me think of Keith Emerson, but he had his completely own sound and style most of the time The whole album is one continuous 40-minute suite, and it includes music used in the TV-series "Cosmos" and a part called "So Long Ago, So Clear" with vocals by Jon Anderson. Essential stuff for everyone into 70's keyboard-based progressive music.
Vangelis - "La Fête Sauvage" (RCA 1976)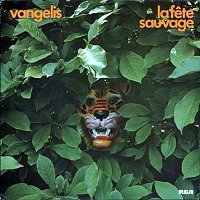 This was the soundtrack for a documentary by the French director Frederic Rossif about the African wilderness. I haven't seen the movie, but I think the music probably fits perfect to it. The album kicks off with a very powerful and uptempo theme played on a really fat and great moog sound. It sounds very 70's soundtrack-like and I love it. On the rest of the first side, Vangelis' very distinctive synth-sounds are mixed with African percussion, flute, tribal chanting and sounds of animals. Very fascinating and it conjures up mystical and dreamy images of the African savannas in the dim evening light. Side two varies between a very sweet and romantic theme to free-floating and dreamy passages. Sweet most of the time, but some parts also have a more sinister tone. Excellent music to just drift away to, and this sounds like one of the few soundtracks that can be enjoyed even without the pictures the music is made for.
Vangelis - "Albedo 0.39" (RCA 1976)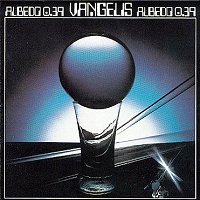 No album-length suite this time, but instead this was probably his most varied and exciting album. It was a kind of a concept-album about astronomical science and it included an authentic recording from the moon landing in 1969. The musical diversity of the album is really impressive. Here you'll get excellent and classic, melodic Vangelis themes like "Pulstar" and "Alpha" side by side with experimental stuff like the chaotic "Main Sequence" and the kinda China-inspired "Free Fall" and then to the dreamy, atmospheric, spacey and mystical title-track. The 12-minute "Nucleogenesis" manages to melt almost all sides of Vangelis 70's sound into one awesome composition. It goes from symphonic, grandiose passages to weird and experimental themes and then to really rocking and energetic parts that surely will surprise anyone who knows Vangelis only from his sweet fluff of the 80's and 90's. This and "Heaven and Hell" are the Vangelis albums of most interest to progressive rock fans..
Vangelis - "Spiral" (RCA 1977)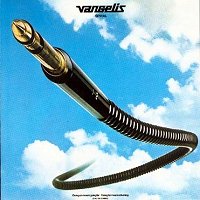 A much more traditional and sweeter electronic progressive album than the previous albums, but still very good. And the cover looked like the electronic answer to "Tubular Bells"! The superb title-track(one of Vangelis' very best themes ever in my opinion) and "3+3" had some very obvious German-electronic influences. The pop-orientated "Dervish D" will probably not be to everyone's taste, but it's a catchy track anyway. One of my personal fave Vangelis-themes is the beautiful and very atmospheric "Ballad". It's based in a very simple vocal-theme surrounded by sweet and swirling synths that creates a very pleasant sound. "To the Unknown Man" is one of Vangelis' best-known themes from the 70's. It's a very romantic track with a long and slow build-up. Overall, "Spiral" is a less challenging and original album than both "Heaven and Hell" and "Albedo 0.39" but it's excellent stuff anyway.
Vangelis - "Beaubourg" (RCA 1978)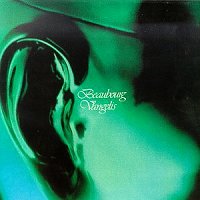 "Beaubourg" went back to the 40-minute suite format of "Heaven and Hell" but the music was COMPLETELY different. Actually, "Beaubourg" is different from 99,99% of all other music that exists! The title of the album is taken from a museum for modern and abstract art in Paris, and that's probably not a coincidence as this is a really abstract and experimental piece of music. There's no rhythms or clearly structured themes here. The whole thing is played on a rather metallic and modern synth-sound, but still with a surprisingly great degree of warmth and atmosphere. Some parts are completely weird and freaked out, but the music is often also atmospheric, dreamy and pleasant. It's not so much more to say about this. This is NOT for everyone, but it's a great album if you're into experimental progressive electronic music. And someone will probably think I'm crazy or even not believe me, but this is in fact my most played Vangelis album!
Rick Van Der Linden and Trace - "The White Ladies" (Vertigo 1976)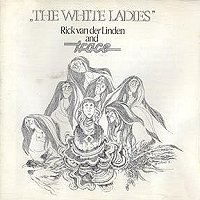 By 1976 it became apparent that Rick van der Linden was past the golden years of his career. The second Trace-album had, despite its musical qualities, been something of a commercial failure compared to his earlier projects. The fact that both Jaap van Eik and Ian Mosley had left the band didn't exactly made things look very brighter. But Linden started to work on his own on a concept-album based on a Dutch myth from medieval times about "the white ladies". These ladies were obviously some kind of ghosts/fairies that captured people and made them dance forever, free from all troubles and pain. The resulting album was really more a solo-project than a Trace-album. Linden had got several of his earlier band-mates from Ekseption to play with him on the record, making it sound more like his main band than the two previous Trace-albums. The record was of course filled to the rim with Linden's fantastic playing, and he was easily one of the most tasteful keyboardists in progressive rock. However, the material was unfortunately not on par with the excellent arrangements and performances. The beautiful "Doubts" (that later would resurface as "Faith" on Ekseptions' "Ekseption '78) was the only theme that managed to rise above the overall mediocrity of the album. "Dance of the White Ladies" and "Witches' Dance" are also interesting, as they showed that Linden could use the synth in a far more controlled and intelligent way than Keith Emerson. But many of the other themes sound uninspired and are often hard to distinguish from one another. And as usual, we also get some classical adaptations, this time two of Beethoven's works. There are other and better examples of Linden's musical vision and personality than "The White Ladies".
Il Volo - "Il Volo" (Numero Uno 1974)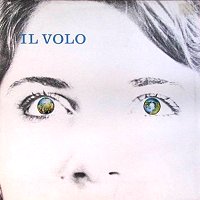 An Italian progressive rock band that released two albums. This was their first one, and sounds like a colder and funkier version of typical Italian symphonic progressive rock like Premiata Forneria Marconi. The only keyboards they used was el-piano and string-synths giving them an overall different feel and sound than many other Italian bands. The songs here are decent but not fantastic and with a varying degree of complexity. "ll Calore Umano" is mostly just based in a pretty melody that lasts through the whole track. The two first tracks are more complex and seem to be connected, as a theme from the first track is repeated in the second. The earlier mentioned funk-tendencies can be heard best in "La Canzone Del Nostro Tempo", the mid-part of "ll Canto Della Preistoria" and in the opening track. "Sonno" is a pretty song while the last track on the album is not much than a cheesy pop-tune. Yuck! Overall, Il Volo are not among my Italian faves. They may had a sound of their own, but to me it sounded rather cold, synthetic and mechanical too much of the time.