-W-
Rick Wakeman - "The Six Wives of Henry VIII" (A&M 1973)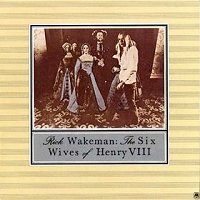 The Yes-keyboardist released some legendary albums in the mid-70's, and his three first solo-albums are often regarded as Mr. Wakeman's best work. As the title suggests, this is a concept album consisting of six instrumental compositions which each represents one of the king's six wives. This is vintage, instrumental symphonic progressive rock that really proves Wakeman's talent as a composer and musician. The music is played on organ, Mellotron, harpsichord, piano and moogs backed up by a solid rhythm-section (which includes folks like Bill Bruford, Alan White and Chris Squire). The compositions are well written and structured, and not just a bunch of technical show-offs. The energetic "Anne of Cleves" features some of the best organ-playing Wakeman ever recorded. "Catherine Howard" gives the word "beautiful" a whole new meaning, while the mighty "Jane Seymour" features church organ and a very powerful moog. I think this album must have meant a lot to Rick Van Der Linden when he formed Trace, because both the style and sound of this album reminds me a lot of Trace. Essential.
Rick Wakeman - "Journey to the Centre of the Earth" (A&M 1974)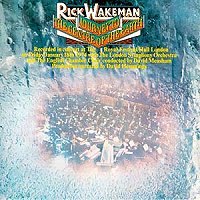 This is maybe the most original and entertaining Wakeman album. An album long conceptual suite based on Jules Vernes' fantasy novel of the same name. The whole piece was recorded live, and a rock band, a narrator and a symphonic orchestra with choir backed Wakeman with his arsenal of keyboards! Although the album has some technical flaws (like some VERY obvious editing in the studio here and there and a drummer who couldn't even keep a steady beat), the album is a fairy-tale styled and very amusing symphonic progressive rock tour-de-force. The themes and melodies are very beautiful, and his moog never sounded better than on this album. Wakeman's keyboards, the rock-band and the orchestra melts together on most of the album and creates a very full, rich, wonderful and symphonic sound that fits the story perfect. The vocal-sections vary between the singing of Ashley Holt (ex-Warhorse) and the pure narration of David Hemmings. Very cool stuff!
Label
Rick Wakeman - "The Myths and Legends of King Arthur and the Knights of the Round Table" (A&M 1975)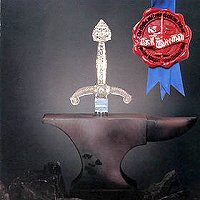 Wakeman's most ambitious project ever, and it's a well-known fact that it almost bankrupted him and was the main reason why he later re-joined Yes. Just as the previous album it included a symphonic orchestra with choir, a narrator and a rock band in addition to Wakeman's tons of keyboards. But the album was recorded in the studio and was made up of "shorter" tracks than the previous album. Technically, the album is better performed than "Journey..." but it may also lack some of the charm and amusement of that album. However, it's still a nice album with many good songs about Arthur and the knights (I really wonder if it was Monty Pythons' movie that inspired Wakeman to do an album with this concept!). The opening track "Arthur" is a mighty symphonic progressive rock track with a strong melody. "Merlin the Magician" is an impressive instrumental track that includes soft; atmospheric piano-parts relieved by harder moog-parts. "Sir Lancelot and the Black Knight" is a more dramatic and rocking track while "Guinevere" is almost a pop-tune in a symphonic progressive rock dressing. The very expensive live performance of the album featured actors and skaters and you can see the whole crew here. All the three Wakeman albums reviewed here should be in your collection. By the way, the original fold-out cover with the booklet included is a real beauty for any medieval-romantic!
Wallenstein - "Blitzkrieg" (Pilz 1971)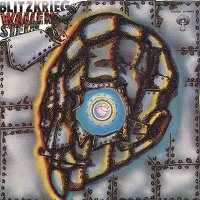 A classic debut from this German kraut-progsters and probably the best album they ever recorded. The distinctive piano and Mellotron of main songwriter Jürgen Dollase and the energetic drumming of Harald Grösskopf drive the music on "Blitzkrieg". The album opens in a striking way with the 11-minute jam "Lunatic". An insanely good track with some truly great riffs and playing. Progressive energy at its very best. "The Theme" is based in a simple but beautiful piano theme, and the Mellotron also shines through on some passages. I really loves it when the track kicks out in the energetic mid-part with some excellent piano-playing by Dollase. His vocals is unfortunately not of the same standard, but he doesn't sing that much anyway. The 13-minute "Manhattan Project" varies from more energetic jamming to some really beautiful and atmospheric Mellotron-parts. The mood and atmosphere of the Mellotron on this album reminds me much of how Edgar Froese played it. The last track "Audiences" is the most typical symphonic progressive rock sounding track on the album, but it goes into an up tempo part in the middle with more of Dollase's great piano-playing. This is with no doubt their best release and an essential album from the German progressive rock scene of the 70's.
Wallenstein - "Mother Universe" (Pilz 1972)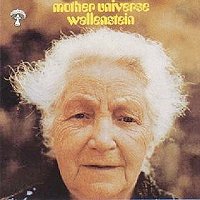 The second album was an obvioust attempt at turning the music into a much more vocal-orientated direction and was as a whole a disappointment after their superb debut-album. There's fortunately still some excellent instrumental-sections here, just check the energetic "Braintrain" and "To Mystery Land" but the vocal-parts are rather mediocre and somtimes plain boring. "Relics of Past" is a ballad that is quite nice for a while, but it gets a little bit repetitive and boring in the long run. "Golden Antenna" is catchy and joyful, while the title-track is a symphonic progressive rock track of the kind you've heard a thousand times before. "Shakespearesque" is much better, with some nice melodies and Dollase's distinctive and atmospheric piano. A listenable but not essential album, and you should better get "Blitzkrieg".
Wally - "Wally" (Atlantic 1974)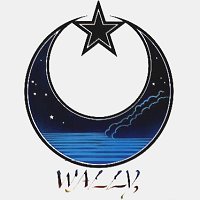 It's unfortunate that Wally were best known in progressive rock circles just for having their self-titled debut produced by Rick Wakeman, as they musically had something of their own. The combination of melodic symphonic progressive rock and elements of country gave them quite a unique sound. Their sound was dominated by the electric violin of Pete Sage and Paul Garrett's keyboards that included the usual goodies such as Mellotron, harpsichord, grand piano and to a lesser extent, organ. The country-influences were heard mostly in bassist Paul Middleton's occasional use of steel guitar (yes, I'm perfectly aware of the fact that Steve Howe also used lots of steel guitar, but he rarely or never used it in a country-ish way) and the band's west coast-inflected vocal harmonizing. The opener "The Martyr" is one of the best songs on the record, based in a strong melody with lots of harpsichord and a long violin-solo. The perhaps most beautiful moment on the album is when the Mellotron blends in with the steel guitar during the lengthy instrumental part of the 14-minute "To the Urban Man" that also features a choir. "What to Do" is a more song-oriented tune, but still another highlight. The short "Sunday Walking Lady" is the best showcase for the band's earlier mentioned vocal harmonies. The country-influences are sometimes taken a bit too far, exemplified with a title like "I Just Wanna Be a Cowboy" and lines like "all I need is my steel guitar to keep me company". But most of "Wally" is tasteful and pleasant stuff well worth checking out.
Wapassou - "Messe En Rè Mineur" (Crypto 1976)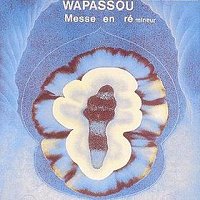 Musically, this French-progressive band is quite interesting. In my ears, their music sounds medieval-influenced and a little bit dark. This album consists of only one, continuous 45-minute long track. The band used no drums or percussion, and bass, guitar, violin, keyboards and wordless female-vocals dominate the sound. The structure of the piece reminds me sometimes of Mike Oldfield while other places reminds of Tangerine Dream, even if the band used no electronics. Sometimes beautiful and always atmospheric, but also quite dark. My only problem with the album is the production, which suffers from a lack of depth and too much treble. Unfortunately, this imperfect production gets quite annoying in my ears and ruins a little bit of my enjoyment of the album. As I said, interesting music, but it would have been even better if the band had used a decent producer.
Jeff Wayne - "The War of the Worlds" (CBS 1978)
One of the most popular and entertaining concept-albums of progressive rock was ironically enough released at the height of the punk-era, and made by someone who usually wasn't associated with progressive rock at all. Before 1978, Jeff Wayne wasn't "known" for much else than being the producer of (yuck!) David Essex. But that changed soon when he composed and arranged his ambitious musical interpretation of H.G. Wells' classic sci-fi tale "The War of the Worlds". The resulting double-album became against all odds a huge commercial success. Musically it was clearly modelled after Rick Wakeman's "Journey to the Centre of the Earth". Wayne himself played the keyboards and also conducted a few orchestrated passages, while Chris Spedding played most of the guitar. Wayne was of course no Wakeman or Emerson, but he used the best and most tasteful synth-sounds you can get, along with other keyboards like the Harpsichord. Drummer Barry Morgan along with several others on percussion delivered a steady beat through the whole album. And the guest list itself is rather interesting. The narrator and main person in the piece was none else than Richard Burton, while such wildly different artists as Justin Hayward, Phil Lynott, Chris Thompson, David Essex and Julie Covington acted out the other characters in the story. For those of you who aren't familiar with Wells' tale, it told the story of some very evil aliens from Mars who invades the earth. They use some gigantic and destructive machines to wipe out all resistance of the humans, and manage for some short time to conquer the earth. But of course, the few surviving people gather together and finally find a way to destroy the aliens. The music is very strong all the way through, and always melts the narrative parts perfectly together with the beautiful vocal-parts and the strongly melodic instrumental themes. I don't see any reason to point out any specific tracks here, as this album must be heard from start to finish to work properly. And if you do that, you're in for over 90 minutes of some of the most entertaining conceptual and theatrical music caught on vinyl. Highly recommended.
The Web - "Fully Interlocking" (Deram 1968)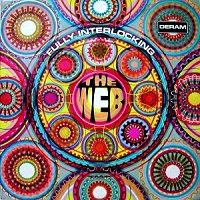 The Web were best known in progressive rock circles for releasing two classic albums with Dave Lawson in the early 70's in form of "I Spider" and "Samurai" (the latter one after changing their name to Samurai). But before Lawson joined the band, the black American vocalist John L. Watson was their singer, and had a quite different style. The debut "Fully Interlocking" is some kind of late 60's psych with jazz-influences and a few minor early progressive tendencies. I'll admit that a large clunk of the songs on this record doesn't do much for me, being quite typical lightweight and whimsical 60's psych, although the band's rich and colourful arrangements make them more listenable than what they otherwise would have been. This goes for songs like "Wallpaper", "Did You Die Four Years Ago", "Reverend J. McKinnon" and the ballad "Hatton Mill Morning". "Harold Dubbleyew" is better, simply by being a swinging and catchy little tune with nice use of the band's brass-arrangements. And in the "best" psych-tradition, there are also lots of weird and quirky sound effects on the record, including fake surface noise and skipping! "Watcha Kelele" toys with some African ethnic influences, and the instrumental "Green Side Up" is probably the track that best hints at what the band later would do, although in a very embryonic form. The most ambitious piece on the album is the five-part mini-suite "War and Peace" that occasionally can remind a bit of what The Moody Blues were doing at the same time, including some very Graeme Edge-like narration. But overall I would rather advise you to save your money for "I Spider" and "Samurai" instead. And you'll definitively need money if you find those albums.
Web - "I Spider" (Polydor 1970)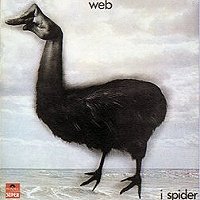 After yet another album ("Theraposi Blondi"), The Web replaced John L. Watson with Dave Lawson who also played keyboards in addition to sing, and got rid of the "The" in their name. All the psychedelic nonsense had been removed completely in favour of a much better progressive rock sound. Lawson's powerful organ brought a new and important element to the band's sound, along with more extensive use of vibraphone. The album starts with "Concerto for Bedsprings", a track in several parts that varies from energetic progressive rock to more relaxed and atmospheric instrumental parts. The title-track is a quite slow but very powerful progressive rock track, and the horn-part in the middle is awesome! "Love You" starts very quiet with some acoustic guitar and mellotron before the track bursts out in the main part that combines a horn-riff and heavily fuzzed guitar to great effect. "Ymphasomniac" is an excellent instrumental with a strong Gentle Giant touch to it. (Although it's probably Gentle Giant who are inspired by Web). The last track, "Always I Wait", is a very typical track for this band. Powerful but relaxed at the same time, with their atmospheric and jazz- inspired progressive rock sound. I just love this band, and I would say that they are very overlooked and underrated. Personally I would believe that Gentle Giant listened a lot to this band, even if they usually don't sound like Gentle Giant. Both this and the Samurai album are essential for ANY lover of good old 70's progressive rock.
Welcome - "Welcome" (EMI 1976)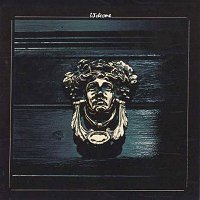 This is a strongly Yes-influenced debut-album from this young Swiss trio. The album was made up of 5 long and complex tracks with tons of mellotron, Hammond organ and moogs in addition to bass, drums and their very Squire/Anderson influenced vocals. There's also some acoustic guitar on the quietest parts, which are very much in the vein of the first part of "I've seen all Good People". The last and longest track on the album, "Gridel", sounded on the other hand more inspired by "Tales from Topographic Oceans". "Dizzy Tune" featured some weird vocals but most of it was focused on complex and excellent instrumental passages with all the moves you can want from a symphonic progressive rock band. This track glides straight over in the harmonic and acoustic ballad "Glory". Here their vocal-harmonies sound really great with a solid backdrop of the holy Mellotron. "The Fair-Rag" is probably my fave track here as it features all the best of this band in one song. "Chain of Days" is basically also a good track, but far too repetitive. You REALLY want them to stop when they sing "Day has broken..." for the 100th time, but this is also one of the few flaws on the album. You could may say that originality was not the strongest side of Welcome and the production could have been better, but but they sounded quite good anyway. All three of them were obviously highly talented musicians despite their young age. Good stuff for all of you who can't get enough of classic 70's symphonic progressive rock in the Yes-vein.
Wigwam - "Fairyport" (Love 1971)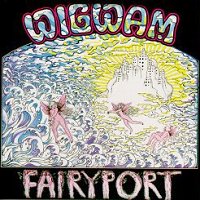 The masters of Finnish progressive rock. "Fairyport" was their third album, but their first progressive one, and even a double one. Their style was melodic, song-based progressive rock with some jazz and classical music influences, and "Fairyport" shows the band at their best most of the time. The piano and organ are the most dominant instruments here, but you also get lots of excellent guitar, wind instruments and violin. Tracks like "May Your Will Be Done Dear Lord", the title-track and the fantastic opener "Losing Hold" are small masterpieces in themselves and superb examples of the classic Wigwam-sound. Tracks like "Gray Traitors", "Hot Mice" and "One More Try" is on the other hand good examples of the more classical and symphonic-influenced side of their music. Keyboard-player Jukka Gustavson usually wrote the most progressive and complex pieces, while Jim Pembroke wrote the lighter and shorter songs. And Pekka Pohjola seemed to be most interested in instrumental pieces. All of them are very talented songwriters anyway, and the highest highlight on the album, "Losing Hold", is written by all three of them. The 4th side of the album consists unfortunately of a poorly recorded 17-minute raw and noisy live-jam that weakens the overall impression of the album. But most of "Fairyport" is really good and recommended.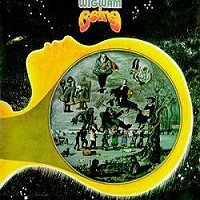 "Being" was a concept-album with a religious and political theme. The sound is very similar to "Fairyport" but less accessible as many of the songs follows some rather weird and complex melodies that can be hard to grasp at the first listen, especially "Pedagogue" and "Prophet". Gustavson(who was the brain behind most of the concept of the album) had also begun to use synths in addition to the organ and piano. "Planetist" is an excellent instrumental-number that showcases great use of strings and wind-instruments. "Petty-Bourgeois" is probably one of the most complex and progressive "pop"-tracks that I've ever heard and features some interesting vocal-acrobatics. The earlier mentioned "Pedagogue" and "Prophet" are complex and lengthy tracks with an obvious jazz-influence in both the weird, twisted melodies and the arrangements. "Pedagogue" also features some atmospheric flute and clarinet-work. "Marvelry Skimmer", "InspiRed Machine" and "Maestro Mercy" demonstrated on the other hand their talent for writing simple strong melodic tracks. "Being" is usually considered to be a classic of Finnish progressive rock, and I'll agree on that.
Wigwam - "Nuclear Nightclub" (Love 1975)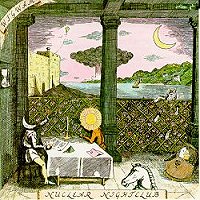 Pekka Pohjola and Jukka Gustavson had left Wigwam after "Being" and were replaced by Måns Grundstroem and guitarist Pekka Rechardt. The band signed a deal with Virgin, and recorded their most famous and popular album with "Nuclear Nightclub". Musically they had turned to a lighter and more accessible sound, but without forsaking the sophistication and high quality of the previous records. The album is stuffed with several classic songs, including the title-track, "Freddie are you ready?" "Do Or Die", "Simple Human Kindness" and the almost genius "Bless Your Lucky Stars". The latter is a very spacey tune with distorted vocals and a wonderfully spacey arrangement with lots of synths. And the album closes on a real heavy note with the aggressive and riff-driven instrumental "Pig Storm". The two tracks "Kite" and "Save My Money and Name" are in my opinion not in the same class as the rest of the album, but they're both far from bad. "Nuclear Nightclub" has grown on me as Wigwam's best album, and probably the best ever released by a Finnish band.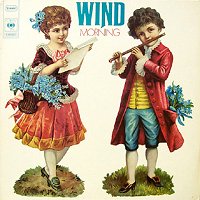 While their debut sounded slightly like Deep Purple, their second and last album was much more in the vein of early British symphonic progressive rock like Cressida and Spring. Especially the latter one often comes to mind when I'm listening to this record. Here it also became more obvious that the band actually had a really good singer, who often sounded like Pat Moran from Spring. My favourite song here is "Carnival", which sounds like a cross of Spring and "Epitaph"- styled King Crimson. "Schlittenfahrt" is an instrumental with some catchy vocal harmonies that sounds quite different from the rest of the album. "Dragon's Maid" and the fairy-tale like "The Princess and the Minstrel" are also nice, melodic tracks of soft symphonic progressive rock with mellotron. If you like the typical British styled progressive of the early 70's, then you'll like this album. Although, I would say that both Cressida and Spring were better.
Windchase - "Symphinity" (Festival 1977)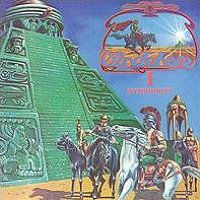 When Sebastian Hardie disbanded after their second album, Mario Millo and Toivo Pilt quickly formed a new band, and named it after Sebastian Hardie's last album. Windchase released only the album "Symphinity", but it's a very solid and enjoyable work of typical 70's symphonic progressive rock that most fans of the genre will enjoy. The sound is a bit more upbeat and the mood more varied than what it was in Sebastian Hardie. The album opens with the atmospheric piano tones of "Forward We Ride" that glides into the excellent "Horsemen to Symphinity". The sound is clearly a bit late 70's here, but not bad at all. Toivo uses his synths in a floating and very symphonic way. The charming and cheerful "Glad to be Alive" features real strings and an irresistible chorus. The instrumental "Gypsy" has the strong melodic themes that the last Sebastian Hardie album seemed to miss sometimes, and stands actually as one of my favourites here. "No Scruples" is just as typical symphonic progressive rock as it possibly can get. Complex and grandiose with numerous Moog/guitar solos and juicy Hammond riffs. "Lamb's Fry" opens with the sounds of a frying pan, and is essentially a long and energetic jam where Millo and Toivo duels from start to finish. The short, acoustic instrumental "Non Siamo Perfetti" combines the melody of "Rosanna" from Sebastian Hardie's debut with one of the themes from "Windchase". The closer "Flight Call" is slightly more lightweight than most of the album, but still quite nice and enjoyable.
Darryl Way's Wolf - "Canis Lupus" (Deram 1973)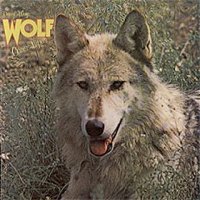 Darryl Way immediately formed his own band after he left Curved Air. He named it Wolf, and beside himself on violin and keyboards it also consisted of bassist Dek Messecar, drummer Ian Mosley (who later would join Trace), guitarist John Etheridge and singer John Hodkinson. Their solid debut "Canis Lupus" was produced by Ian McDonald, and showed not surprisingly a competent progressive rock band. The material ranged from strictly song-based numbers to extended and complex instrumentals where the band showed impressive technical skills. The opener "The Void" is one of my personal favourites, and Hodkinson's pleasant and melodic vocals have a kind of an eerie and dreamy quality here. "Isolation Waltz" is heavier and rougher, with plenty of Way's breathtaking playing on violin. "Go Down" is the musically most modest song on the album, and features some virtuoso acoustic guitar from Etheridge. "Wolf" has a synth-riff so distinctive that it probably will draw your attention away from the rest of the song on first listen, but repeated listens reveals a strong tune all the way through. The second side of the record is completely instrumental, and here the band was really allowed to show off their technical skills. "Cadenza" is probably the most complex composition on the entire record, and features some insanely high-pitched synth-work from Way along with incredibly fast tempos and chord changes. "Chanson Sans Paroles" is based around some fine and well-written melodies, but is less structured in the laidback mid-part. The closer "McDonald's Lament" shows Way from his most emotional side, where he beautifully plays a slow and partly improvised melody on violin. "Canis Lupus" was a fine debut, and proved that Way was perfectly able to artistically make it on his own without Francis Monkman & co.
Label